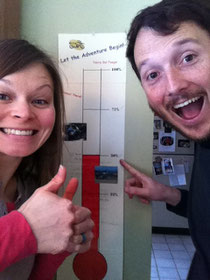 On July 2, 2012, we sat down with the notes that our wedding guests created for us to read on our one-year anniversary. We came across many pieces of sage advice that others shared as the keys to a happy partnership. Hidden among them were three simple words: Live It Right. We both stared at the phrase, re-reading, and analyzing what it means for us. It's not that either of us were unhappy with our comfortable lives working for the University of Michigan, spending lazy weekends with our dog, and puttering around our cute little house in Ann Arbor, yet there was a piece within both of us that yearned for more adventure and longed to live the dream we had imagined years before.

At the time we read those words, we were actually supposed to be returning from a year-long motorcycle trip to South America. We had been dreaming about it for several years and planned to depart on this adventure after Emily finished graduate school in 2011. This plan was thrown for a loop though when Jay was recruited to work at the University of Michigan in 2010. Although the decision was not easy, we chose to postpone the trip and move to Ann Arbor. We took the safe, more traveled path and did not speak much about plans to reschedule…until that night.
So here we are, 1 ½ years, multiple hours of research, countless planning discussions, and maybe a few arguments later officially announcing our June 2014 departure on an epic motorcycle adventure from Ann Arbor, Michigan to the southernmost tip of South America.
This blog will serve as a platform for us to document and share the planning and preparation we will undergo in the next 7 months- followed, of course, by stories, pictures, joyful moments, and disastrous hiccups from the journey itself. Please help us make the most of the adventure by sharing your trip suggestions, becoming a sponsor (or connecting us to potential sponsors), leaving a note in our guestbook, or maybe even meeting us somewhere along our route! Thanks for joining us in the journey to Live It Right!
-Emily Flinkstrom and Jay Wilgus (a.k.a. the Flingus's)