WOW!!!  Our first 10 days on this adventure have been nothing short of incredible.  We left our house on the morning of July 3rd after waiting through a minor rain delay that kept us in our garage as the storm passed.  No worries though, it gave us one last opportunity to enjoy time (and coffee) with Taryn.  Thanks again for the coffee and bagels T!  Now here we sit in Keystone, South Dakota on Emily's 30th birthday.  Today we'll visit Mt. Rushmore, the Crazy Horse Memorial, and Wind Cave National Park before concluding our evening in Hot Springs, South Dakota.  Life is good.
Here's a quick recap of our first 10 days on the road.
July 3rd: We left Ann Arbor down Dexter-Ann Arbor Road.  From there we headed north to Pinckney and Owosso, along beautiful secondary roads.  After picking up route 127 and I-75 north, we crossed the Mackinac Bridge around 7:00pm and spent the night at Castle Rock Campground in St. Ignace.  We met some new friends (Mark and Betty - who were touring on their Harley; thanks again for the saw you two!) and enjoyed our first night on the road.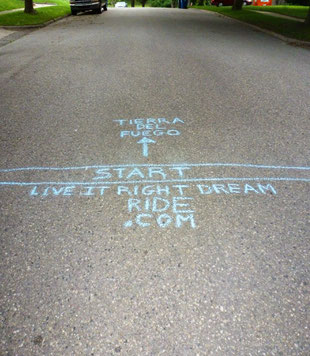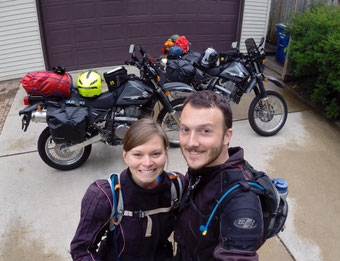 July 4th: We headed west across the Upper Peninsula toward Minocqua, WI where we joined up with the McD. clan for a few nights on the lake. We skied, we wakeboarded/surfed/skated, we tubed, we ate, we watched fireworks, we go-karted, we mini-golfed, and we completed the initial 600 mile service on our DR's. In total, we spent 4 nights and three full days in Minocqua, as we eased into the trip and enjoyed our time with great friends.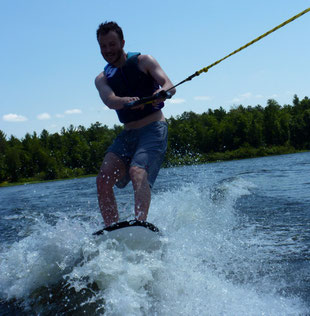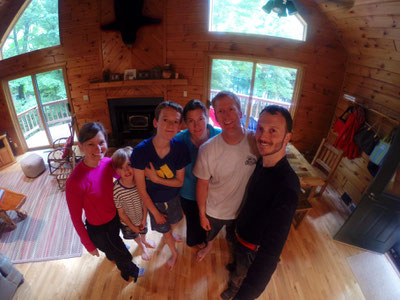 July 8th: We departed Minocqua on a cool, overcast morning through the dense north woods of Wisconsin. Ater a few fuel stops, we arrived on route 95, headed south along the St. Croix River. We joined up with Em's Uncle Marti on the south side of Minneapolis and followed his Harley Road King to Chanhassen, MN where we spent the next two nights. Pool time, gorgeous walks, and a great ride out to their favorite breakfast joint rounded out our stay. Many thanks to Marti, Carolyn, Sydney, Jackson, and Shelby for a great visit!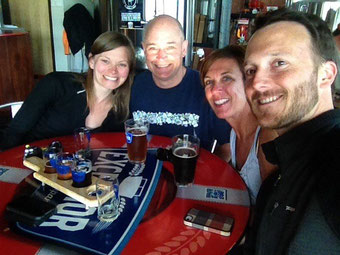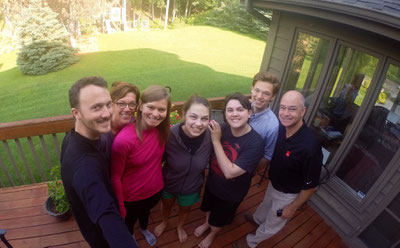 July 10th: On the morning of July 10th, we left Chanhassen on a gorgeous summer day and headed west toward the plains of western Minnesota and eastern South Dakota. To stay off the main interstate (I-90) as much as possible, we traveled south to route 212 and 14 which brought us to the border of South Dakota in Lake Benton, MN. We had lunch by the lake, then saddled up for a few more miles. We stopped that evening in Madison, South Dakota because our bums couldn't handle any more miles that day - and because rain was quickly approaching. We treated ourselves to a gourmet meal at Taco John's, then retreated to our luxurious Super 8 hotel room. Our goal for July 10th and 11th was to blast as quickly as possible (on secondary roads) across the northern plains to Badlands National Park near the Black Hills of South Dakota.
July 11th: We completed our trip to the Badlands along route 34 and I-90 where we saw a couple hundred billboards for Wall Drug and an auto museum in Murdo, South Dakota that Jay reluctantly passed by. I love cars! Moving by the attractions though meant we arrived in Badlands early in the afternoon on July 11th and setttled into our campsite at Cedar Pass lodge. That gave us plenty of time to slow down and enjoy the Ben Reifel visitor center, which was as impressive as it was humbling. We learned of the Lakota Indians who were expelled from the region after the massacre at Wounded Knee and of all the incredible animals that used to, and still do, roam the region. Absolutely fascinating stuff. We settled into our tent early on the 11th because rain came in. Jay fell asleep at 7:30pm (which was awesome!), while Emily read Half Broke Horses by Jeanette Walls.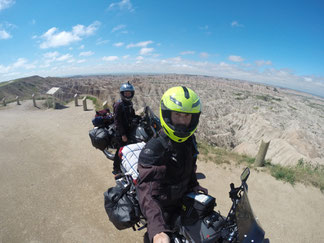 July 12th: Morning run!!! We awoke to a cloudy sky and dense fog that covered the top of the Badlands. This made our 4-mile run on the Medicine Root Trail particulary beautiful, although mildly slippery! After returning to camp - as others arose - we made some breakfast, took a shower, dried off our things, and packed up. We departed at roughly the same time as another motorcycle couple we met who were spending 3 months traveling from Montreal to Vancouver, B.C. After following them for the first few miles through Badlands, we split ways on Sage Creek Road where the DR's took to dirt for the first time! We spent the next 50-60 miles on dirt crossing through the Badlands and Buffalo Gap National Grassland - with a pitstop in the tiny town of Scenic, South Dakota where we met a bicylcist named Seager who was touring from Oregon to Vermont and a fancy couple on a bright red Indian Chief who looked like movie stars traversing the west. It was a gorgeous ride that showed us Big Horn sheep (on a narrow ridge overlooking the Badlands), prairie dogs, a half-dead rattlesnake (which had just been run over by a car), antelope, and bison - LOTS of bison!
Our bison encounter was particularly interesting because we encounted them along the splendidly narrow, tight, and curvy route 16A, which we took north from the eastern border of Custer State Park toward Keystone, South Dakota where we are now. As we waited in traffic for hundreds of bison to cross the road, a thunderhead rolled in above us. After talking about putting our rain gear on multiple times, time ran out. It started POURING! Pouring quickly turned to hailing and the bison started to stampede passed us. The road - which had been bison-blocked in both directions for an hour or more - was suddenly clear and we were left getting pelted with marble-sized hail that clinked from our helmets and stung our bare hands. Figuring it was not a good idea to keep moving, we moved the bikes to the side of the road and ran for cover under a nearby tree (which provided little relief). After overcoming the initial shock of what was happening, we smiled at each other and started laughing. The adventure had officially begun! Looking back on it, it's amazing to think how we typically cower from the rain. Once drenched, it's amazingly invigorating to have water pouring down on top of you. It forced us to be in this moment, THIS wonderfully beautiful moment in time. The clouds parted about 30 minutes later and the sun came out again. Sopping wet, we spotted Elk Haven Horse Camp about 11 miles south of Mt. Rushmore. We decided to stop for the night and rent a cabin to dry off a bit. While there, we enjoyed a few beers on the front porch and met some new friends from Gillette, WY (Randy, Laurie, and Ellen). Randy, by the way, drives a massive dump truck for the coal mine near Gillette, which has 14-foot-tall tires!!! He confirmed what my friend Corbin told me a long time ago, i.e. it's possible to fishtail and donut those big rigs!!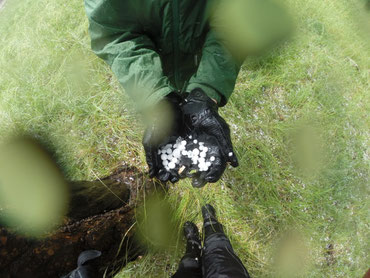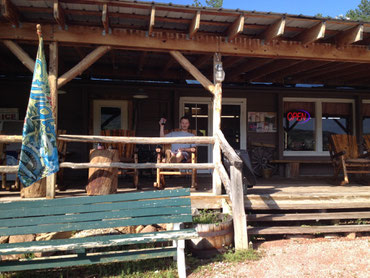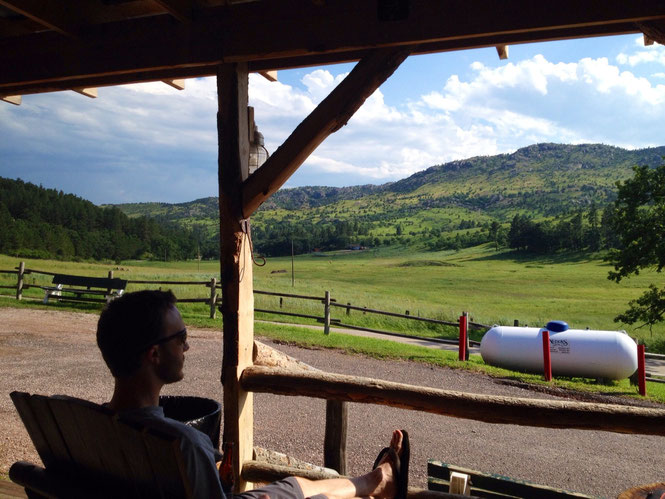 Well...that about sums up our first 10 days on the road. Gotta go now because Em's birthday calls... and so do the Black Hills! This place is gorgeous.