Over the past week or so we have ridden through near freezing temps, over 100 degree heat, winds gusting up to 70 mph, hail, and rain.  The thing about traveling via motorcycles is we get to intimately experience all aspects of these beautiful places we travel through....and holy crap, we've seen some BEAUTIFUL parts of this country! Read on for our latest recap:
July 21- As hard as it was to say goodbye to our friends in Jackson, we were also excited to get back on the road after a four day rest.  We departed around noon, headed into Teton National Park & made our way to Yellowstone. Since we have both been through the park a few times, we enjoyed the geysers in passing.  As we approached West Yellowstone, the drizzling rain we had been riding through suddenly turned to hail.  Who would've guessed that by week 3 we would have experienced two hail storms?  We found refuge and a delicious dinner in the Taco Bus, which is exactly (and as awesome) as it sounds....an old bus with a kitchen in the back and seating in the front.  We made a break for a campground down the road and found ourselves and one other guy vying for the final open site.  I wanted to fight him for it, but Jay being Captain Peace resolved to share the space.  We chatted with our newfound friend Sebastian for a bit and learned that he is a physicist from Germany who works for a research institute studying pyrotechnics. He was in the area for a conference - I guess where they talk about how to best blow stuff up? - and was taking a few days on the back end to travel.  Glad to have met him!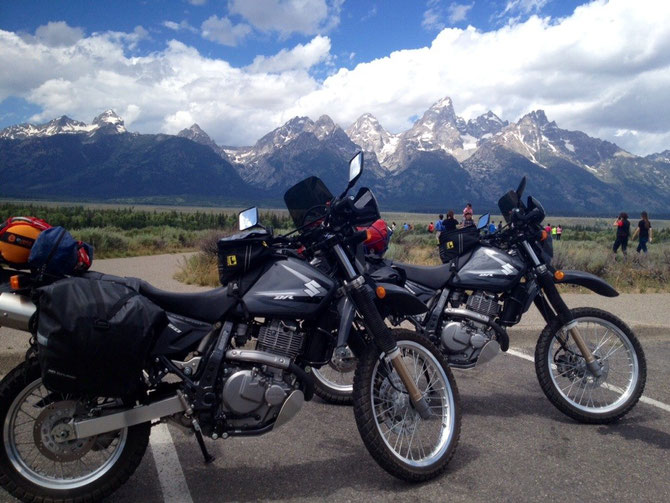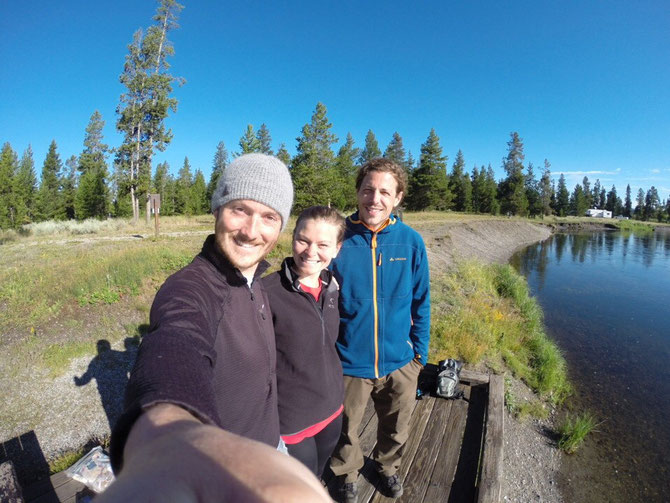 July 22- After a rainy night we woke up to a beautiful, sunny sky and discovered that our campsite was situated right next to a meandering section of the Madison River.  Since one of my favorite things to do is jump in cold water I almost always prefer to camp somewhere that allows for a morning or evening dip..so this discovery made me smile.  We had a slow morning eating breakfast by the river and going for a swim.  We packed our bikes and took off on another beautiful ride to Three Forks, Montana- following the Gallatin River for several miles.  We stopped for a brief lunch of what has become our staple- peanut butter wrap with some chips and a side of beef jerky -in Big Sky.  About 40 miles from Three Forks we came to a junction where we could either take a slower, dirt road or jump on the highway and shoot quickly to our destination.  Jay took to the dirt while I was anxious to get to my aunt and uncles house, so I chose the highway- our first time riding separately on this journey. Jay says we should mark this in case people ask later where it all started to break down between the two of us ;). We arrived in Three Forks and enjoyed a nice evening with my aunt Melissa!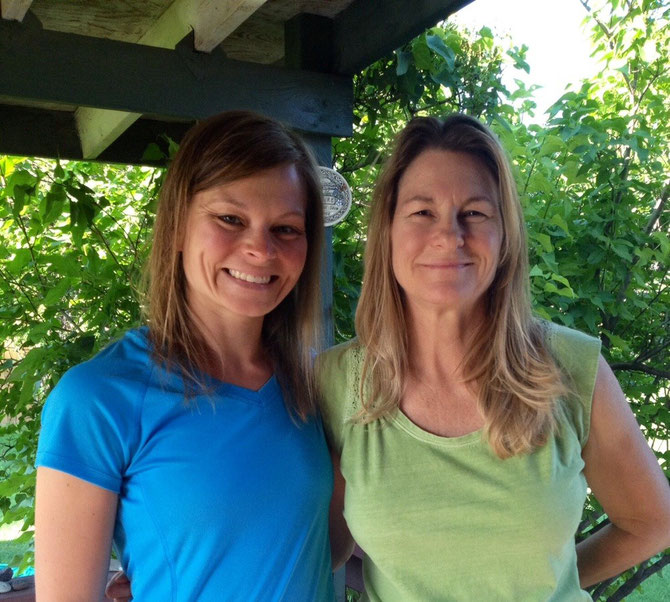 July 23- With Glacier National Park as our destination, we rode through a few hundred miles of Montana's (huge) ranch country. We stopped for lunch at a gas station in the small town of Simms, MT where the price listed for fuel simply stated, "yes". Since we were both running on reserve, we didn't ask questions. We spotted another noteworthy sign as we were headed into Simms as well. Posted on a ranch entrance gate the sign read, "Bad shit will happen if you park here"- we believed it!  A hundred miles later we reached St.Marys on the east side of Glacier and found a campground to serve as home base for a few nights. We got talking to a few of our campsite neighbors (Sue & Jim from San Francisco and Janice and Tory from Minneapolis) who were towing small Camp Ins- a teardrop shaped bed/kitchen on wheels!  Upon their departure Sue offered us some words of wisdom on marriage including, always listen to the other side and diversity is important & it can pull you apart. Thanks Sue!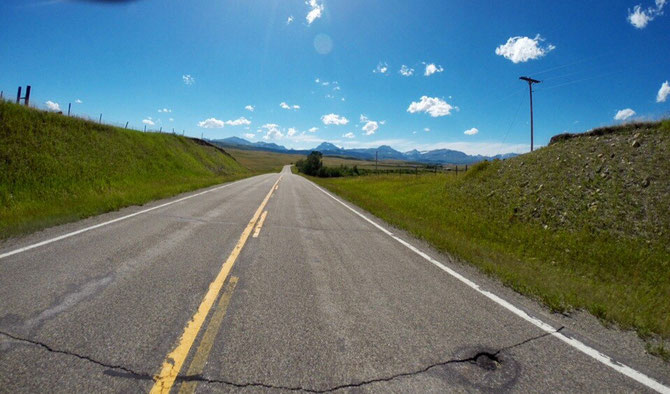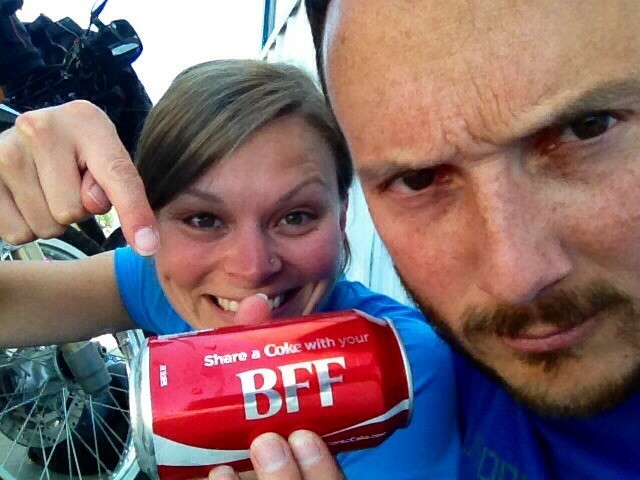 July 24- We had big plans of embarking on a long hike near Many Glacier, but when we stepped out of the tent the sky was eerily dark and the wind was whipping at a pretty intense and consistent rate.  There was however, the most beautiful and vivid rainbow arching over the mountains- at one point there was even a DOUBLE rainbow!  We made our way over to the visitors center to try to find some more info on weather and hiking trails. Unfortunately, due to the cold, their heat turned on in the middle of the night which set off their sprinkler system and flooded the interior.  Despite these setbacks, we decided to make our way over to the Many Glacier hotel 15 miles into the park and reevaluate.  The ride there was windy, but not too bad, but while we were inside having a cup of coffee things took a turn for the worse. 35 mph consistent wind with 70mph gusts, hail, rain, cold...so when we ran into our campsite friends Janice and Tory we took them up on their offer to treat us to a hot toddy.  We spent the afternoon chatting with them and ended up hitching a ride back to St.Marys to avoid the extreme weather.  We were upset that we missed out on exploring that area of the park, but the unexpected events of the day turned out to be quite enjoyable!  We treated ourselves to PBRs and Mexican food at Kipps Beer Garden where we met some of the local folk.  The wind persisted through the night, destroying three tents nearby...but our hardy Ozark Trail tent withstood the test!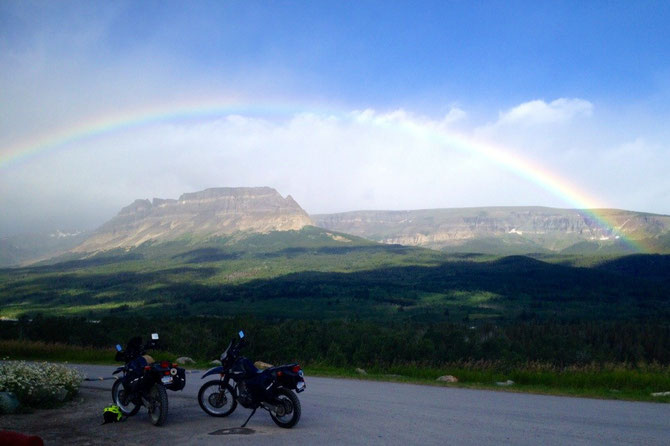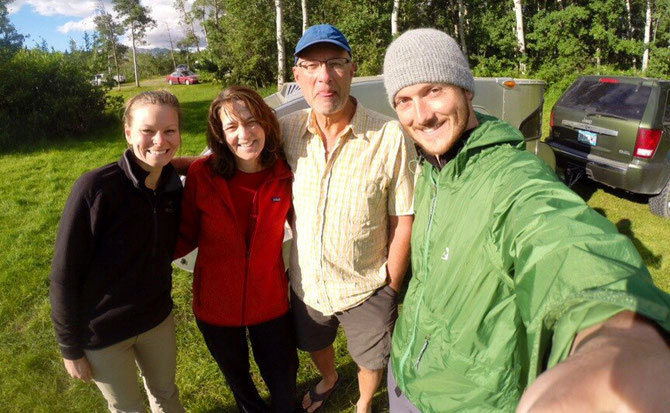 July 25- We woke up early and a hitched ride with two guys at our campground to get the bikes. Although it was still windy, it had died down quite a bit.  We made our way to the other side of the park on the famous and amazingly stunning Going To The Sun road which offered views of the mountains, glaciers, waterfalls, lakes, and mountain goats that make up Glacier National Park.  At the highest point it was a chilly 43* (below freezing with windchill). At Logan Pass we ran into a couple who were also out on a motorcycle adventure of their own.  This was the first female we had encountered doing this type of riding- I sort of wanted to give her a hug, but restrained myself!! We stopped for lunch at a gorgeous point on the river with sparkling turquoise water. Our day came to a wonderful conclusion at the North Fork of Flathead River where we scrambled up the fun 6 mile dirt road to the Bowman Lake campground. Unlike the east side of the park, this was much more calm, serene and off the beaten path- just what we were looking for. The lake was indescribably beautiful, reflecting the surrounding mountains on its glass-like surface.  A small slice of heaven.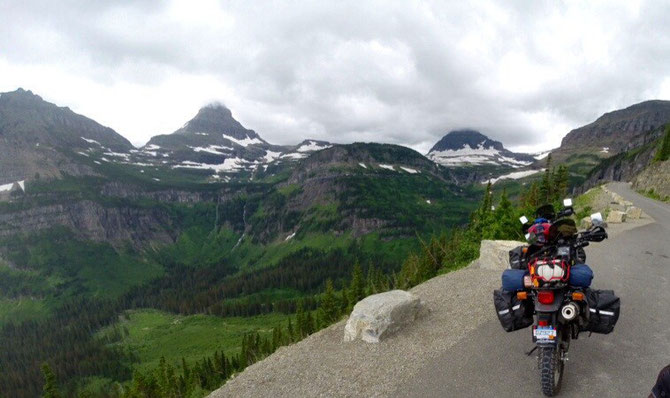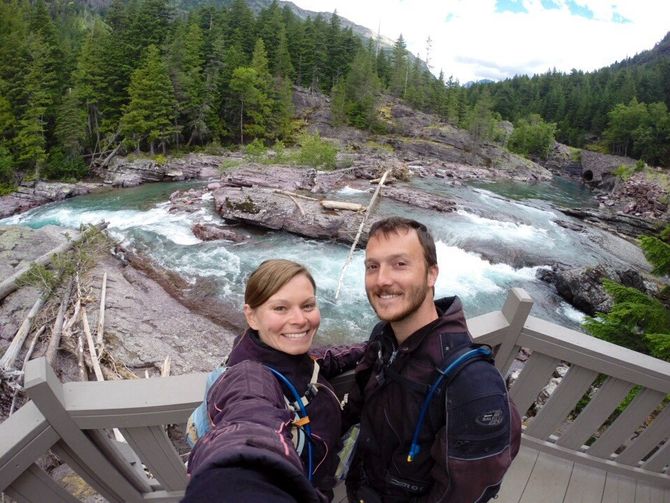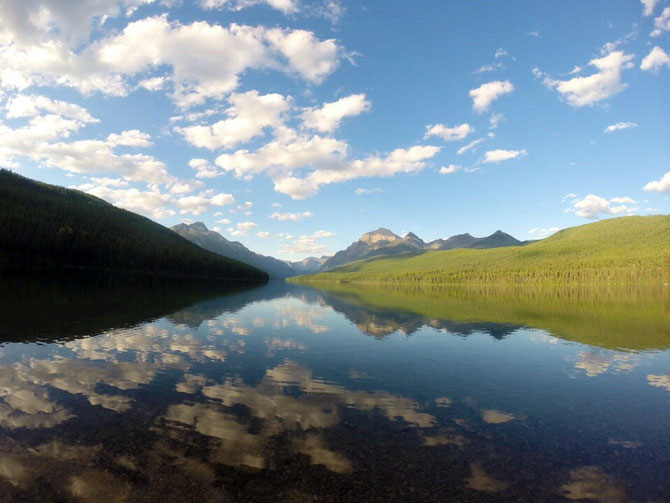 July 26- To make up for not hiking on the east side, we embarked on a 12 mile journey to lower, middle, and upper Quartz Lakes!  According to our math, we guessed this would take us 4 hours or so...we grossly underestimated.  8 hours later we arrived back at Bowman Lake, muscles tired and aching.  It was well worth it to be able to see the beauty...although Jay did drop our camera in a creek - offering us a legit excuse to buy a new one.  We scarfed down some well earned dinner-in-a-bag by the gorgeous lake.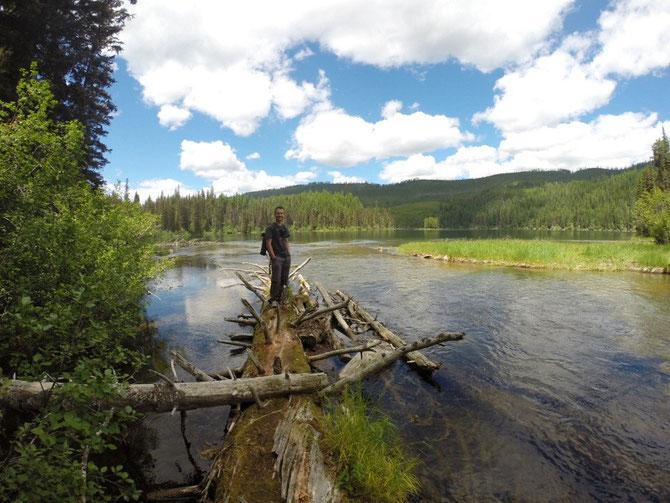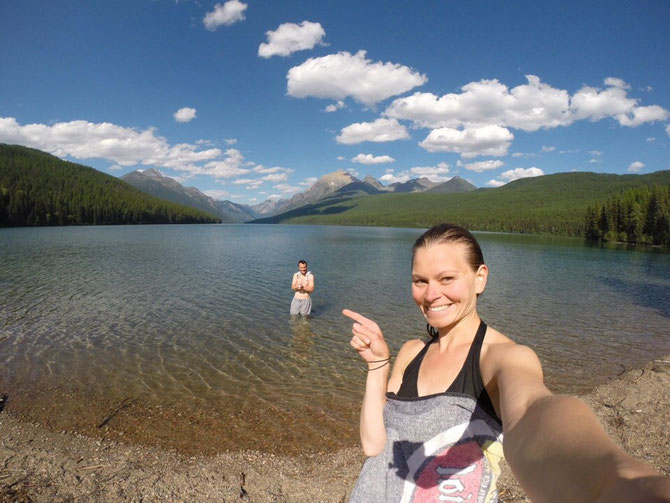 July 27- During our time in Jackson we met a couple who had spent some time working for the Forest Service in Glacier.  They recommended we check out the Polebridge bakery during our ride through that area- one of the BEST pieces of advice so far! Situated right at the North Fork entrance to Glacier, Polebridge, we discovered, consists mainly of the bakery and a small cafe next door.  It is totally unassuming, but we were blown away with the deliciousness of the cinnamon role smothered in thick, syrupy goodness and topped with glazed pecans and the flaky, but hardy huckleberry bear claw pastry.  Wow.  Bellies full, we jumped onto Trail Creek Rd near the Canadian border, then continued on to Graves Creek Rd - dirt Forest roads that make up (an alternate) part of the Great Divide mountain bike Route.  We passed a few bicyclists making their way south - pretty sure they were getting more of a workout than we were ;). We eventually popped out in Eureka, passed by the Libby Dam and stopped for the night in the small town of Libby, Montana. Much to my delight, we found a big, cold river to jump into before retiring to our tent.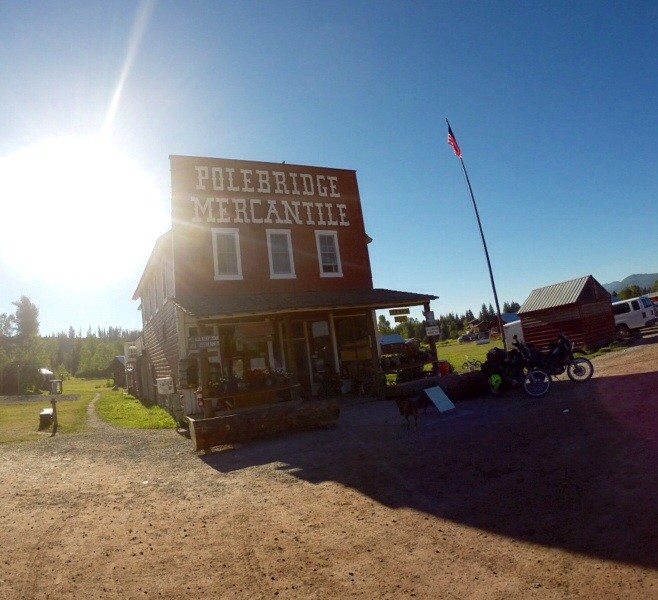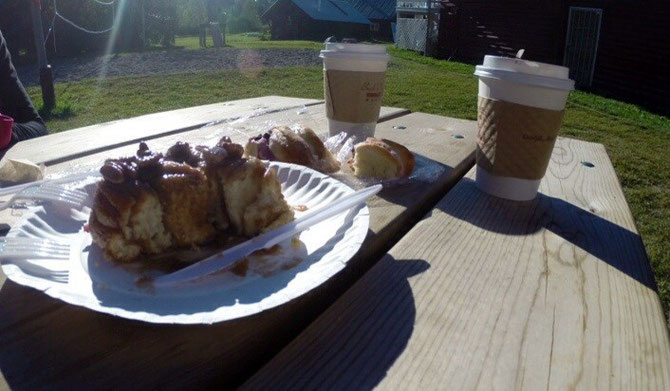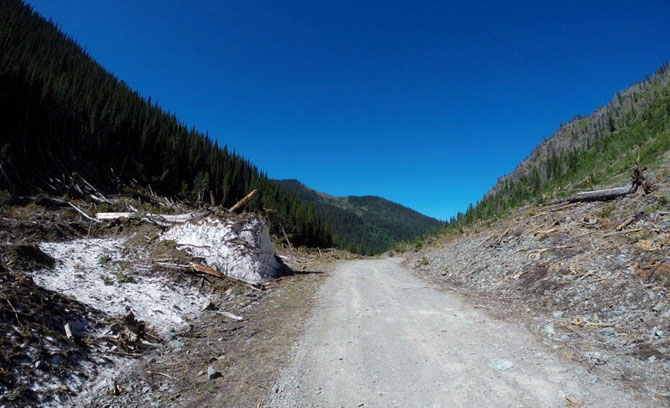 July 28th- While doing his morning inspection of the bikes, Jay noticed 3 bolts missing from our license plate holders which must have rattled off during our rocky ride the previous day.  Luckily there was an Ace hardware in town so he spent a good part of morning replacing bolts...and getting frustrated at the simple task turned difficult as he couldn't get them to go into the hole straight (insert that's what he said joke here). We left Libby around noon and rode the short distance over to Kootenai Falls where we walked out above the raging river on the cool suspended, swinging bridge.  There, we met our second girl adventure rider on a BMW GS (yay lady riders!) who was traveling with a guy on a KTM 990. Shortly after we made another side stop to see the Ross Creek Cedar Grove. Similar to the Redwood Forest, this area is filled with ginormous trees (although Cedar instead of Redwood), some of which are dead and decomposed on the inside so you can climb in the middle of them! We continued onto Cross Fork, Idaho where we made an impromptu stop for a huckleberry ice cream sundae....delicious.  We then got onto another Forest road (#278) which brought us on gravel and rocky dirt roads up & over some mountains. My increased confidence in myself and Sue (my bike) on these off-road sections was really evident during this particular section - such fun riding!! Right as we were both feeling like we were ready to be off the bikes for the day, we stumbled upon the most BALLER campsite yet! Our site sat up on a cliff overlooking Lake Pend Oreille (pronounced pon-der-ay) and provided a short path down to our very own private, rocky swimming hole. We immediately stripped off our sweaty, dusty gear and jumped in.  Did I mention that I love jumping in cold water?? Yet another slice of heaven... We enjoyed a dinner of just-add-water beef stroganoff while overlooking the lake.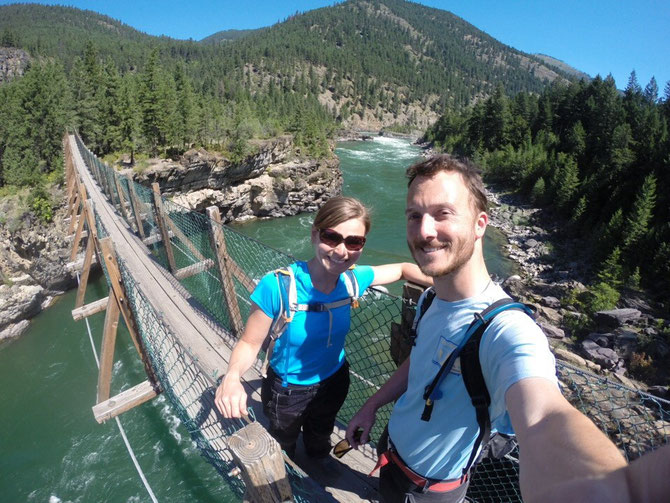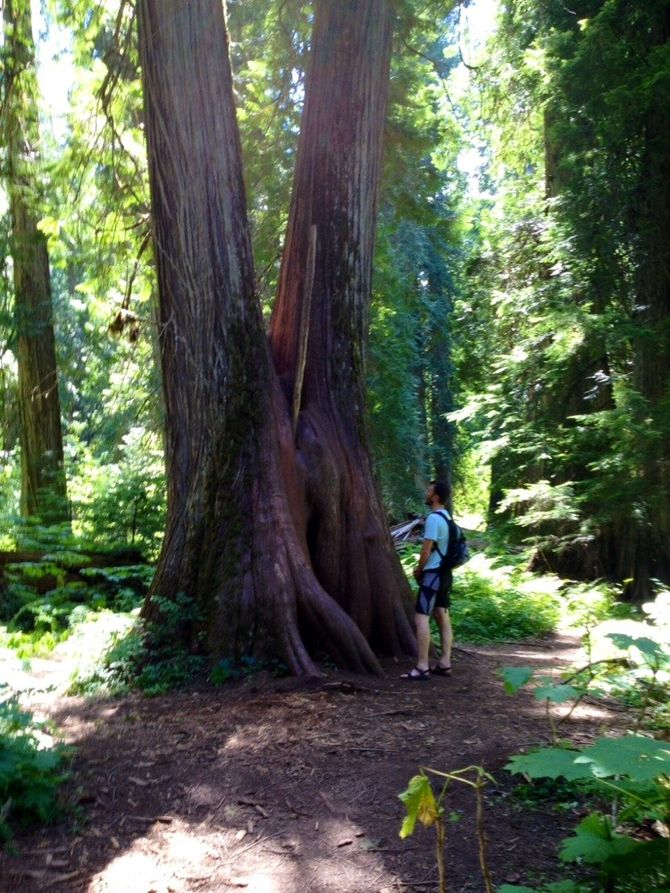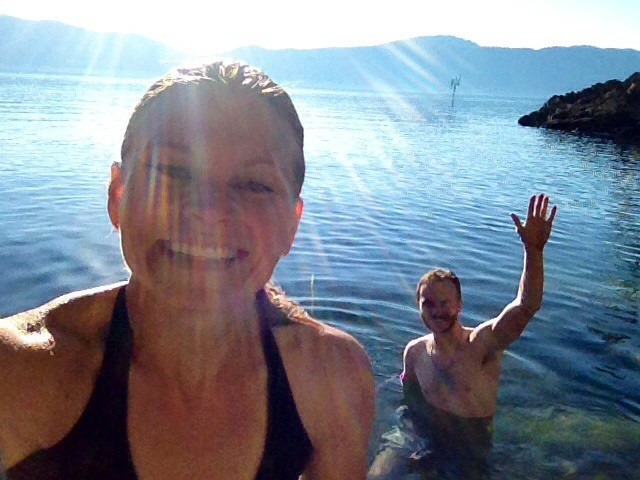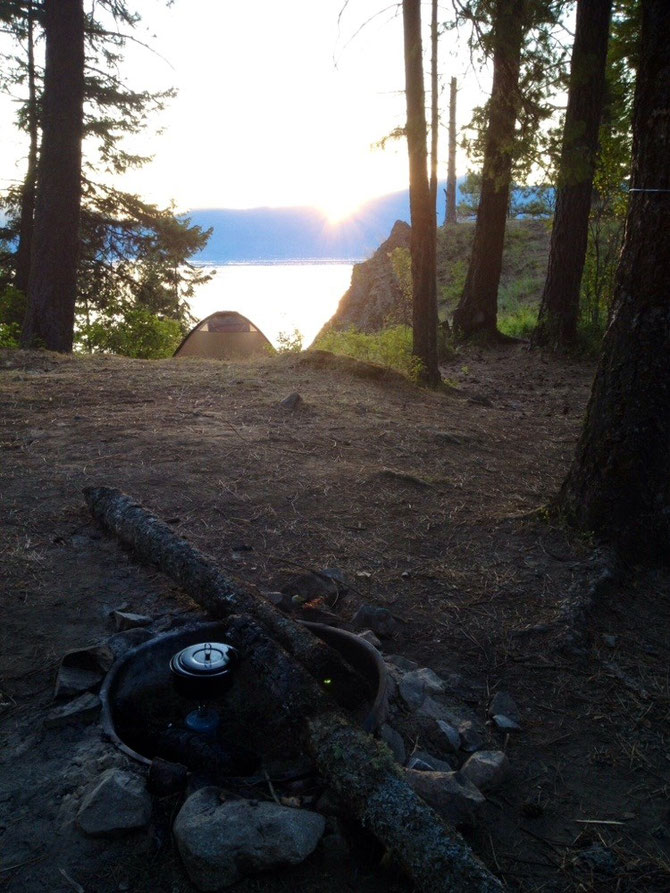 July 29- Our muscles still tight and sore from the Quartz Lake hike and the physical riding the day before, we led ourselves through a short yoga sequence on our "yoga mats" (which also doubles as a rain fly, ground cover, couch, bike shelter...a.k.a. tarp).  We continued our ride down the Forest roads to Athol, ID- successfully completing a 60 mile stretch on dirt- way more fun and interesting than the highway!  Our lunch stop at a gas station in Athol was more eventful than we would have guessed.  We met Poor Boy tractor man (a 93 year old farmer who turned in his license voluntarily and now only drives around a lawn mower pulling a trailer with either bull or elk antlers on the front, depending on the season), a young hitchhiker from Kansas who has been on the road for six years traveling with only a backpack, keyboard, and longboard, a dude who pulled into a spot in front of us with a truck completely caked in dried mud (he'd gotten stuck while out mudding somewhere illegal), and two guys from Canada riding their motorcycles around the northwest.  You never know who you'll meet at a gas station! Feeling like we needed to get some miles under our belts, we jumped on some pavement to cross into WA- that's right, we made it to the westernmost state!!! Much to our surprise the temperature was breaking 100 degrees so after a few hours of riding we took shelter at a McDonalds in Colville to enjoy some A/C and a cold beverage. We rode a few miles further down highway 20 and found a place to camp for the night just west of Kettle Falls. Nothing glorious to speak of there, other than the folks who thought it necessary to run their generator for an hour, as they provided power to their bug-zapper. Annoying (especially because there were nearly no bugs!), but it ended soon enough.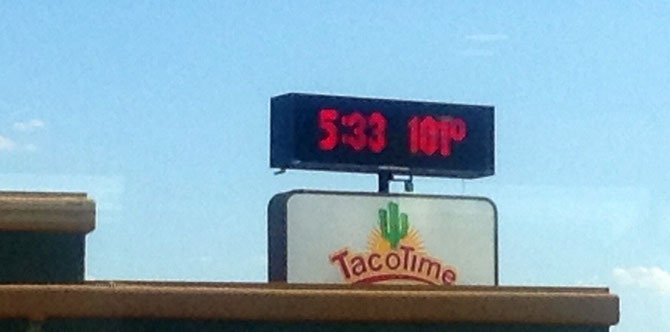 July 30- We got up early to get a ways down the road before the heat of the day hit. Riding on highway 20 we could see and smell the Forest fires that have been ravaging the area and sending smoke at least as far east as Jackson, WY where we first noticed a haze in the air.  We stopped for a breakfast of huckleberry pancakes, eggs, and bacon (can you tell we've come to like huckleberries?) at Shannon's Restaurant in Tonasket, WA. Continuing on highway 20, we rode through more National Forest and North Cascades National Park. Deciding to stop early and enjoy a restful afternoon, we found a campground with a site right next to a Colonial Creek.  Our campsite neighbors, Penny and Leslie from Portland were kind enough to offer us some wine and cheese upon our arrival, making for quite a delicious gourmet lunch!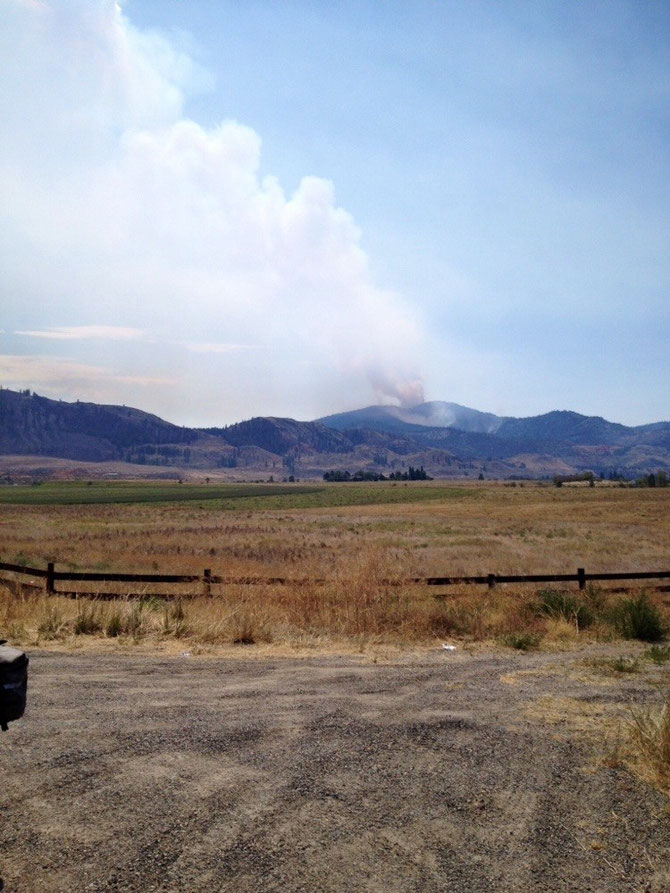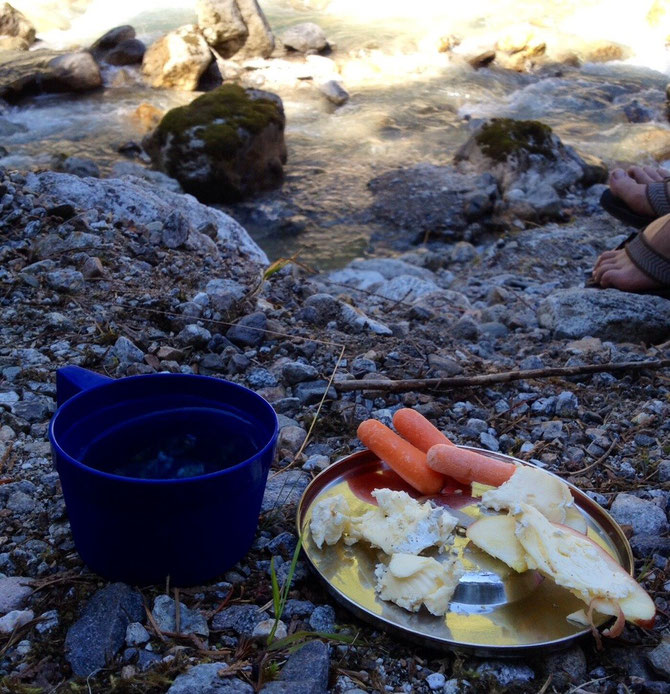 This will be our last night camping before we finish our westward travels. Tomorrow we arrive at Jay's uncles place in McKees Beach- just north of Seattle where we will spend a few days before riding south to Potland to catch a flight to Maine for family events in August.  Hard to believe this leg of our journey is almost complete.  Also hard to believe we are lucky enough to have so much more ahead! We have already met so many generous, kind and interesting people, traveled through some incredibly beautiful places, and experienced all types of weather and terrain.  So far, I think we've lived it right!!