(First part written by Jay)
Well…well….it's been a while since our last update because we've been busy visiting family all over the country.  After our last blog post, we spent 3 beautiful days on McKee's Beach (outside Stanwood, WA) with my Uncle's family and 2 days in Portland, OR with my other Aunt and Uncle.  On August 5th, we stowed our motorcycles safely in my Uncle's garage (after a deep cleaning and routine maintenance) and hopped on a plane headed to Boston, MA.  Our plan was to spend the next 3 weeks with Emily's family celebrating a handful of important events, including her sister's wedding in Button Bay State Park south of Burlington, VT.  From there we would fly to Chicago to meet my sister's new baby.  That's exactly what we did. Here's more of the story.
On July 31st, we made an important left turn.  After travelling westward from Michigan to Washington over the course of 28 days, we turned left in Burlington, WA on to I-5 South.  We had turned left before, but this particular curve meant more than others because it marked the end of our westward progress and the beginning of our journey south.  We would now be hugging the west coast of North and South America for roughly 12,000 miles.  Our first stop: McKee's Beach.
Later that day we arrived at my Uncle's lake house which sits on a private stretch of Puget Sound known as McKee's Beach.  McKee's Beach was "founded" in the mid-1950's (or something like that) when Bill and Fran McKee decided to sell parcels of property to folks seeking a slice of Washington serenity.  My great Uncle was one of them, so parts of my family have been going there ever since.
We spent the next 2 days crabbing, eating, reading, running, skiing, and enjoying marvelous sunsets.  We also had fun looking for wildlife.  While there, we watched four Bald Eagles hunting from perches high above the beach and we waterskied next to a school of dolphins who were kind enough to show themselves to us.  All-in-all, it was absolutely beautiful.  Thanks Uncle M. and Aunt S. for a wonderful visit.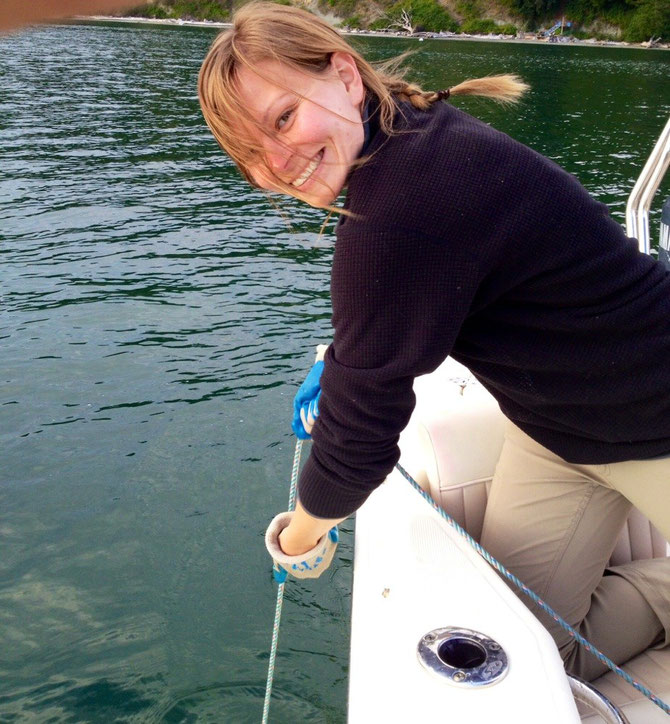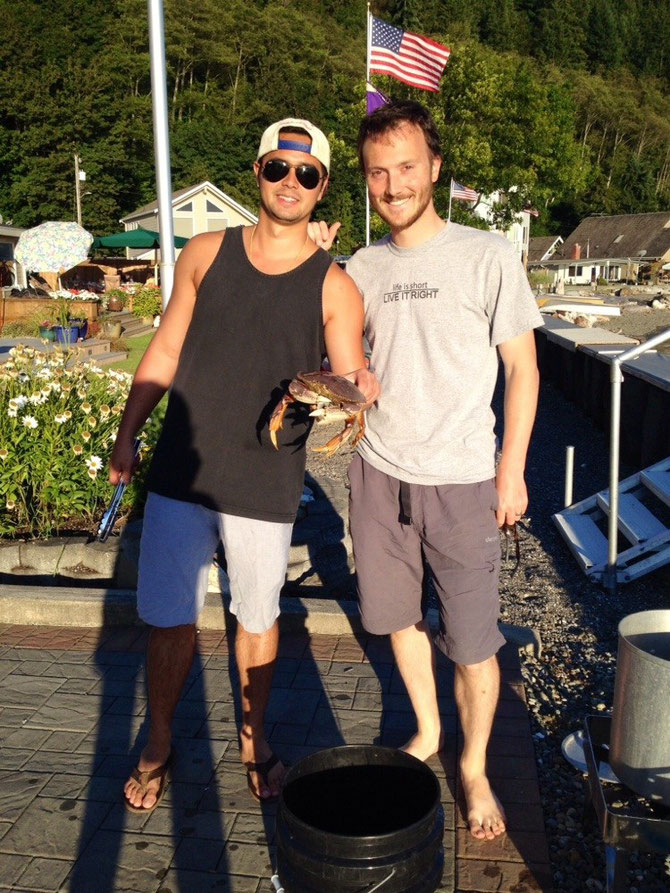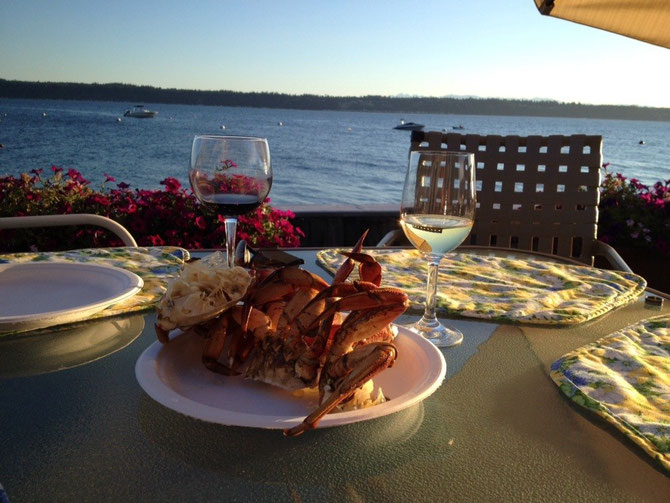 We departed the beautiful beach and made our way to Vancouver, WA where we visited with my uncle and aunt and cousins and prepped the bikes to store for a month while we traveled back east.  With the bikes safely tucked away in my uncle's garage, we hopped on a red eye flight to Boston. We found ourselves cursing our frugality as we unsuccessfully tried to get some shut eye while packed into the Spirit Airlines plane like sardines.  We barely made our connecting flight in Dallas (yes, we flew all the way south to Dallas to get to Boston), but were in turn treated to a plane with seats that actually reclined for the next leg of our trip.
Tired and groggy we landed in Boston and took the T downtown. We had a fun day in Harvard Square reading and people watching before meeting my friend Kevin for an evening cocktail. Later that night, we also linked up with our friend Rob from Ann Arbor after his performance of The Twelfth Night at Shakespeare on the Commons! Kev fell asleep halfway through the play, but Em and I thought it was a great show.
(Writing of this portion of the Blog post by Emily)
On the morning of August 7th we took Amtrak up to Maine to begin three weeks of Flinkstrom family events. We hit the ground running with my Nana's 80th birthday party which we drove 2 hrs back to Massachusetts to celebrate.  My uncles from Minnesota and Montana were there along with 5 of my 7 siblings. While the idea of an 80th party may not sound incredibly fun and exciting, a bonfire, beer, good company and interesting conversation (albeit the topic inevitably turned to farts) made for a great night. With no space in the house, we camped out in my grandparents backyard.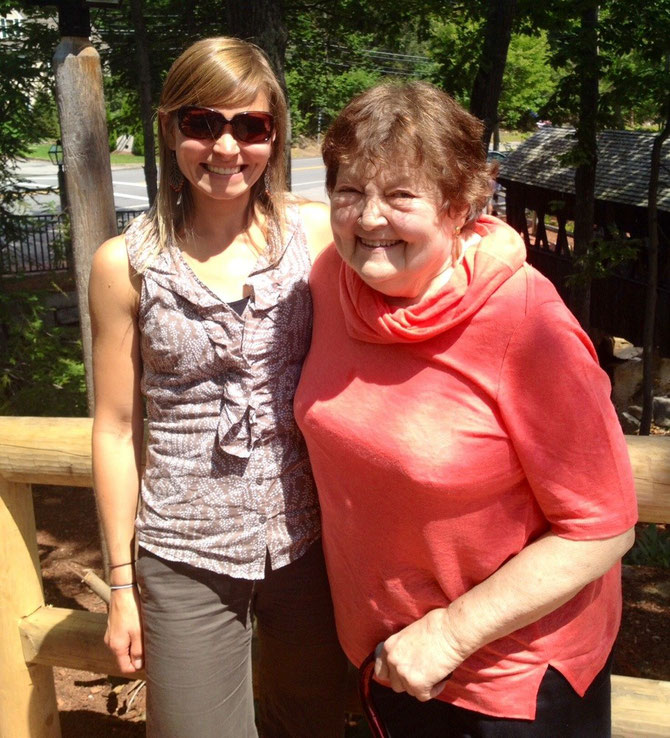 The next day we drove back to my parents house in Maine and spent the afternoon at York Beach surfing, swimming, and relaxing in the sun. It's amazing how much I took for granted the beautiful place I grew up in! The week was filled with more beach time, hiking up Mount Agamenticus - an old ski mountain 10 minutes from my parents, mini golfing and go-carting with my nephews, hanging out with my cousin who was in town from Oregon, and prepping for the upcoming events.  We also got to be reunited for a few weeks with our dog, Cloe who is staying with a family friend in Maine while we're on the trip! Unfortunately, Jay threw out his back early in the week so was out of commission icing and resting.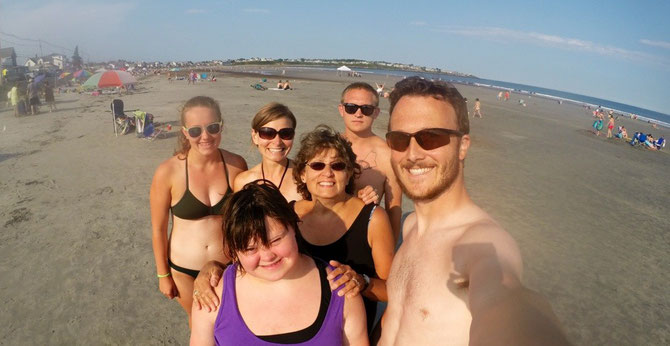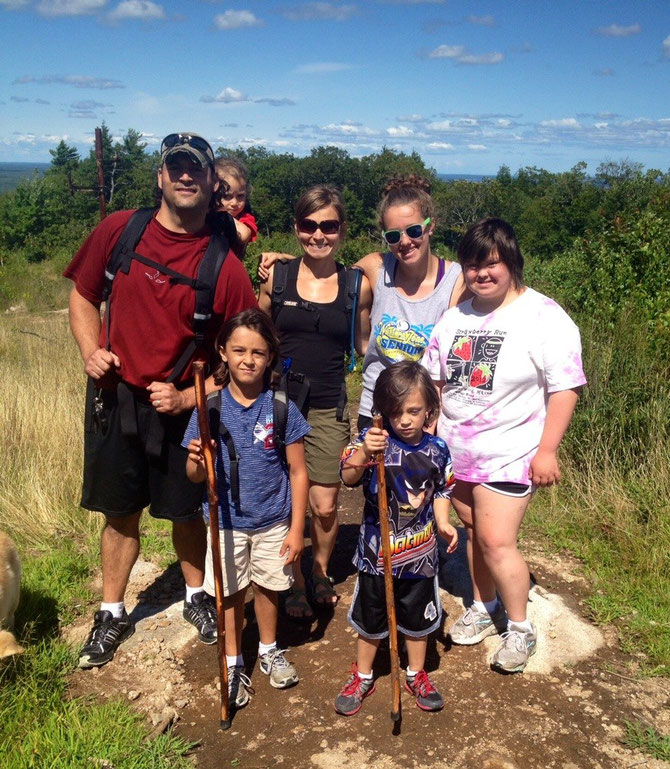 August 16th was my Dad's 60th party. All my siblings were in town for this one and since we're basically a small army, we pulled the event together without a hitch.  Maybe this is why my parents had so many kids?? My brother's friend who runs a food truck and catering business called Juice Burger catered the event with an impressive spread of BBQ fare.  My cousin Flynn entertained us with his pogo sticking tricks and the night once again concluded around the bonfire. My Dad is a warm, caring, funny, and incredibly hard working guy and it was wonderful to spend the day celebrating him! Another successful party at the "Flinkstrom Event Center".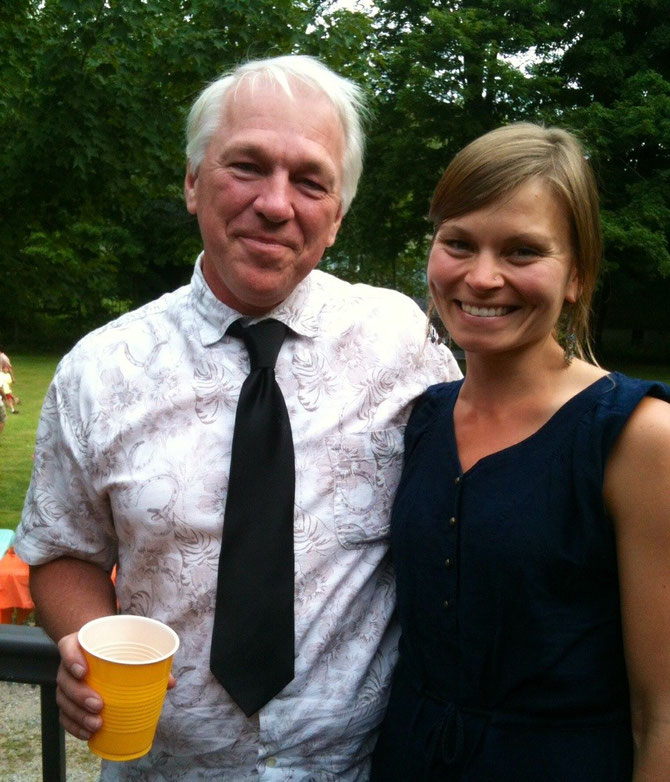 The following week was focused on my sister Rachel's wedding events and prep.  Our oldest sister Hilary threw a Pinterest worthy bridal shower which we followed up by a bachelorette evening at a hotel on the beach.  Unlike typical bachelorette parties, this one  did not include any penis shaped paraphernalia, but instead was a wonderful night spent with my three sisters and mom talking about love, marriage, and happiness. The memory of this night is stored in the section of my brain that I'll pull from when I get homesick during our adventure.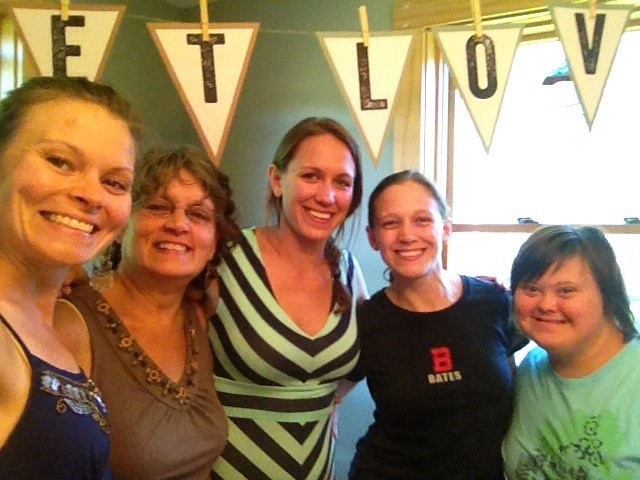 On Thursday August 21st we packed up all the cars with wedding and camping supplies and took off for Button Bay State Park in Vergennes, Vermont (stating it that simply underemphasizes the amount of planning and work put into even getting out the door that day...especially given that my Dad discovered the lights on their pop-up camper didn't work right before pulling out of the driveway necessitating me & Jay to follow immediately behind them the whole way there). 
We made it safely to the campground and set up right before it began to rain..and it didn't stop raining for the next 24 hours.  When the wedding day arrived we awoke to a dense fog and sopping wet ground, but no rain!  The clouds lifted around 10:00, just in time to dry things out a bit before the 12:00 ceremony.  Rachel looked gorgeous and the setting overlooking Lake Champlain was unparalleled.  Her and Jesse did an incredible job bringing their vision of a small, gorgeous, fun-filled Vermont wedding to fruition!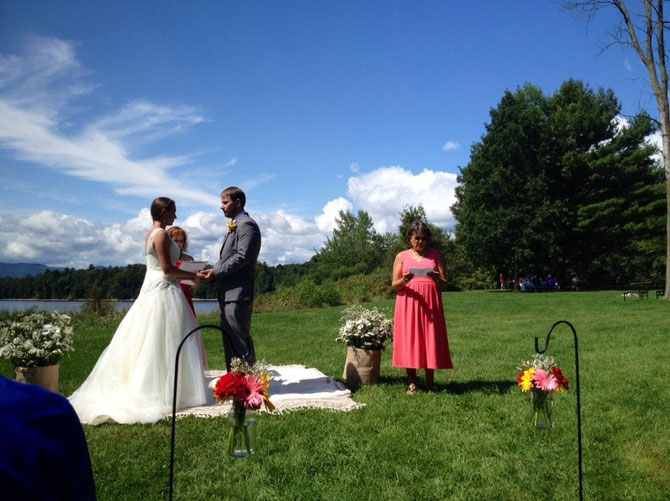 Jay & I decided to spend an extra night at Button Bay with a few of my brothers which allowed us to make a trip up to Burlington and visit my alma mater, UVM. We got up early the following day and took a circuitous route back to my parents house.  We drove through the green mountains of Vermont, crossing the Long Trail and Mad River Glenn ski area then crossed into New Hampshire and followed the Kancamagus Highway to North Conway where I spent many summer vacations as a kid.  We meandered back to Maine making a stop in Wolfeboro, a small town on Lake Winnipesaukee.  It was fun to show Jay the beautiful region where I grew up, and possibly where we may live someday!
Our last "event" during our time back east was driving down to Boston with my parents to drop my youngest brother off at college for his freshman year at Northeastern.  This is my brother whose birth I witnessed and whose umbilical cord I cut!  I promptly threw up and passed out, but nonetheless, I couldn't help but feel proud, nervous, sad, and sentimental that my baby brother was going to be starting a new chapter of his life in the big city.  Not sure how my parents have gone through this seven times! Jay and I stayed in Boston for the night to catch an early flight on August 28th to Chicago for a week with his family.
Jay's sister had given birth to her second daughter, Cambria a few weeks before we arrived. Much of the week was spent getting to know the tiny new addition to the family and spending time with his other two nieces and his mom who was in town from California. We drove to Jay's brother's lake house in Hamilton, Indiana for Labor Day Weekend where we impressively fit 9 people (including a newborn) into a single-wide mobile home!  We drove back to Chicago and celebrated Jay's niece's 3rd birthday party before departing to head back West.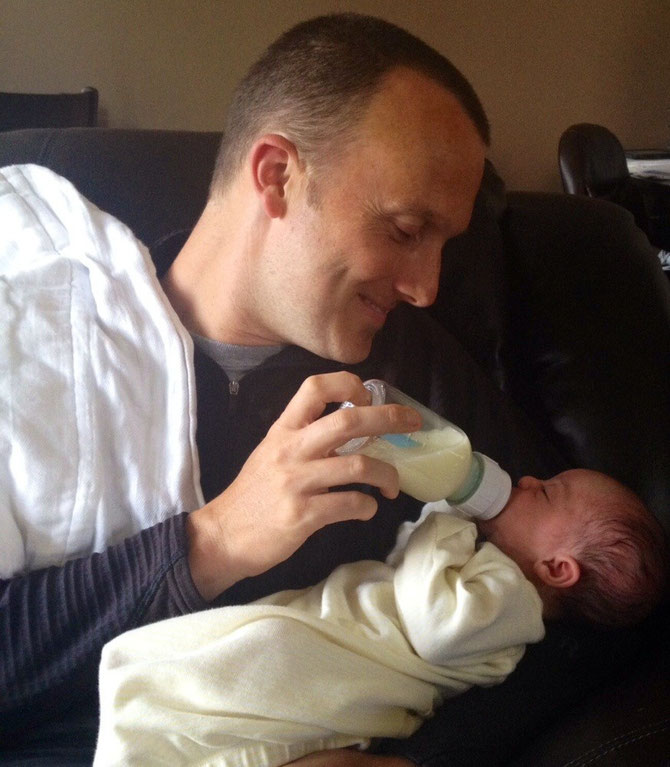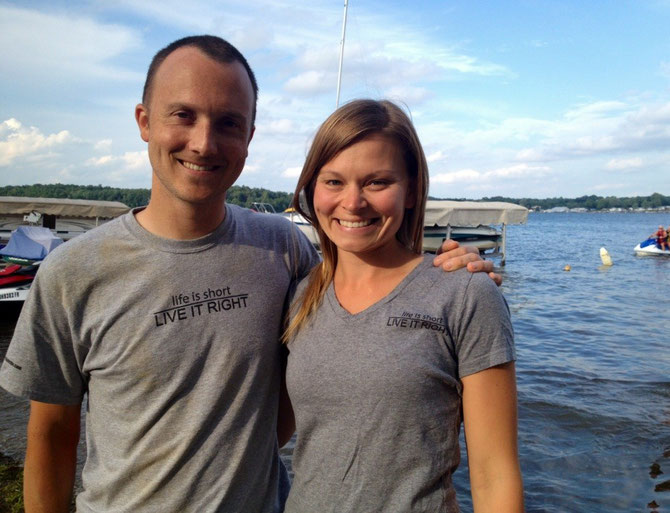 We can't begin to express how grateful we feel for being able to have spent a whole month surrounded by our families and celebrating so many milestones.  While both of us are eager and ready to get back on the bikes and head South, this pause filled us up with good memories, love, and support that will carry us all the way to South America.  On Saturday, September 6th we begin the next leg of our journey from Portland, Oregon to Los Angeles, California! 
P.S. We also finally have our t-shirts & stickers up for sale on our site. Check out The Merchandise tab and order today! For the month of September we will donate 50% of our proceeds to the National Alliance on Mental Illness- a cause near and dear to both our hearts.