After 2 ½ weeks riding down the beautiful Pacific Coast we made it to Jay's mom's house in Sun City, California on September 23rd.  The jaw dropping magnificence of this portion of our travels cannot be described in words, nor do the multitudes of pictures and videos we took do it justice, but hopefully this gives you a little taste of our journey down the west coast.

In our last blog entry we talked about our five week hiatus spent celebrating several life events with family out east.  We flew back west to Portland, Oregon on September 3rd with a heaviness in our hearts, sad to be leaving our families and unsure of the next time we would see them.  The transition was made easier, however by the wonderful hospitality of Jay's aunt and uncle and their families in Portland.  His uncle Jon drove us around the Portland neighborhoods where Jay's dad grew up, allowing a peek into a part of his past Jay was too young to be privy to.  His aunt Fern and her partner Pat threw us a send off bbq at their house where Pat presented us with a "survival kit" complete with toilet paper, safety pins, a bungee cord, and maps.  The support and encouragement was just what we needed as we prepared to take off the following day.  We can't thank you enough Portland Wilgi!!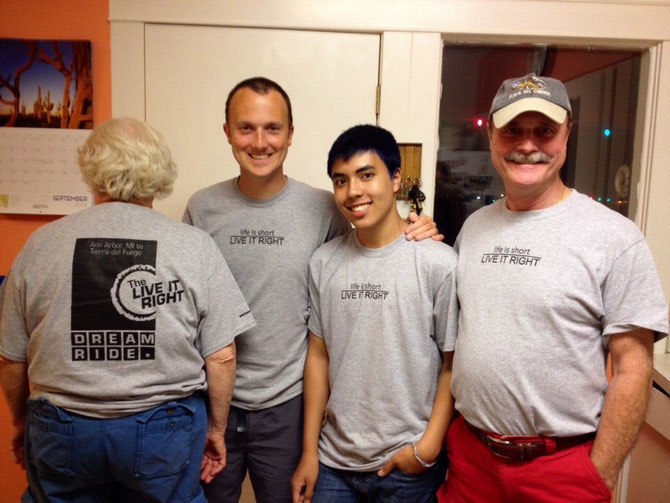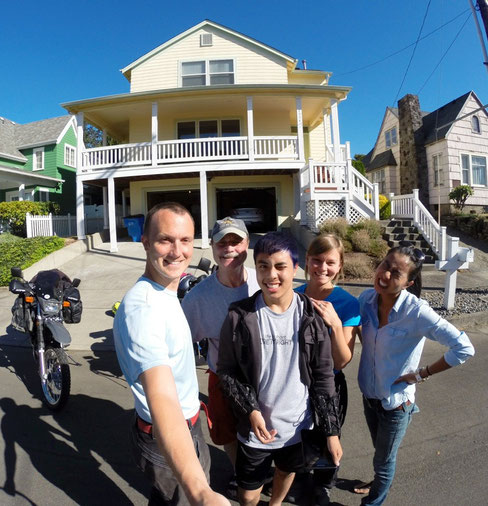 On September 6th, we took off for Corvallis where we would spend the night with my uncle, aunt and cousins…it's pretty awesome that we have family and friends all over the country!  Our first hour or so back on the road was fairly anticlimactic as we hit stop and go traffic getting onto the highway, while sweating in the intense heat.  Once we got going though, we made our way through serene wine country, and past chestnut and hazelnut tree farms, arriving to Corvallis early afternoon.  My cousin showed me around Oregon State University campus and helped me run a few errands to stock up on groceries before we all enjoyed a nice dinner at the local brewery.  Thanks again for hosting us for the night, Nymans!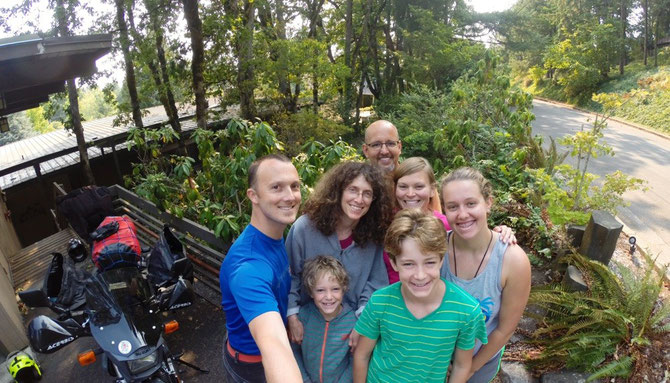 We left Corvallis around noon the following day and made the ride due west to Newport, Oregon.  After a quick coffee break and mini celebration for making it to the Pacific Ocean (for the second time, I guess), we turned south, officially beginning our journey down the coast on Highway 101.  This is where the head turning, stunning beauty of endless ocean dotted with dramatic rock spires began.  Stopping occasionally for pictures and admiration, we made our way to Honeyman campground just south of Florence, OR at the beginning of the Oregon Dunes National Recreation Area. The campground butted up against miles and miles of rolling sand dunes that Jay and I explored briefly on foot.  We quickly learned how hard it is to climb a mountain of sand…Jay more so than I as he hurriedly raced to the top of the first hill so he could see the ATVs we heard messing around on the other side.  We retreated to our campsite for a dinner-in-a-bag (didn't really miss those during our hiatus).  Climbing into our tent that night I felt both at home with Jay by my side in our familiar surroundings and missing home as I hung on to the lingering heaviness of missing family.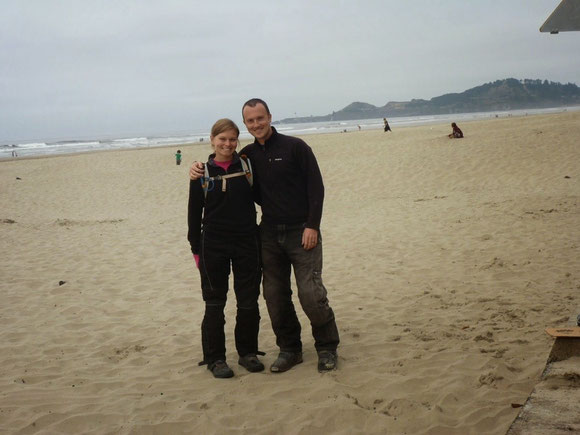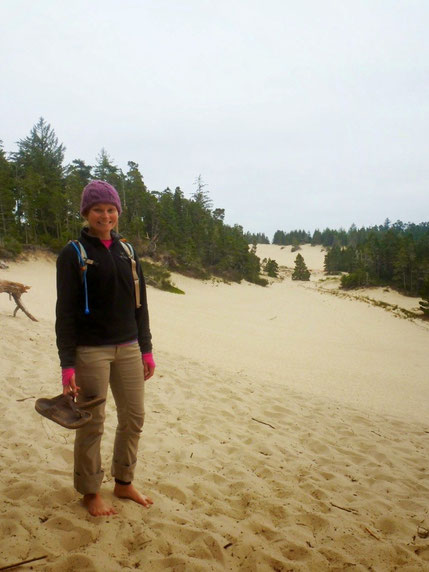 Jay woke up the next morning with the excitement of a kid on Christmas morning.  The plan was to rent ATVs and have some fun on the dunes.  I have to admit I was a bit skeptical of spending our precious money on an hour of entertainment, but Jay was absolutely convinced that it would be a sin to pass by the dunes without "properly" exploring them.  I gave in and even reluctantly agreed to pay a premium for an ATV with added power- Jay's idea, not mine.  After a brief tutorial, explanation of the rules, and admonition of the dangers, we were let loose to play around on the dunes.  Okay, it was pretty fun…and worth the money.  We messed around for an hour, which was barely enough time to become comfortable enough with the terrain (for me anyways) to get up to giggle inducing speeds, attempt some major hill climbs and get stuck a few times.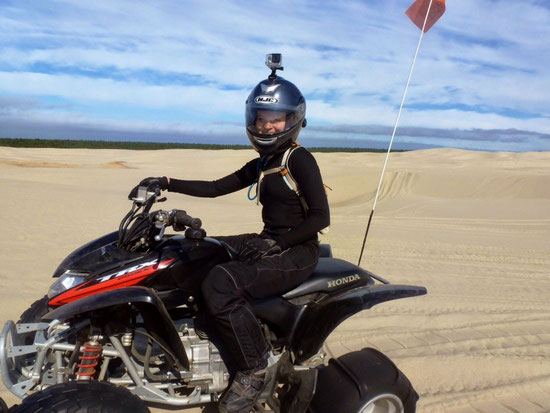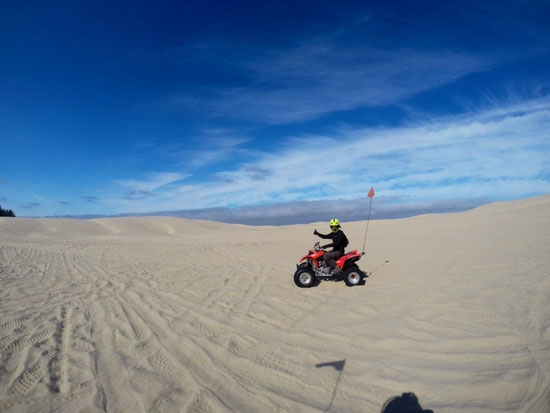 With that thrill behind us, we got back on the bikes and rode to Mount Humbug State Park- stopping along the way in Coos Bay, Bandon, and Port Orford (or as a gentleman we met mistakenly called it, Port Orifice).  The campground once again butted up to spectacular scenery- a small beach where we discovered lots of little ocean creatures, including a baby octopus, starfish, mussels, snails and clams.  Jay hung out on the beach until sunset (see his artwork below!) while I did a little reading back at the campsite.  That night I was awoken around 2 in the morning to the brightest moon I had ever seen hovering right above our tent.  I lay there for an hour watching the dark clouds roll across the sky, restricting and revealing the light.  Ahhh, the beauty you experience sleeping outside!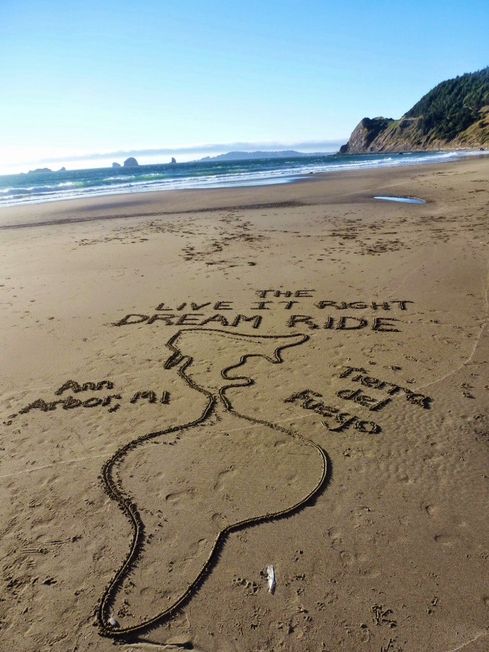 The next morning, Tuesday September 9th, Jay and I took a short hike/jog along the Oregon Coast Trail before getting on the bikes for the day.  We rode to Brookings, OR where we filled up on gas and although we were getting hungry for lunch, we decided to continue down the road to find the perfect spot to eat along the ocean.  We got a little too greedy and the highway turned inland (right after crossing into California!), bringing us away from the coastal views.  A combination of being hangry and super spoiled led to a stressed out several miles as we veered off the main road trying to get ourselves back to the ocean…because why eat somewhere sorta pretty when you can eat lunch somewhere REALLY pretty??  We eventually were successful, finding Pebble Beach Drive where we pulled off to an ideal spot and enjoyed our tuna while listening to the barks of the sea lions offshore.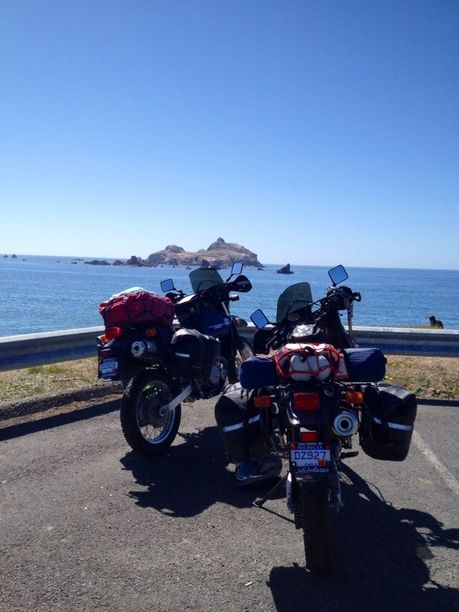 We continued riding with an intended destination of a campground somewhere in the Redwood Forest.  Our plan was to ride to the visitor's center, which we would "surely" run in to at the beginning of the National Park.  Or not.  We did, in fact, drive through some beautiful redwoods but it wasn't until we stopped at the visitor's center in Orick that we realized we had passed all the way through the park, missing the campgrounds AND bypassing the most famous scenic route – this is what we get for not doing the research beforehand.  Again feeling stressed, tired and hot we rode back north to the closest campground in the park- Elk Prairie – where we paid a whopping $35 for a tent site (yikes, California! – most other state park campgrounds cost from $6 to $17 where we had been staying).  After settling into our site, we took a stroll through the campground, admiring the enormous Redwood trees.  We heard a beautiful voice singing in the distance accompanied by bongo drums.  We followed it to the source to discover a woman making a demo music video in the amphitheatre.  What an unexpected treat after a long day! Falling asleep that night I had to smirk at what we find ourselves stressing about these days…preeeeety lucky if our biggest concerns are finding the prettiest spot to eat lunch and accidentally missing the scenic route.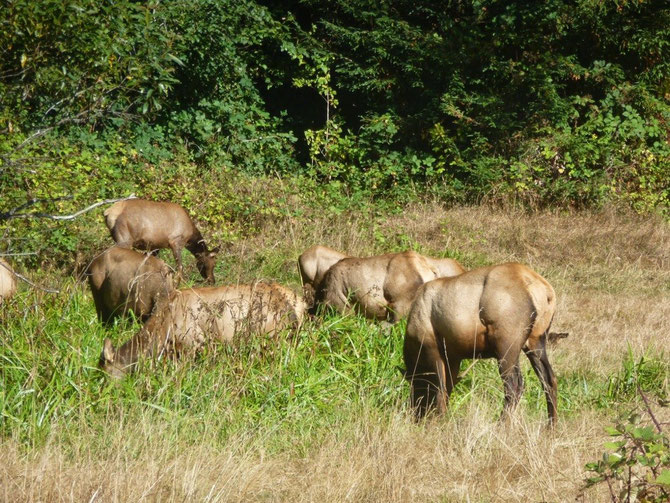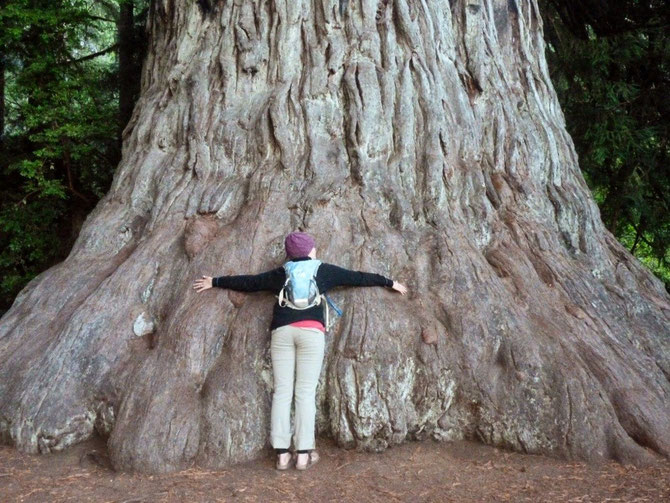 After a very chilly night I woke up early to the call of the Barred Owl.  For most people this wouldn't mean much, but ever since my brothers ran across a ridiculous YouTube video of some scientists describing the unique call as sounding like the bird is asking, "Who cooks for you?  Who cooks for you-all?", it's been a running joke in our family to get each other's attention by imitating the sound.  I couldn't believe what I was hearing and broke out into laughter, feeling like it was a sign that my family remained with me despite being so far away.  Jay and I packed up camp and rode a short ways up the scenic drive we had missed yesterday before turning around to once again head south.  We made it to Arcata, CA where we decided to stay for the rest of the day to get some things done on the computer. For those who haven't been, Arcata is home to Humboldt State University.  It has a cute town square and the largest group of transient youngsters (and some oldsters) we've ever seen. Everywhere we looked, we bumped into someone with a dirty backpack and a banjo – oh, and usually a dog.  We spent the night at a KOA just south of town.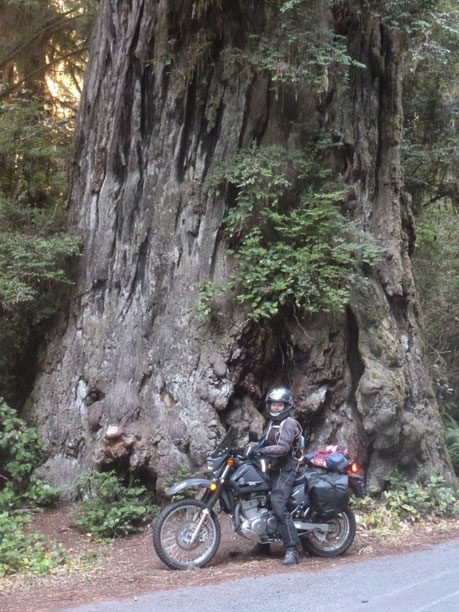 The next morning we rode down to Eureka to grab a coffee and plan our route.  As we were sitting out in front of Old Town Coffee & Chocolates, we met two men who gave us some great advice about where to ride that day.  We were debating whether to continue on Highway 101 which would take us inland a bit and through some more impressive redwood forests, or to take the road less traveled along what they call the Lost Coast.  After talking to both of the gentleman, we were convinced that the Lost Coast was the way to go….and wow, did we make the right decision!  This section of our trip topped my list of the most beautiful rides.  It consisted of narrow, winding, barely maintained roads up into the mountains and through sprawling ranch lands until it meandered its way down the other side of the hills to meet up with the Ocean….even just writing about it I am smiling about its incredible beauty.  The fact that this section of California's coastline is totally undeveloped is part of what makes it so unique and serene compared with the rest of the coast spattered with beach towns, large houses, and the sound of convertibles whizzing along Highway 1.  During a stop at Mattole Beach, we discovered that there is a 24-mile hiking trail (in the King Range National Conservation Area) paralleling this section of the ocean called the Lost Coast Trail - a reason to return for me and Jay!  We veered off the Lost Coast and headed inland through Humbolt Redwoods State Park to meet up with the Avenue of the Giants- the famous scenic byway through even more Redwood Trees.  We camped for the night at Burlington Campground (next to our friends Jay and Linda – a retired couple from upstate New York, driving a Mercedes RoadTrek – and Rob – a V-Strommer who was out for a week-long tour from his home in Crested Butte, CO), planning to make it all the way to San Francisco the following day.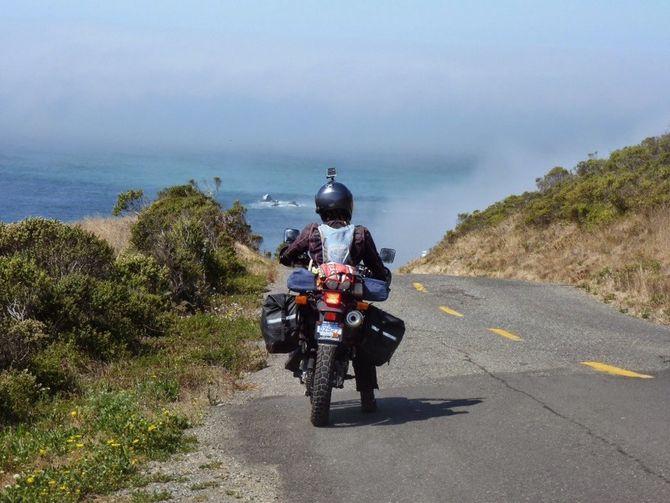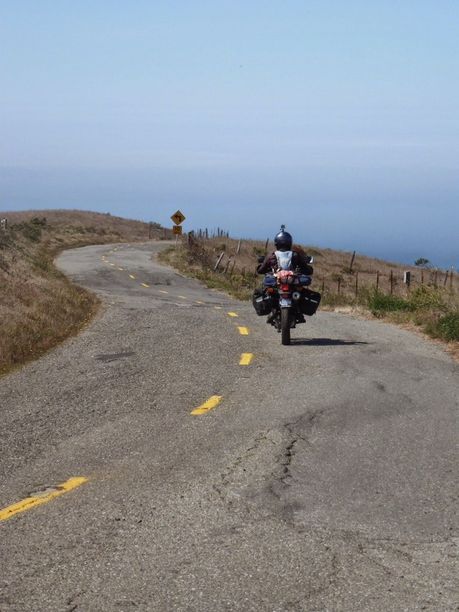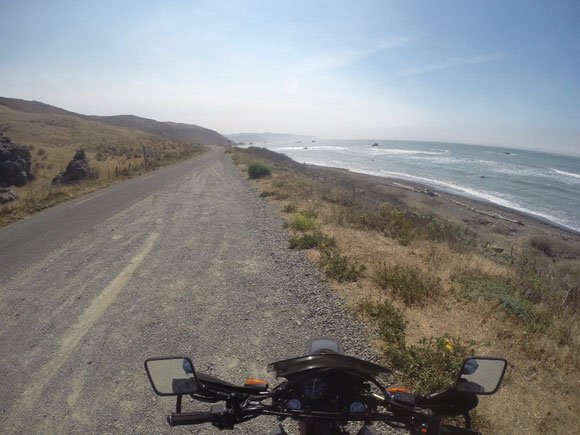 We got up early on Friday, September 12th and headed directly for Leggett where we stopped to take the obligatory bike-driving-through-tree picture at the Chandelier Tree.  There, we met a wonderful family from Costa Rica who took an interest in our trip and graciously offered to connect us with family/friends in Central America as we get closer to that part of our journey.  Hopping on the first section of highway 1, we wound our way through 30 miles of intense twists and turns which once again brought us out to the coast.  We made it down to Mendocino where we stopped for lunch. Jay and I visited this town while on a spur of the moment motorcycle trip during the early stages of our relationship, so feeling sentimental and romantic, we decided to stay for the night, treating ourselves to a room in the historic Mendocino Hotel.  We had a fantastic night relaxing in the warm wooden lobby and enjoying the town.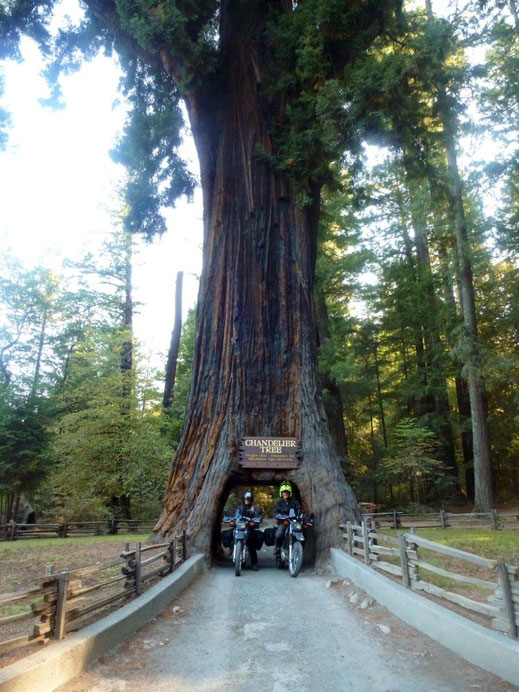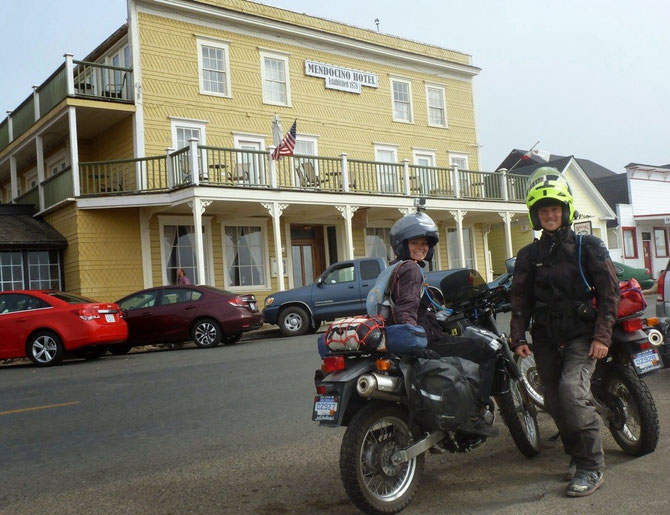 Excited to get down to San Francisco to see our friends, but not wanting to leave this beautiful and special town, I enjoyed an early morning run through the coastline trails in Mendocino Headlands State Park.  We sat around and drank coffee in the hotel lobby until late morning when we got back on the bikes and rode off into the fog.  We were somewhat disappointed by the dense marine layer obstructing what we knew to be incredible views, but also appreciated that this was all part of the full experience of traveling through this part of the country.  Several hours later, the Golden Gate Bridge came into view and we arrived at our friend Emily's apartment in San Francisco.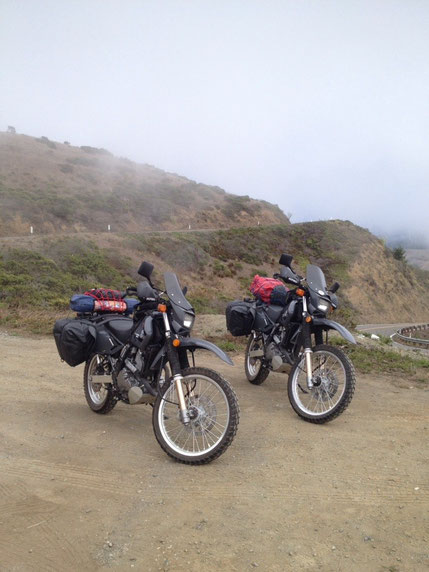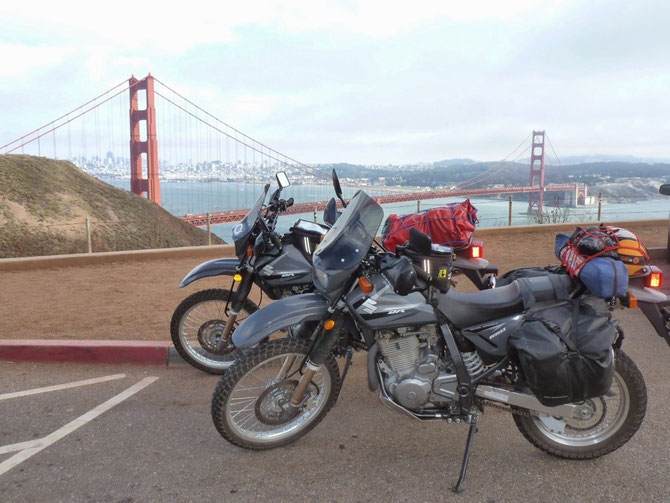 Saturday evening and Sunday we spent exploring San Francisco and catching up with our friends.  We knew we got the full San Fran experience when, after taking a long walk through the Haight district and by the "Full House" house, we had dinner in the Castro and witnessed not one, but two men "wearing" only a sock…and not on their feet.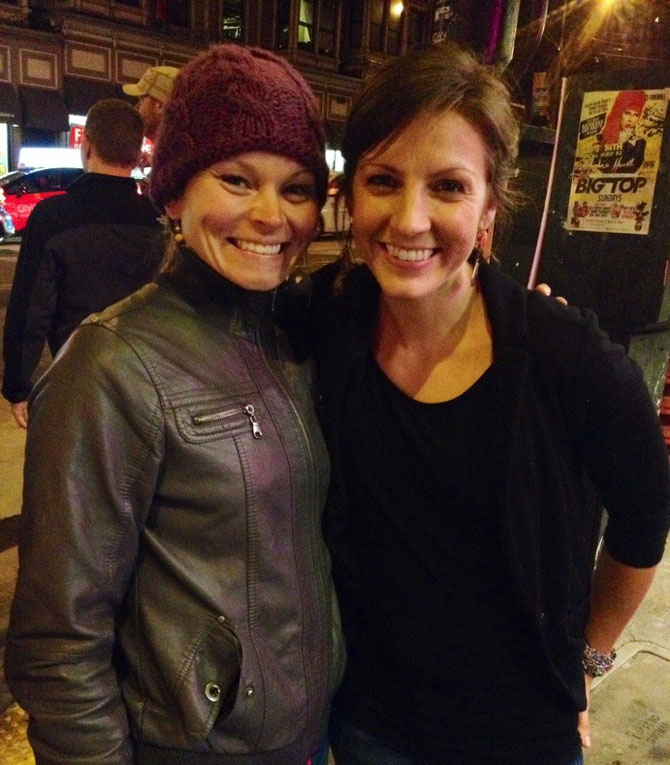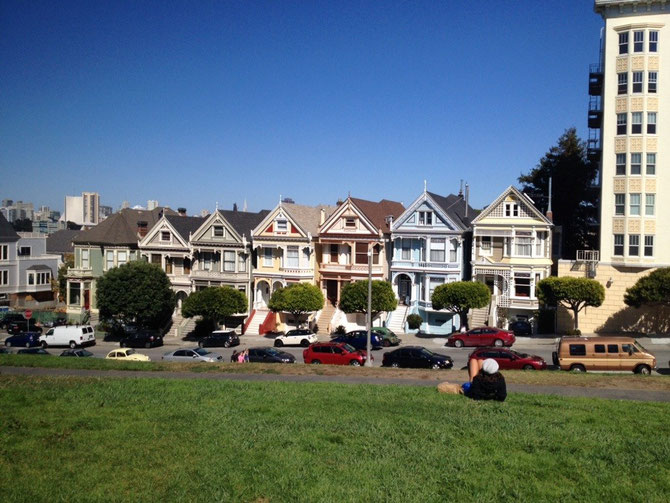 We planned to leave for Yosemite early on Monday morning Sept 15th, but instead decided to ride down to Mountain View to stay with Jay's Aunt Eva (his mom's best friend) for the night and head for Yosemite on Tuesday. Eva was an amazing host, despite us unexpectedly showing up two days early (thanks Eva!).  She showed us around Stanford's campus and Google's massive headquarters - almost a city in it's own right!   I was having some sort of allergic reaction that caused me to break out in hives all over my body, so I took some benadryl and hit the hay early, hoping to be itch-free in the morning.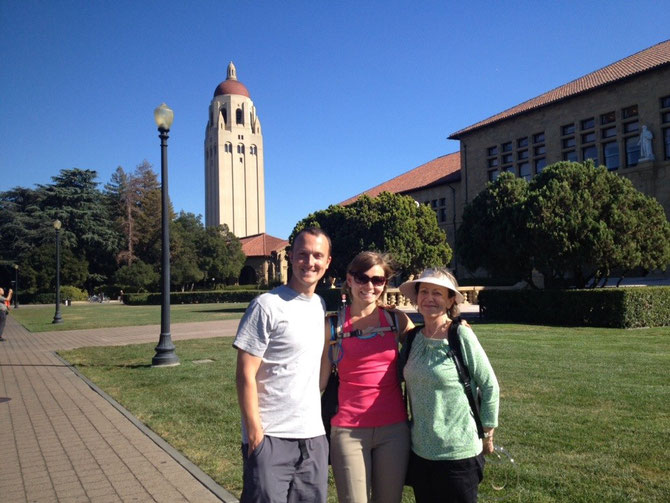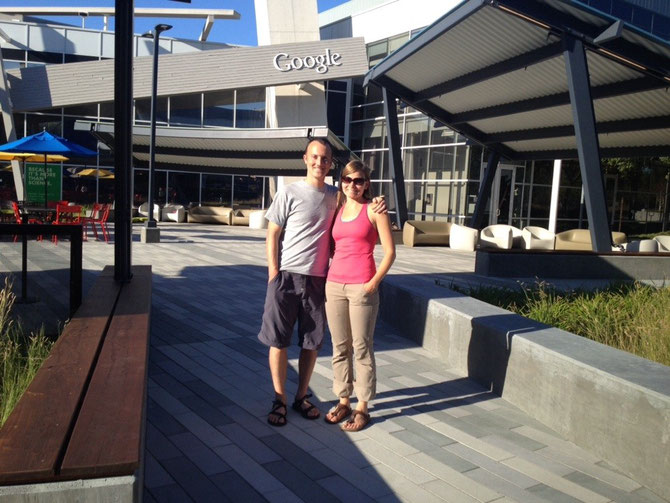 With the hives greatly diminished, we departed for Yosemite the following morning.  Neither of us were incredibly excited about the 4 hour ride inland, but since we had never been to this particular national park, we were anxious to get there and explore.  We made it about 80 miles to Oakdale where we stopped to load up on some groceries and eat lunch.  Without much delay, we got right back on the bikes and took off down the road.  15 miles later, Jay makes a comment about not seeing signs for 120, the main road toward Yosemite…but we both ride on, fairly confident we're headed the right direction since we hadn't taken any turns and it's pretty much a straight shot east.  10 more miles later, still no signs.  Jay pulls over to look at the map and realizes we have gone 25 miles in the wrong direction.  Pulling out of Oakdale, we must have missed a turn to stay on 120, and instead continued straight which brought us south.  Hot and frustrated, we recalculated our route and made our way back north to meet up with the correct road.  All in all, the unintended detour added an hour onto our already lackluster trip.  BUT, once we got to Yosemite we realized it certainly was worth it!  We set up our site in the Crane Flat campground and planned for the following day.

We decided to spend the next day on the high side of the park so we took off early in the morning down Tioga Road toward Tuolumne Meadows.  The ride was incredible, offering views of the valley below and the immense granite domes and rock faces that are the symbols of Yosemite.  We took a four mile hike to Lambert Dome and Dog Lake before enjoying a refreshing "bath" in Tenaya Lake on our way back to camp.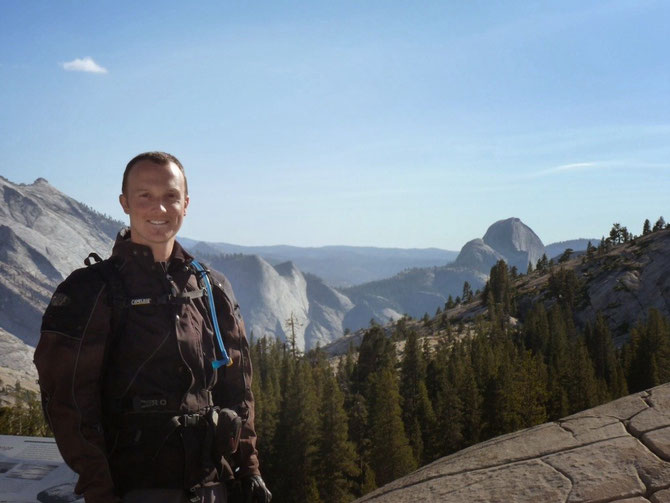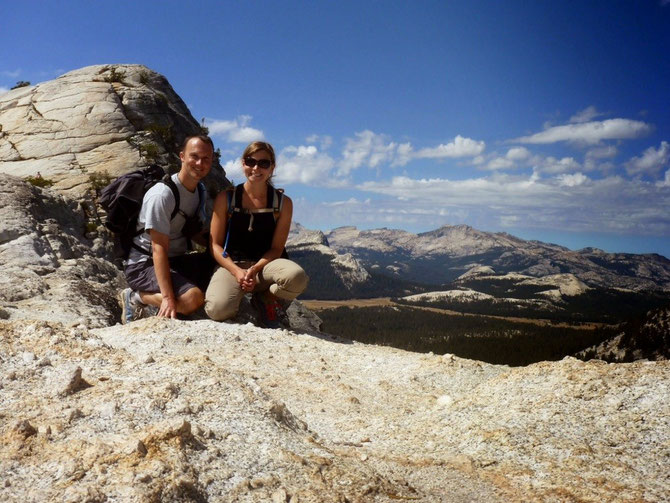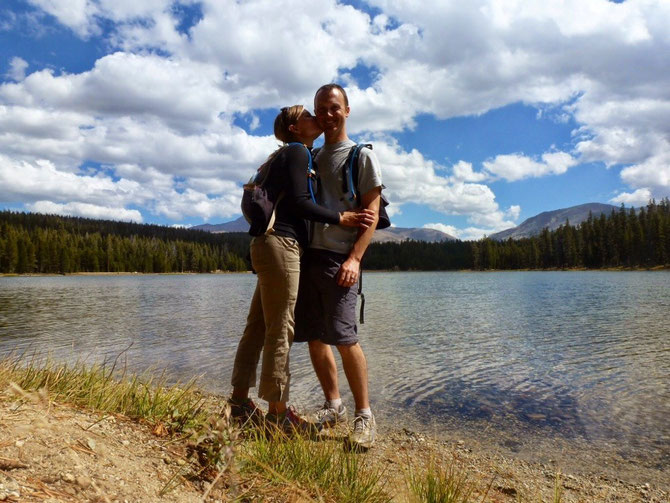 The next day, Sept 18th, we packed up early and made our way down to the Yosemite Valley- the busier and more well known area of the park.  Again, just stunning scenery!  Looking up at Half Dome, El Capitan, and all the other impressive geological formations is almost overwhelming to the senses.  We walked around the historical Ahwahnee Hotel where Jay's great Aunt worked as a nurse during WWII when it was used as a rehabilitation facility.  She used to tell her patients that they should feel lucky to be recovering in such a beautiful location that would someday cost $25 per night!  Turns out Aunt Ruth was right about the cost increase, but wrong about the proportion.  A night at the Awahnee now costs about $522!  We left Yosemite around noon and made our way to Salinas where we spent the night with my good college friend and her boyfriend.  Sarah and Joey graciously treated us to some delicious BBQ and told us about life in Salinas.  We had entered ag country, so there was MUCH to learn.  Crops grow everywhere and in all forms around these parts.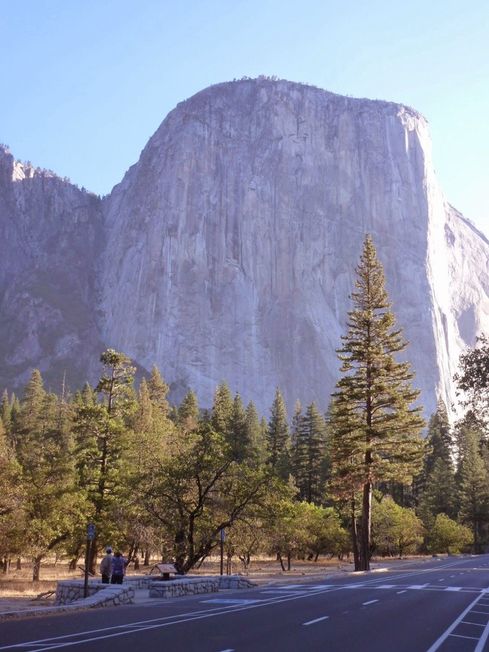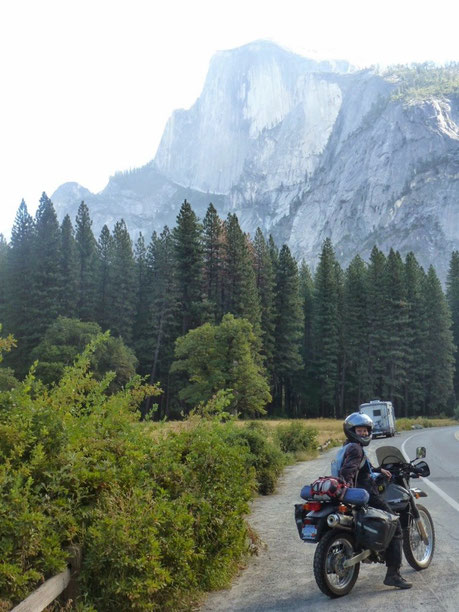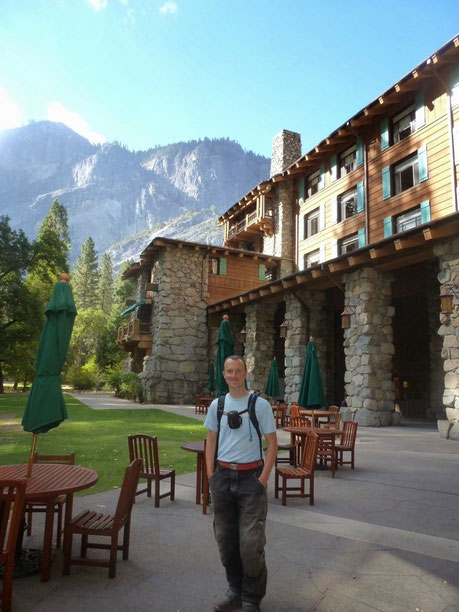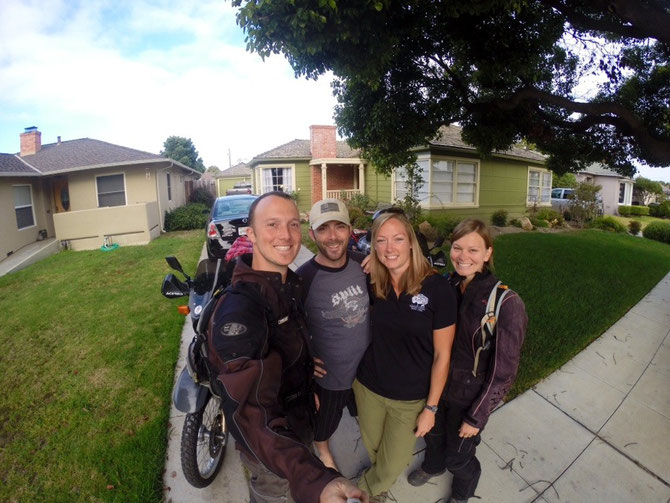 September 19th we rode from Salinas to San Luis Obispo.  This particular drive down the central California coast was full of interesting animal sightings.  We spotted several whales jumping out of the ocean, a plethora of elephant seals sunning themselves on the beach, and a rare California Condor perched on the rocky cliff.  We stopped in at Jay's friend's ranch in Cayucos where Jay quickly fell in love with the 800 acre rolling hills, outdoor bathroom and shower, quaint cabin, and huge barn housing several work-in-progress trucks and toys.  It was pretty awesome…anyone have a ranch for sale??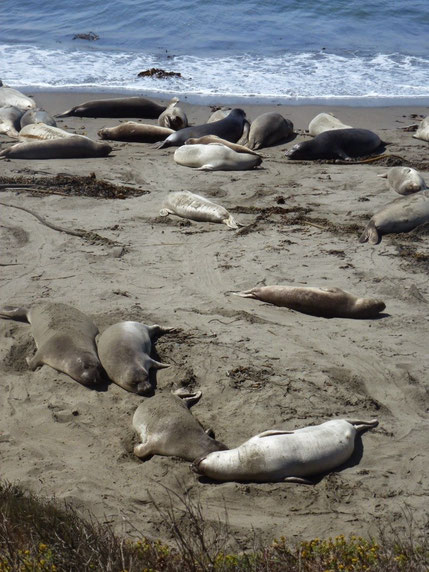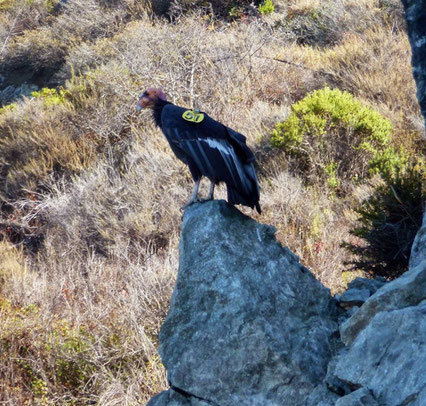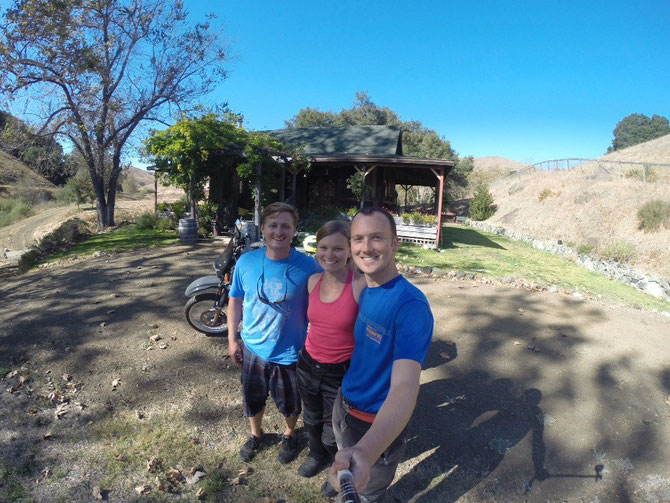 We arrived in San Luis that afternoon and spent the next few days there with Jay's friend Ashley who works for Cal Poly.  We enjoyed time vegging out and watching football, exploring the town, and entertaining ourselves as Ashley worked … which included having a SICK jam session in his car - so sick, in fact, that we drained the battery and had to get a jump from a friendly passerby (whoops).  We also took a trip to Hearst Castle and toured the extravagant mansion built by the newspaper magnate William Randolph Hearst in the early 1900's.  As a social worker, it struck me as a somewhat disturbing display of excessive wealth, but that's a whole other blog post...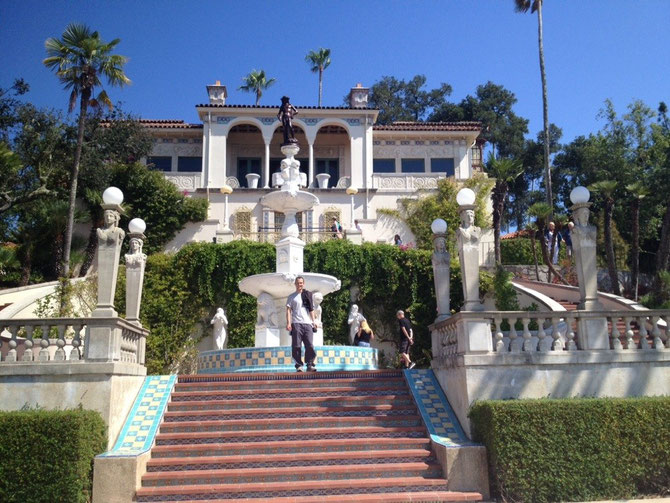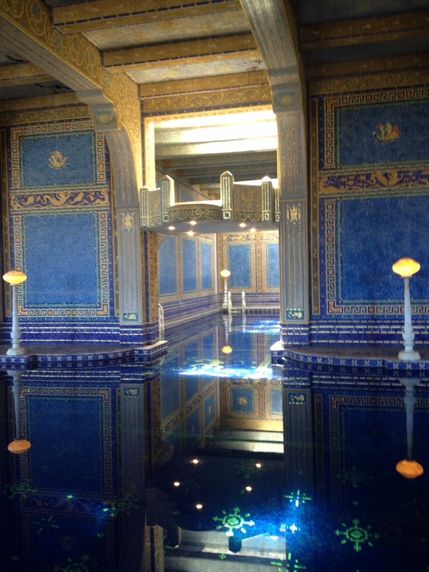 We departed San Luis on Monday morning and rode through miles and miles of agricultural land before once again meeting up with Highway 1. Seeing all the migrant workers hunched over in the fields, tending to the crops and picking the fruits and vegetables gave us a whole new level of appreciation for the produce we purchase at the grocery store.  We set up camp at Point Mugu State Park, right off the highway on the beach thinking we'd fall asleep to the sound of the waves crashing to the shore.  Instead we had a fitful night listening to the roar of the constant traffic whizzing behind us….BUT we woke up to a pretty amazing view!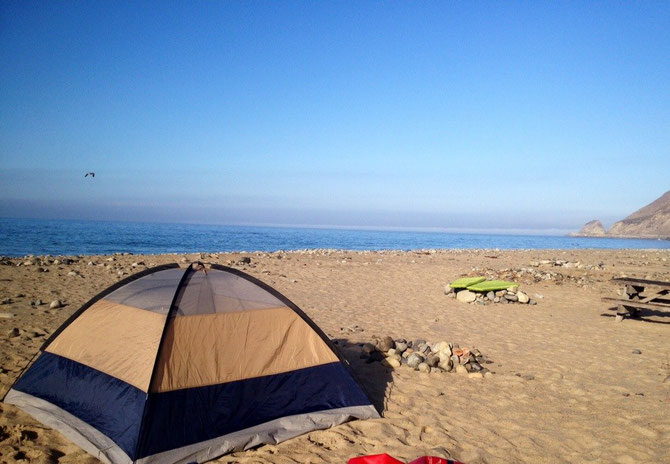 I had this vision of our LAST day of riding for several weeks being this peaceful, beautiful, moderately paced roll down the coast, stopping in a few different beach towns along the way for coffee, lunch and to take in the scenery. Obviously I haven't driven around LA County much…we basically rode in traffic from stoplight to stoplight through strip malls for 2 hours until we reached Seal Beach.  Jay's parents met in Seal Beach and lived there for the first few years of their relationship, so we stopped there for a quick lunch break at a Mexican restaurant called El Burrito Jr #2.  After enjoying some delicious tacos we went up to the front to pay for the meal.  Our server informed us that it was taken care of by "the lady".  Further inquiry revealed that the owner of the restaurant had comped our meal after realizing we were on an extended motorcycle adventure.  As we went to give our thanks, she said she wanted to help make our trip memorable. She warned us to ten cuidado (be careful) and siempre viajan juntos (always travel together).  She handed us a talisman from Mexico to carry with us for a safe journey.  We definitely will remember her kindness and generosity! 

A few (very hot) hours later we made it to Jay's mom's house in Sun City, where we are currently stationed.  We will be here until the beginning of November prepping the bikes, planning our route, and getting everything in order to cross the border of Mexico and continue our adventure.  Hard to believe we have already ridden 5,000+ miles through the U.S.  We rode all the way here from Ann Arbor, Michigan!  Still so much ahead of us.  Onto our to-do lists!