On Saturday, November eighth The Live It Right Dream Ride went international.  For five weeks before our departure we were stationed in Southern California at Jay's mom's house.  While some of that time was spent enjoying family (and feeling extremely lucky to have such a supportive, generous, and loving mother/mother-in-law), most days were spent agonizing over every detail of our impending adventure south.  Jay worked tirelessly on the bikes - changing the tires, putting on bigger gas tanks, adding tank panniers for expanded storage, hooking up a USB charger, and trying to decide how much perfectionism was too much perfectionism.  I slaved at the computer researching travel warnings in order to assure we take the safest route, getting our documents, copies of our documents, and copies of copies of our documents ready to go, setting up our DeLorme InReach satellite communication device (which we love), purchasing last minute items such as warm gloves and socks so my fingers don't fall off, creating and sharing our emergency and safety plan, purchasing health insurance, and trying to decide how much preparedness was too much preparedness. Several times during those five weeks we questioned whether or not this was worth all the work we were putting in.  The night of November seventh we realized that ready or not, we just needed to take the plunge.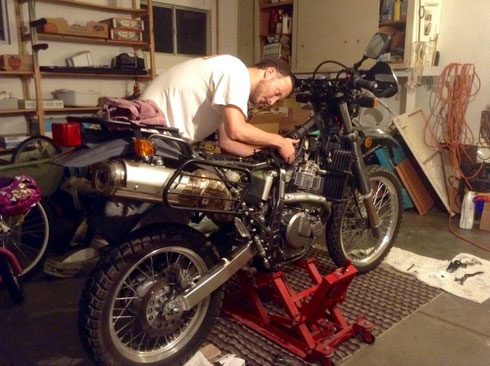 We woke up early that Saturday and double, triple checked our packing to make sure we weren't forgetting anything too important. Lynda sent us off with the phrase "Vaya con Dios" written in sidewalk chalk in front of her house....and we departed.  We spent the first hour and a half cruising down the uneventful California highways until we reached the border of Mexico.  And without a whole lot of warning and definitely no pomp and circumstance, we were in Tijuana, Baja, Mexico.  If we hadn't done our research and been through this border crossing before, we could have easily continued driving south without stopping at all.  Thankfully, we knew better and made a pit stop at the immigration office at the border.  After a fairly painless hour of being bumped back and forth between two offices, we had our tourist card and motorcycle permits in hand and made our way to Ensenada.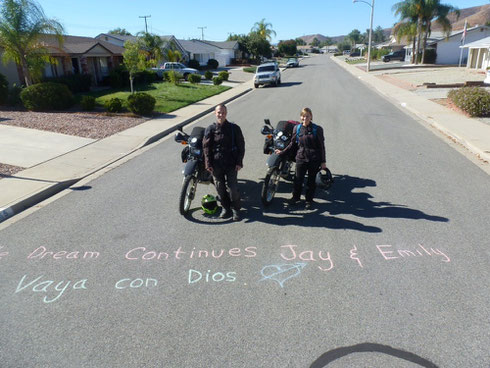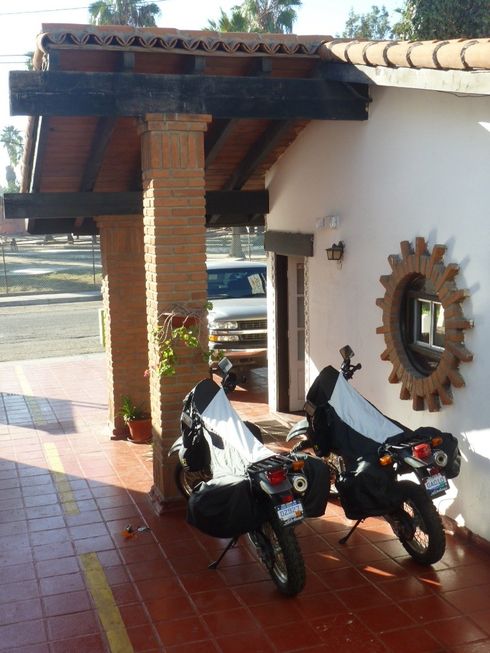 The next morning we woke up in Mexico.  Our plan was to ride to Mike's Sky Ranch which is an off-road outpost of sorts butting up against the beautiful El Parque Nacional Sierra de San Pedro Martir.  The first 80 miles from Ensenada were smooth pavement until we veered off onto the dirt.  I once again took several miles to get my dirt legs under me before really relaxing into the ride (particularly when riding through patches of squirrelly sand).  The mountainous desert scenery that was somehow both lush and arid made for an incredible backdrop as Mike's Sky Ranch came into view.  We were the only ones there when we first arrived which seemed to surprise Jay who had been there a few times before and described it as a rowdy hang out for dirt riders.  He was also shocked to find out they were charging $70 per person!  Granted, this included a room, steak dinner and breakfast.  We bargained our way down to $35 per person by opting for quesadillas rather than steak and nixing the breakfast...not that we had many other choices for lodging given we were in the middle of nowhere with the sun setting.  After we settled in, a few others who we had met previously at the gas station arrived by jeep followed by a large group of dirt bikers from San Luis Obispo.  It turned into a fun night getting to know the other guests and studying the walls full of stickers, business cards and t-shirts that told the stories of all those who have passed through Mike's Sky Ranch in the past. Read more details about our time at Mike's in the December issue of Midwest Motorcyclist (www.midwestmotorcyclist.com).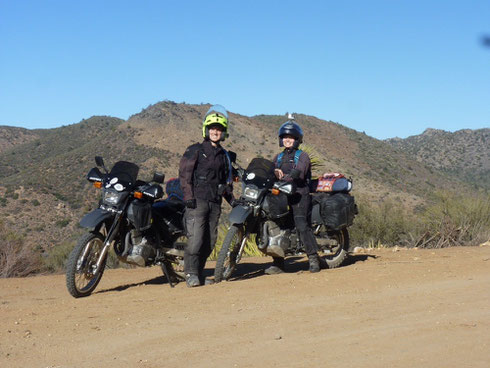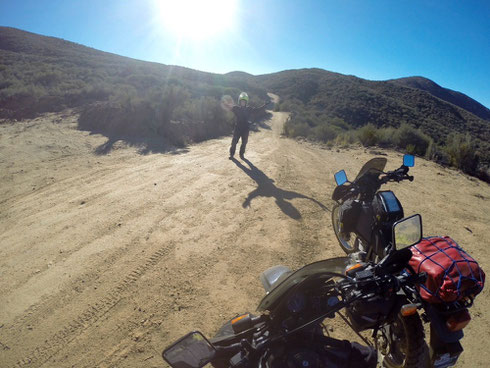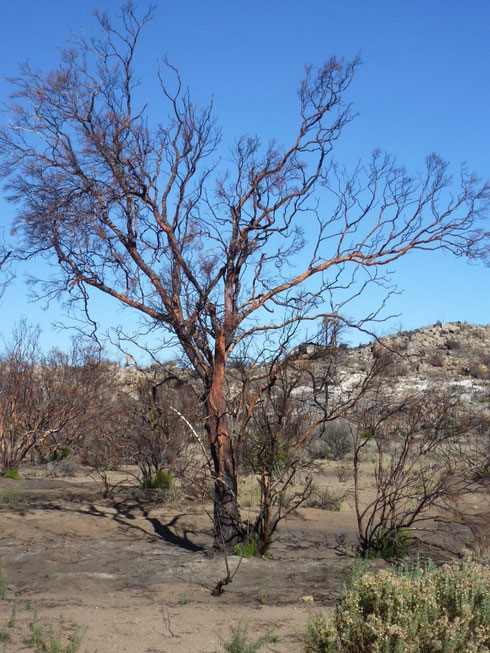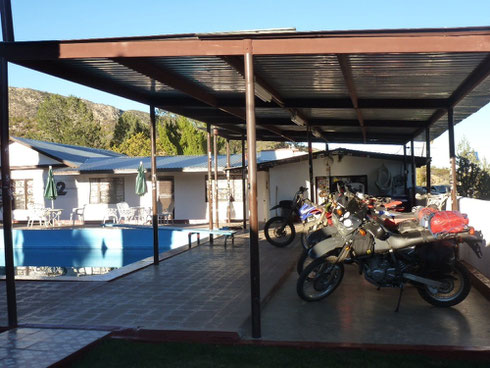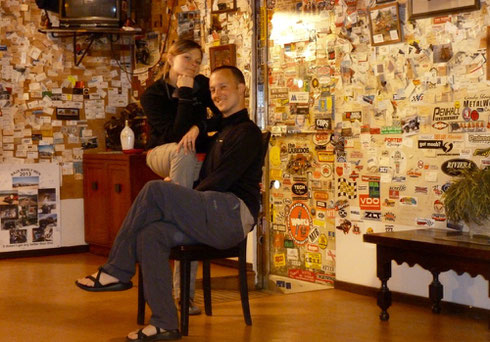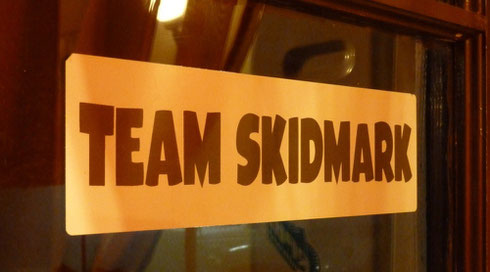 The following morning after a walk up the canyon and a hearty oatmeal breakfast, we rode back out to the pavement and made our way to San Felipe.  After a lunch of fish tacos (a staple here in Baja), we set up camp in a two story palapa overlooking the Sea of Cortez at Kiki's hotel & RV park.  We stayed here for a few days relaxing on the beach, reading, and passing the time conversing with our camping neighbors.  The stops on our trip will be remembered in large part through the people we are meeting along the way.  San Felipe was no exception. Murray and Randall were the first to greet us- visiting from British Columbia to ride and watch the Baja 1000 race.  Turns out Murray is quite the motorcycling legend, having recently been inducted into the Canadian Motorcycle Hall of Fame.  Randall is a storied rider in his own right with years of racing under his belt.  We got to know Ray and Charlene- also from B.C. but split their time between Canada, Yuma, Arizona, and Baja.  Greg and Wayde from Washington were down in Baja to catch the race and were kind enough to have us over to their palapa for a bbq chicken dinner with cervezas.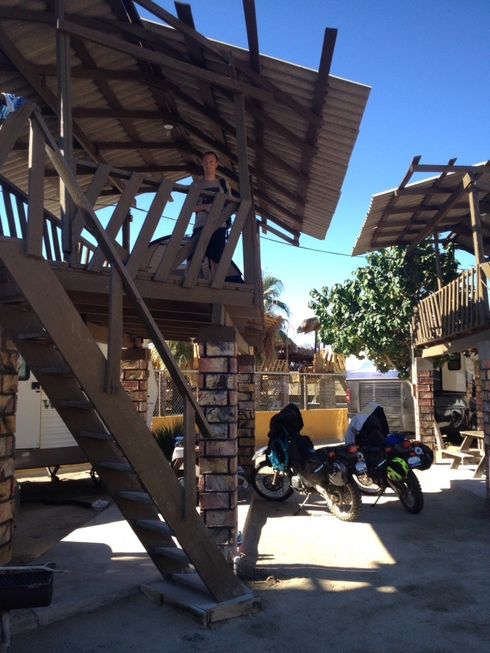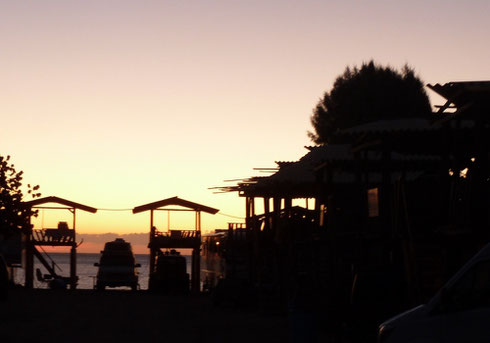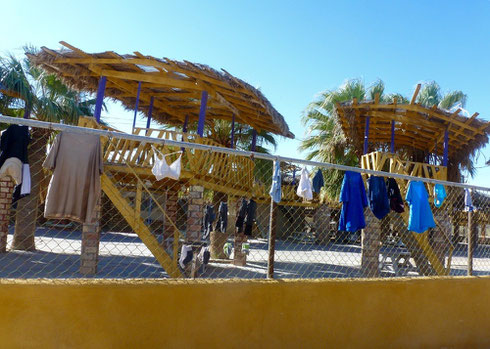 We also encountered the first couple on the same South American adventure as us.  Claudia and Mirko are from Germany and are riding two V-Strom 1000's (see www.2ar.eu for their blog). They are sponsored by Suzuki Europe, Touratech, Heidenau, and a few other companies so are fully decked out and loaded up (can you sense a bit of jealousy??). It was nice to compare notes with other people who have planned for the same trip...and comforting to know we're not the only ones venturing south. It's very possible we'll run into them again down the road.  They were also riding with Jan who is from the Czech Republic but lives in Reno, NV and was on a shorter trip through Baja. Jan owns an adventure touring company so check out his website (www.4youradventure.com) if you're looking for a guided trip around the western U.S. or Baja.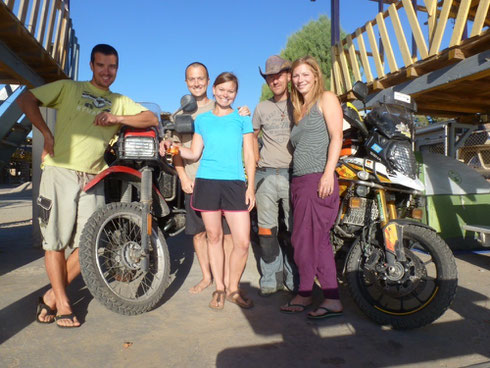 On the morning of November 12th we packed up our stuff and said goodbye to our newfound friends at Kiki's and hit the road for Gonzaga Bay.  Before we got on the main road we stopped at a market to pick up a few items and ran into yet another couple riding their Honda XR650s through Baja.  Andie is from England and Zach is from Alaska/New Mexico, but they both live in Switzerland working during the summer and traveling the world during the winter months.  After a brief chat we told them where we were headed for the night with the hopes we would run into them again.  
The ride to Gonzaga had previously been a pretty rough dirt road winding through the mountain sides with white knuckle drop offs directly down to the Sea of Cortez.  In recent years, however, that section was paved and the ride was smooth, albeit a bit less exciting, but offering breathtaking views of the sea.  We rolled into Gonzaga Bay, which consists only of a row of palapas, a few permanent houses and one restaurant/hotel, and set up camp.  After an hour of sitting and watching the pelicans dive for fish we walked to the restaurant for dinner.  Along the way we ran into Andie and Zach who joined us for fish tacos and shared our palapa for the night.  We didn't know it at the time, but this would begin a fun four day stretch of riding with these guys.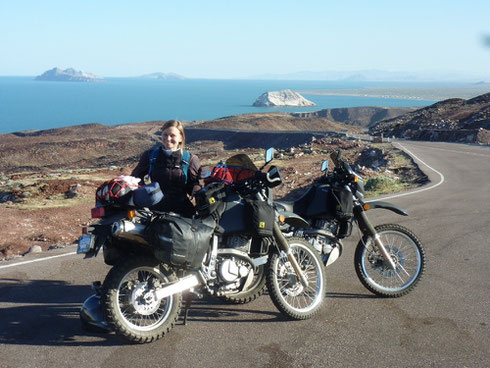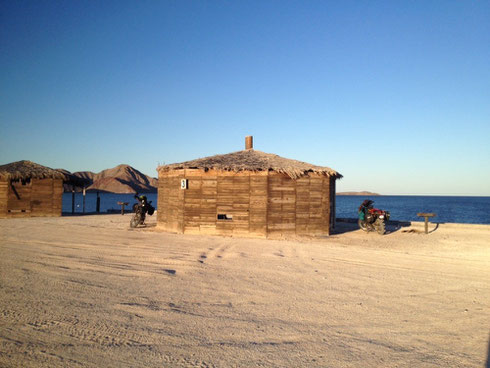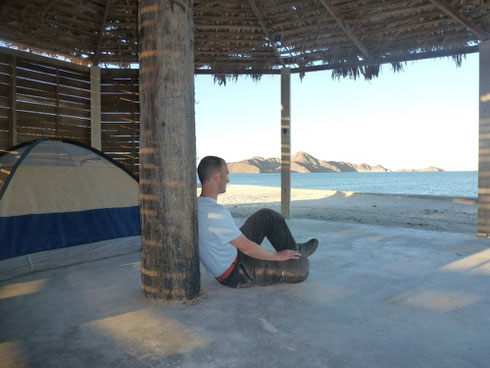 November 13th, Baja 1000 race day- we woke up to a beautiful sunrise over Gonzaga Bay.  We were anxious to get to Coco's Corner where we'd spend the day and night enjoying the race.  For those of you not familiar with the Baja 1000, it's the longest desert race in North America.  Participants race in everything from million dollar trophy trucks to old VW bugs, to of course dirt bikes.  Jay and I have both watched the race several times, and Jay raced with a few friends in 2008. In short, it's really freakin awesome. Watch Dust to Glory on Netflix if you want to know more.  
After an hour or so ride down a rocky dirt road, we saw the glimmer of the empty beer cans that dangle along the fence line of Coco's property.  Coco is a Baja native who after losing a leg during an accident at work retreated to the middle of the desert and made a home for himself.  Through simple hospitality and kindness paid to those who pass by his home, Coco has become famous enough to earn himself a spot on the map (just type "Coco's Corner" into Google Maps and it'll show up).  We were greeted by Coco himself, who lost his second leg to diabetes several years ago.  He offered us a camping spot right by the race route.  The rest of the day/night was spent mingling with the other spectators and watching the clouds of dust come over the hill and whiz by us at impressive speeds.  Like no other race I've ever seen, the Baja 1000 puts no restrictions on its spectators.  This is both awesome and scary since bystanders can literally be standing in the race route.  We had a close encounter when the second bike to come through took the corner a little too fast and veered off the course heading directly toward us.  He corrected himself just enough to break through a fence and find his way back on track.  We all backed up a little after that one.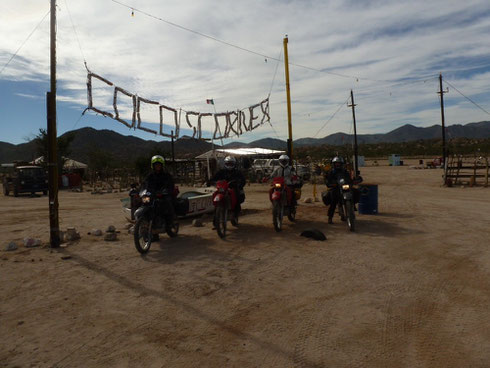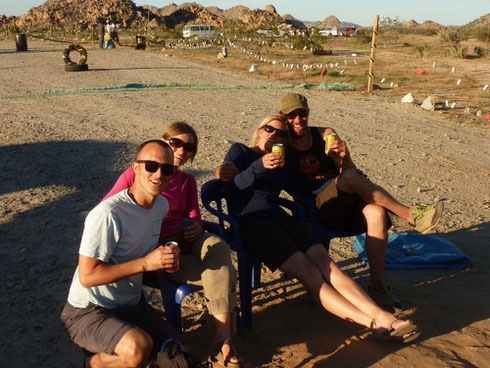 After a mostly sleepless night of loud engines we climbed out of the tent the next morning to the sound of buggies racing by....still.  The route we were taking out of Coco's Corner would bring us along the race course headed the wrong direction, so seeing the race traffic continuing to roar by was a bit unsettling.  Regardless, the four of us took off with Jay in the lead so he could communicate back to us if he saw a racer up ahead.  The problem is the communicators stopped working so as I made my way around a blind corner on a rocky hill, I found myself heading straight into a semi-truck (yes, semi-trucks somehow make it down this road). Normally, I would've found my way to the side of the road and let the guy pass, but this wasn't normal riding.  Not only did the semi take up the entire width of the road, but he also had a race buggy on his ass beeping at him to try to get around.  I somehow navigated the large rocks and perched myself on the side...a little too close to the side since the road dropped off into a ravine fairly quickly.  The buggy found its way between me and the semi leaving us to figure out the rest.  The truck stopped and waved me on. After a minute of revving the engine with nothing happening but my back tire spinning between the rocks, I goosed it enough to get around the guy.  Just a little taste of Baja racing...I think I like the spectator role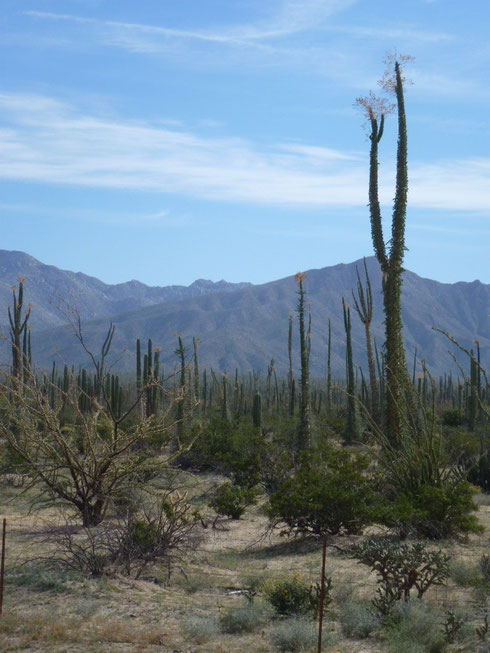 We made it to Bahia de Los Angeles that afternoon and after a quick lunch in town we found a beautiful camping spot right on the beach at La Gringa.  Andie and I took a dip in the sea which felt refreshing until I realized the salt really just added another layer of filth.  Zach went back to town for food while Jay gathered firewood.  We had a nice night around the campfire, feeling lucky to have met our traveling companions.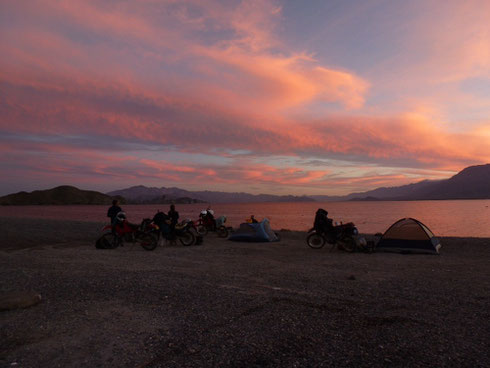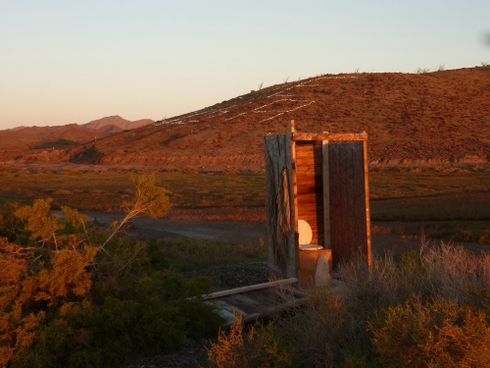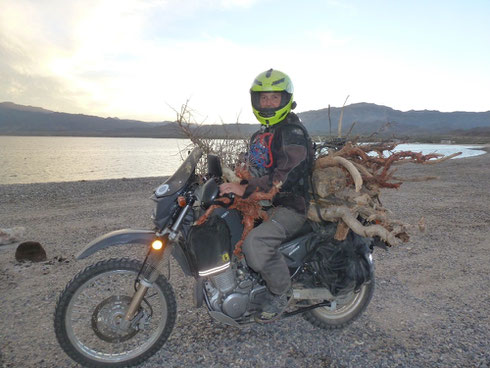 The next morning, November 15th we planned for a long day of riding dirt.  Our hope was to make it about another 120 miles down the Baja course to Vizcaino.  We quickly realized that was a bit too ambitious.  The ride was absolutely beautiful bringing us through some incredibly unique desert terrain and over mountain passes that allowed us a birds eye view of the hundreds of different cacti somehow thriving in the dry heat.  The riding was also as slow as it was beautiful.  80 miles of dirt and about 6 hours later we decided to stop for the night in San Francisquito, which required a 10 mile (very sandy) detour out to the sea.  The challenging ride was worth it as we found ourselves once again camped right next to the water on our own private beach.  We added yet another layer of salt to ourselves by jumping in the sea. That particular dip, however, was cut short when I saw a stingray swim within a couple feet of Jay prompting all of us to exit the water. We were, after all, a LONG way from the nearest hospital.  After our swim, Jay and Zach went down the way to the "restaurant" to get water and came back scowling.  The family who worked there demanded $10 per person for us to camp on the beach, which doesn't seem like a lot, but in Baja land is outrageous- especially because we were almost certain they didn't actually own the land.  We had made a strategic error in setting up camp, changing, and waiting until sunset to approach the store- so we sucked it up and spent the money.  Odds are this family doesn't make a whole lot, so I hope our $40 helped them out.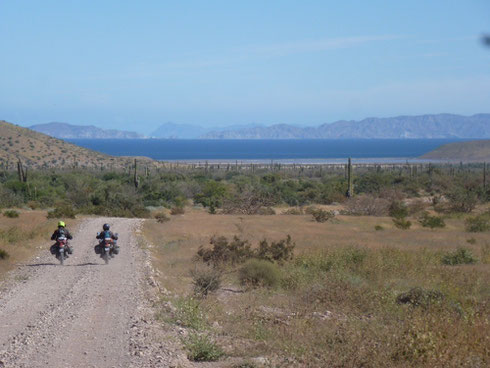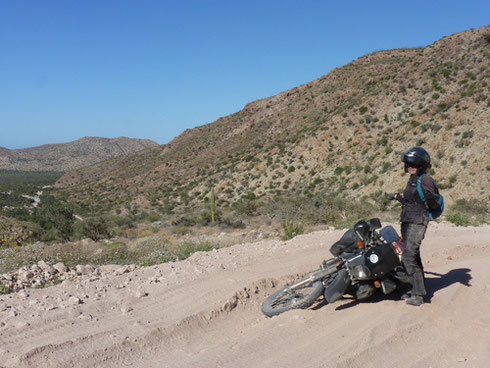 Another gorgeous sunrise with a family of dolphins jumping across the sea in the foreground.  We packed up and said a sad goodbye to Andie and Zach as we took off for what we knew would be another long day on the dirt.  The first few hours of the ride were challenging- deep sand, rocks, ruts, etc.- but I felt strong and confident, conquering all the obstacles that I came across.  We came upon a junction at El Arco where we decided to continue on the Baja course rather than taking the longer way on more developed roads.  This is where, for me, disaster struck.  I was tired and hot and ready to be done for the day- not feelings that are good to have when trying to navigate tough riding conditions.  After the first bike drop, my confidence was shattered.  This led to the second bike drop...tears...the third bike drop...more tears and an all out breakdown.  With the amazing support and patience of Jay, I made it to the pavement which I almost dropped down to kiss.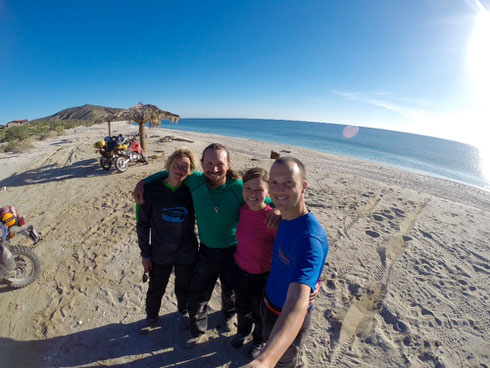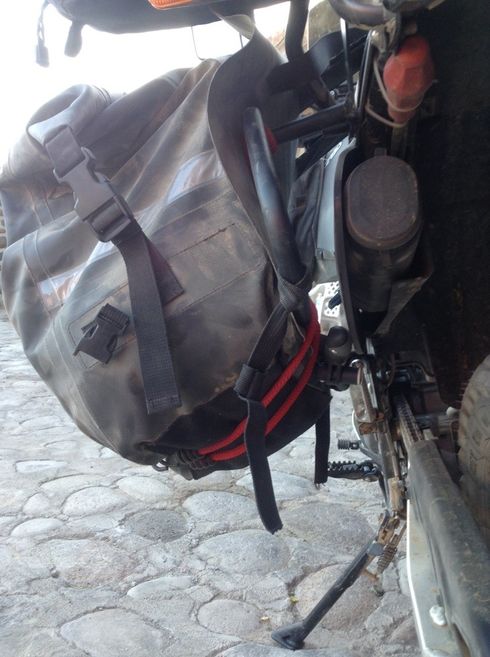 We rode the rest of the way to San Ignacio where we enjoyed washing off layers of dust, sweat, salt, and dirt in our hotel (it didn't even matter that our shower at Motel Fong didn't have a shower head).  Exhausted, we ate dinner at the hotel restaurant and fell sound asleep early.
We woke up with intentions of hitting the road early and making it to Loreto, but were slowed down in the most wonderful way.  Jay was working on the bikes in the hotel courtyard when he saw the young boy whose family lives and works at the hotel taking an interest.  We engaged him in conversation and found out he was 12 and didn't have school that day.  He hung out with us and played assistant to Jay while he cleaned the air filters and chains. We then packed up and rode into the town square to see the famous mission.  A quick stop there turned into multiple conversations with locals interested in our trip.  This is what it's all about! Slowing down, meeting people, practicing spanish...what a great morning.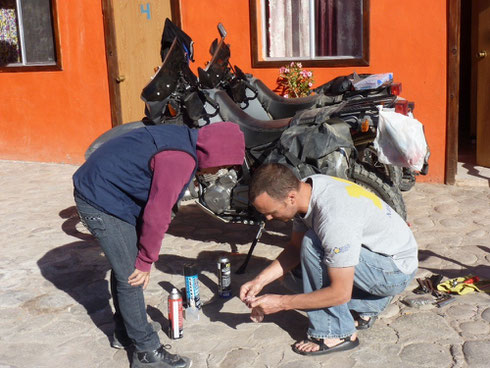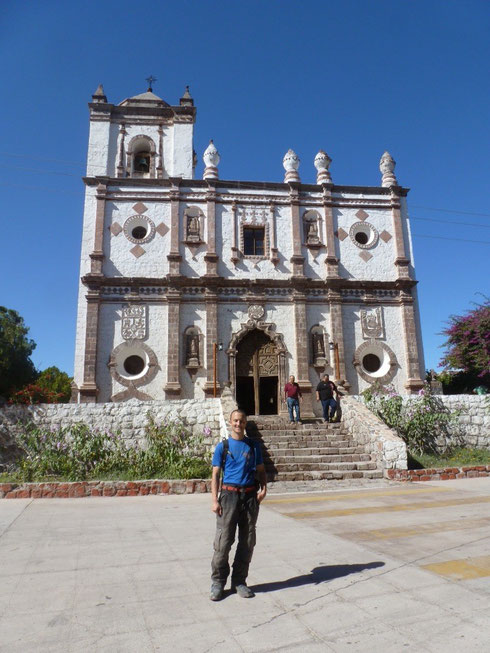 We only made it about 80 windy miles down the road to Mulege where we found a hotel, laundromat, and dinner.  The damage from the most recent hurricane was evident along the river here.  We met a guy (Kurt) from Seattle who owns a house in town and was there to make necessary repairs.  He was telling us that this is the third hurricane to hit the area in 6 years....yikes.
November 18th consisted of a loooong day of riding pretty boring pavement to make our way down to La Paz via Ciudad Constitucion.  We made it just as the sun was setting, almost breaking our rule of no riding after dark.  After stopping at two ultra shady hotels to check prices and availability (both of which rented rooms by the hour), Jay found a wonderful hostel- Pension California- where we parked ourselves for the night.  There we met a group of guys (Eugene, TJ, Dave, Tony, and Elliott) in their early 20s who were from all over and mostly just traveling where the wind took them.  We joined them for dinner and beers. Their energy was contagious and reinvigorated me and Jay after a few long and tiring days on the road.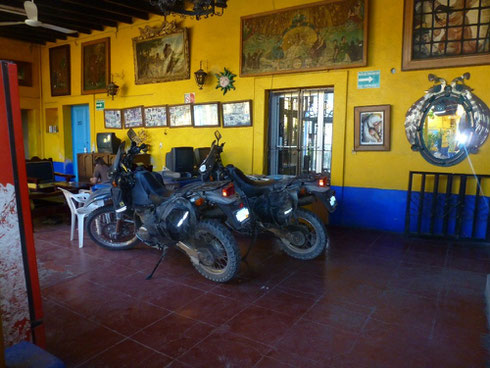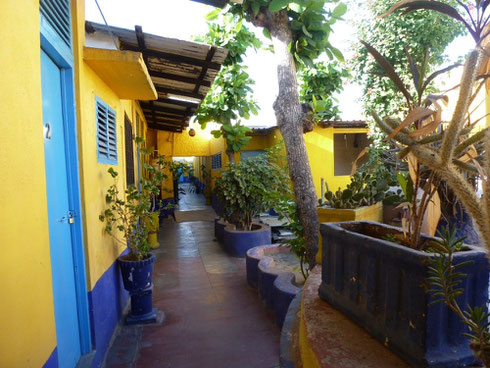 The next morning we went for a jog along the malecon and as we were finishing we came upon a parade of elementary school students celebrating the Mexican Revolution.  With everything happening right now with the 43 students who went "missing" in Guerrero and the demonstrations/uprisings from the Mexican people who are demanding change, it is a very interesting time to be here.  We may possibly be witnessing the beginnings of a new revolution- we hope.
After packing up again, we made our way down to Todo Santos where we met another guy (Gord, from Canada) who is also headed to South America. After lunching with him on some steps in front of Hotel California (made famous by The Eagles song), we took off on the last 50 miles to Cabo San Lucas where we are currently hanging out for a few days, resting and recouping before taking the ferry to the mainland.  
Jay and I have both been struggling with our digestive systems so instead of enjoying the beaches, bars and fun we've been eating toast and chicken soup and drinking ginger ale- waiting to feel solid enough (pun intended) to travel again.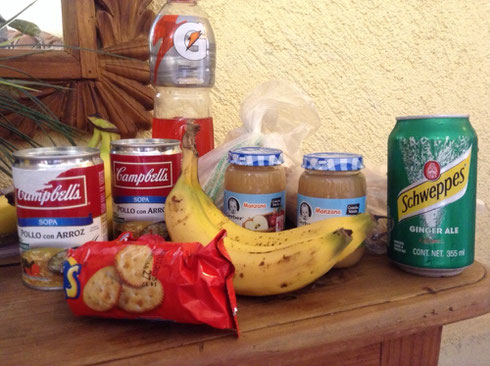 All in all though, our experience in Baja has been absolutely incredible. It always is. We're looking forward to a few more days.