Gorditas, clavadistas, tollbooths, and tequila.  It has been a wonderful 2 weeks.  We arrived in Mazatlan on November 24th after a spectacular ferry ride across the Sea of Cortez.  
It began in the ferry's parking lot in La Paz around 4:00pm on November 23rd when a handful of other travelers rolled up behind us and the semi-trucks. First, a beautifully restored VW van from the 1960's carrying Alex, Roxanne, and their two kids (7 and 5, respectively).  Second, a 1981 Dodge camper van that was purchased in British Columbia by a Swiss couple (Deni and Sue) and which is on it's way to Panama where it will be sold again to another wanderlust (or two).  Third, our friends Andrew and Tom whom we met the night before at our hostel in La Paz.  Tom is riding a 2001 Suzuki DR650 that he bought used in Canada and Andrew is on a WR450R that is relying on a hefty supply of JB weld to keep the oil inside the engine (the result of an inadvertent righty-tighty, when the Dr. ordered a lefty-loosey).  Like us, they're headed to South America.  Fourth, Tim and Lily - an English couple riding Yamaha XT250's from New York to however far south they choose to get by May 2015, at which point Lily and the bikes will fly home and Tim will continue by bicycle to Tierra del Fuego - or somewhere else.  Fifth, Charlie and Janet - an older Kiwi couple also on route to Tierra del Fuego aboard a Yamaha Super Tenere and a Yamaha 660R.
Save for Andrew and Tom, we knew none of these folks when the ferry ride began, but we knew them well 18 hours later and we look forward to bumping into many of them again along the way (indeed, we already have).
(From left to right: The V-Dub and the Dodge; our bikes behind Andrew and Tom's; inside our quarters for the night, which we were very grateful to have; morning on the deck; Dolphins next to the boat; Tom and Andrew; us; Mazatlan)
After exiting the ferry around noon, we made our way to old town Mazatlan which is just south of the touristy area known as Zona Dorada and infinitely more interesting.   For 300 pesos (roughly $22), the Hotel Central provided a clean room in a great part of town.  The only trouble was getting the bikes up the steps and squeezed into the entryway behind Andrew's WR and Tom's DR (we had decided to spend another night with our Canadian buddies).
From there we began a two-day exploration of splendidly colonial old town Mazatlan.  We ran down the malecon (the spanish-language equivalent of "lakeshore drive," says the kid from outside Chicago), dined in the Plaza Machado, wandered the market, chatted with local artists (thank you Jessica Rice and husband Tom for inviting us into your home), and - most importantly - watched the cliff divers!!!
In Spanish, these guys are known as clavadistas and what they do is insane.  The rock you see below is roughly 17 meters high and the water beneath is only 3-4 meters deep!  And that doesn't account for the massive boulders that must be avoided in order to survive the jump.  To get it right, the clavadistas actually time their dive to coincide with the arrival of a wave, which gives them a little extra space within which to work.  Amazing stuff.
(Left to Right: the bikes squeezed into Hotel Central - after getting them up 4 steps; the view from our lunch table; a restaurant on Plaza Machado - too fancy for us, but it was nice to look at; Avenida Angel Flores; the central market)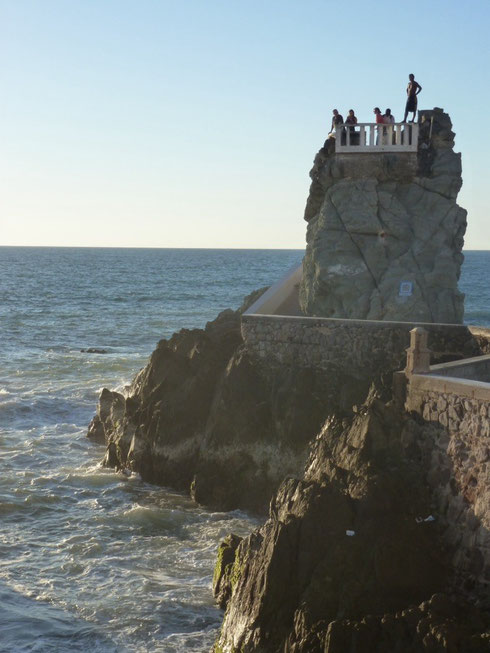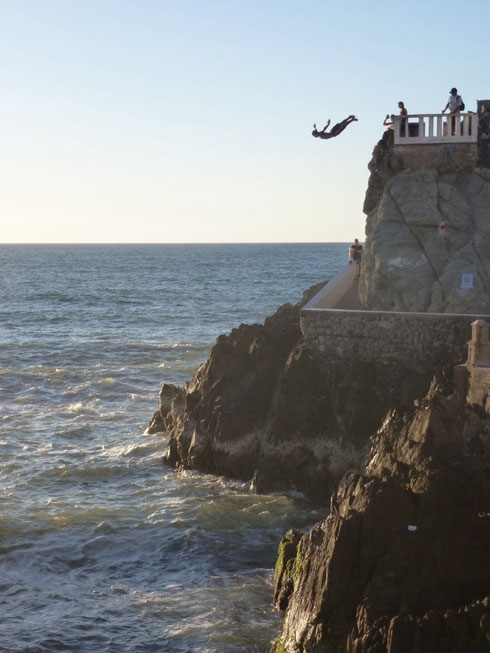 From Mazatlan, we jumped on the road toward Puerto Vallarta.  Since it would be a full day ride, we opted for the toll road, rather than the free road that goes the same general direction.  We knew the toll road would be a bit safer and smoother, but we didn't think it would cost $30!!  We later learned the tolls are so expensive because the roads are privately financed and maintained with little help from the government.
Roughly 8 hours later, after extended delays behind trucks that refused to pull over along very twisty sections of Hwy 200 (which go up and over the Sierra Madre mountain range), we made it to our destination for the night: Sayulita.  Sayulita is a magnificent little surfing community that must have been even cooler before it was filled with Americans and Canadians.  It's still incredible though.  We liked it so much that we decided to spend two more nights, including Thanksgiving.  While there, we caught up with Andrew and Tom again (who had left Mazatlan a day ahead of us), I spent an hour on a surfboard (I'm not good enough yet to call what I did "surfing"), and we lounged around.  While enjoying some delicious (and cheap!) margaritas, we also bumped into our friends Tim and Lily.  They had made their way down from Mazatlan via San Blas and were stationed in an open-air room of a local hostel.  Em and I were camped at the Sayulita Trailer Park.
Since I had some extra time on my hands, I - controversially - washed the Baja off our motorcycles.  Em thought it would be cooler if we didn't wash them at all on our trip and while I agreed with her in part, I couldn't bare the idea of working on motorcycles that had months worth of dirt, scum, tar, and insects piled on every surface.  I also didn't want our brand new DR's, which have treated us so well so far to feel neglected.  So I washed them.  They now look good again and I feel like a caring motorcycle owner who appropriately maintains the machines that transport us so safely mile after mile.  Sorry Em!
(Left to Right: Thanksgiving morning; "downtown" Sayulita; relaxing on the beach; post-dinner with Tim and Lily)
After a few days on the beach in Sayulita, we headed inland toward Guadalajara.  We had originally planned to pass through Puerto Vallarta along the way, but we couldn't imagine it being any better than Sayulita (in fact, we imagined it to be worse - more people, more hotels, higher prices), so we just skipped it altogether.  Instead, we headed back out the way we came in along Hwy 200 to catch a road to Guadalajara.  Despite me being nearly run off the road by a madman in a truck (as Em watched from behind), our ride away from the beach and back over the Sierra Madre's was fairly uneventful.   
Once we got out to a point where we could turn south, we decided to give the free road (known in Spanish as the "libre" or "libramiento") a try, rather than dropping another $30 on tolls.  We made the right choice because the libre brought us along the Ruta de Tequila, through agave fields, and gorgeous ranchland.  Before we knew it, we were in the town of Tequila, home of the Jose Cuervo distillery and several others.  Given the uniqueness of the opportunity, we decided to spend the night and, of course, sample some of the local spirits.  We even got to partake in part of the annual festivities, which included a parade and a full lineup of bands right outside our hotel.  
(Left to Right: Agave fields along the Ruta de Tequila; the town itself; the factory that produces all that booze; a snapshot of the annual parade; barrels made in the basement of our hotel)
The following morning we packed up again and headed toward Guanajuato where we were registered for a week-long Spanish language course that started the following day (Dec. 1st).  We had planned to be there around 1:00pm to casually check in to our homestay (i.e. the family with whom we would be staying while in town), but the travel gods had other things in mind.
As we approached a dangerous curve on a two-lane road outside Guanajuato, we noticed two police cars parked by the side of the road.  Moments later a boy ran into the street and motioned at us to slow down.  We complied.  As we rounded the bend ahead of us, we saw what the fuss was all about. Beneath a white sheet in the oncoming lane, lie the dead body of motorcyclist who apparently lost control around the corner.  His bike was on the ground about 30 yards beneath the front bumper of a passenger bus.  It was a gruesome sight that shook us both.  
After clearing the scene, we pulled over and gave each other a big hug on a hill overlooking Guanajuato.  Although not spoken at the time, we were both thinking how lucky we are to be alive and how we really must be careful as we venture further south. 
We spent the next few hours trying to find: a) our homestay, which was difficult given Guanajuato's complex system of streets, tunnels, and alleyways (check out the video on our FaceBook page to get some small sense of the challenges); and b) a viable alternative to the homestay because when we finally found it, we noticed about 15 steep stairs leading up to the front door.  Absent a forklift, elevator, or a team of oxen, there would be no getting our bikes inside that house. 
Fortunately, our contact at the school found us on the street just before we were about to check-in to a hotel and offered to let us keep the bikes inside the school.  That put an end to an incredibly long day of travel. Although exhausted and frustrated by the trouble we had finding our homestay and a home for our motorcycles, we both knew our day had been much better than that of others. It's all matter of perspective. 
We spent the next week at Escuela Falcon taking classes in the morning (2 hours of grammar and 2 hours of conversation) and enjoying lunch with our gracious host Mom (Gaby) in the afternoon.  We spent each evening strolling around and soaking up all the beautiful things Guanajuato has to offer.  Among the highlights, were a dinner with some new friends (Anna and Eric from England, Karen from NYC, Deni and Sue from Switzerland/our ferry ride, and Joost, Maria, and baby Sophie from Singapore/the Netherlands/Mexico), a hike up to El Pipila, and a visit to the Alhondiga museum, which does a wonderful job telling the history of Mexico, this region, and Guanajuato specifically.
(Left to Right: Em on the first day of class at the bottom of the non-motorcycle-friendly steps leading up to our homestay; us studying espanol in a cafe; assorted pics from Guanajuato, including one of Em helping a local; Em in Plaza de la Paz; with our host mom on the morning of our departure)
Although I was sick almost the entire week with a mild cold, I thoroughly enjoyed my time in Guanajato.  Em did too.  It's an incredibly beautiful and interesting city. We actually considered staying another week, but knew we needed to get down the road a bit further. So we did.
As we rolled up the mountain out of town on December 7th, we took each curve with caution.  We've got a long way to go and plenty of life ahead of us - we hope!