Jay and I are still learning how to travel.  The past five and a half months have been a constant process of discovering what we like, what we don't like, how much is too much, when we need to rest, how to reach decisions, how to compromise, and on and on.  We recently found that it's easy to go on autopilot taking the highways from city to city without really thinking about what we want to be doing and seeing.  Not thinking about what we need to feel fulfilled, rejuvenated, and at peace.  Neither Jay nor myself are "city" people, meaning we prefer small towns, back roads and nature to the hustle and bustle of a concrete community.  We also set out on this adventure excited to slow down, to enjoy what the journey offers us rather than shoot toward a destination. Our experiences over the past few weeks have allowed us to relearn this about ourselves and break into a more thoughtful and pleasurable travel path. 
After leaving Guanajuato on December 7th, we made the short, but beautiful ride to San Miguel de Allende- a town popular with American expats yet retaining the feel of a quaint old Mexican city.  In full disclosure, we didn't exactly soak up all San Miguel had to offer.  We wandered the streets for an hour or so, ate some AMAZING gorditas (picture thick corn tortilla, grilled, split open like a pita and filled to the brim with delicious meat, vegetables, cheese and salsa...mouth watering) and then guiltily spent the rest of the afternoon at - wait for it- Starbucks sipping on mochas that cost triple what they would anywhere else in Mexico. After getting over the cost (which was identical to what it would have been in the US), we both felt oddly comforted sitting on the oversized couch surrounded by familiar sights and smells...guess we were experiencing a bit of homesickness.  Afterwards, we returned to Hostal Alcatraz, climbed into our separate twin beds and slipped into a slumber, still not exactly sure where we would be going the next day. 
From San Miguel, there were two basic options: 1) visit Mexico City (or D.F. as they call it here, as in Distrito Federal); or 2) skirt around the city to avoid the congestion. Jay and I had been debating the options for days. While I knew there were lots of interesting museums and cultural sights to see, in my heart I had little interest in dodging the heavy traffic to spend a noisy night in a cheap hotel.  Jay, on the other hand, was voting to make the journey, feeling we would miss out if we didn't experience this major city. Since we couldn't agree in that moment, we simply put off our decision for another day and took off for Teotihuacan- a site of Aztec ruins situted just northeast of D.F.   
After an easy day on the highway, we crashed at a hotel in San Juan Teotihuacan about 1.5km from the ruins so we could wake up early the next morning and make the 7:00 am opening.  Despite freezing cold temperatures and the beginnings of a headcold, the pyramids and temples were awe inspiring.  Thinking about how these folks built such immense structures without the use of simple machines like the wheel is mind blowing.  We climed the steep steps to the top of El Piramide del Sol, the 3rd highest pyramid in the world to get a view of the whole community below
(Hot air balloons over the ruins; me between Piramide de la Luna and Piramide del Sol; Jay & I next to P. del Sol; view of P. de Luna from top of Sol; Jay on very steep stairs at top)
On our walk back to the hotel we continued our debate about Mexico City...it was painful and lasted until one hour after our check out time (yep, we asked for an extension just so we could draw the decision out even longer).  Our final decision was to spend another night in Teotihuacan to rest, then head to Oaxaca City the next day, skipping D.F.  Jay, who suffers pretty seriously from FOMO (Fear Of Missing Out) had a hard time with this one, but I thank him immensely for looking out for my health and sanity.  
The next day I still wasn't feeling 100% and Jay was also not at his best.  Regardless, we took off in the bitter cold for a long day riding to Oaxaca City.  After passing through Puebla and stopping for coffee and a croissant, we entered the mountanous region of Oaxaca state.  The road wound up and through the hillsides providing stunning views of the river cutting through the canyon below.  The fresh mountain air and quiet desolation brought smiles to both our faces even though we spent a long 8 hours on the bikes.  
We arrived in Oaxaca City around 4 and merged back into heavy traffic, once again bringing back the tight shoulders and shallow breath that come with trying to navigate our way to lodging.  Parked at Cielo Azul (a hostel) for the night, we ventured into the crowded town plaza for dinner at one of the many street stands.  Our conversation once again focused on where we would head tomorrow- playa Escondido to get back to warmer temps, onto San Cristobal de las Casas via the main highway, or venture into the unknown mountain roads to visit a few small pueblos. Prolonging an already agonizing stretch of indecisiveness, we went to bed without having come to a decision.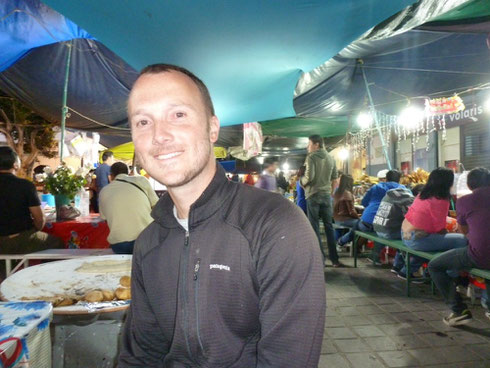 We woke up the next morning still unsure.  Our minds were telling us we had to get on down the road. Didn't we have a timeline to keep?  Shouldn't we get to the "next planned destination" so as to continue a productive travel path?  We can't possibly have time to explore.  Our hearts, however, were yelling at us to slow down.  As we were checking out of the hostel, we made the very conscious decision to listen to our hearts; to slow down and do what we really wanted to do- get away into the mountains for a bit.  And we were SO glad we did!
The "road" to Benito Juarez was a narrow dirt trail that climbed up into the mountains until we reached our destination 9000 feet above sea level.  The pueblo consists of about 450 indigenous, subistence farmers who also make a bit of money off the communities eco-tourism business.  Jay and I stayed in a shared dorm-style cabin (although we were the only ones there) and took two of the top bunks next to each other.  We ventured up to the lookout point, climbing another 1,000 or so feet.  We watched the sunset and took in the incredible view of the valley below.  Alone, we were able to breathe deeply for the first time in weeks.  This is the moment we both remembered how integral the tranquility of nature is to our wellbeing.  We vowed to find a healthier mix of cities/highways/people and natural beauty, dirt roads and solitude.
(Ride to Benito Juarez; various pics from viewpoint, including sweet hanging bridge; Jay with wicked awesome Mexican Pizza; our dorm room)
After a wonderful morning watching the fog lift over the mountains, we made our way back down to the highway and onto Tehuantepec.  Although it was a main highway, it felt like my bike was only upright for a total of 5 minutes during the 4 hour drive.  The twists and turns were fun, but I've never been so mentally exhausted riding on pavement before!  In Tehuantepec we stayed at Hostel Emilia (obvious choice).  We grabbed gorditas and tacos in the town square while admiring the vibrant purples, blues and greens of the traditional clothing.  I had read about the independence and power of the women in the indigenous communities here, and enjoyed seeing that played out in front of me.  While the men mostly work in the fields, the women run the businesses and are very well respected.  They even have a ritual during their fiestas where the women throw fruit from the rooftoops onto the men below.  Love it!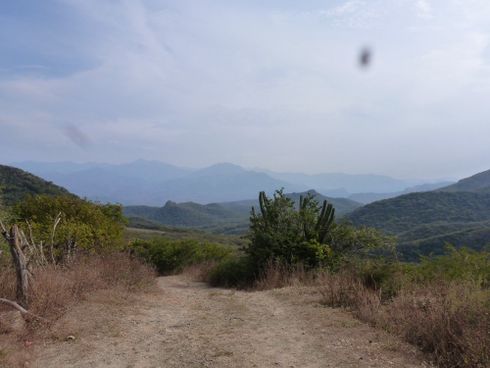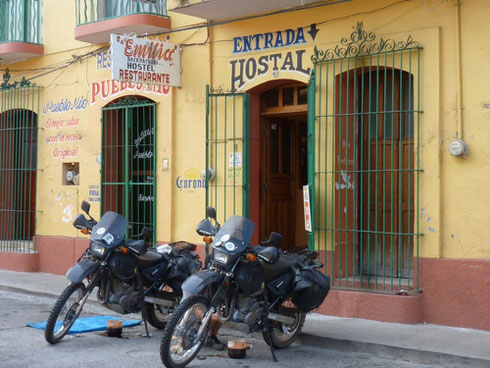 Having learned our lesson about slowing down, we decided to make two more stops before San Cristobal to soak up the beauty of Chiapas.  After Jay changed the oil on our bikes, we took off in the heat (a total 180 from the weather we had just experienced in the mountains...might be a reason for my persistent headcold) and immediately were hit with steady 35 mile per hour winds.  Riding behind Jay I watched his bike slant at a 45* angle as he struggled to stay on the road.  Crabby and uncomfortable I wondered to myself why we didn't take a car on this trip...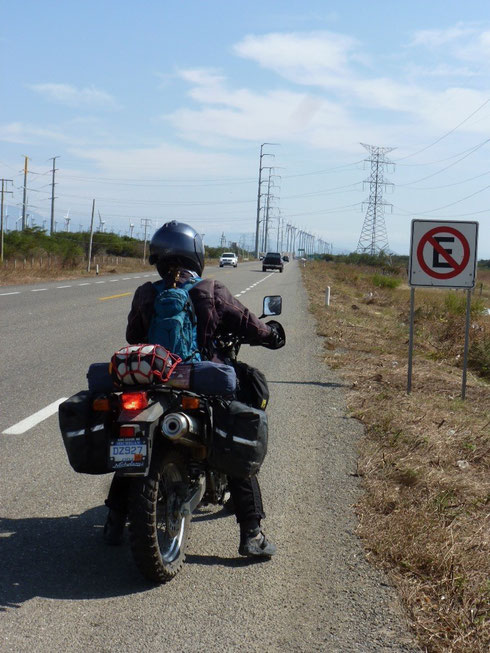 The ride remained windy, but the scenery became more appealing once we entered another mountain range and crossed into Chiapas.  We found the turnoff for our destination and bounced down the 3 km rocky road to El Aguacero (oh ya, that's why we are on motorcycles).  El Aguacero is a breathtaking waterfall cascading off a mossy cliff into El Rio La Venta below.  We set up camp at the top of the canyon, climbed down the 740 steps to the river below and waded through the water upstream to view the spectacle.  The pictures don't do it justice...
(wading out to waterfall; El Aguacero; Jay discovering a nearby cave; view of Rio La Venta from above) 
The following morning we ate at the small Comedor situated near our camp spot- steak quesadillas for breakfast? Why not.  Our next stop was El Canon del Sumidero.  Although there are a variety of lookout points at which you can gaze down at this immense canyon, we decided the best way to experience it was via a boat ride.  We ran into an outfit offering tours just outside Tuxtla Gutierrez and after a half hour wait we had a full boat of 15 passengers.  The tour lasted two hours and brought us through the entire length of the canyon, slowing down to point out crocodiles, Zipolite birds, waterfalls, and interesting rock formations. One thing that the guide did not need to point out was the major pollution problem in this river. So sad to see such a beautiful place dirtied by thousands of plastic bottles, styrofoam, and trash....and dead cattle.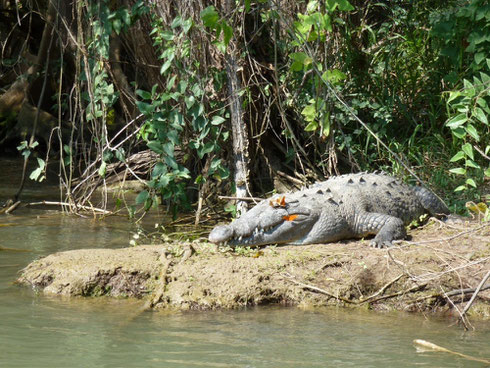 (Iguana sunning himself; Zipolite bird dining on a dead cow; Jay & the canyon; El Arbol de Navidad (Christmas tree) waterfall; our enthusiastic river guide explaining the waterfall; northern end of canyon)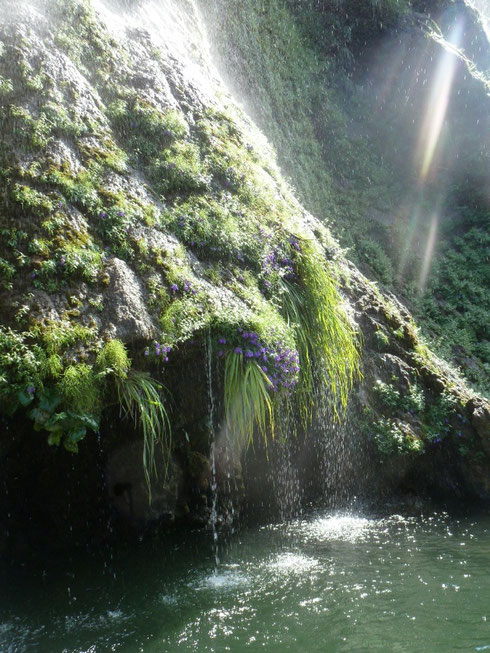 We eventually did make it to San Cristobal de las Casas later that day after another beautiful ride up and over the Chiapas mountains.  We wound through several indigenous villages, admiring their ability to utilize every inch of hillside to grow crops.  As we descended into the city I found myself feeling extremely thankful for the simple, yet somehow difficult lessons we learned these past few weeks: listen to our hearts, slow down and enjoy the beauty.