Our final two weeks in Mexico were filled with beautiful waterfalls, long, picturesque, mountainous rides, impressive ruins, and a relaxing, breathtaking beach retreat.  Here's the long and short of it:
We had been looking forward to San Cristobal de Las Casas since we began planning this trip.  We had read and heard about the appeal of this quaint town with its cobblestone streets, lively plaza, indigenous population and beautiful setting in the central highlands of Chiapas.  It did not disappoint.  We found Hostal Casa de Paco right as we rolled into town and parked ourselves there for a few days.  We can't recommend this place enough.  Paco was a gracious, friendly, and helpful host and we felt right at home relaxing in the sunny courtyard, cooking dinner in the communal kitchen and getting to know the other guests during breakfast (included in the price).  We explored the town, enjoyed a few comida corridas (wicked cheap and hearty home cooked meals), sat around sipping coffee at a cafe on the plaza, ate a cricket (common snack in this part of Mexico), and walked through the open air market.  
Me eating my first cricket; streets of San Cristobal; Paco-our great host; Paco's courtyard; sign at Paco's that resonated with us
A highlight of San Cristobal for me was visiting the museo de la medicina Maya which explained the traditional, alternative medicine utilized by the indigenous communities.  The focus was on the rituals and practices of natural childbirth including the important role of the highly revered midwife.  It is believed that women in this occupation do not chose this path, but instead have received a calling from God which, if ignored will leave them very ill. They not only provide support and education to new parents, but also carry out other important spiritual rituals such as rubbing an egg on the newborn for good health and waving an axe over the woman's belly to speed up the labor.  Very interesting stuff!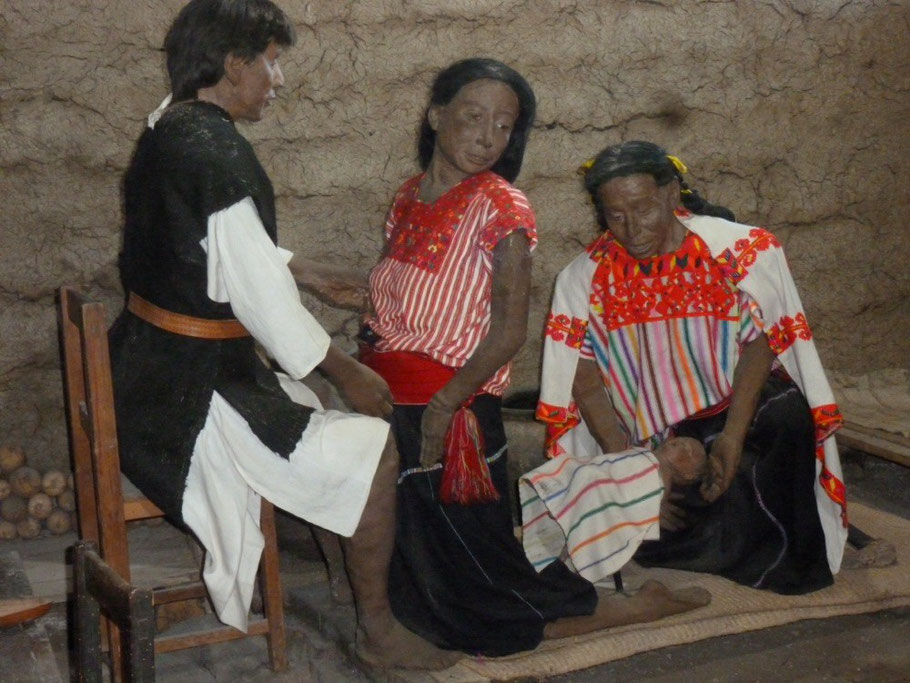 On the morning of December 18th, we said goodbye to San Cristobal and made our way slowly through the stunning mountains to Agua Azul.  Our original plan was to make a quick stop and continue further down the road, but when we arrived at this spectacular sight we decided to stay for the night.  Consisting of cascading waterfalls as far as the eye can see connected by pools of clear, aqua water, Agua Azul is like nothing we had ever seen before.  Despite multiple warnings of theft in the area, we set up camp right next to one of the smaller falls and enjoyed a refreshing dip.  Later that evening we joined a group of college kids (childhood buddies from Guanajuato) at their campsite for a drink before retiring to our tent.  We had been advised no less than 10 times since our arrival to, "guarda sus cosas" (watch your stuff) so when, in the middle of the night we were awoken to a flashlight shining in our tent and a loud voice yelling, "guarda su camera! Su camera...adentro!" we were more than a little frightened.  Thinking it was a thief demanding that we hand over our camera, we replied by saying we didn't have a camera.  After another minute of yelling at us, they identified themselves as police and we realized they were trying to tell us that we had left our camera outside the tent.  It must have fallen out of our bag as we were very carefully putting everything in our tent in an attempt to prevent theft...whoops.  Needless to say we didn't get much sleep after that.
On our way to Agua Azul; favorite Mexican dog; various pics of Agua Azul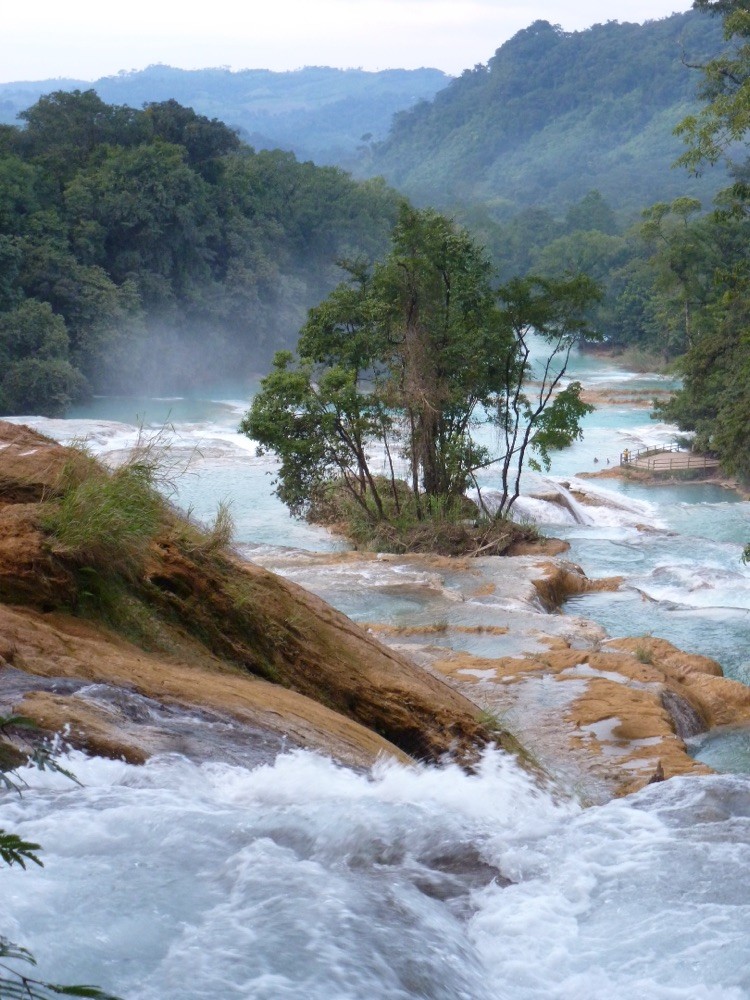 The next morning we enjoyed one more refreshing dip in the water before taking off for Palenque.  On our way we drove through multiple small villages, past countless locals trying to sell food and other items to passerbys.  Most simply yelled at us while we slowed down for the speed bump next to which they smartly positioned themselves (or possibly created).  One woman, however, had discovered a much more sure fire way of making customers consider her goods. She had set up a rope across the road which she raised when she saw a vehicle that looked like a promising sale approaching.  I guess we looked like suckers because as we neared her and her kids, the rope raised and we were forced to stop.  She approached us demanding that we buy whatever it was she was hawking.  When we continued to deny her, she informed us that we would have to pay to pass through.  Not feeling the least bit threatened, we refused to hand over money and eventually she lowered the rope, allowing us to continue.  I looked back at her and her kids in my rearview and felt an overwhelming sadness for the poverty and desperation that must lead her to such actions. Just trying to survive, I suppose...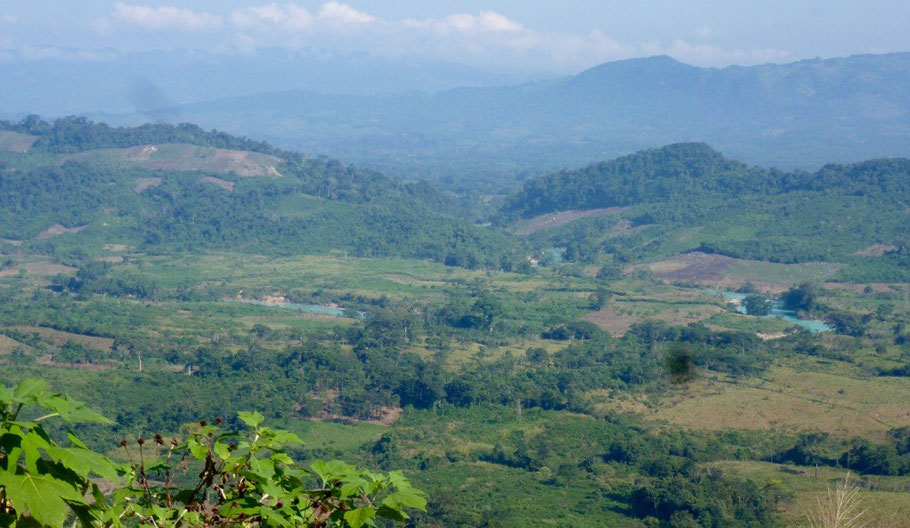 Before arriving in Palenque we made a quick stop at another magnificent waterfall.  Misol-Ha was quite different from Agua Azul, but the 35 meter spectacle was worth the detour.  
Misol-Ha pics
We finally made it to Palenque and dropped our stuff at a cabin in El Panchan, a hippie village at the entrance to the ruins which attracts backpackers from all over the world.  We spent the rest of the afternoon walking around the temples and castles that make up Palenque.  Set in an exotic jungle, these ruins top our list as the most stunning and unique.  
Our cabin in El Panchan; various Palenque pics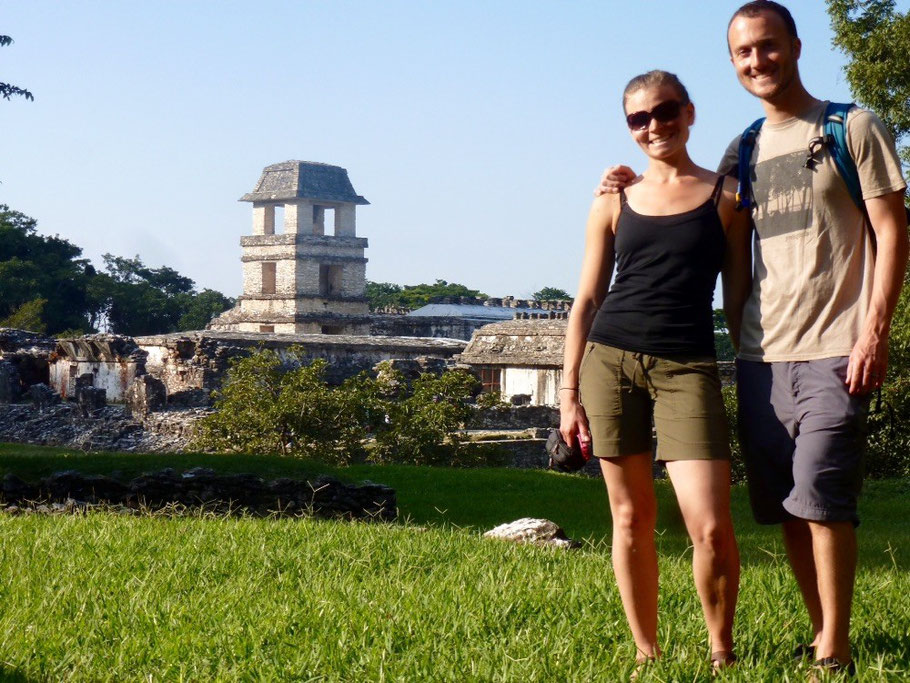 The following morning, Dec 20th, we rode to Campeche which originally was simply a stopping point along our route to Chichen Itza.  Once we arrived though we found that we really liked the town and had a lovely evening walking around.  Campeche is a walled city which was fortified to protect the inhabitants against pirates during the 17th century.  Many of the historic buildings have been maintained/renovated so the city has a really unique feel.  We had some amazingly delicious pollo mole nachos then stumbled upon live miramba music down one of the small alleyways.  The main plaza was completely decked out for the holidays so we sat around getting into the Christmas spirit while enjoying an ice cream.  
The entrance to Campeche; miramba in the streets; very decorative central plaza
The ride to Piste the next day was fairly uneventful other than the fact that we saw rain for the first time since Montana!  We found Posada Olalde, a small family run hotel, only 1.5km from the entrance to the ruins and settled in before grabbing some Yucatanian dinner at a local comedor (marinated pork, rice, salad, beans and tortillas).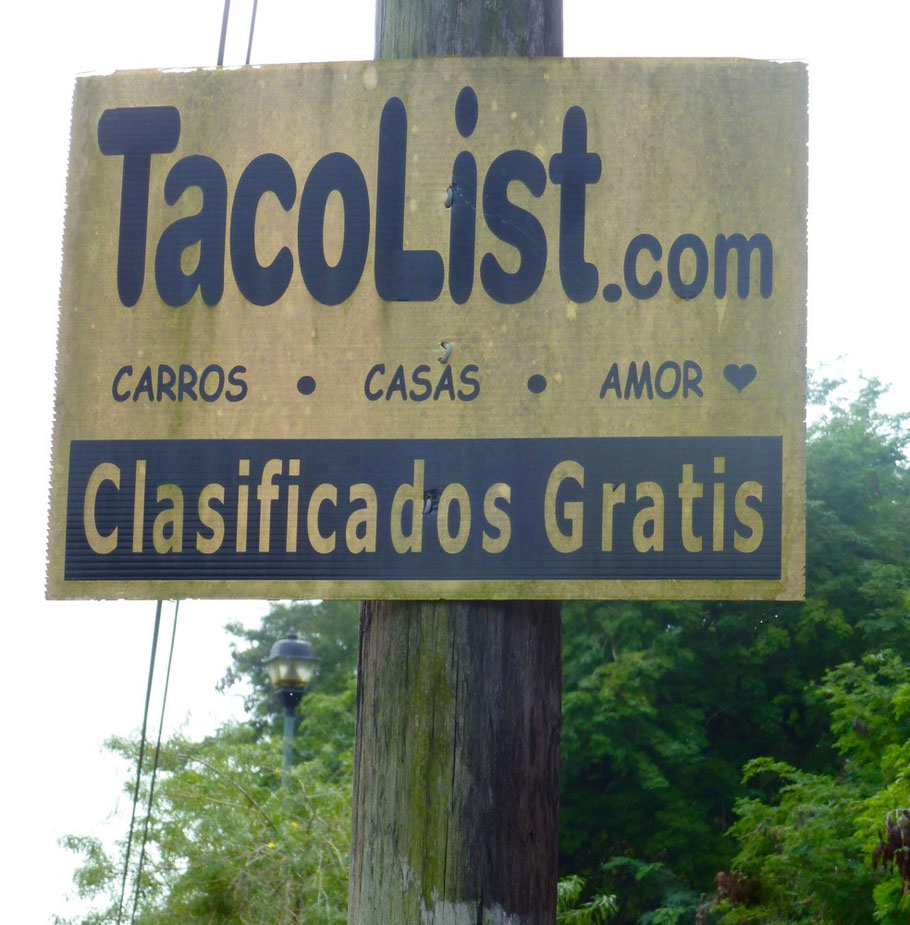 We woke up early to get to Chichen Itza before the crowds and spent a few hours walking the grounds.  While it certainly was impressive, we would rate Chichen Itza at the bottom of our list of ruins on this trip.  Maybe Palenque ruined us for all future ruins (get it?) or maybe the hundreds of vendors lining the paths hawking thier goods made it feel more like a market than a historical site to be admired.  Regardless, I'm glad we got to experience it and was also glad we got out before the massive crowds of tourists filed in around 10:30!  
Various Chichen Itza pics; big crowd approaching as we were exiting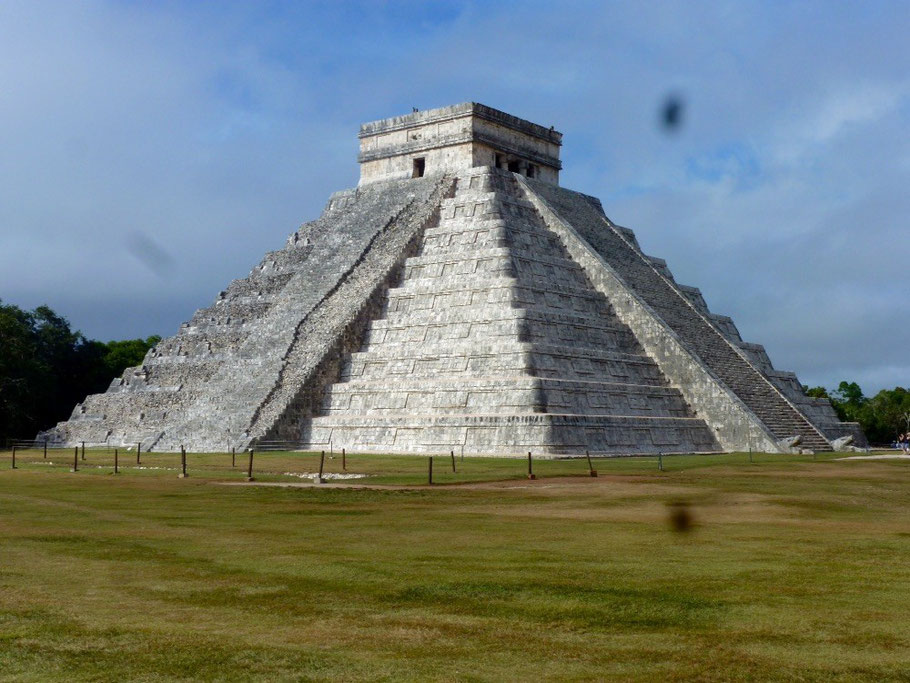 Since we had the rest of the day still ahead of us, we decided to take a 20 minute ride to a cenote to take a swim and cool off.  Cenotes are sinkholes resulting from the collapse of limestone bedrock which creates a natural swimming hole. Thousands of cenotes can be found in the Yucatan and we stopped at a small one run by a co-op of local villagers.  It was even cooler than we thought it would be! We swam around with the fish and took a small boat around the perimeter to examine the rock walls and long, fragile tree roots that extend down to feed off the water
Fun at the cenote 
Back at the posada we discovered a sweet looking BMW GS parked with ours in the courtyard. Shortly after, we met our fellow adventure rider.  Marko is originally from Finland, although he had been living in Germany for 7 years or so before taking off on his trip in 2012.  His journey puts ours to shame having traveled through over 40 countries and put 200,000 miles on his bike! (Check out his website: www.whereishemuli.eu.)  We went to dinner with our new friend, shared stories and advice, and talked about what's to come since he's headed down the same general path as us.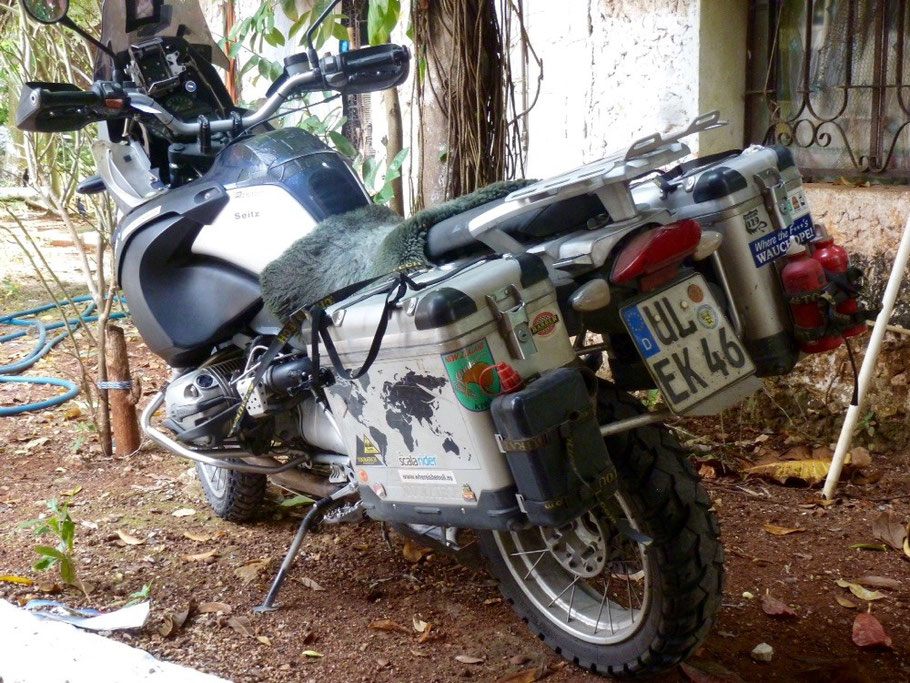 While in San Cristobal, Jay and I had decided that we would treat ourselves to a "nice" hotel in Tulum for Christmas. So on the morning of December 23rd we made our way to the coast to check in at the only hotel on this trip where we actually had reservations.  Diamante K is an ocean side resort filled with rustic cabanas, hammocks hung between palm trees, and an open air bar/restaurant.  Our particular room was called the Hippy Hut and as Jay described it was the equivalent of the servants quarters.  It was set behind the other beach front huts and elevated off the ground about 10 feet, requiring a climb up a steep ladder (which got interesting after a few beers).  While it wasn't exactly 5 star lodging, it was pretty damn sweet.  We spent the next 3 days lounging around on the beach, reading, talking with family, and soaking up the beauty.  Christmas away from family was not easy, but being in Tulum took the edge off the loneliness and sorrow.  
Diamante K beach; menu from restaurant just assuring us that the food is all disinfected; climb to our Hippie Hut; xmas day drinks; inside the Hippie Hut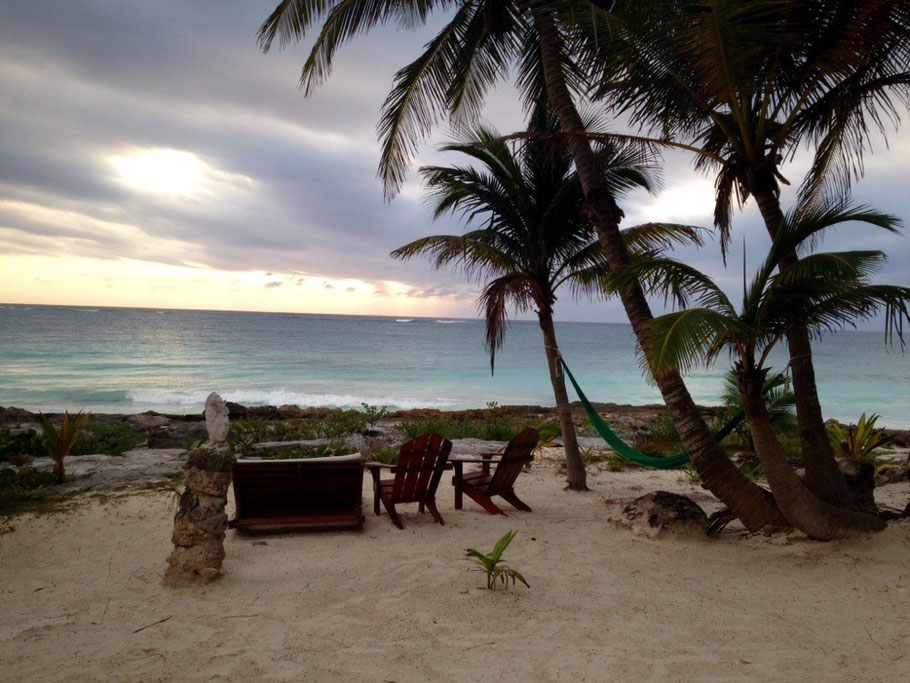 The day after Christmas we said adios to the beach and rode down to Chetumal where we spent our last night in Mexico.  We had met up again with our buddy Marco so he joined us for the last stretch of Mexican road before crossing into Belize.  After 7 weeks in this wonderful country we were sad to leave.  We had nothing but positive experiences traveling through Mexico.  The people were warm, welcoming, and helpful, the beauty was beyond what we had imagined, and we never once felt like we were in danger.  Thank you Mexico...vamos a regresar (we will return)!!