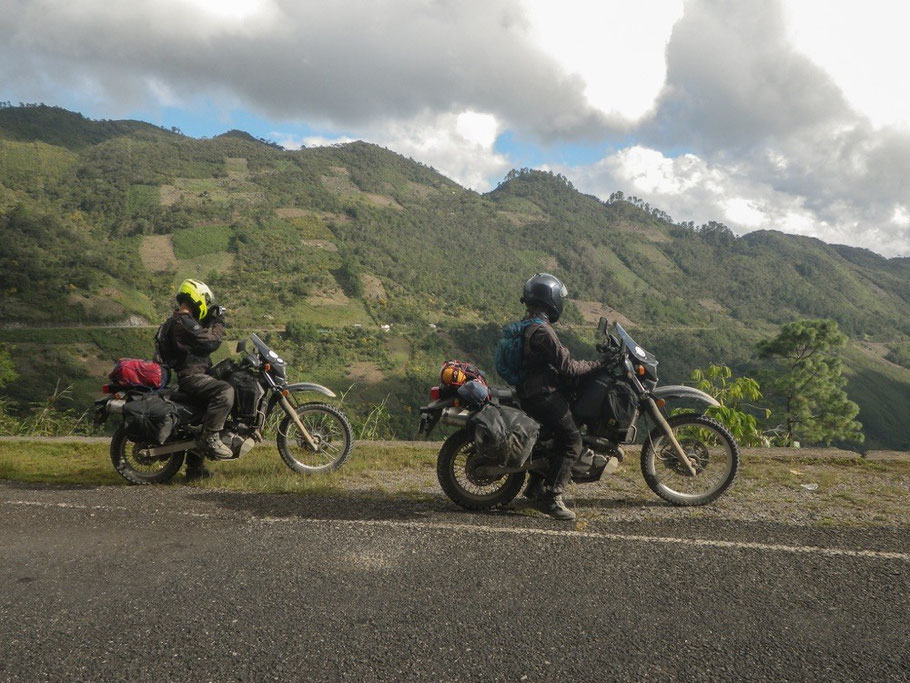 The only official border crossing between Mexico and Belize is located just west of Chetumal in a town called Santa Elena.  We arrived around 9:00am with our friend Marko who would be entering his 45th country in the last 2.5 years of his around-the-world journey (see www.whereishemuli.eu).  In addition to being good company, we also figured he'd be helpful in navigating border crossings.  He was.
After stopping on the Mexican side to return our motorcycle permit and collect the $400 deposit we had paid for each of our bikes (to ensure we wouldn't sell them while we were in the country), we meandered across a bridge into a dusty grouping of buildings in Belize.  Not quite a town, the place really only exists to process those crossing the border.  The next closest Belizean town is actually about 20 minutes south in Corozal.  
We followed Marko to the most obvious place to stop (i.e. the border crossing) and the guards quickly re-directed us a quarter-mile back to a shack where our bikes had to be "fumigated."  For about $3 per bike, the attendant sprayed our wheels and skid plate with something that smelled no stronger than water.  Voila!  Fumigation complete.  From there, we moved to the immigration and customs office to get our tourist visa and motorcycle permit.  What took Marko about 5 minutes, took Emily and I about 30 because the attendants, who conducted the entire transaction on paper (no computers at Belizean immigration offices) were busy gossiping about a boy and a co-worker who had strolled in for no apparent reason.  We understood all of this quite clearly because the official language of Belize is English. Although Creole and Spanish (among other languages) are also used, all road signs and official materials are in our native tongue.  Em and I found this to be a welcome surprise after spending 7 weeks in Mexico where every interaction required additional effort on our parts.  Unlike Mexico, Belize charged us absolutely nothing to enter the country.  All we had to pay for was a bit of motorcycle insurance to cover us while we were there - and that only cost $14 each.
An hour or so after arriving at the border, we found ourselves riding through a distinctly different country.  In addition to the roads, the people are quite different than those we encountered in Mexico.  In short, Belizeans were, by and large, more extroverted and friendly.  They also seemed far more diverse in terms of culture, religion, language, skin color, and ethnicity - among other things.  Nearly everyone though waved at us as we passed by.  For example, after only a few minutes sitting on a curb in Corozal (our first real stop in the country, where we also picked up some Belizean dollars and tried in vain to find tortillas...what? No tortillas?? We weren't in Mexico anymore!) a guy came up to greet us.  He was warm, kind, engaging, and maybe just a little drunk.  He said all the stores were closed because of the holidays, so he and his friends were just "sittin' round drinkin" (in a delightfully Carribean-sounding accent).  After talking with him for a few minutes, we moseyed along.
Em and I had already decided to spend the night somewhere near the Crooked Tree Wilflife Sanctuary, which was an hour or two from where we were at that time.  Marko wasn't quite sure where he was going, but he would at least ride with us to the Crooked Tree junction.  As we rode along, we noticed different architecture and design.  Rather than building houses with concrete blocks, as they often do in Mexico, these places were built from wood and often raised in the air on stilts, as is often done in flood-prone areas.  
As we turned right on the dirt road to Crooked Tree, we quickly learned why.  It's wet during the rainy season!  The roads leading us to Crooked Tree Lodge were a mess.  Marko's bike actually got stuck at  one point and it took all three of us to work it loose from the heavy mud.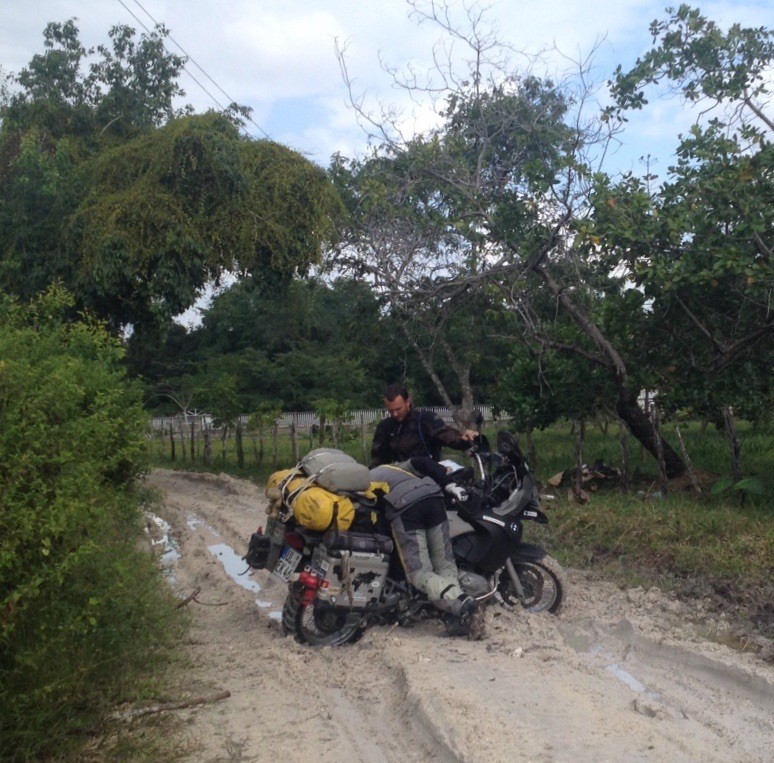 It was worth the effort though because Crooked Tree Lodge was beautiful.  It's owned by a Belizean woman and an English man who came to Belize while serving as a helicopter pilot in the British military.  Em and I got a beautiful cabin overlooking the lake for $60 USD.  It was the most we had paid for a hotel in a LONG time (except the xmas present we gave to ourselves in Tulum), but it was worth it.  Just see the pics from around the property: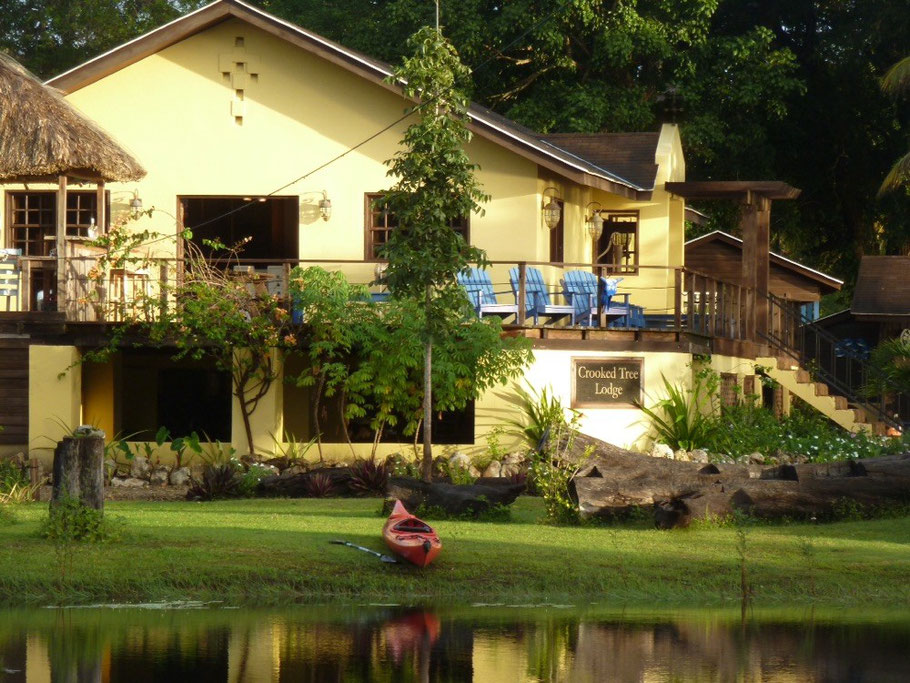 Side note: if you want to hear more about Crooked Tree, ask us about the local grocery store or barber Jason next time we're together.  Both were entertaining.
When we woke up on the morning of December 28th, we were trying to decide whether to visit one of the islands off the coast of Belize.  Belize has the second longest barrier reef in the world so it's a great spot to snorkel and scuba dive.  Unfortunately, Belize is not cheap and the major port city, Belize City, does not come highly recommended as a place to visit.  In fact, most guides say to avoid it entirely.  Since we would have had to leave our bikes in Belize City for the night while we made a trip to the island, and since it would have cost about $200 in total, we decided to forego that option and visit the Belizean jungle instead.  
With Marko still by our side, we left Crooked Tree and headed south toward Belmopan.  Along the way, we stopped at a convenience store/truck stop so Marko could repair a short under his seat and so I could lube the chains on our bikes.  The owner was super nice as was the couple we met who were traveling south by bicycle.  We had passed them on the road the day before, so it was nice to actually chat with them at this little rest stop.
We made it to Belmopan mid-afternoon and started looking for a place to stay.  The place we had read about in the guidebooks was full and was charging $195/room (!!), so we briefly considered camping at The Blue Hole National Park before ending up at a place called Cacao's Jungle Lodge.  The owner, Roger Hale, is a nice guy from the United States who has been working his tail off for the last two years trying to get the place up and running.  Some friends of his had left it in disrepair after finding jungle-living a bit too uncomfortable.
Our two nights there were quite interesting.  The first night, Marko, Em, and I dined at a table in the common area with an older English woman named Ann who was vacationing from her job as Executive Director of a refugee assistance organization in London.  She had travelled alot in her lifetime and was full of stories about when she "used to kick those routes," i.e. the routes we would be travelling through Central America.  Dinner was prepared by a Mayan woman named Consuela whose husband Emilio also works on the property.  It was a Mayan stew served with a mound of rice that could feed a small family.  We finished it all!
That evening Roger talked us in to taking a side trip the following day out to the coast, saying we "will have missed Belize" if we passed on by.  He also took us in a cave on the property and pointed out all sorts of creatures and plants that we never would have seen otherwise.  It was a fantastic compliment to our unguided walk through the jungle earlier in the day, during which we worried about being bit by something deadly, laughed at how ridiculous we looked prancing through the jungle in shorts and sandals, and saw absolutely  nothing of significant interest because we had no idea what to look for.  The jungle, as it turns out, is quite different than what Em and I are used to in the States.  Understatement.  We went to sleep that night with howler monkeys screaming in the distance.
(Left to Right: a spider and frog from inside the cave; us in the jungle; a tarantula found behind our motorcycles as we got ready to leave)
Our side trip to the coast the next day was also interesting.  The ride was absolutely stunning and our experience in the coastal town of Dangriga was interesting.  While there, we ate lunch at a little restaurant operated by an Asian family that served us two enormous burritos filled with chicken, spinach, tomatoes, onions, and avocado for exactly $2!!!  Marko and I complimented our meals with a side of fresh banana juice for 75 cents, while Em had papaya.  It was all delicious.
Our experience at that restaurant became more interesting later in the day when we met a Gerifun guy at the Blue Hole who was from Dangriga.  He started telling us all about The White Man, the China Man, and others, concluding nearly every sentence with "we don trip on dat."  He informed us that we missed Dangriga's version of Junkanoo by visiting earlier in the day, but he was delighted to hear we had visited his favorite restaurant.  Apparently the restaurants in town - nearly all of which are owned by Asian families - used to serve small portions, including sides of rice that were measured in a teacup.  He and other locals started demanding larger portions  ("Bring me mo rice.  Dat rice ain't gonna feed a hongry mahn," he said multiple times) which prompted an increase in portion size. Hence, the giant burritos we enjoyed at incredibly low prices!
Oh yeah, and the Blue Hole itself was alright too.  It's actually a sinkhole that has revealed one section of an underground river!  The water comes up from the bottom of the hole, then flows in a current toward the next cave.  We could have taken a tour through the caves on a tube for $50-95, but we opted to save the money.  I'm glad we did because it led us to our Dangrigan friend and a funny, motorcycle-loving kid at the entry gate who said he had tried to steal Em's bike while we were swimming, but couldn't get the steering head unlocked.  
After the Blue Hole, Em and I returned to the Jungle Lodge and Marko made a break for the Guatemalan border.  He is determined - more than we are at the moment - to make it to Tierra del Fuego by the end of March so he can ship his bike to South Africa and begin the trek home to his girlfriend in Germany who has been waiting patiently for him for 2+ years.  They met just 3 months before he left, so - as Marko says - the timing wasn't exactly perfect.
(Left to Right: Creole or Maine?; banana and papaya juice; views from the road; what's a Tapir?; the Blue Hole)
The following morning (December 30th), we said bye to Roger, Consuela, and Emilio and made our way to the border - a half day behind Marko.  After several long lines, and with some help from a local "fixer" who refused our initial denials of his assistance before finding a way to make himself useful, we made it out of Belize and in to Guatemala.  Our first planned stop was at the ruins of Tikal, but that changed as soon as we crossed the border.  We set our sights instead on the island community of Flores where we could settle in for a few days and make a day trip to Tikal.
Flores was great - so nice actually that we decided to skip Tikal altogether.  We found ourselves sort of "ruined out" after visiting Teotihucan, Palenque, and Chichen Itza in relatively short order.  While in Flores, I did some shopping for a new camera (since ours is putting two black dots on everything), got a much-needed haircut (which included a shave with a straight razor for a grand total of $2!), and washed my motorcycle.  I was planning to wash Em's as well, but when I went back to the car wash, the power was out.  That was fine with me though because it gave me an opportunity to chat with the guys who owned each of the gleaming Yamaha TT 500's from the late 1970's.  Apparently, the Guatemalan army purchased a ton of them during the last civil war, so parts are all over the place for the things.  These guys are gonna ride their's down to Guatemala City at the beginning of February for the annual Caravana del Zorro - a massive motorcycle ride/parade.  Pretty cool.  
(Left to Right: view from breakfast on Jan: 1; looking toward the island; the Yamaha TT 500's; a kid from Milwaukee that knows my friend Kevin L.; Happy New Year!)
Side note: if you want to hear more about Flores, ask us about our sleepless nights, our phone call to Wells Fargo's Fraud Detection Department, or the tourists on the dance floor.
After spending New Year's Eve and New Years Day in Flores, we hit the road again on January 2nd with Marko in tow.  He had caught up with us after spending two nights camping in Tikal.  We didn't know it at the time, but it would become one of our most eventful days of travel yet.  We hit the road around 9:00am.  Our plan was to make it to Semuc Champay - a national park filled with waterfalls, rivers, and natural swimming holes, but there was a lot of road between Flores and there.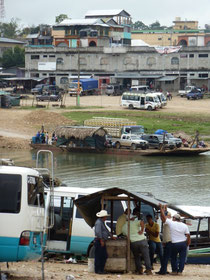 The first little incident of January 2nd took place around 10:30am as we boarded a ferry to cross El Rio de la Pasion just north of Sayaxche.  Em, who was trailing behind Marko and I, went to put her foot down when I slowed up a bit and found her foot plunging into a hole between the ramp and the ferry.  She was lucky to emerge with leg intact (so glad she didn't break something!) and only a few minor cuts on her right palm... and a bruised ego. Her bike was fine too, after adjusting the handguard that had bumped slightly out of place.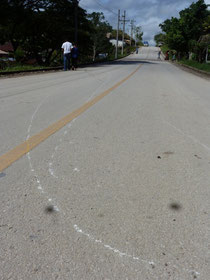 The second incident took place a little over an hour later when Marko took a pretty big spill when trying to weave around a speed bump.  Immediately behind him, I saw his bike sliding across the ground, as he rolled 20-30 feet behind it.  He quickly jumped to his feet though and I ran over to help him lift the bike.  Turns out the shoulder to the right of the speed bump had a thin layer of mud that became like ice when wet.  His rear tire simply slid out from under him and he went down.  Fortunately, it was pretty much a "slide out" and neither him, nor the bike hit the ground very hard.  Each slid pretty far though!!  Again, we were all thankful there were no major injuries.  Just a few little scrapes to the bike and a dented side case.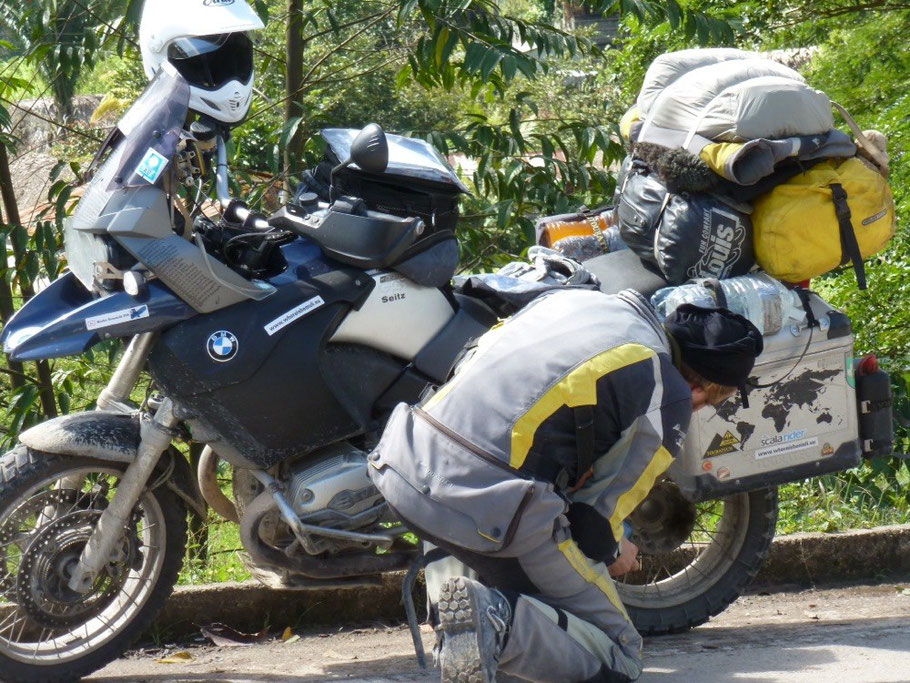 The third incident took place about an hour later when we got "held up" at a makeshift toll booth on a remote section of dirt road that was labeled as a major interstate on all our maps.  Five guys with machetes who appeared to be clearing vegetation from the side of the road had a length of rope blocking our advance.  When we asked if the road was closed ahead, they essentially said, "no, we just charge people to pass through here."  According to them, they are "volunteers" who maintain the road and ask a small fee in return.  Their fee just so happens to be quite high (about $7.50 per motorcycle) and they didn't appear to have any official documents authorizing them to conduct such an operation.  After haggling with them for a bit, we agreed to pay them 100 quetzals (about $14 USD for all three bikes) and we passed on through.  None of us felt good about it though.  We had been warned about this sort of thing in Central America, however, so we were happy to have made it through our first experience of this type without incident.  Interestingly, Marko said he has never experienced anything similar in any of the 45 other countries he has visited on his journey.  It's really a shame it has to occur here, because it certainly keeps many travelers away who could otherwise help support struggling communities.  Oh well, we took solace in knowing that our money likely went to support their families.  
Our ride from the "tollbooth" continued to be beautiful, as we passed through remote communities.  Nearly 80 miles of dirt later we ended up in Lanquin, Guatemala which serves as an entry way to Semuc Champay National Park area.  After the customary scouting around for hotels, we settled in at Hotel El Recreo at the top of a hill.  A quick shower later, we were on our way to dinner and planning for the next day.
(Left to Right: a gorgeous hillside; Marko snapping a photo; a little Mayan village; my bike at an overlook; beautiful green knobs on the hillside)
On the morning of January 3rd, we woke up and jumped in the back of a pickup truck with 14 other people from our hotel and headed to Semuc Champay.  We could have ridden the motorcycles, but the truck ride was cheap and ended up being way more fun than a motorcycle ride would have been.  It turned out to be a fantastic and beautiful day that can be adequately described by reviewing: a) my journal entry for the day; and b) some pictures.
Jay's journal entry for January 3, 2015.
Great Day #2
Languin, Guatemala
It included many of my favorite things:
1) Waking up early (6:05am)
2) Breakfast (oatmeal with coffee)
3) Trucks (transport to Semuc Champay)
4) Dirt roads
5) Riding in the back of trucks (doing so on dirt roads was simply icing on the cake)
6) Waterfalls
7) Swimming holes
8) Emerald blue water
9) Hiking (for just enough time - not too much and not too litle - 1 hour round trip to the lookout point)
10) A natural "jacuzzi" (with refreshingly cool water)
11) Natural water slides (1st slide good; 2nd slide nailed my tailbone @ the bottom, but still faired better than the girl in the white bikini who scraped/bruised the sh** out of her a**/upper leg)
12) Rocks to jump off (if only the water had been a bit deeper!)
13) Flimsy wooden bridges
14) Kids jumping from bridges
15) Talking to kids (Elder Troy and buddy; other kid at lunch; Andy and buddies at Internet cafe)
16) Talking to Mom (FaceTime!!)
17) Hanging with Emily
18) Hanging with a friend (Marko)
19) Fewer rules than there probably should be
20) A dose of productivity (30 minutes of email catchup)
21)  Good news (Dan K. is going to bring new headphones for Em and I to Nicaragua)
22) One beer and a slice of chicharron
23) Cheap things (our ride to Semuc Champay: 25Q/person; dinner: 20Q/person)
24) Ice cream!
The only bummer is that my right ankle totally locked up during dinner.  Was in bad pain until the Advil and ice kicked in.  Guess I should have checked how deep the water was before jumping!
(Left to Right: river plunging beneath limestone pools; Em in the "jacuzzi"; waterfall; me on waterslide; Em in back of truck)
(Left to Right: flimsy-awesome bridge; Em at the lookout; Marko watching water plunge; me in heaven; one of the trucks in front of us heading home)
On January 4th, we ascended the dirt road out of Lanquin and spent a half hour inflating our tires by hand once we reached the pavement.  We rode with Marko for another hour or so until we reached the junction that would take Em and I toward Sacapulas.  Marko was bound for somewhere further south as he maintains the pace that will get him to Tierra del Fuego before winter.
Em and I are now thinking that we'll have to make it there after next winter ends in Patagonia.  There is simply too much to see and it would be a shame (we think) to rush through so many beautiful places simply to reach some place at the very end of the road.  Life, after all, is about the journey not the destination, right?
As we split ways with Marko, we were each a bit saddened.  First to be saying bye to a friend and second to seeing Tierra del Fuego drift (in all likelihood) slightly further into our future.  We spent the next 4 hours winding through the dirt roads and broken pavement of Guatemala's Western Highlands on our way to Sacapulas.  Our only hiccup along the way was another "tollbooth."  This one seemed far more official though because: a) the guys were not holding machetes; b) they were charging much less (only 5 quetzals/bike); and c) they gave us a receipt!  Something is definitely in the air though because we passed several other groups who appeared to be patching holes in the road while simultaneously shouting at us to cough up a quetzal or two. The only difference is that the other groups didn't have  a rope across the road!
We found Sacapulas to be a nice little town that, among other things, gave us a front row seat to a great soccer game between two local clubs.  
(Left to Right: Em as we departed Lanquin; road leading down into Lanquin; soccer in Sacapulas; inflating the tires as we get back on to the pavement; a little rest stop)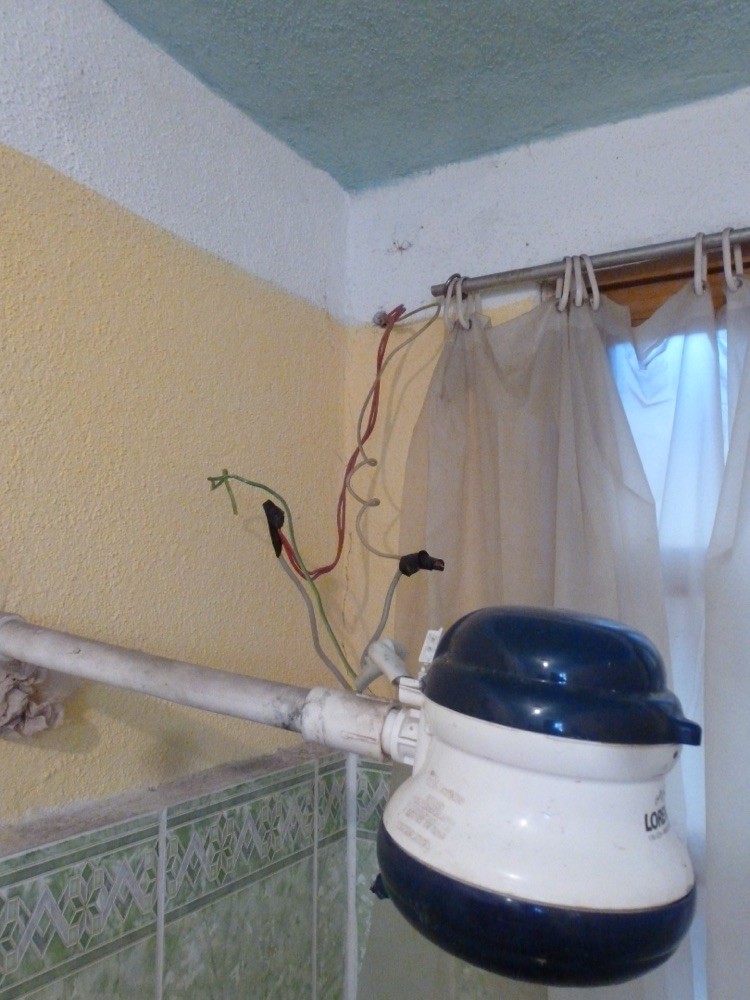 On January 5th, we traversed through drier highlands dotted with adobe homes among Mayan villages.  Along the way, we began seeing some of Guatemala's famous "chicken buses," which colorfully transport passengers all over the country.  Around 1:00pm, we made our final descent into Panajachel on the northern shore of Lake Atitlan.  Em found us a nice little hotel in the center of town and we wandered around to get a feel for the place.
Our next day in town, we lazed around catching up on email and other things, then enjoyed a great dinner with two friends of my Aunt Fern.  Randy and Dave moved to Pana about a 14 months ago after work dried up in the Portland school systems.  Dave now teaches at an international school there and Randy serves as a college admissions counselor, among other things.  Our conversation was delightful and they generously treated us to a delicious Japanese dinner.  Thanks Randy and Dave!
The following day (January 7th) we took a lancha (small passenger boat) around the northern side of the lake and over to San Juan.  We had heard the villagers in San Juan were excellent artists and our experience there confirmed this.  Em and I both found ourselves wishing (at that moment) that we had flown to Guatemala with extra bags because there was plenty we would have liked to purchase and bring home.
From San Juan, we walked over to San Pedro and found ourselves a table at a hostel/restaurant that caters to Israeli students and those who have just finished their military service.  We found it a bit strange to have found such a place in the middle of Guatemala, but - hey - I can understand why folks from Israel may want to come here.  The view from the deck was superb and the food was excellent.  San Pedro was definitely a cool little spot.
(Left to Right: a couple chicken buses; making use of the riverbed; sunset from Hotel Jere; Panajachel; perched above Lake Atitlan)
(Left to Right: boat dock in San Juan; looking to San Pedro; bar with a diving platform visible from our lunch spot; Em on the lunch deck in San Pedro; 1 of 3 dormant volcanos surrounding Lake Atitlan)
We left Lake Atitlan on January 8th and took the Pan-American Highway down to Antigua. Em checked us into a great little hotel called Casa Rustica which is owned by a motorcycle enthusiast from Tennesee named Darryl who is married to a woman from Guatemala.  I spent the afternoon doing routine maintenance on the motorcyles (while talking to Darryl), then we went out for happy hour and dinner with a Father/Daughter combo from Flagstaff, AZ.  Had a great night and some awesome Korean food!
Today (Jan. 9th) we went for a run in the morning, then had a nice breakfast next to the central park.  We spent the rest of the afternoon on the roofdeck catching up on email and making some calls to friends and family.  Although we didn't hit any of the main tourist attractions while we were here, we had a terrific time.  Antigua is a beautiful place with a very relaxing vibe.  We took full advantage of it.
(Left to Right: some sights from our morning run; fun on the roof deck; Antigua beauty)
As we set off from here tomorrow morning (January 10th), we do so with a different kind of conviction.  We're no longer aiming for Tierra del Fuego by the end of March.  We're aiming to more fully appreciate everything that lies between here and there, which means it just may take a bit longer to get there than we originally expected.
At this point, we're thinking we'll make it as far south as Lima, Peru by the end of March, then store the bikes there, and head back to Salt Lake City for 4-6 months to wait out the Patagonian winter, which begins in April.  That will permit us to attend a couple weddings and family events this summer and work our way through Patagonia during their warmer months (November - February).  If that plays out, we'll return to Lima in November 2015 or, more likely, January 2016 to resume the trip.  Only time will tell though.  
For now, we're off to El Salvador!  We're looking forward to 3-5 days there before visiting Honduras and Nicaragua.  All is well.