Hard to believe it, but we crossed through two more countries in a short 6 days as we continue to make our way through Central America.  Here are a few highlights from El Salvador and Honduras: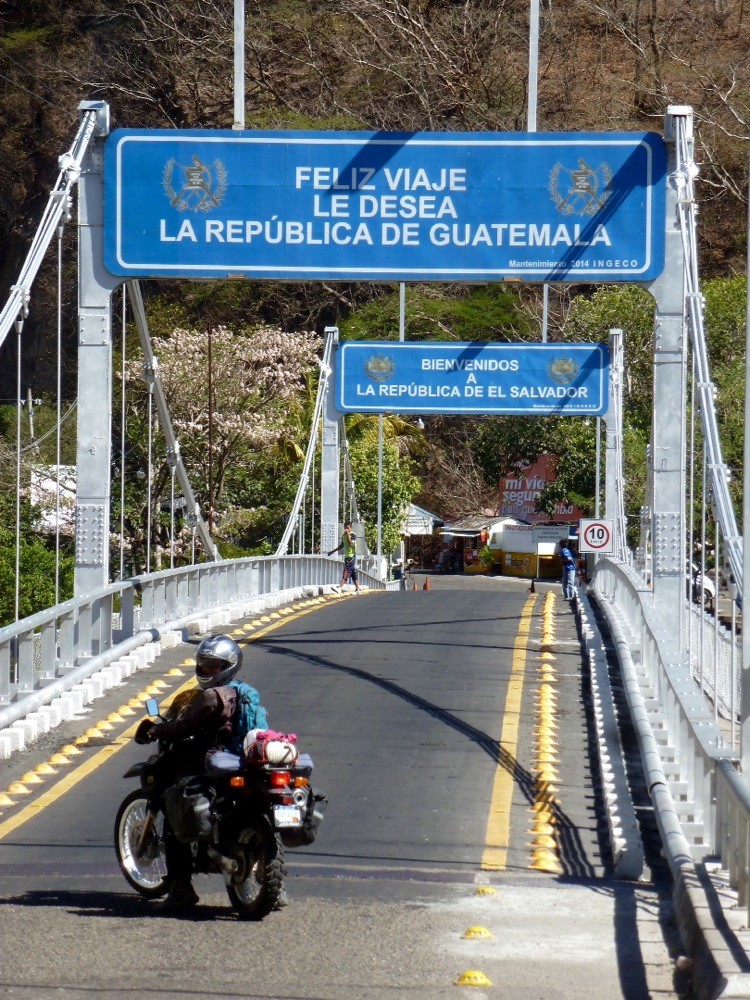 After a two hour, fairly uneventful border crossing, we were in El Salvador and headed toward our first stop.  We wanted to ride the famous Ruta de Las Flores the following day, so we situated ourselves for the night at the north end of the route at Los Termales de Santa Teresa.  This hot springs resort consists of several pools of varying temperatures surrounded by rustic cabins, a few restaurants/bars, and relaxing hammocks.  We, of course, chose the cheapest lodging option and set up our tent in the grassy "camping" area at the resort's exit.  We took a dip in the refreshing, albeit smelly pools- spending most of our time in the uppermost and hottest pool.  Dinner was served poolside and although our bbq wings took 45 minutes to prepare, it was an enjoyable first evening in El Salvador.
Poolside dining; the really, really hot water spout; candlelight journaling; cooler pools; El Salvadorian beers-yes, the brand is Pilsener although that caused confusion when Jay asked what brand the Pilsner was
We took off early the next morning and jumped onto La Ruta de Las Flores, a beautiful 20 mile stretch of road winding through the coffee plantations and pine forests of the Cordillera Apeneca mountains.  While we seemed to miss the prime months when all the flowers are in bloom, the ride offered beautiful views nonetheless.  We stopped in Ataco, a small village at the northern end of the route for breakfast at a small comedor.  Eggs, beans, tortillas and coffee for a mere $1.50 each.  We paused periodically along the rest of the 15 mile stretch to check out some of the other villages and admire the incredible panoramic views at the lookout points.  We met a super friendly El Salvadorian family at one of these lookouts.  The Mom, Dad and two teenage sons were on a one day road trip from San Salvador on two 125's.  You don't often see bikes as large as ours down here, so they are quite the conversation starter
Streets of Ataco; view from lookout on Ruta de Las Flores
Next stop, the surfer friendly beach town of El Tunco.  We showed up hot and sweaty and ready to relax for a few days.  We landed at La Sombra hostel.  With their poolside hammocks, open air kitchen and 2 minute walk to the beach, it wasn't hard to do so.  Jay took advantage of the $10 surfboard rental and by the end of the day he proudly carried his board out of the water and declared, "Mark the date Emily, today I surfed!"  I lounged around on the beach reading, writing and watching Jay enjoy the waves.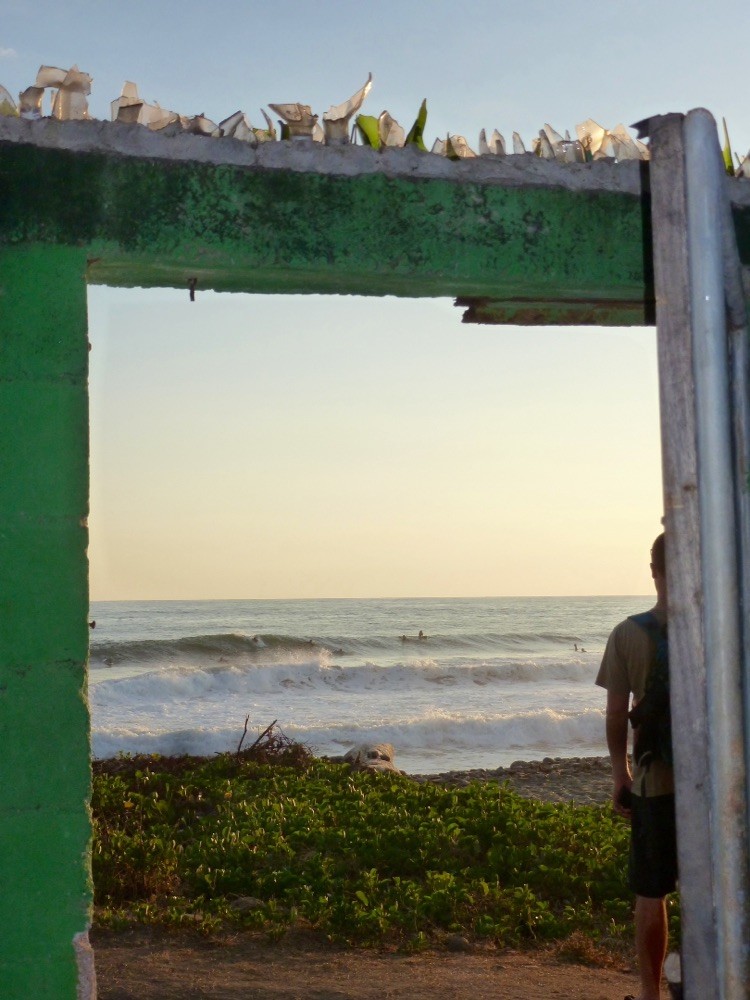 La Sombra hostel; What I look like after a day of hot riding; Jay ready to dominate
At our hostel, we met a couple (Sam and Elizabeth) from Napa traveling around Central America for a few months during the wine industry's slow season.  We hung out with them on Monday night for dinner, drinks, and of course, the college football playoffs.  Another hostel was playing the game so we joined a few other gringos indulging in a slice of Americana.  While Jay got his fill of football, I enjoyed spending time with another female, temporarily filling my growing need to connect with other women!!  Thanks Elizabeth!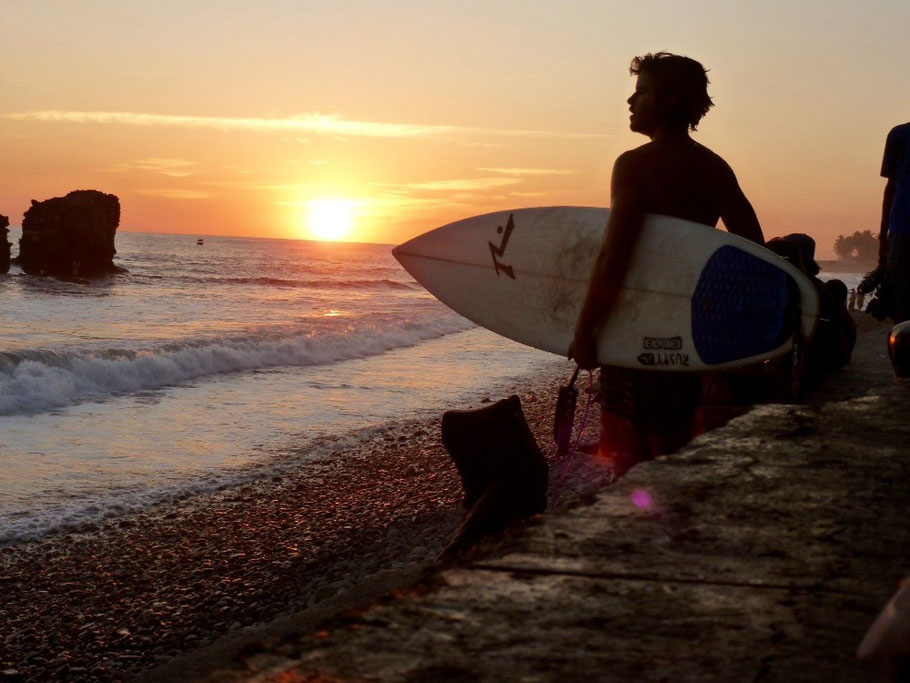 After a few days on the beach, we retreated into the cooler mountains near Usulutan to check out the small village of Alegria.  This sleepy town offers a fantastic view of the mountains and valleys.  Other than lounging around at the hostel and cafe where we stayed (Entre Piedras) the highlight of this town, as described in guidebooks, is the Laguna de Alegria. Reaching this crater lake requires a 2km walk uphill from town center.  Me, Jay and Anna, a backpacker from Australia staying at our hostel, made the trek around 3 in the afternoon.  We arrived an hour or so later to the lagoon and looked at each other with bewilderment. I will let the pictures below explain...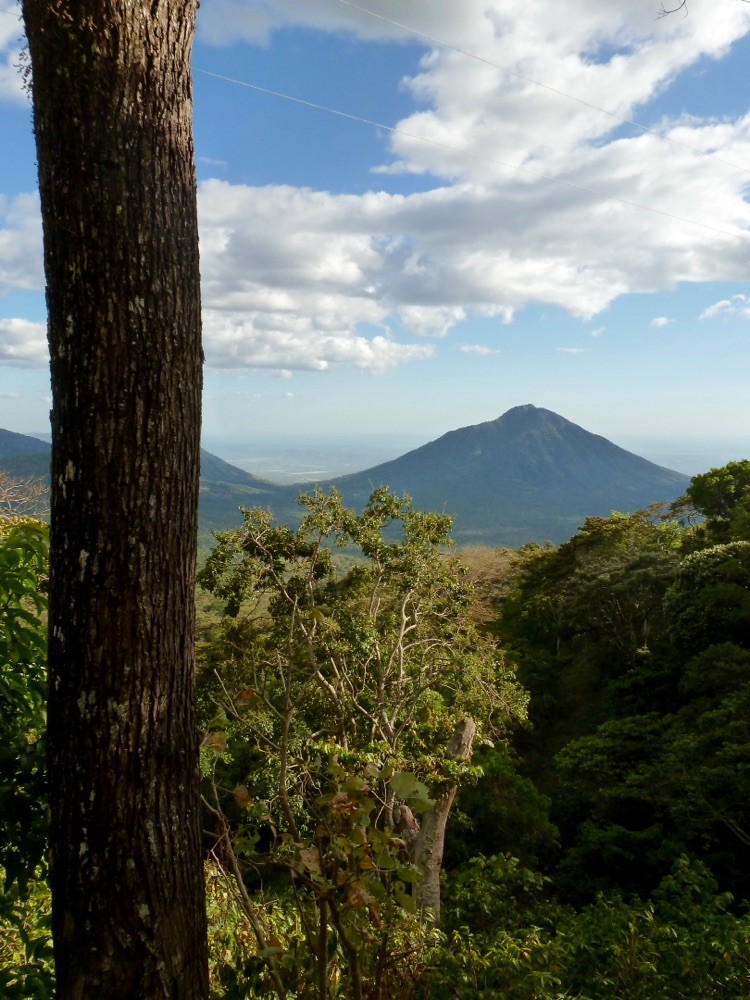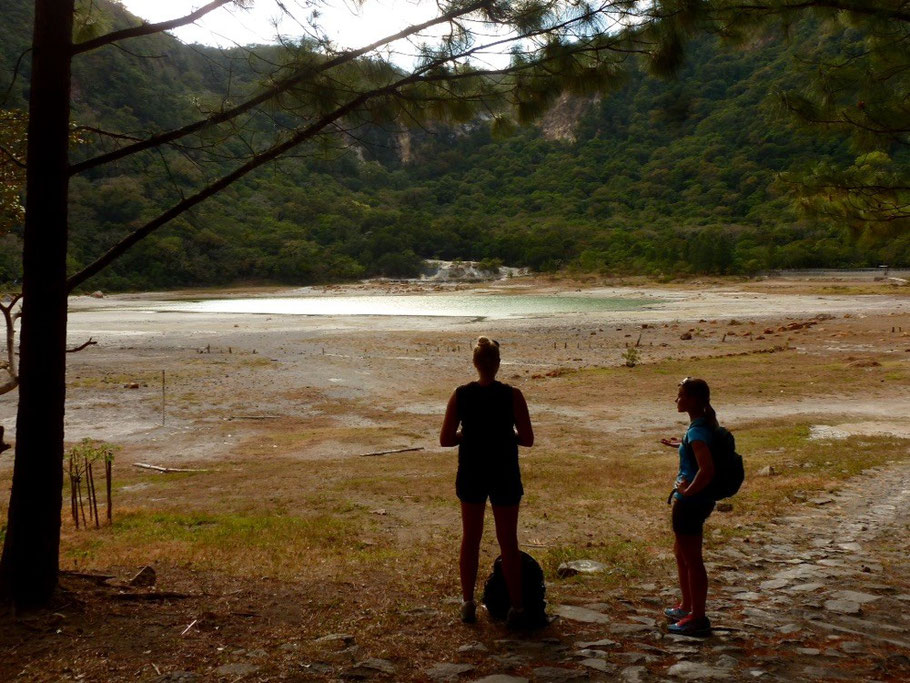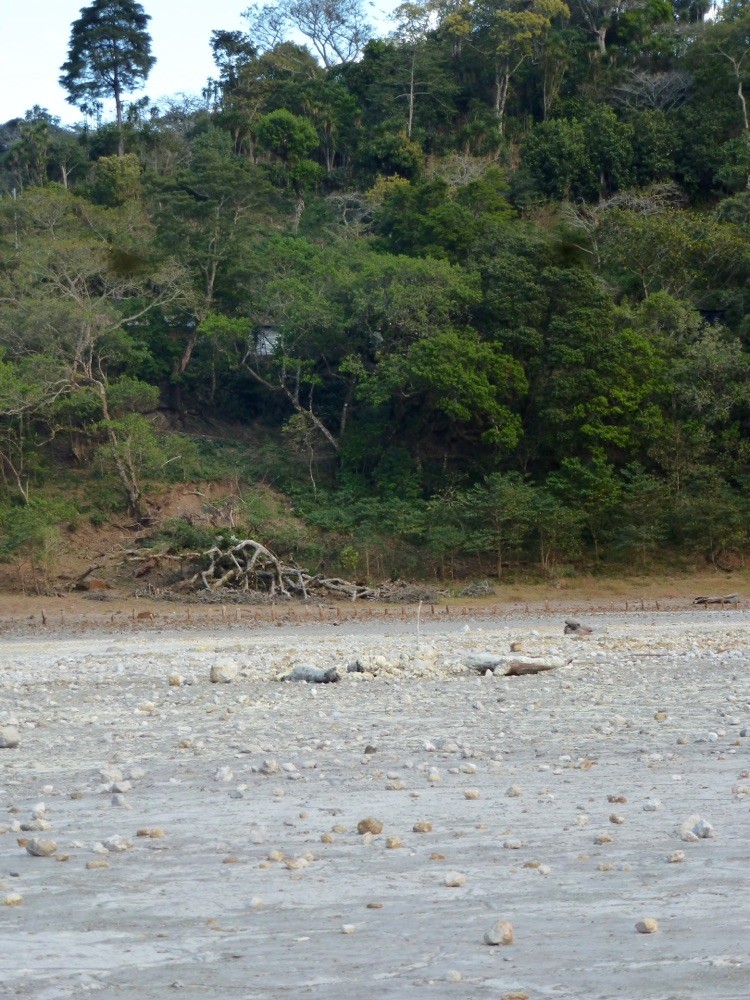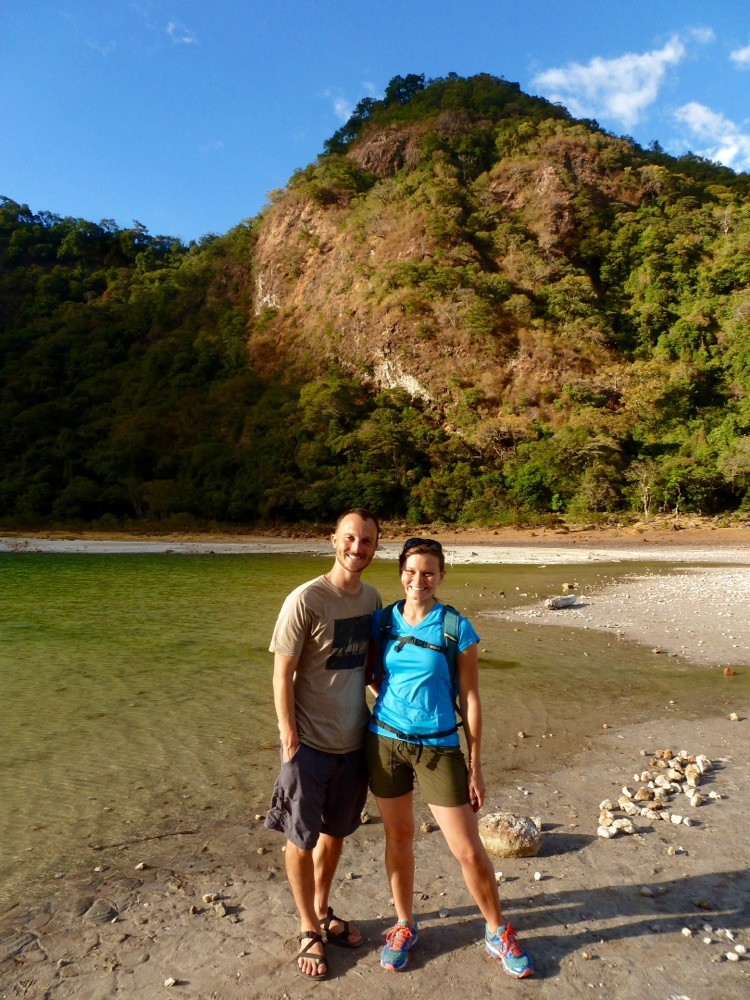 Despite the disappointing destination, the walk provided a nice little workout and we enjoyed getting to know our new friend, Anna.  Back in Alegria we refueled at a small bar with a western saloon theme...and karaoke dominated by a few, very drunk El Salvadorian men.  
Planning to cross into Honduras the following day, we wanted to get closer  to the border.  We landed in Santa Rosa de Lima for the night which, we learned, is not a town frequented by many tourists.  We arrived hungry for lunch so stopped at a comedor serving up comida typica- fried chicken or pork with a small salad, rice and tortillas.  We parked our bikes within eyesight, but after several warnings of quick handed thieves, we removed all the items off our bikes and brought them inside.  While this kept us on edge for the duration of our meal, the upside is that we connected with Christian, one of the employees there who was studying English.  We made plans to meet up with him later that night for an informal intercambio, or language practice.
The options for lodging in Santa Rosa were not exactly plentiful and most of them offered rooms by the hour.  We chose to stay at El Tejano, which at the time seemed like the best option.  The owner's 11 year old grandson immediately took an interest in us, laying down on our bed, playing with our phones, and asking about the bikes.  This was just fine for a while because we generally enjoy talking with kids. However, when I tried to hint at my desire for privacy by telling him I was going to take a shower, he replied by pointing out the bathroom to me (which by the way was a toilet/shower combo separated from the bed by only a 1/2 wall).  Before he left, he was messing around with our charging blocks for our phones and slipped one into his pocket.  I noticed it was missing almost immediately and Jay went to find him to ask for it back.  Head hanging low, he returned it.  Neither me nor Jay want to believe he did this on purpose, but my guess is this wasn't the first time he'd pulled one over on the gringos.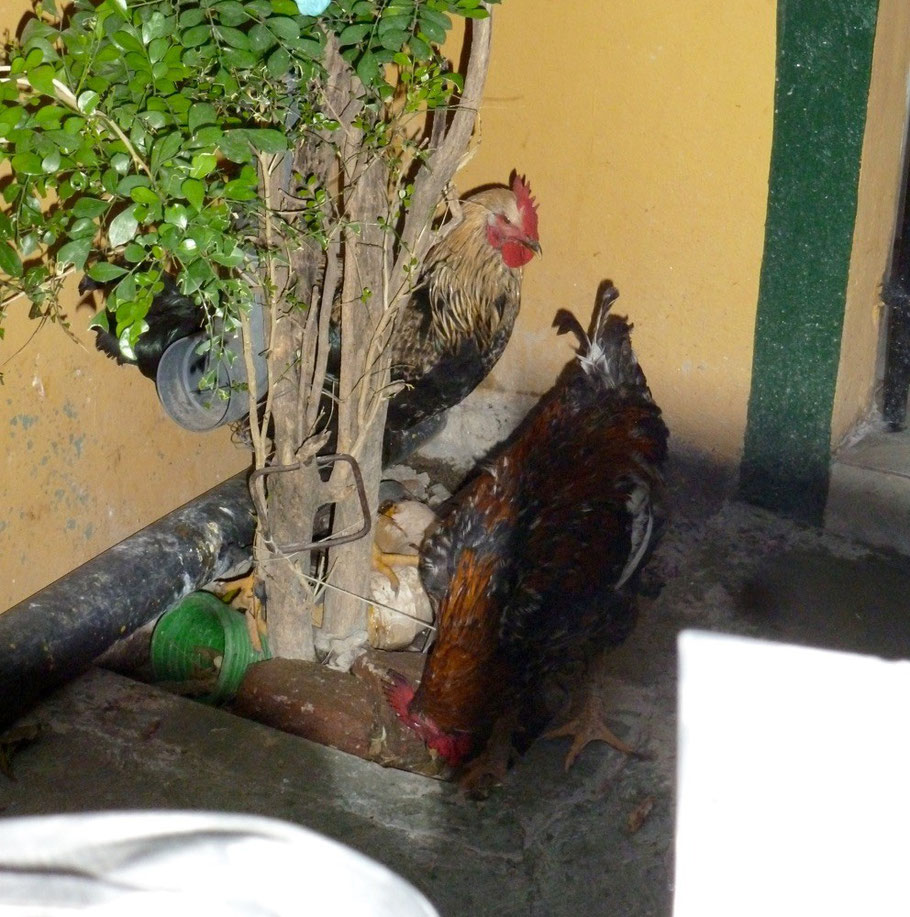 To lift our spirits, we had a great night with Christian who brought us to a fantastic little place serving traditional pupusas out of their home.  It was really interesting talking to him about his passion to teach English in his home country.  We were able to practice our spanish and him, his english.  Since his level of english supersedes our level of spanish Jay and I were shocked to learn that he had only started studying the language two years ago! Sure puts us to shame!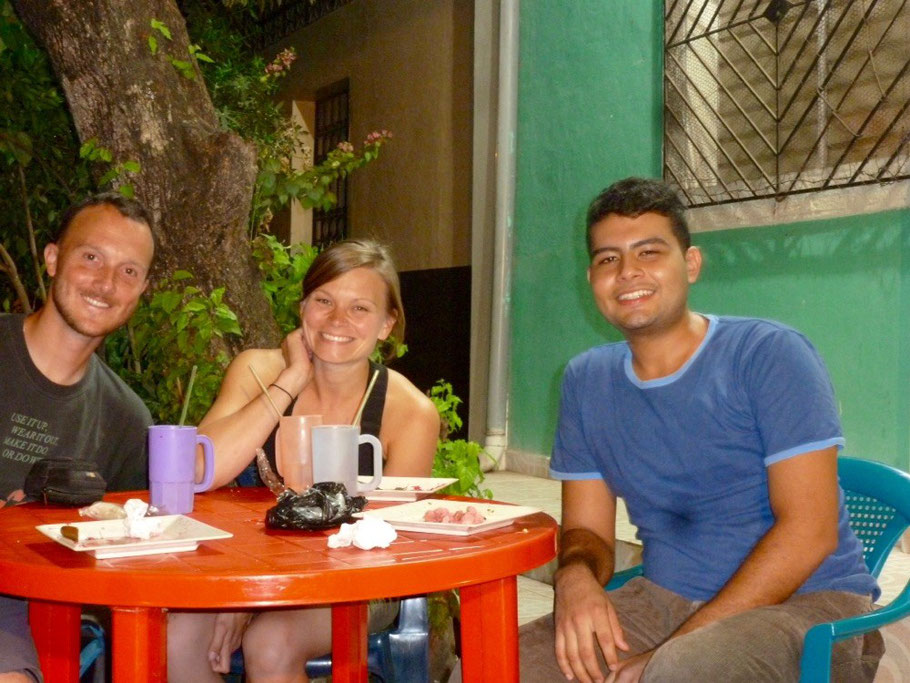 Unfortunately, our positivity from dinner was shot back down about 2 hours later when Jay and I realized just how miserable our hotel was.  Not only was it scorching hot and stuffy in our non-air-conditioned room, but the mattress was such that we became the meat in a proverbial taco, rolling to the middle of the bed and sticking to each other's clammy skin.  To top it all off, there were some little insects biting our bodies (bed bugs?), causing us to squirm and itch throughout the night.  Needless to say we didn't sleep much, and when the rooster crowed at 5:30am, we took it as a welcome sign to get moving
Before entering Honduras we had read several accounts of the difficult, confusing and expensive border crossing, the frequent police stops with corrupt officials demanding rediculous pay outs, and the horrid and dangerous conditions of the roads.  With the exception of a long, 3 hour process at the border, we experienced none of the above.   We were only in the country for one night which we spent in Choluteca at a hotel with a/c, clean sheets, a private bathroom, and a pool...heaven! Jay and I both crashed for 2 hours upon our arrival and spent the rest of the evening enjoying the creature comforts for which we continue to gain appreciation.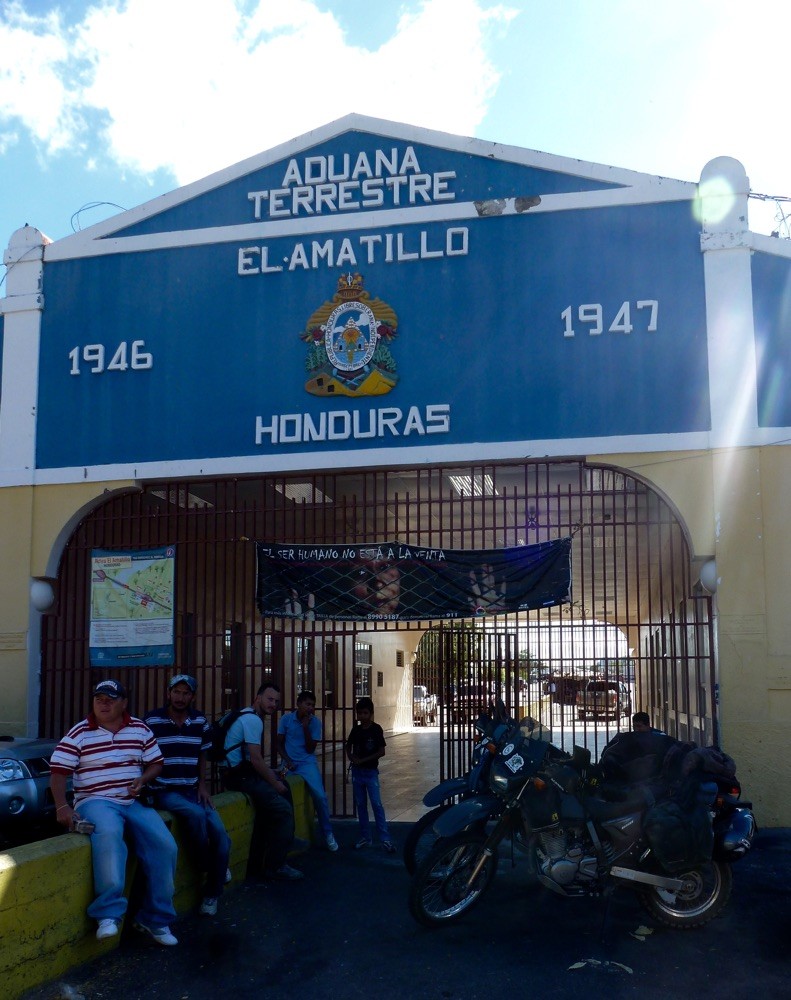 Our ride out of Honduras toward the Nicaragua border the following day was quite pretty.  The Pan-American highway winds up into the mountains offering a reprieve from the suffocating heat of the lower elevations.  It's a shame that most tourists, including us, don't venture further into the country to explore.  We were held back not only by the violence that plagues Honduras, but also by the sheer miles we would have to ride to reach destinations of interest.  Safely through our 6th country though, onto Nicaragua it was!