Casa Cresta sits atop a ridge between two beautiful Nicaraguan beaches just north of San Juan del Sur.  It's owned by a friend of mine named Dan K. who built it in 2010 with a group of his friends who sought refuge, adventure, and a decent investment along the Nicaraguan coast.  From the pool deck, the Captain's Perch, the kitchen window, or the bedrooms, you can see either Playa Maderas to the north or Playa Marsella to the South (or, from some vantage points, both).  Complimenting the views, are the sounds of howler monkeys marking their territory, waves crashing in the distance, and gentle winds blowing through the tree canopy.  It's a sublime place that calms the nerves, soothes the soul, and begs you to do nothing more than exactly what you want.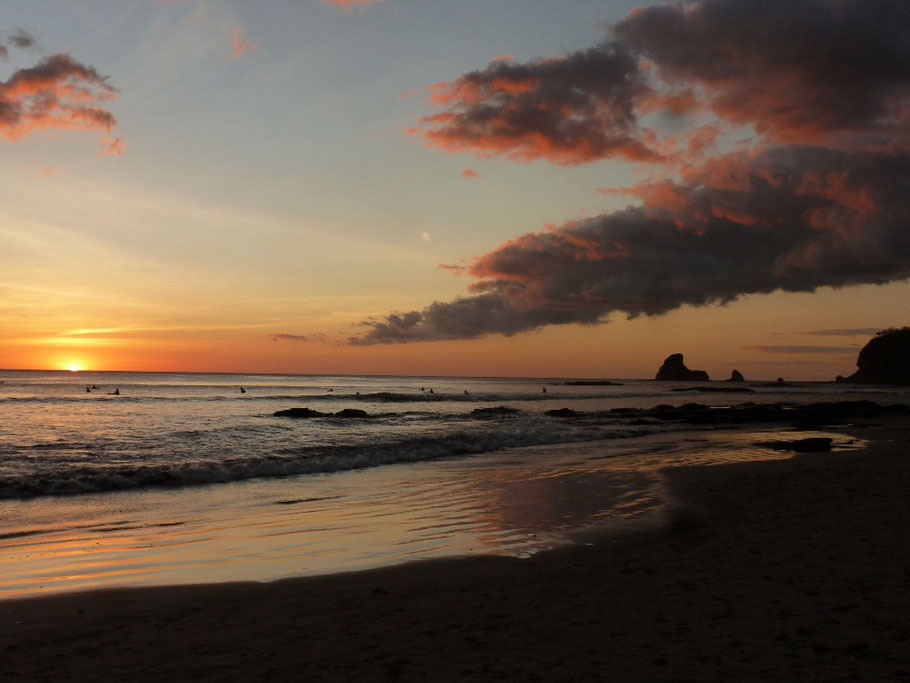 Our stop at this little slice of heaven began on January 22nd when we arrived in San Juan del Sur from Granada and other parts north in Nicaragua which I'll get to later.  Dan had invited us to stay for a few nights after learning we would be in the area at roughly the same time he was planning to be here.  Em and I are glad he did because this has been one of the most relaxing stops on our journey.  For the last five days, we've done little more than sit, surf, chat, laugh, and lounge.  After moving fairly constantly for the last 2.5 months, it has been awesome to stay in one spot for longer than 2-3 nights.  Aside from Guanajuato, Mexico, where we spent 7 nights, this has been the longest we've been in one spot since leaving my Mom's house in Southern California.  It has been wonderful.
While here, I surfed a bunch (still not good enough to officially call myself a "surfer," but I'm on the way), we met a TV crew from the Travel Channel who offered glimpses into the predictable fiction of "reality" TV (ask us for more details next time we're together), we had a fantastic dinner at a mega-lounge in the hills, we met a new friend from Flagstaff (hi Annie!), randomly ran into a girl who lived in the same (small) town as Emily growing up, we got a tour of the local bakery (Pan de Vida) which is owned by a friend of my step-half sister (i.e. a step sister to my half-brothers), and we had dinner with the local couple that work as caretakers at Casa Cresta.
(L to R: Playa Maderas and various shots from Casa Cresta)
(L to R: with the Co-Founder of Pan de Vida, Em and Annie, me on some white water, Dan post surf session, gargantuan surfboard with smaller man)
In addition, we did mounds of laundry.  Our riding pants hadn't been washed since Cabo San Lucas and our riding jackets hadn't been washed in...since...well...ever.  Suffice it to say, they were on the high-side of stinky and in desperate need of attention.  
As I washed my coat, I found myself thinking of all the places it has been.  I bought it in July 2005 and wore it on my ride from the Canadian border to Mexico City.  It's been to the Grand Canyon, Baja, southern Utah, Montana, northern Michigan, Kentucky, Wisconsin, Belize, Guatemala, and loads of other places in the last 10 years.  And it has never been washed!!  I have no explanation for this really, but it's clean now.  Or at least as clean as I could get it using well water, a bucket, and some elbow grease. Em's is in similar form, although slightly less clean, I'm guessing, because she didn't scrub the inside like I did.  In light of her agitate-only technique, I look forward to smelling better than her for at least a few days.  (Emily-The-Editor's Note: Unlike Jay, my jacket is not 10 years old and has lived through far fewer sweaty rides.  It, therefore did not necessitate a wire brush scrubbing to get the stank out. I proclaim that our gear currently carries the same exact stench of partial cleanliness).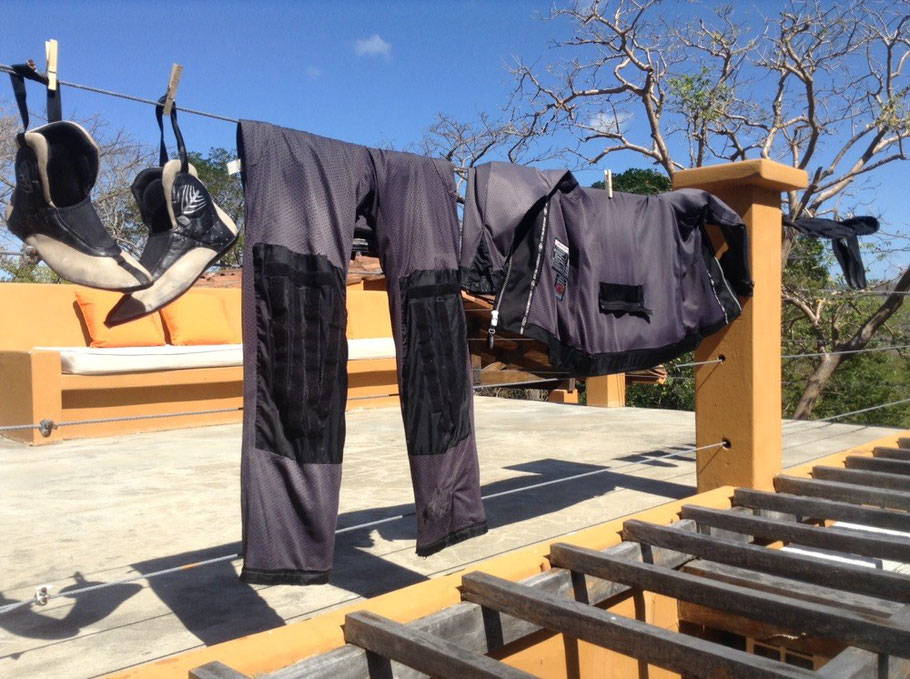 Throughout our stay at Casa Cresta, Dan served as a kind and gracious host.  In addition to showing us around and treating us to the first real mattress and pillows we had seen in a while, he brought us several valuable supplies from the States.  To repair the faulty communication devices in our helmets, he brought along two brand new sets of speakers!  Emily's left speaker went out just south of Mexico City and my right earpiece failed in Palenque.  We had traversed the Yucatan peninsula, Belize, Guatemala, El Salvador, Honduras, and northern Nicaragua by shouting to each other because the manufacturer had trouble shipping the items to Latin America.  Our "fix," when we learned we'd be meeting Dan in Nicaragua, was to have them ship the replacement items, which were covered under warranty, to Dan's house in Idaho so he could bring them to us.  It worked!  We can now hear each other again!  Although the past several months have given us some idea of how we will converse in 50 years.  
Dan also brought a handful of Clif bars for us to enjoy because he knows a good quality granola bar is tough to find south of the border.  Although not the official granola bar of The Live It Right Dream Ride (that honor still belongs to KIND), we'll happily indulge on this easy-to-eat American treat.  Finally, Dan also gave us his camera.  When he learned that ours was putting black dots on every picture, he happily suggested we take the camera he had brought with him on the trip.  Yet another problem solved!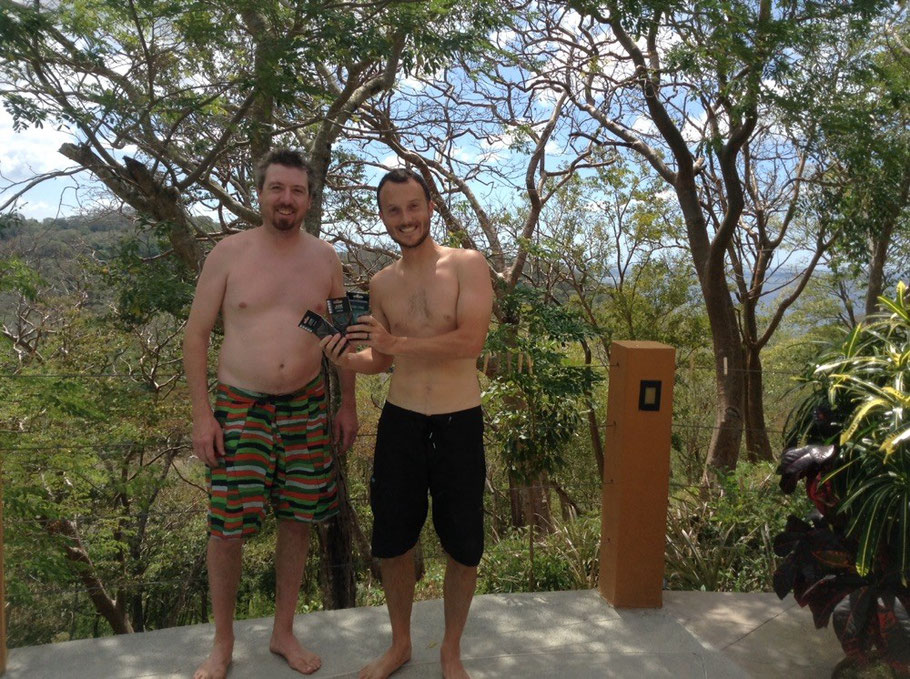 We can't thank Dan enough for his generosity, his enthusiasm, and his presence.  Although the supplies were a great bonus, it was even better to see a kindred soul from home!  It did wonders to soothe some homesickness and re-energize us for the road ahead.  Thanks again for everything Dan!   
By the way, if you're interested in staying at Casa Cresta, you can!  Check out the image gallery, rental info, and more at www.nicaraguabeachhouse.com.
Although our time near San Juan del Sur has been terrific, our Nicaragua experience didn't begin here.  It started about 4 hours north in a town called Esteli.  Through her research, Em had learned about a unique nature reserve outside Esteli that is privately owned by the families/communities that have occupied the land for generations.  Eight of those communities now partner with a non-profit organization in Esteli that pairs tourists, like us, with local guides who provide tours of this specatcular area in a way that benefits their entire community.  The non-profit organization, which includes Hostal Internacional, Cafe Luz, and an adjoining travel agency, gives clients the option to visit three different regions/climates within Miraflor on either day-long or overnight trips.
After considering the possibilities, Emily and I elected to visit the lower zone, which required us to hop on a "chicken bus" at 5:45am on the 18th and bump 45 minutes up the rocky dirt road to the Coyolito community where we'd eat breakfast and meet our guide.  The bus we took happened to be PACKED because an older, respected member of the community had died and many Esteli families with roots in the hills were coming to pay their respects.  It made for an interesting ride, but it was well worth it.
When we arrived in Coyolito, we wiggled our way out of the bus and found several other tourists looking for the house where we would all eat breakfast before taking off for the day.  We spent the next hour enjoying a traditional Nicaraguan breakfast (eggs, gallo pinto - rice and black beans combined, fried plantains, and tortillas) while praciticing our Spanish with two Italian guys and a Swiss girl whom we presumed we would be touring with throughout the day.  As it turned out, we all ended up with separate guides.  Christina, our Swiss friend, went one way with her guide, the Italians went another way with theirs, and we went - 15 minutes later - with our guide Rodolfo in yet another direction.  We later learned that the groups are broken up based, in part, on physical ability and interest in climbing/descending some big hills.  With Rodolfo as our pace setter, Em and I ended up covering about 7 miles that day, while the two other groups moved slightly less.  He took us up to a lookout point where we bumped into Christina and her guide, over to his farm which supplies produce to the cafe branch of the non-profit organization, down to a river at the bottom of the valley, and back up to three waterfalls where Em, Rodolfo, and Christina's guide (we had bumped into them again) took a dip in one of the pools.  It was a beautiful and interesting day that ended with dinner at the cafe that receives produce from Rodolfo's farm.  
The pictures below share more of the story.
(L to R: our Italian buddies; Em waiting for breakfast; enjoying some trailside Guanabana, which produces my favorite juice; walking through a cattle guard; descending to Rodolfo's ranch)
(L to R: Christina and her guide; us at the lookout; the flower of Em's favorite new tea; cows guarding the trail; our guide - Rodolfo)
(L to R: our bus; Em holding on during the only stop where I could snap a steady pic; assorted pics from Coyolito)
On January 19th, we packed our bags again, said goodbye to Hotel Meson, and took off for Laguna de Apoyo - a warm-watered crater lake set within the mountains just west of Granada.  We arrived around noon and checked into Hotel Selva Azul, which sits right on the lakeshore.  Although our room looked very nice, we found it filled with various biting creatures that took a particular liking to my ankles.  Frustrated and annoyed, we headed outside where the wind was blowing.  After calming our emotions through some reading and a pleasant dinner, we returned to the room around 9:00pm to find a tarantula on our wall!  Yikes!  When I told the owner about it and asked him how to get rid of it (in what I presumed was a leading, you're gonna do this for me kinda way), he said - "Just grab one of it's legs and throw it out the door."  My response: "I'd be much happier if you did that."  He did, but not before I snapped a couple photos.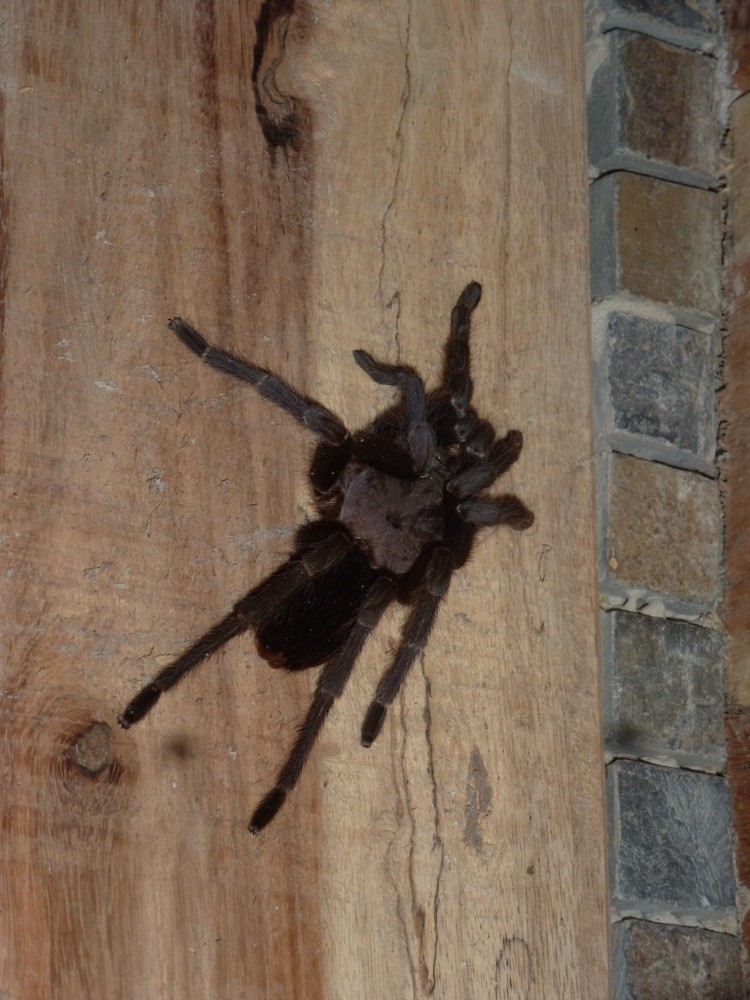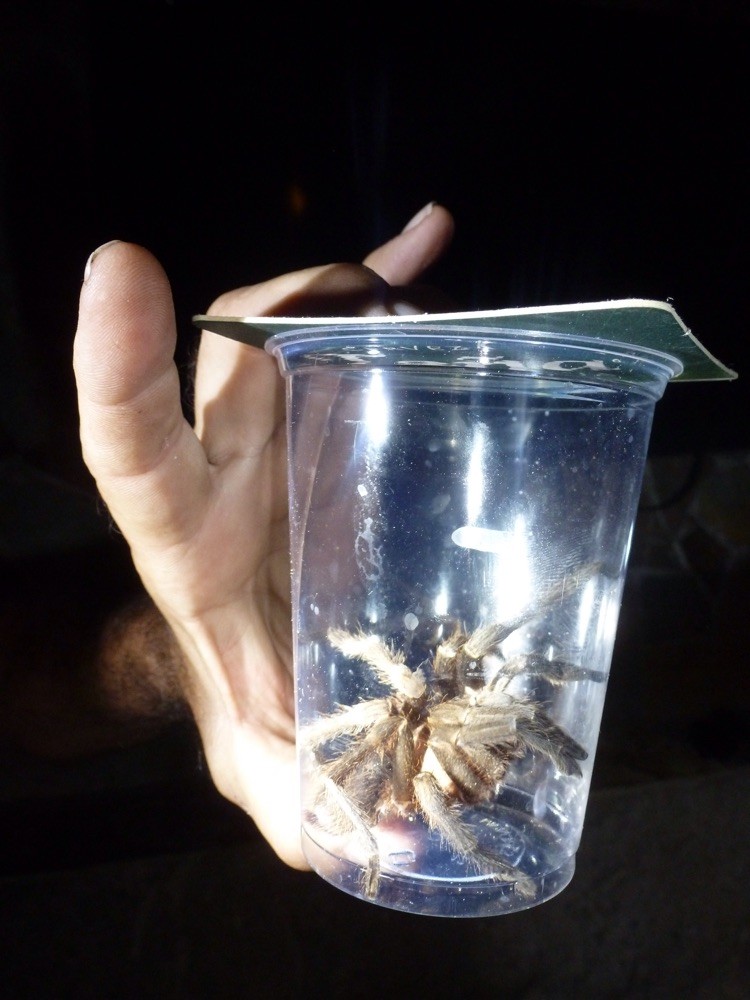 Despite the bugs, our time at Laguna de Apoyo was quite beautiful.  When we woke up the following morning, we waded out to the swimming platform and enjoyed an hour or so of yoga and meditation.  The sunrise and solitude made the whole experience very peaceful.  Afterwards, we ate a slow breakfast, which was included in the price of our room, and packed our bags yet again.
(L to R: our otherwise nice room; overlooking the lake from our breakfast area; getting ready for a morning swim; on the doc)
About 25 minutes after leaving Laguna de Apoyo, we arrived in Granada where we had planned to spend a night or two.  After checking in to the Backyard Hostel, we soon found ourselves with beer in hand, chatting with a young, volunteer bartender who comes to Nicaragua in the winter when tourist traffic slows down at the restaurant where he works in Myrtle Beach, South Carolina. He introduced us to a handful of other characters and we spent the rest of the afternoon at the hostel.  Em and I left for dinner around 8:00pm and went to bed about 10:00, but the party continued well into the night.  We had inadvertently stumbled into what was now obviously a party hostel for twenty-somethings and one older guy named Nico who had been there long enough and who had annoyed enough people to justify the following statement on the whiteboard above the bar: "Rule #1 - F*@! You Nico."
It was a loud and interesting place.  We would have stayed only one night, but we decided to stay a second because we didn't get a chance to explore any of Granada at all the day we arrived.  It's a nice little city actually and we enjoyed our visit.  While there, we took an exploratory run around the city and witnessed the way in which extreme poverty can hide so closely beside relative wealth, we took a trip up to the belltower at Igelsia la Merced to get a view of the city, and generally tried to avoid an American ex-pat who had tried to snooker us into something (not quite sure what) shortly after lunch.  All we know is that something felt off when we originally met him and that he continued to appear in front of us at random points throughout the day - including atop the bell tower!  Oh...and we also bumped into our friends Alex and Roxanne who are traveling south in an old VW van with their 7 and 5 year-old children.  Again, it was nice to see familiar faces.
(L to R: lounging at the Backyard Hostel; climbing the bell tower; two views from the top; Iglesia la Merced)
On January 22nd, we left Granada and pointed the bikes towards San Juan del Sur.  After a brief stop at Lake Nicaragua (through which they plan to be build a northern counterpart to the Panama Canal), we arrived on the beach at Playa Maderas.  Dan arrived shortly thereafter and the rest is history.
Today, January 27th, we take off for Costa Rica.  It's about 45 minutes to the border from here, so if all goes as planned, we'll be in Playa Herradura by sunset.
Thanks again to Dan for helping us cap off a great visit to Nicaragua and for letting us spend some extra time at Casa Cresta to finish this blogpost and re-plot our timeline for the months ahead.  Cheers amigo!