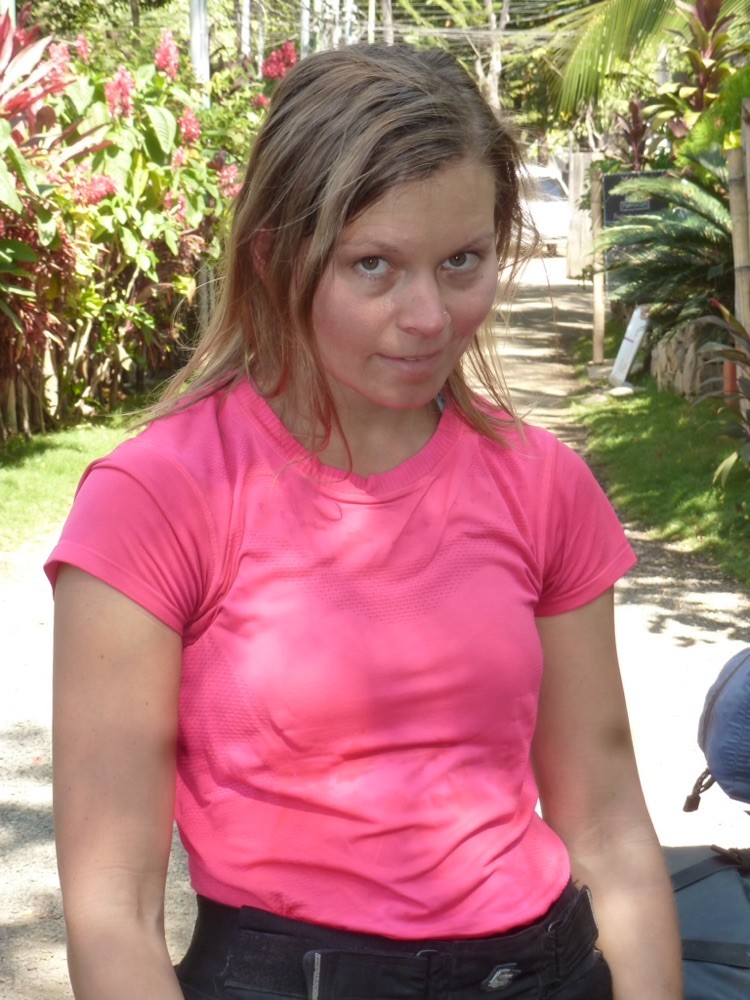 About one month after we took off from Ann Arbor, Michigan I declared to Jay that I felt more beautiful than I had in a very long time. These feelings came to me during a long ride in the middle of Wyoming, surrounded by vast stretches of ranch land that sprawl into the distance before meeting with the clear blue sky on the horizon.  Perhaps the serene surroundings were the reason for my sudden burst of self-admiration.  Maybe it was the fact that as opposed to sitting at a computer for nine hours a day I was constantly active, moving and toning my body as I worked to keep the motorcyle upright.  It could have been that through traveling in such remote areas I was relieved of the pressure to maintain a certain unachievable standard of beauty.  Or maybe I was still riding the high of leaving our lives in the U.S. to take off on this grand adventure. Whatever the cause, the feeling was intense and it felt great! I was beautiful!
Fast forward six months and that feeling is long gone. Now, I'm not talking about inner beauty here.  I'm talking about that, "damn I look good" feeling.  I'm talking about that "walking down the street and I'm pretty sure I'm turning heads" kind of feeling.  I'm talking about feeling that pure, albeit superficial, outward beauty.  That feeling, my friends, is long gone. Maybe the following example will help explain...
Jay and I roll up to a hip surfer town in El Salvador (or any number of other beach towns we have stopped at in the last six months).  We have just finished a long day riding in almost unbearable heat and humidity.  A normal human wearing any amount of clothing would be at the very least shimmering from the heat of the day.  We, however are not normal humans and instead are wearing heavy, black, head-to-toe, fingertip-to-fingertip padded riding gear and basically the world's hottest winter hat in the form of a full face helmet.  I, therefore am sweating buckets. Forget the, "girls don't sweat they glisten" shit, I'm drenched and dripping.  
We find a parking spot on the main drag where we can station ourselves temporarily while searching for a place to spend the night.  I remove my helmet and instead of like in the tv commercials where the woman takes off her helmet and her luscious hair shakes loose onto her shoulders revealing a sexy, messy and voluminous mane, mine stays plastered to my head retaining the shape of said helmet.  Even if I tried to shake it lose, it's so caked with sweat and dirt that it wouldn't budge....I've tried.
I stay with the bikes while Jay walks around to find a hotel and suddenly become super conscious of just how unattractive I look.  Scanning my surroundings I see hoards of gorgeous women wearing skimpy bikinis, showing off their yoga and Pilates-toned bodies.  I, in contrast, am wearing a dry fit tee with sweat stains outlining my sports bra and extending in a semi-circle below my armpits.  My t-shirt is tightly tucked into my riding pants which sit high on my waist, extend wide beyond my hips where there is extra padding (just what every woman wants) and then taper in gradually to the ankles.  My knee high moon/riding boots complete the flattering outfit, jutting out in all their bulky, muddy glory.  My random tan lines consisting of a small strip of darker skin around my wrists where my jacket doesn't quite reach my riding gloves, are made even more obvious when compared to the other tourists' fully browned bodies.  My calloused hands (the pads of my right throttle hand more-so than my left) suddenly seem exponentially more rough when admiring the smooth skin of the others.  The large and multiple blisters that have popped up between my toes begin to burn as I admire the neatly manicured feet of passersby.  
I try to remain unseen, sitting low on the curb in between the two bikes, legs sprawled wide open because, hey if I have given up on retaining any aspect of femininity I may as well be comfortable.  It is at this point that I realize even if I succeed in staying out of view of all the Laguna Beach look-alikes, there was no way I would be able to stay out of smell.  Hunched forward with my elbows resting on my knees I catch a whiff of my ripeness.  I once tried to explain to my sister Rachel how badly my gear smelled and she asked (the way that only a sister could), "Does it smell worse than the croch of your running shorts?" The answer in that moment on the side of the road in beach heaven El Salvador, was yes. Yes, it did.
I finally spotted Jay walking toward me.  He too, was sweating profusely from wearing his 10-year old, tattered riding pants and cumbersome boots around town.  The technical tee he wears daily is stained with oil, dirt, and God knows what else.  His shirt is strategically tucked into his tight riding undershorts which jut out just enough above his pants that you can see the white waist band.  The silver chain containing a St.Christopher medallion is hung around his neck such that, if you didn't know him you might assume he hails from Jersey.  He stood out (and smelled out) just as much as me.  As he neared, we locked eyes and he broke out into that familiar smile I have come to know so well. "What?", I asked when his smirk grew larger.  "Nothing," he replied, "I just think you're beautiful."  I rolled my eyes, "We really needed to hurry up and get to the hotel. Those tacos from last night aren't sitting so well..."