When I think back on our time in Costa Rica and Panama, I shutter.  This reaction is not exactly fair to these beautiful countries and is not indicative of the actual experiences we had IN them.  The feeling instead stems from the ridiculous experiences we had at the border crossings entering into and exiting these southernmost Central American countries.  Below I invite you onto the rollercoaster.  I will begin with our headache inducing day crossing from Nicaragua to Costa Rica, sandwich in some uplifting photos and stories of our highlights traveling through, and end with our two day debacle getting onto the ferry over to Colombia. Enjoy the ride!
One would think that by our seventh border crossing we would have the process down, but our attempt to exit Nicaragua and enter Costa Rica proved that theory to be incorrect.  We arrived at the border on the morning of January 27th, excited to return to the country where we had honeymooned three years ago.  We were immediately stopped by officials who inspected our passports and Nicaraguan bike permits.  They gave us a form partially filled out with our licence plate numbers and a signature and waved us forward.  "Estamos terminado con las motos?" I asked, wondering if we had just experienced the easiest exit process for our vehicles.  "Si", he replied, and sent us off to get our passports stamped.  
We rode 100 meters down the road to the immigration building feeling pretty good about how this was going so far.  As Jay stayed with the bikes, I threw myself into the hoard of people packed into a waiting area grossly undersized for the amount of people waiting to get permission to leave the country.  I started to fight my way into the preschoolers version of a line, until I realized I had to pay the exit fee before getting the stamp.  I scrambled back through the crowd to the bullet proof booth to pay the $2, then returned to the line to wait...and wait..and wait.  45 mintues later it was my turn.  I stepped up to the window, slid both me and Jay's passports through and was informed that Jay had to be there in person to verify his identity.  Not willing to be pushed back to the end of the line, I yelled aross the crowd and wildly flailed my arms to get Jay's attention.  He wound his way through the thick mass to show his face to our not so friendly immigration officer behind the glass.  Satisfied that the passport matched the gringo, he requested 90 Cordobas.  Not expecting another exit tax, I showed him our receipt and explained that we had paid already.  "Es diferente", he replied and once again demanded the 90C.  With a roll of my eyes, I forked over a 100 Cordoba bill.  "No tengo cambio."  I've heard this phrase so many times that it's on my list of possible titles if we ever write a book about our Latin American advenutres.  Yet, it never siezes to amaze me that these people doing business solely in cash would not carry the denominations to be able to give appropriate change.  Even more baffling is that the burden lies with the customer to figure it out!  He indicated that he would go ahead and hold onto our passports until we got exact change.  Jay ran off with this mission as I stepped aside, holding our place in line and keeping my eyes on our passports.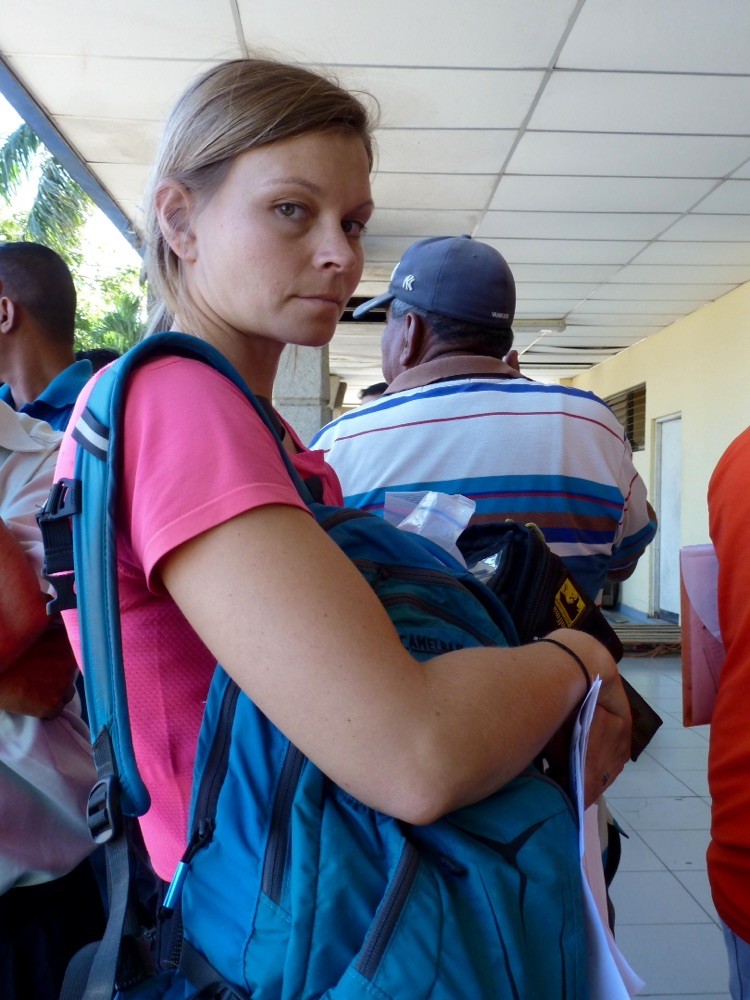 Several minutes later, we had our stamped passports in hand and were ready to leave Nicaragua, or so we thought.  We made it 1/4 mile from immmigration before we were stopped again by an official who was checking to make sure we had all the permissions we needed to exit.  Examining our passports and the form we were intially given for the bikes, she informed us that we were not done.  In fact, we hadn't even begun the process to cancel the import permit for the motorycles.  We should've known it wasn't that easy.  Our hearts sunk as we rode back to the chaotic mess we thought we had left behind us.  We located the random dude in the blue shirt who inspected the bikes and signed our papers.  We then brought them over to the customs window where they were processing both entry and exit paperwork, waited an hour simply to get the document stamped, walked back over to the police to show him that we had gotten the stamp and finally were given the go-ahead to leave.  Hard to believe it can be this hard to LEAVE a country!!
Already exhausted, we rode through no-man's land and arrived at the entry point for Costa Rica.   Thinking we were being smart travelers, we checked in with customs first to inquire about the process.  They directed us to a sign (written in Spanish) and a picture that outlined the process: purchase insurance, get passport stamped, make a bunch of copies of stuff, return to customs to get import permit.  Easy enough!  We soon found out, however that the damn directions were grossly inaccurate.  The process instead went something like this:
 *Walk 1/4 mile to insurance office and wait half hour while they count their money drawer in front of you
 *Find out that you can't actually purchase the insurance until your passport is stamped
  *Walk back 1/4 mile and wait an hour to get passport stamped
  *Walk back to insurance office and wait in line to purchase insurance...multiple trips to copy shop across the way inluded in this step
  *Walk back to customs window with all paperwork and copies. Wait in line only to be told you also need a copy of registration (NOT listed in their explicit directions)
  *Make copies next door
 *Return to customs window with copies.  Get stamped approval.
  *Walk back to insurance office- which apparantly doubles as another customs office.  Wait in line to get final stamped approval.
  *Get the F out!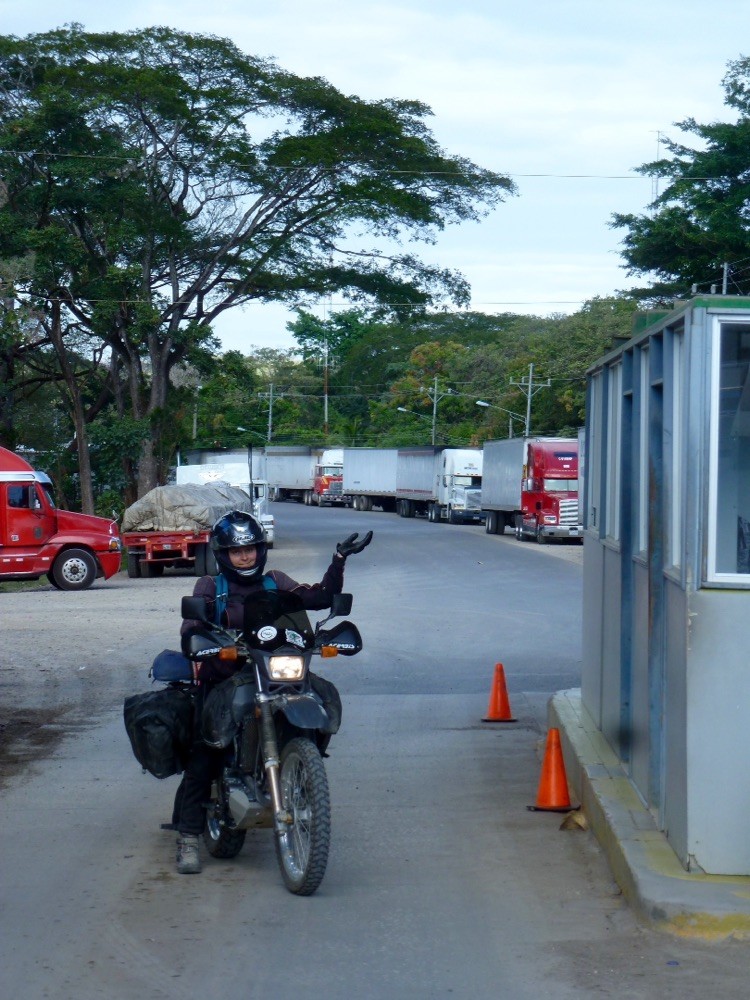 At 3:30pm, a full SIX hours later, we were frustrated, tired, hot, annoyed and on the road into Costa Rica.  Now for the pleasant part of this particular blog post which tells of our Costa Rican and Panamanian adventures via photos:
Costa Rica
Jaco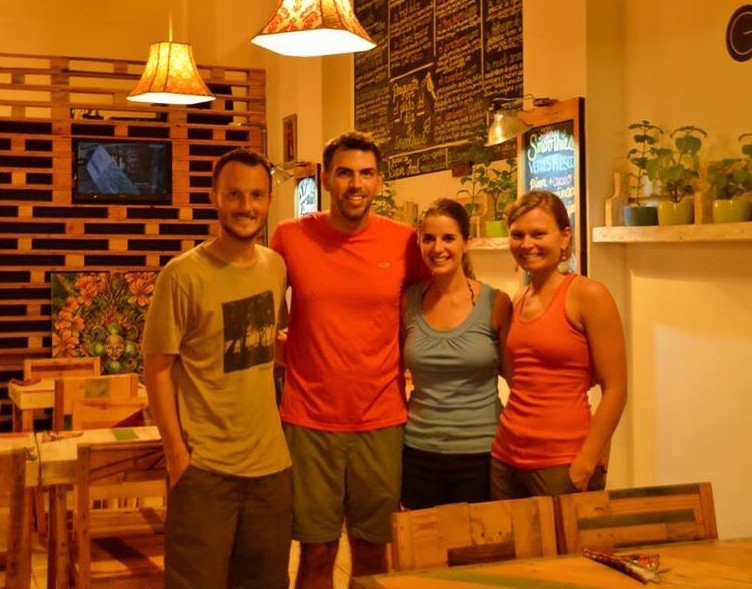 La Iguana Chocolate- Cacao Farm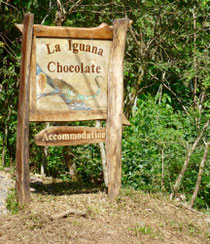 We headed off onto the dirt and into the mountains to take a tour of a chocolate farm.  The ride was a welcome break from the highways and the tour was interesting and absolutely delicious!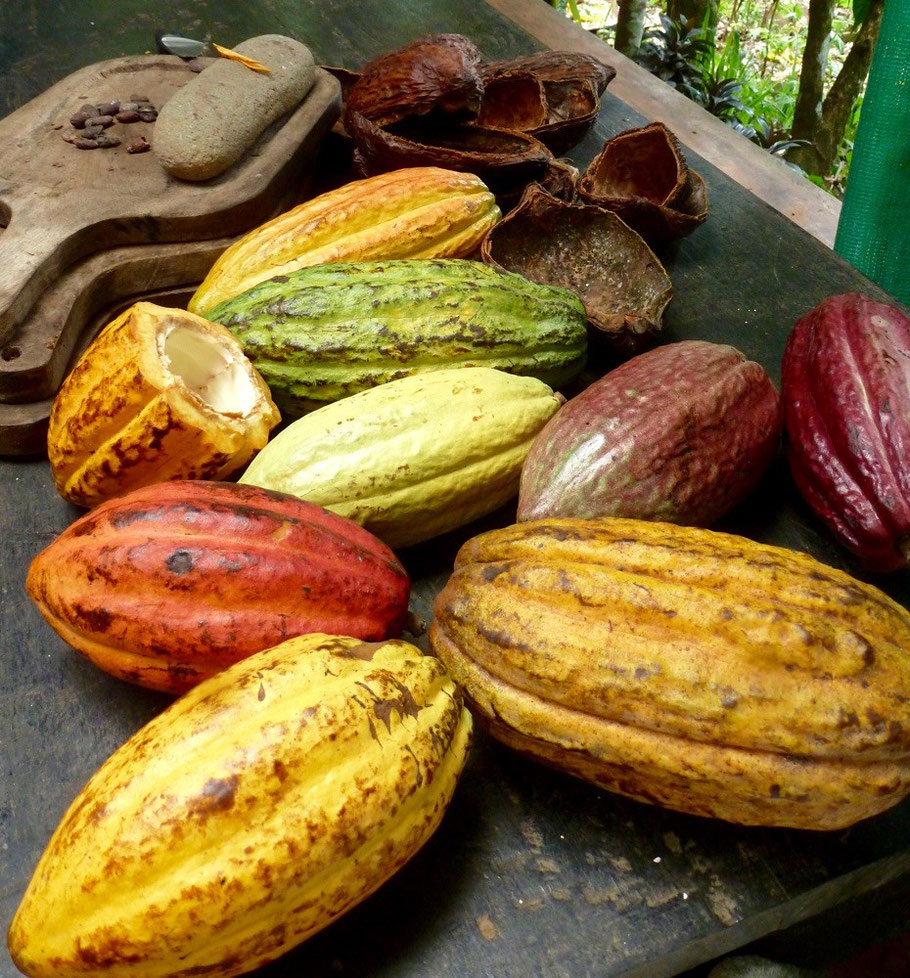 Left to right: Tour guide showing us one variety of cacao tree; Cacao beans in various phases of drying; Ready to peel; Jay shelling the beans; Me (very intensely) grinding the beans; One of the finished products- a truffle; Melting the chocolate to turn into candies; Jay having his hand at cooling the liquid; SO much chocolate!!
Manuel Antonio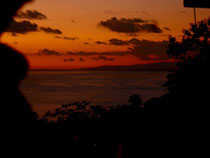 This unique town set on a steep hill that meanders down to the beach was one of our favorite places when we visited during our honeymoon.  We decided to return for a night to enjoy a beautiful sunset on our hostel porch and a tough but rewarding run down to the beach & back up the following morning.
Left to right: Ride from chocolate farm to Manuel Antonio; View from Hostal; Getting geared up to hit the road; Kind motorcyclist saving a sloth who was veeeery slooowly crossing the road; "Washing" our clothes hotel room style
Panama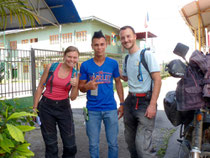 We had a MUCH easier and faster border crossing into Panama thanks to this guy. Worth every penny of the $10 we threw his way.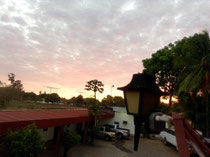 Intent on catching the Ferry Xpress that week, we booked it through Panama, only stopping to sleep in Santiago. Although the town and our hotel were nothing to speak of, we did catch a pretty sunset! 
Panama City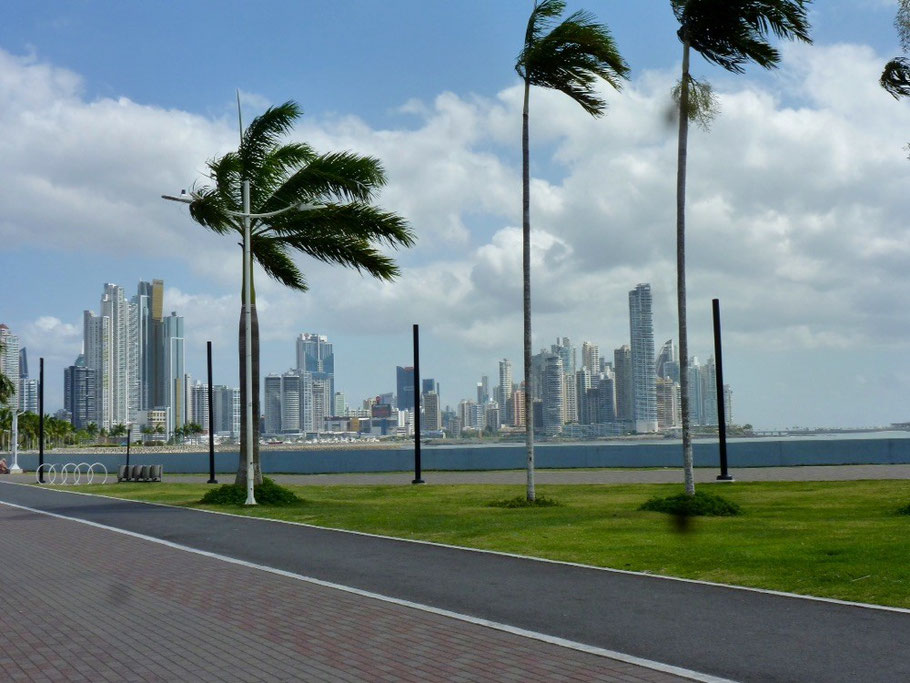 Left to right: Not hard to spot the gentrification; Door to all things social work-it was always closed; Enjoying some REAL beer with Aaron-our riding friend from Alaska; Casco Viejo church at night; Cool building downtown; Dinner with Aaron and Clark - our other riding friend; Our hotel in the old town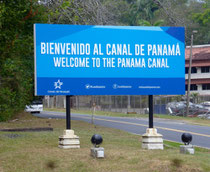 We visited the Panama Canal to see and learn about this crazy engineering feat.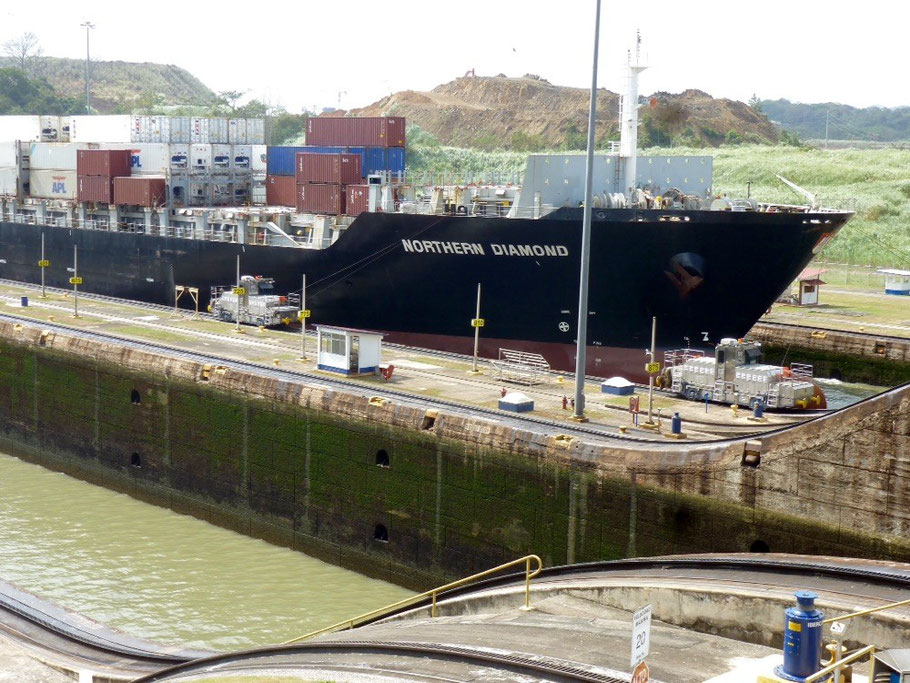 And for the last leg of this proverbial rollercoaster ride I will take you through the saga (a very abbreviated version) of shipping the bikes, and ourselves, to Colombia.  Given that we had received detailed reports from two of our traveling buddies who had gone through the process previously, we had prepared ourselves for a long and nonsensical process.  And that is exactly what we got.   The first step was to ride to the police station to get our bikes inspected.  After riding in circles through the spaghetti bowl of a freeway system and finding ourselves creeping down some sketchy streets in the middle of the ghetto of Panama City, we finally discovered the infamous parking lot (known to travelers only by it's GPS coordinates and the red door of the adjacent building) where the inspection would take place.  We arrived and lined ourselves up in the hypothetical queue of vehicles.  Trying to be prepared for our turn, we walked around the corner to get $10 worth of copies of various documents.  An hour later, the inspector collected half our copies, made an imprint of our VINs, and told us to return four hours later to the DIJ office across the street to pick up the permit.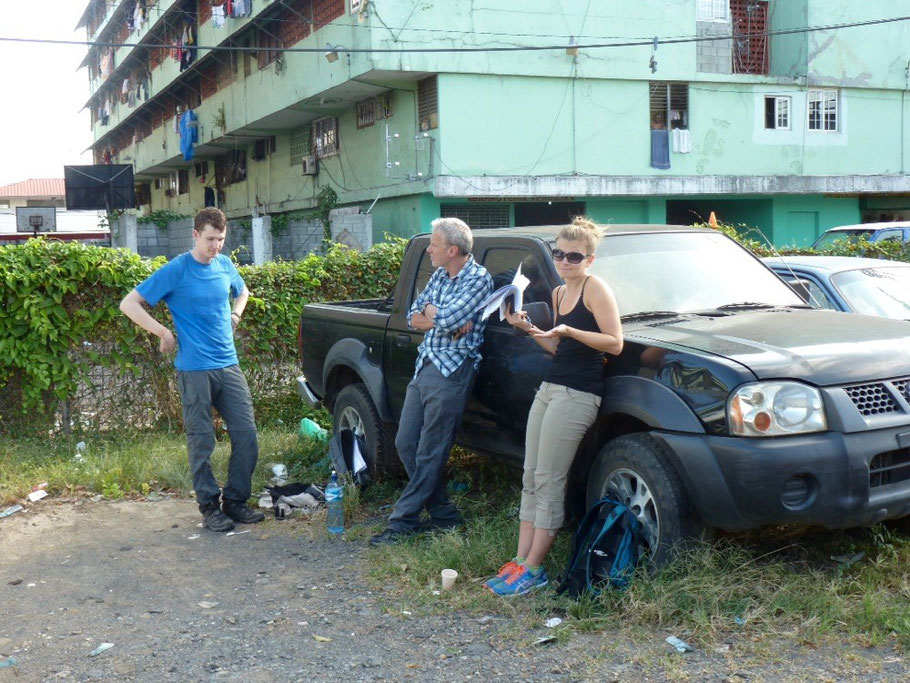 As directed, we returned to the DIJ office where we were told by the security officer that there was, "un problema grande".  Great.  Did we not have all our documents?  Were they unable to process our permit?  Are they closed for the rest of the day?  Is the Ferry no longer running?  Do we need to pay some crazy tax?  Turns out the major problem was none of those things, but instead that we weren't wearing pants.  That's right, we needed to be wearing pants in order to enter the building to get our permits.  Thank god for shants.  Jay zipped the bottom of his pants on and I unrolled my convertable capris so they covered the entirety of my calves.  Crisis averted.  An hour later we had our permits and it was onto the Ferry Xpress office downtown to purchase tickets.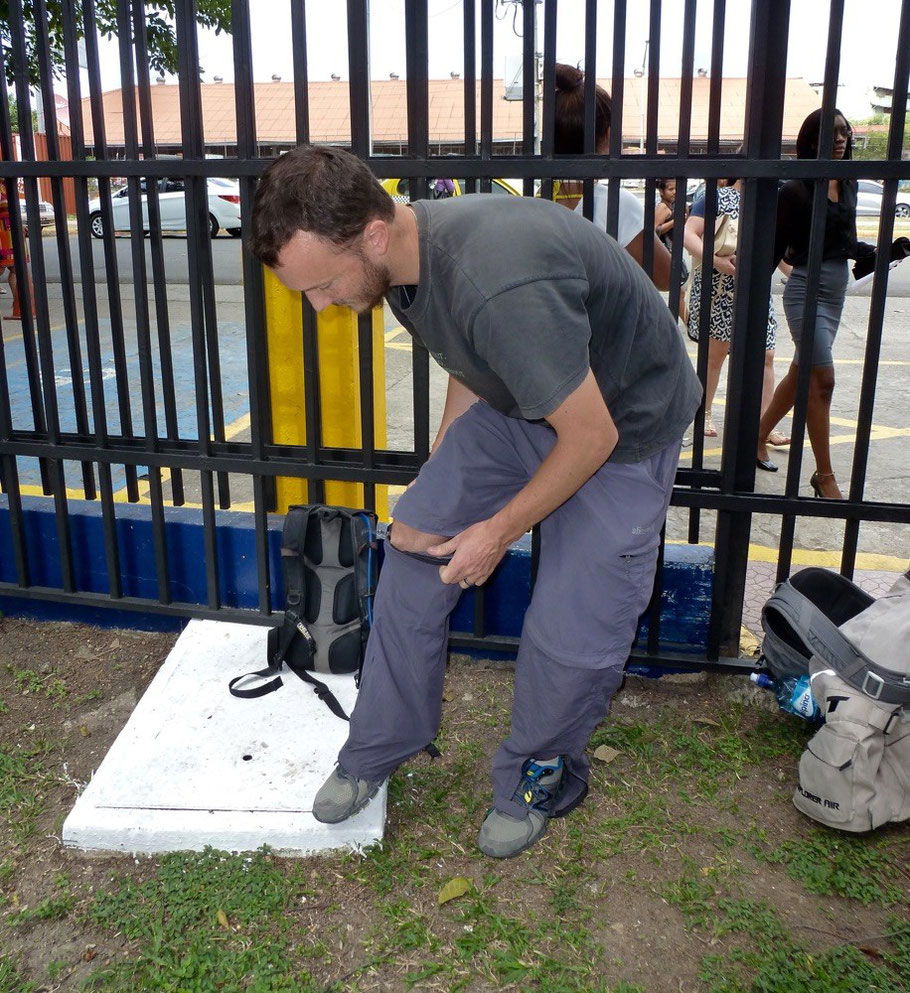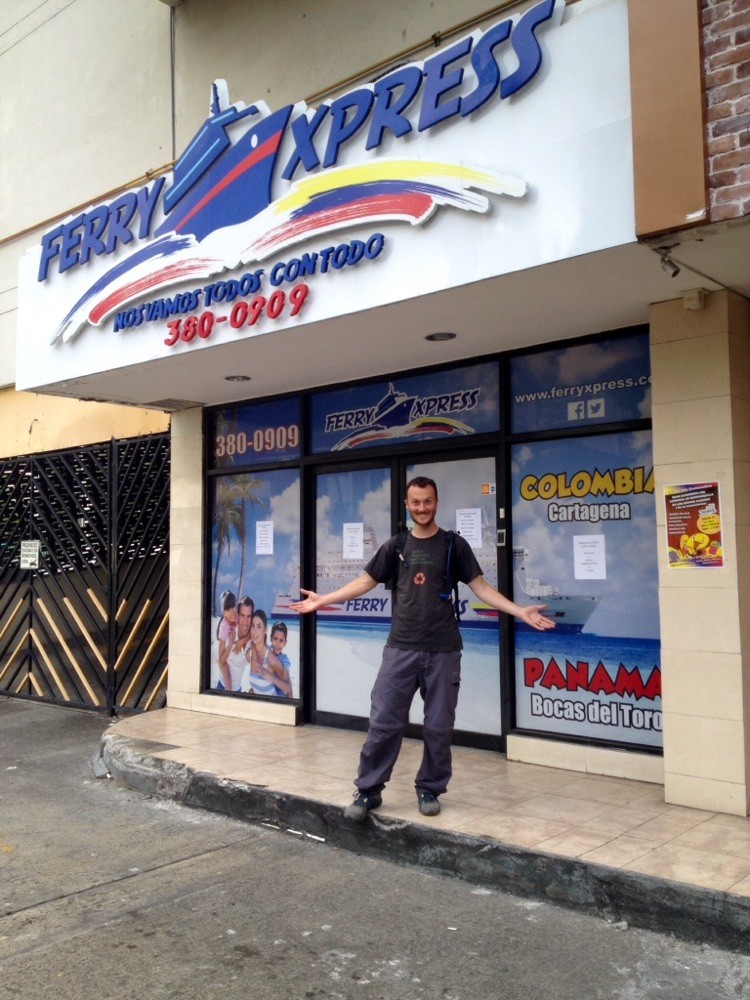 The day of the actual ferry crossing we were told to arrive at the port in Colon at 8am....for a 7pm departure.  Yep, 11 hours of ridiculousness.  Most of that time was spent sitting and waiting for the next step in the process, of which there were really only five that took no more than 10 minutes each. So if you do the math our day consisted of one hour of real customs and immigration work and 10 hours of waiting. The positive news is that we were in good company.  Our ferry family consisted of Clark who we had met a few border crossings ago riding a BMW Adventure, Virginia and Lance from North Dakota riding two up on a KLR, and Alex from California driving a Land Cruiser (who camped out in the parking lot at the port for 3 days before reluctantly being allowed to bring his car aboard). 
Left to right: Virginia & Lance with their KLR; Port of Colon before all the passengers arrived; Bikes undergoing inspection- poor dog had to sniff our boots too; Grand total of four bikes to board; Waiting...; Almost ready to ride on; We did it!; My fashion forward bike-loading-to-ferry outfit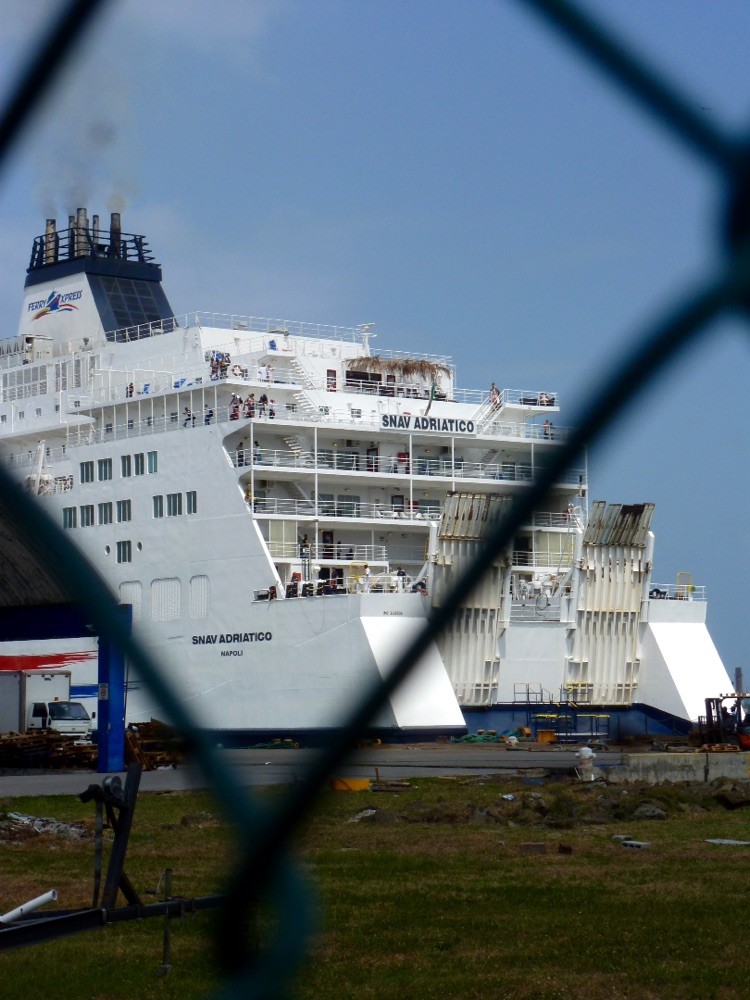 Our vehicles safely strapped down on board, we relaxed into our tiny cabin and sipped on a beer as we watched the shoreline disappear into the horizon.  The 18 hour ride was incredibly bumpy, but both Jay and I managed to keep it together (which is more than we can say for our neighbor who was retching all night).  Despite the painful two day process, we found ourselves feeling grateful for the mere existence of this ferry that easily saved us $1,000 and three days at sea.  We also had to pinch ourselves that we were actually experiencing this crossing that we had talked about, researched, and planned for so long. The Live It Right Dream Ride was entering a new continent!!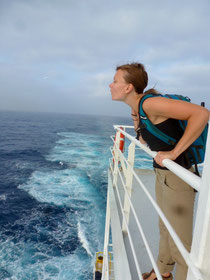 We got bored, so we had some fun spitting overboard into the wind. What else would we do??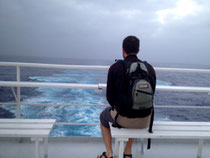 Pensive Jay overlooking the ocean