You know those experiences you have that you just wish you could bottle up and save for later?  Maybe you'd keep it in a small jar in your cubbard and add a pinch to your soup when you're feeling down.  Or maybe you'd keep it in your medicine cabinet, ready to sprinkle into the hot bathwater when you're feeling tense. Our time in Colombia has been filled with such experiences.  If we could preserve it, it would provide years worth of uplifting, tranquil, and beautiful extract.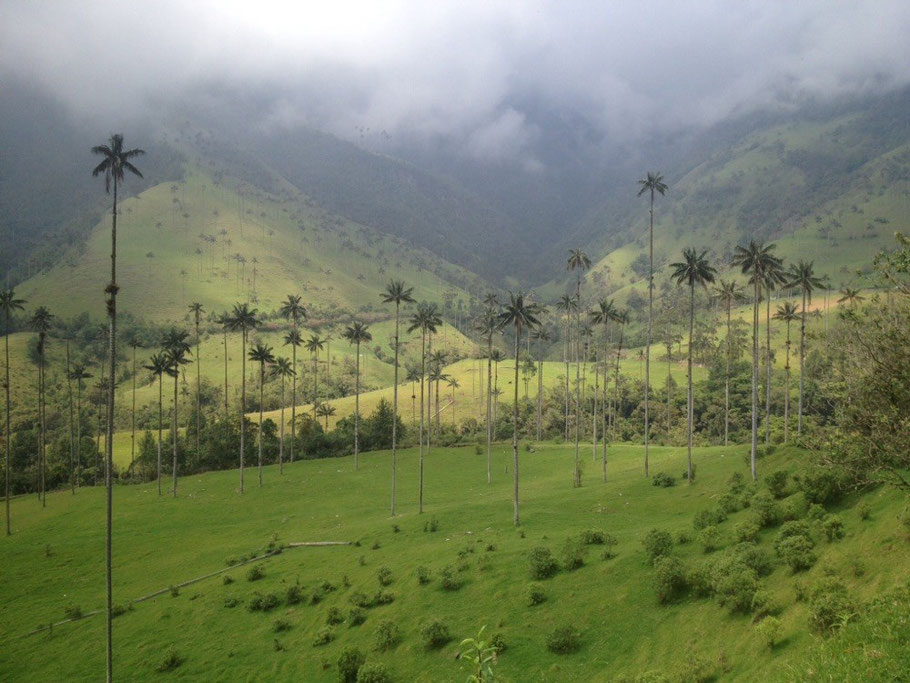 We were welcomed into South America by the historic port city of Cartagena, in all it's hot and humid glory.  We spent a few days here at the less than stellarly clean Amber Hostal recovering from the ferry ride, readying ourselves to explore a new continent, and dining with our friends from the boat.  While Cartagena's restored walled city could have easily soaked us up into it's cafe's for several more days we were feeling ready to get deeper into Colombia- and away from the oppresive heat.  We took off to the north passing through Baranquilla- home to Colombia's largest and craziest Carnaval celebration- and hugging the Carribean Sea until we reached Santa Marta.  From here we turned inland to climb up into the Sierra Nevada de Santa Marta mountains, the highest coastal mountain range in the world.
Exploring Cartagena on a morning run; Streets of the walled city; Riding buddy Virginia; A fresh WHOLE fish

We settled into a rustic, yet comfortable cabin in the tiny mountain town of Minca.  Our lodging at Sans Souci (french for no worries), lived up to its name providing a full bathroom, kitchen and dining area along with a pool and several hammocks overlooking the valley.  When we arrived, the small driveway was the temporary home to a Canadian couple traveling in a camper van with their two young kids.  Talking with them, as often happens when meeting families on the road, instilled hope in me and Jay that our days of exploring the world need not end with procreation.  When they left to make their way south, the driveway quickly became the new home for another camper van carrying two friends we had met in Panama City.  Elise and Kalem are from Norway and New Zealand, respectively, and are traveling from Mexico to Argentina in a fussy (it currently likes to stop running for no apparent reason) GMC van.  We ended up spending five days in Minca, while Jay recovered from a nagging head cold, with our daily activity being a half mile walk down to the town center to pick up food.  
Top row: Entrance to Sans Souci; Serious hammock time; Pool overlooking mountains; Walkway to our cabin; Back of our cabin; 
Bottom row: The place even has a soccer field!; Jumping into Pozo Azul; Sign on hike to swimming hole; Lunch with our Sans Souci friends; Entire families travel on bikes much smaller than ours
Fully rested and relaxed from our mountain retreat, we began the two day journey south to our next destination.  The first day of riding was hot, straight, and 10 hours long.  The only real noteworthy scenery was the mile stretch of road where hundreds of locals were hawking gasoline out of plastic barrels.  At first we thought maybe there was a shortage of supply down the road and considered engaging in the sketchy transaction.  We later learned that this was dirty gas illegally smuggled in from Venezuela where prices are an unbelievable .06 per gallon.  According to our source, these guys meet up with their "business" partners at the border and syphon Venezuelan gas from approaching vehicles to resell in Colombia - vehicles they order to stop with the help of the Venezuelan Police.  Glad we didn't put that stuff in Sally and Sue.  We stayed the night in Aguachica where, upon arrival we immediately retreated to the air conditioned room, took a cold shower, and sprawled out under the fan trying to bring our body temps down.
We set the alarm for another early morning departure with the intention of beating some of the mid-day heat.  Our destination for the day was San Gil, dubbed the adventure sports capital of Colombia.  The actual mileage between our origin and our target was only about 150 miles, but the windy, mountanous terrain and endless semi trucks made for a full days ride.  Unlike the previous day, this route brought us through El Canon de Chicamocha, providing spectacular scenery and fun riding (although between the crazy Colombian drivers, motorcyclists who seemingly can do whatever they want, and the oversized trucks trying to pass each other around blind corners, I was just slightly on edge).  We rolled into San Gil as it was beginning to rain and parked ourselves at Sam's VIP Hostel at the center of town - which turned out to be the nicest hostel we've seen so far.
Top row: Curvy streets begin; Saddest cup of coffee I've ever seen; And the curves continue thru Canon de Chicamocha; View from our room at Sam's; Pristine hostel kitchen
Bottom row: Patio at Sam's; View of San Gil from pool deck; Kick ass English traveler still exploring in her 70's & super helpful Sam's staff member; Bogota Beer Co on the porch; San Gil fruit and veggie market
Being in an area known for its easy access to extreme sports, we indulged in a day of white water rafting on the Rio Suarez.  Jay and I had both been rafting in the states before and knew how the sales gimmick worked: Tout the trip as hitting class V rapids when in reality they may reach that intensity a few times a year when the conditions are right.  This leaves you disappointed as you find yourselves on a much more mellow river float.  It didn't take more than 5 minutes into our 1.5 hour tour down the river to realize these guys weren't kidding!  We hit rapid after rapid after rapid, taking face shots of Rio Suarez as we tried to paddle through the chaos.  It was awesome!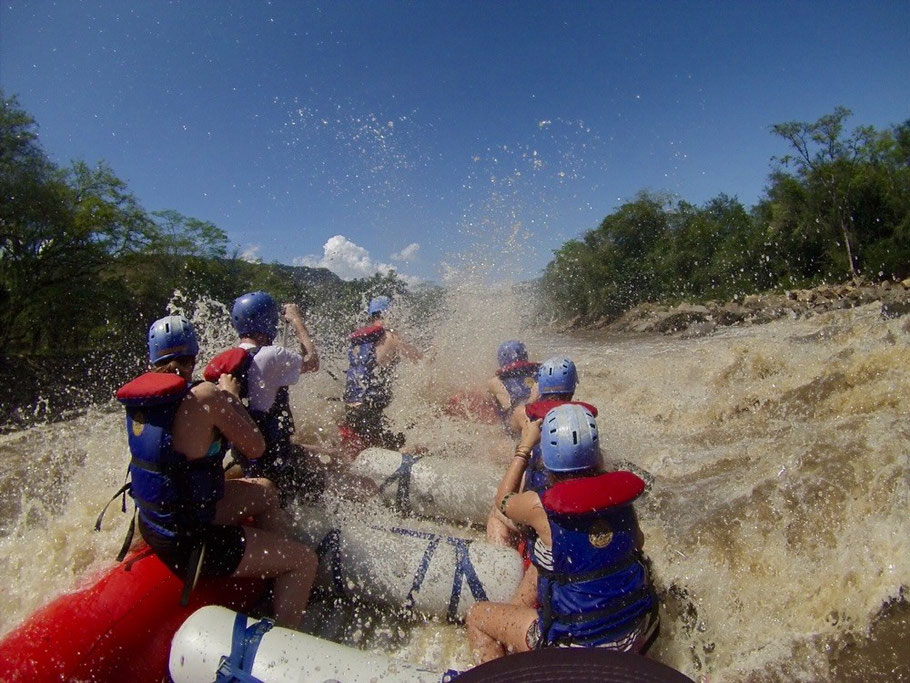 The next day we decided to balance out the adrenaline inducing stop with a visit to Barichara, a nearby sleepy colonial village.  We stayed at Tinto Hostel -owned by Sam's brother (of Sam's VIP hostel).  The main tourist activity in this area was to take the 6km hike to Guane, a neighboring indigenous village.  Since Jay wasn't feeling very well (again) we rode the motorcycle there, enjoyed a lunch of goat (yes, goat), rice and beans.  I walked the incredibly stunning Camino Real trail back to Barichara while Jay conserved his energy and rode.
Various pics from Tinto Hostel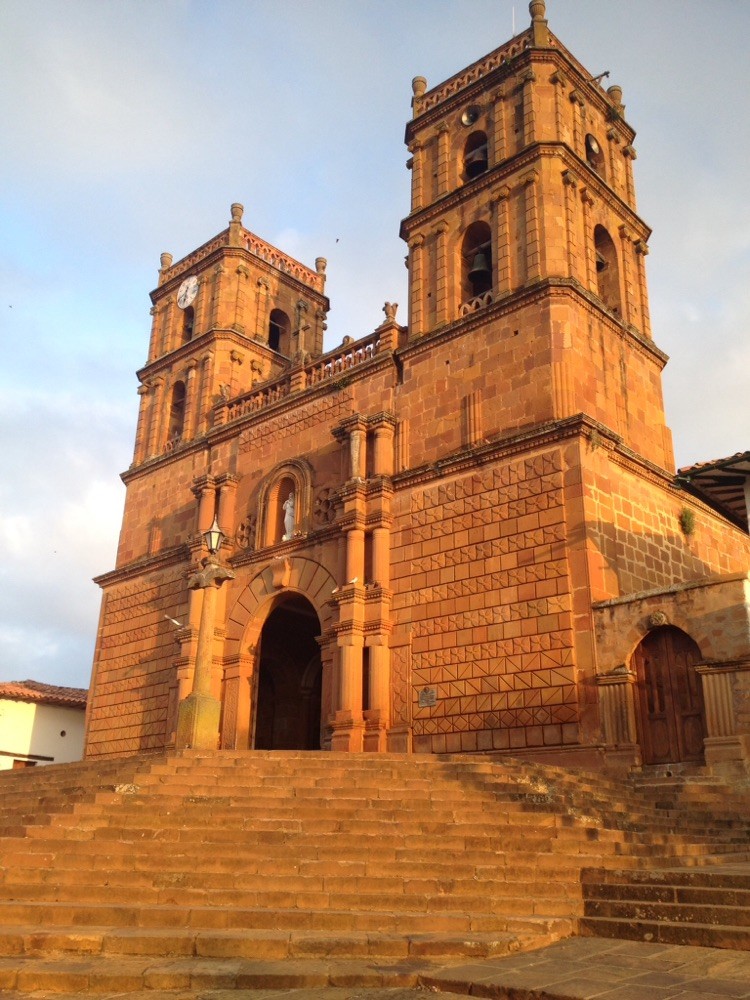 Top row: Baby window and Mama window; Taxi anyone?; "The Edge of the World" is in Barichara I guess; Streets of Barichara
Middle row: Guane town center; Pre-hike pic; Goat!; Various pics of countryside
Bottom row: Pics from Camino Real hike
Instead of doubling back on the highway to make our way west, we decided to do some off the beaten path riding.  The next two days of riding took us, on dirt, from Barichara through Zapatoca, onto San Vicente de Chucuri where we stopped for the night (and enjoyed a great conversation with a travelling book salesman named Edgar), then out to meet up with highway 45 to Medellin.  Despite a small scare when Jay took a spill rounding one of the sharp corners, the ride was incredible.  This route provided some of the most breathtaking scenery we have ever experienced.  It was otherworldly.  There simply are no words to do it justice.  Our pictures certainly don't capture the lush, deep greens, dramatic rolling mountains, and clear cascading rivers...but hopefully they give you some idea.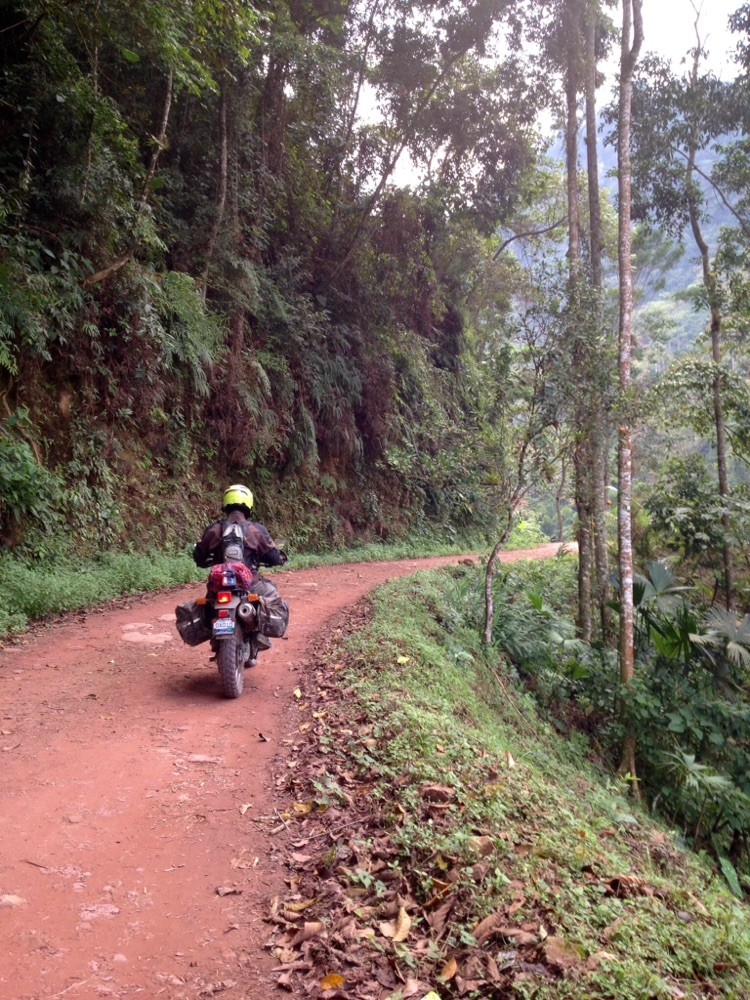 Top row: Various pics from our dirt road adventure; Trying to bend Jay's break lever back after his fall; Gorging himself on leftover goat meat to calm his nerves post-wipe out
Bottom row: Good thing we stopped in small town Zapatoca- it's the anti stress capital of the world; Beers in the plaza of San Vicente; San Vicente centro
Tired from two long days on the dirt, we stopped in Puerto Berrio for the night at a hotel just out of town with much needed AC.  The city itself felt pretty rough around the edges and had my radar on alert when we noticed the abundance of armed military men (or boys as it may be) lining the street to our hotel.  We layed low and left early the next morning for another day of off road exploring.  
Our plan was to pick our way through some dirt roads to get to Guatape which lies just east of Medellin.  As we have done for the entire trip, we consulted Google Maps, our paper atlas, and Forever Maps (an app that works offline) to create our route.  The first of several things that went awry with this plan was to miss our turn off onto the dirt from the highway.  We actually passed right by the road and Jay pointed it out saying, "Okay, not this road..."  15 miles later we realize that was our road, it just wasn't on any of the maps we were consulting.  15 frustratingly long miles back to the turn and we were on our way.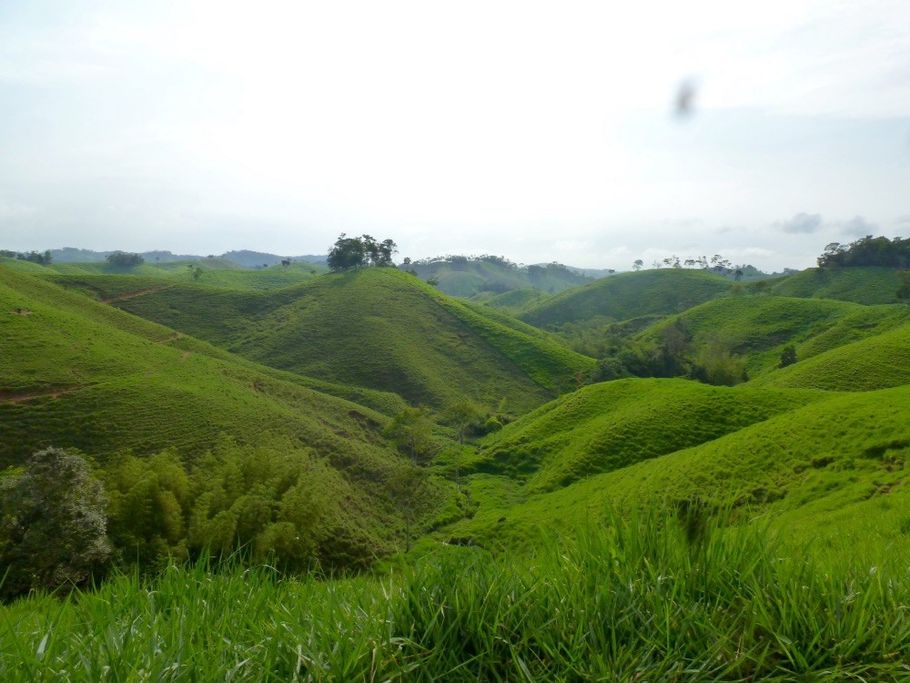 We rode through miles and miles of green, hilly farm country until we arrived in Virginias, a town of a few hundred which seemed to pop up out of nowhere.  We stopped for breakfast and conversation with the curious residents who don't see too many gringos around their parts.  Although Jay was pretty confident he knew how to get to Guatape from Virginias, we double checked with the locals.  They informed us that it was not possible to go the way we were planning.  The only way is to go back to the highway, to Medellin, then loop back east to Guatape.  Jay, placing all his trust in Google Maps, didn't buy it....so we kept riding to the next town to ask for their opinion (just keep asking until you get the answer you want, right?).
Low and behold the people of Caracoli told us the same thing.  Sort of believing them, but not wanting to let go completely of his truth, Jay asked several more people as we made our way back to the highway and west toward Medellin.  The gas station attendant confirmed what the others had said, the transit police told us there was a different dirt road we could take further down the highway, the random friendly guy told us about the same road but warned us that it was not safe and instead told us about another well traveled dirt road that would get us there, and the police at that junction told us there were "grupos illegales" living in the mountains out there with very big guns.  So...we stuck to the highway, gave up on Guatape, and went to Medellin.
Creative use of old railroad and motorcycles to transport people between villages; The one street of Virginias; Older model police bike- same as ours; Newer model police bike (the few we asked prefer the DR); Typical rest stop toilets...who needs a door when you have a back?
We arrived in Medellin ready to dismount and settle for the night.  We headed for Casa Kiwi Hostel which came highly recommended and which, upon first glance was a friendly, vibrant place. It wasn't until after we checked in that we found out there was no running water...going on hour 48. This would be a sanitary problem in a house with one person, let alone a hostel at full capacity.  With the promise of water by the morning, we took our first ever CamelBak shower (tedious, but sufficent), grabbed a quick dinner, and hit the hay.  (To be fair there was a huge water main break in the city so it wasn't the fault of the hostel and in every other way it was a very pleasant place).
As a sidenote, when we arrived in Medellin, we talked with several folks who gasped when they heard where we had come from.  Apparently Puerto Berrio is quite dangerous, as are the gorgeous hills through Zapatoca and San Vicente de Chucuri. That must have been what our friend Edgar from San Vicente was trying to tell us when he kept saying, "Keelers. Keelers." Fortunately, we didn't experience any problems and were able to avoid the other illegal groups east of Guatape. Phew...!
We spent three full, wonderful days in Medellin surrounded by new friends.  We were connected with a friend of a friend who lives in the hip El Poblado neighborhood and teaches English at a local school.  Karen was incredibly gracious in opening her apartment to us during our stay so we enjoyed the comforts of home and the joy of getting to know a fellow wanderlust.  As we were parking our bikes in Karen's garage we ran into Martin, a proud Paisa riding a DR.  This connection led to a few nights of beer drinking and motorcycle talking, since Martin, like his father who was a repeat champion of the Latin American motocross circuit, loves motorcycles.  We also enjoyed a short visit with a couple from Medellin who we met while passing through San Francisco last September.  While they live in the states, they just happened to be visiting family while we were in town.  

Our gracious and generous hostess, Karen; New friend Martin; Quick visit with Veronica and Juan
Adding to our growing circle of companions were Juan and Isabel- also locals from Medellin and also friends of a friend.  They took a good chunk of their Saturday to show us around town and bring us up the Metro Cable.  This gondola (as I'd call it in the states) serves not only as a tourist attraction carrying visitors to the lush Parque Arvi high above the city, but also as a means of public transportation for some of the poorest neighborhoods in Medellin.  At the top of the park we sampled some of the most delicious local food including new fruits we had never heard of, fritter-like balls with salty cheese, gelatina which is like a sweet marshmallow somehow made with meat remnants (don't really want to know), and of course a lunch of Bandeja Paisa- a plate of pork, chorizo, chicharron (aka the worlds thickest bacon), rice, beans, salad, and plantains. We were stuffed.  The generosity, kindness, and warmth of all the people we met in Medellin filled our hearts and only added to our love for this country!
Top row: Isabel showing us around her home town; (poor quality) pic of drinks with Juan & Isabel; Medellin barrios from the Metro Cable; Riding up!; Trying the gelatina without thinking about what's in it
Bottom row: Fritters-yum; Watching how gelatina is made does not make it more appetizing; Bandeja Paisa- a.k.a meat, meat & more meat; Largest piece of bacon ever; Karen called this fruit booga booga because the part you eat looks like boogers.
As hard as it was to say goodbye to Medellin, we bid farewell and rode south to the coffee region.  I had read about the striking beauty of the Valle de Cocora so we landed in the small town of Salento, which sits just at the mouth of this valley.  Our home for the next few days was a good sized canvas-walled tent situated on a hilltop dairy farm which doubles as a popular hostel. We enjoyed family style dinners with the other guests, fresh breakfasts complete with local milk and yogurt, lazy evenings listening to the thunder and rain, and early mornings waking up to the mooing of the cows as the farmer completed the task of pre-dawn milking.  

Top row: Entrance to La Serrana; A few of the beautiful views from our tent; Breakfast included!; Main house, horses and flowers
Bottom row: Fresh milk straight from the cows; Jay was super impressed by this hole, dug in one day by a very hard working Colombian man; Inside our tent; Sunset wasn't half bad there either
We took almost a full day to hike the 6 mile loop through Valle de Cocora.  Despite ALL the awe inspiring landscapes we had seen thus far in Colombia, we were still blown away around every turn. The guidebook described the scene of the tall wax Palm trees jutting up out of the lush green farmland as, "hallucinatoraly beautiful" and I would agree.  Again, pictures don't do it justice, but here's to trying:

Various pics from Valle de Cocora hike, including the Finca (farm) we reached at the summit
We allowed ourselves two long riding days to reach the border of Ecuador, and as has been the case all throughout Colombia, she didn't disappoint.  The 200 miles from Popayan to Ipiales in particular were a sight to behold, climbing up, down, and around mountains and cutting through one of the most impressive canyons I have ever seen.  Today we say goodbye to this incredible country, but something tells me we will be back.
Mountainside farms; Sign letting drivers know the police are keeping the streets safe. Side note- The military and police presence is no joke, there were large groups of them everywhere. They almost always gave us a thumbs up as we were passing by which made us feel special...until we learned they are trained to do this to all travelers as a way to make them feel welcome and safe. Gotta say, as arbitrary as it may be, it kinda works!