Let me just start by saying that we did not partake in the two excursions that topped our to-do list in Ecuador: Galapagos and Amazon.  That being said, when planning this trip I also imagined myself reading oodles of books, working my way to enlightenment through daily meditation practices, writing religiously in my journal, and sculpting my body with morning yoga and workout sessions.  So far I have read one book, am just as far away from enlightenment as I was before departure, have a collection of scribbled notes outlining how my days were spent, and have lost a good amount of the fitness I once had to white starches and cheap beer.  Just as reality has made a mockery of my pre-trip naïveté, so did it with our Ecuadorian plans.  

This is not to say that we did not fully enjoy our time in this small South American country.  Instead of swimming with exotic fish and hiking through dense jungle, we "window" shopped at the continent's largest outdoor market, sat in awe of the majestic Cotopaxi volcano, wound our way through small indigenous farming villages to a glittering crater lake,  made a pit stop in the tourist town of Banos, and wandered around the quaint colonial city of Cuenca. Not too shabby for a relatively short 1 1/2 week visit!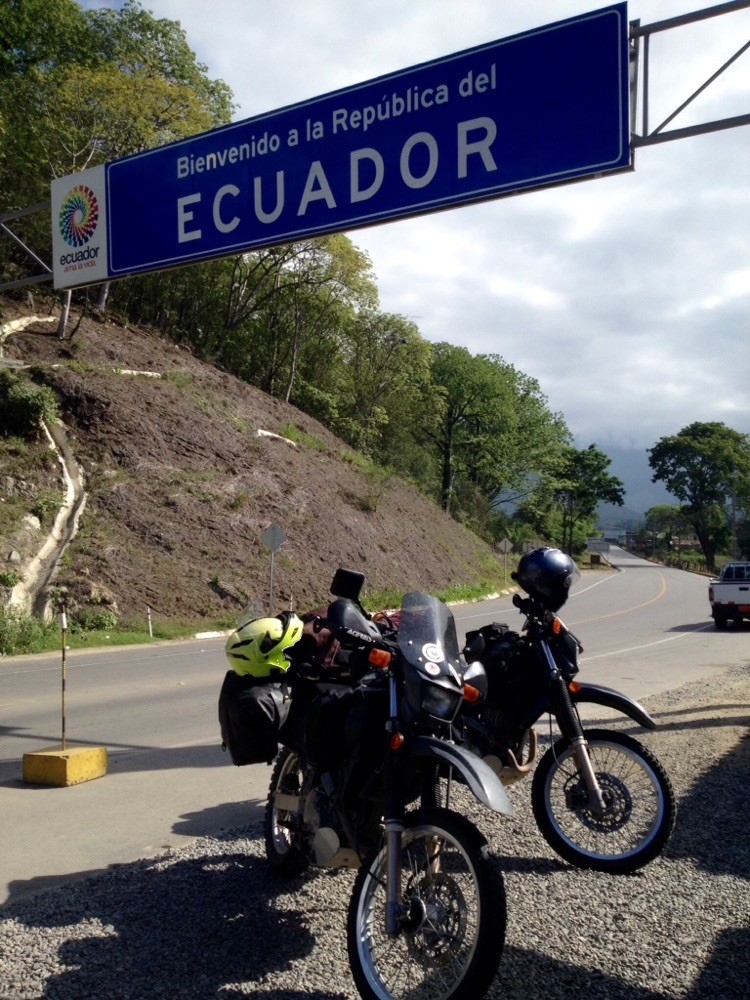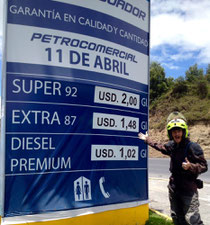 No less than 5 miles into Ecuador and we were singing its praises. After a record breaking 1.5 hour border crossing (that's REALLY quick for those of you who haven't been following our border crossing sagas), and a record breaking $9.00 fuel stop ($1.48/gallon!) we were feeling pretty positive about the country.  The fast, well maintained highways didn't hurt either. An actual passing lane?? What a welcome reprieve from white knuckled, blind corner takeovers! Unfortunately, shortly down the road we came across an extensive hour-long detour on the Pan American highway which altered our intended destination from Quito to Otavalo.  
This mostly indigenous city in the mountains is known best for its handicraft market which is touted as the largest in all of South America.  While we refrained from purchasing any of the goods (we're kinda maxed out on storage space), we indulged in the culture another way by enjoying a typical Ecuadorian dinner of fried pork, avocado, cheese, and corn...served three ways: on the cob, hominy, and toasted kernels.  We also connected with incredibly friendly locals including Sandy, whose family owns the restaurant where we ate and who is studying to be a social and cultural engineer, and Maria, the owner of Hostal Aly who just so happens to have lived in Indiana and sells her hand made hats and scarves in Traverse City, Michigan.  What're the odds??
I want to buy it all!; Taking down the market (we arrived a bit late); Handmade ice cream; How many ways can you serve corn?
We also used our time in Otavalo to be a bit productive and book our flights home from Bolivia. The cheapest flight we found had us leaving La Paz at the ungodly hour of 2:30am amd arriving at LAX a whopping 34 hours later.  We decided to treat ourselves to a more direct flight through USAirways even though it was a bit more pricey.  We also felt good about booking a flight directly through the airline so as to avoid potential hassles of dealing with third party search engines.   After hitting the purchase button, our confirmation page displayed an itinerary that had us flying from Miami to LA on April 16th, then from La Paz to Miami the following day- impossible.  Long story short, hassles NOT avoided!  Over the next three days Jay spent a total of 7 frustrating hours on the phone (99% of them were listening to elevator music) trying to rectify the situation before finally being told that while the flights are listed incorrectly in USAirways system, American Airlines (which owns USAir) has the correct itinerary so, no worries, all is good.  AHHHH!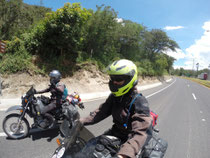 Side note: Sooo we think we crossed the equator somewhere around....here? No signs or markings that we noticed, but we got this picture anyways. Pretty sure the toilets started flushing the opposite way after this point ;)
In the midst of all the airline nonsense, we calmed our frustrations by spending a few days at The Secret Garden- a small slice of heaven located in the lush valley surrounding Cotopaxi National Park.  Arriving just before the sky opened up and began to pour, we were greeted by Maria, a German volunteer whose sarcasm and wit we quickly came to appreciate.  For the next two days we soaked up the incredible surroundings and connected with the other travelers.  
Road into Secret Garden; View from same road heading out; The main building (2 pics)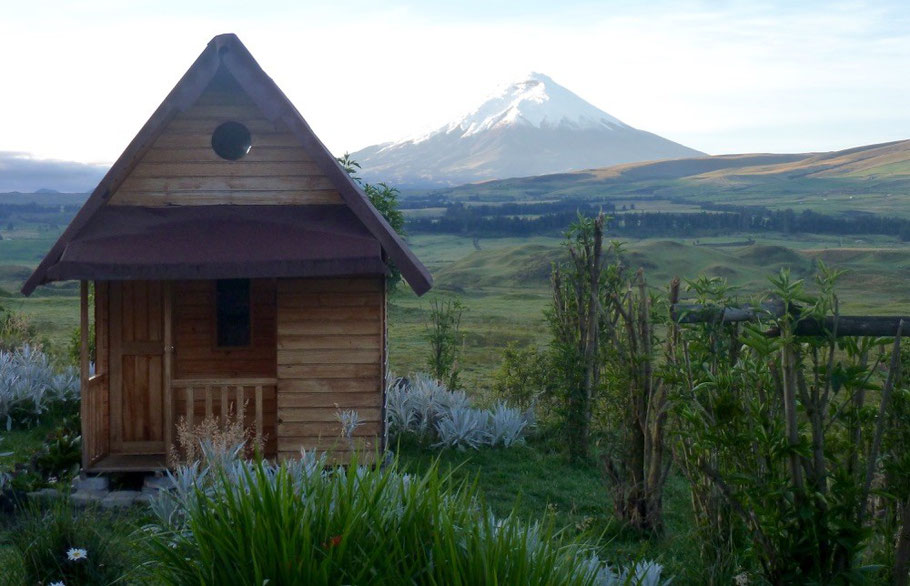 We hiked to a beautiful waterfall near the grounds of Secret Garden with several other travelers.  Note how stylish Jay looks in his ripped jeans and wellies.  Also, the last pic is of Jay becoming bffs with the worlds friendliest cow.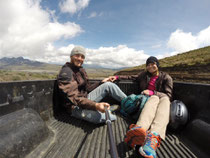 Instead of hiking Cotopaxi with a guide, we decided to explore on our own.  However, we arrived at the entrance gate to discover they do not allow motorcycles in the park. Luckily we met a local family who offered to give us a ride to the base of the mountain in the back of their pickup. Since riding in the back of trucks on dirt roads is one of Jay's favorite pastimes, we of course said yes!
Various pics from our ride up & back including a few of our taxi drivers turned friends.
A bunch more pics of the Secret Garden, including family style dining room, hot tub and composting toilet with incredible views, new hobit caves being built, an evening of card playing, our hostess Maria, Jay snuggling into our bed in the tiny "playhouse" cabin, and the dogs of the house
Our next destination of interest (skipping over the night we spent in the small town of Machachi JUST to get internet to solve our issue with USAirways) was Quilotoa.  Known among the travel guidebooks as the Quilotoa Loop, the ride to this small indigenous village passes through several unbelievably lush mountain farms.  Many backpackers hike between the Andean villages, enjoying the remote single track trails.  While we had to stick to the 50/50 paved/dirt roads, it was still a ride to remember.  
Our ride along the Quilotoa Loop
Quilotoa itself sits at the rim of a stunning crater lake formed when the volcano erupted over 800 years ago.  Not fully realizing what I was getting myself into, I slid my way down the steep trail to the base of the lake, leaving Jay at the halfway point.  The walk, or rather trudge, back up was a rude awakening to both the altitude and my slipping fitness level.  However, It did make the surprisingly warm shower at our family run, rustic hostal that much more enjoyable.  Dinner that evening was served (an hour late) with the other guests who hailed from the Netherlands, England, and Oregon.  We stoked the small wood stove in our room, cuddled under the multiple layers of blankets and drifted off to sleep. We almost forgot what it was like to feel cold! 
Quilotoa Lake (2 pics); our guide dog for a walk along the crater rim; Jay's fancy lunch creation- avocado, chips, tomato; Local girl carrying live chicken in a bag- notice it trying to escape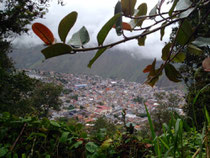 Having officially nixed the idea of visiting the Galapagos (not an easy decision, but our consistently thinning wallets won out on the debate), we made our way south to Banos.  While the town itself is filled with tour operators, massage parlors, and backpacker hostels it is set in a beautiful valley and serves as a home base for adventure sports of all kinds.  We had all intentions of renting mountain bikes and exploring the waterfalls that dot the road down to the Amazon, but when we woke up the next day it was dreary, rainy and cold...and we were tired from several days of nonstop riding.  Instead, we lazed around, read, wrote, and I took a short hike up to a lookout point while Jay got a haircut and cleaned the chains on the bikes.  A regular ol' drizzly, boring Saturday...we can't always be tourists!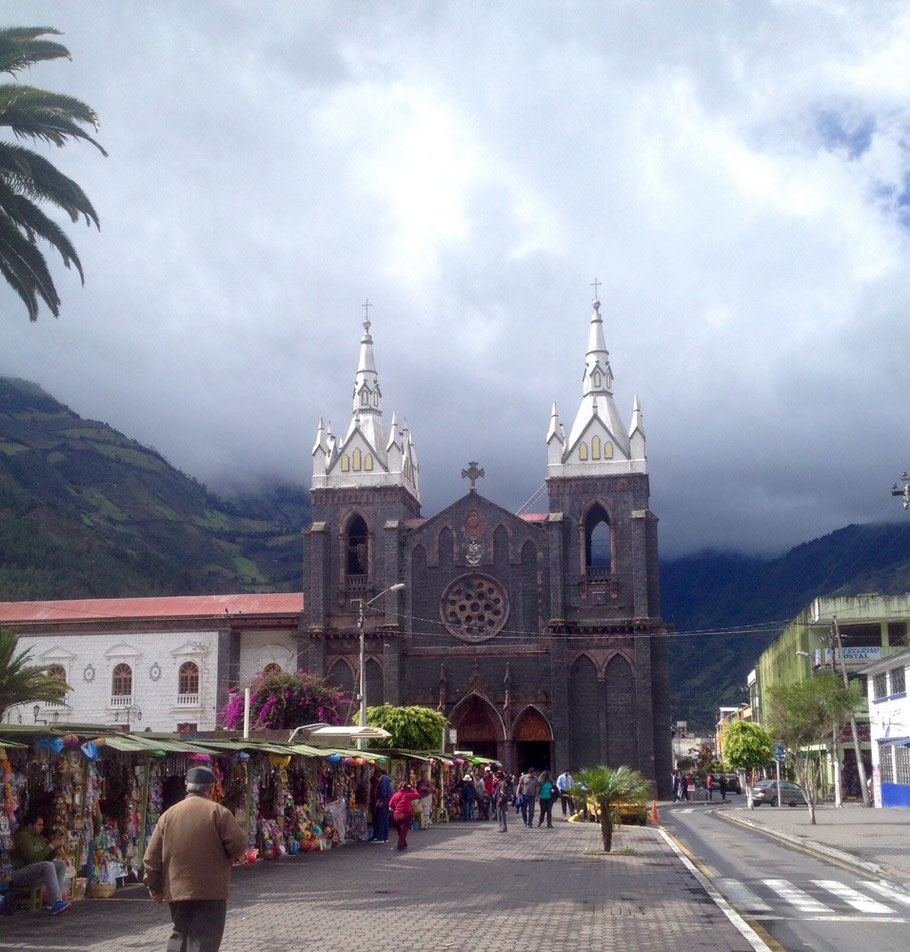 A full day's ride in and out of rain and thick fog (can't see my hand in front of my face kinda fog) through some more magnificent mountains brought us to Cuenca.  Our immediate reaction upon arriving to this city was, "Holy $h!t, this city is so clean!" Even the river that ran through town was devoid of the usual litter and laundry soap suds.  On the flip side, most of the hotels were a bit more upscale and scoffed at the idea of parking our motorcycles inside..."sorry, these are real wood floors."  We finally found a place with an adjacent parking lot and settled into our room equipped to sleep 6 (one double bed, two twins, plus two extra twins in the secret attic apartment accessed via pull down stairs).  We walked the city, sipped on coffee, and began our preparation for Peru.
Streets of Cuenca; Main plaza; Clean river!
Two more days of riding in the rain and we arrived to the border at Macara.  Staying in Loja to break up the trip we had the pleasure of getting to know the family who owned the hotel where we stayed- Hotel Plaza del Valle.  Diego, the 25 year old son was particularly helpful, welcoming and friendly. In fact, almost all the locals we have met in Ecuador share those characteristics. We may not have made it out to the islands or to the Oriente to explore the jungle, but the people and the 600 jaw dropping miles we rode through the Andes will remain fondly in our memories
Our new friend Diego bidding us farewell; Inca Kola- a sign we're close to Peru; That's the ass end of a guniea pig on Jay's plate; Church in Macara