After spending four weeks in Peru, we now know what this large and fabulous country has to offer; warm people, giant mountains, massive deserts, dense jungles, and the best food south of Mexico.  We didn't begin with that understanding though.  In fact, our first experience with Peru was stark and desolate.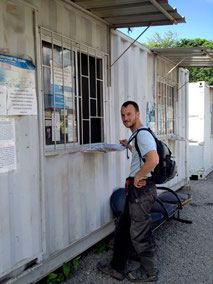 On March 12th we crossed the border from Ecuador to Peru in Macara, after topping off our tanks with the last sips of $1.48 gasoline.  The exit from Ecuador was painless, as well as entering Peru, with the exception of purchasing insurance. The lady manning the insurance office (which doubled as a restaurant and tienda) told us we had to tip her for helping us fill out the paperwork.  According to her, the person who normally does this job had just left to go "get some pills from the doctor", so we either had to wait a few hours to buy this mandatory insurance, or pay her for her time.  Sensing the sketchiness, Jay consulted with the border officials who proceeded to confront the woman, resulting in a heated argument.  It was awkward, but we walked away with our $35 insurance, tip not included.  

We proceeded to ride through barren, boring, and frankly, dirty landscapes in sweltering, dry heat for the next several hours until we arrived in Piura.  We couldn't get over the incredible contrast between the cool, lush Andes we had just left.  It felt like a whole different continent!  We immediately found a hotel with A/C and refreshed with a COLD shower.  We walked around the bustling city and had our first experience with Peru's national sport: Honking.  There seems to be no rhyme or reason to the incessant use of the horn, which comes in all tones and rhythms.  Are they honking to say hi?  Are they honking to warn others?  Are they honking to see if you want a ride?  The answer is, all of the above...and more.  Seriously, it's out of control.   


The next day was more blistering hot desert riding; 260 miles of sand dunes and wind.  The discomfort however, was balanced out by the variety of interesting sights we were able to behold:
A huge wooden boat appearing to be a Noah's Ark replica being transported down the highway behind a truck




A completely naked woman walking down the street




A "town" (or more appropriately, a collection of shacks) called "Mala Vida" – Bad Life




Multiple cars speeding down the highway directly toward us, seemingly playing chicken.  They always won.    



We landed in Huanchaco, a beach town just north of Trujillo and settled in at Hostal Naylamp.  We enjoyed a few nights in this quiet ocean town, planning our trip to Machu Picchu, watching beautiful sun sets, and visiting with other overland travelers camped on the beach across the street. 
After a few days in the desert, we were ready to head back into the mountains.  The plan was to ride El Cañon del Pato, a gorgeous, narrow dirt road that follows the Rio Santa, winding through 35 one-lane tunnels.   Even after an hour of research that morning, we were still a bit unsure how to access the canyon, but with Jay in the lead we took off in the general direction.  An hour later we turned off the highway, heading east onto a well-maintained gravel road.  During the next several hours we enjoyed spectacular scenery, riding alongside a roaring river, gazing up at the vertical rock walls on either side of us, and even crossing through a number of dark tunnels.  We were convinced that we had successfully found El Cañon del Pato.  The problem was, our research told us the canyon was still several miles away and the few people we encountered confirmed that. 


We eventually popped out onto pavement, which we followed for a short distance before stopping for breakfast at a "restaurant" in a tiny, one road village (with just-a-hole-in-the-ground type bathrooms).  We were still unsure of where this illustrious Canyon was, so we asked three different people who gave us conflicting answers- or so we thought. Although we had become pretty good at comprehending and communicating in Spanish, for some reason we still had incredible difficulty understanding directions.  We gathered that the road remained paved for some ways, and then turned to dirt indicating our arrival at El Cañon del Pato.  With this knowledge, we filled the tires with air and were on our way.  Not more than 1/8 mile down the road, we hit…dirt.  How we could have so completely misunderstood what those people were saying, we don't know.  The shop where we had just filled up with air was still in sight as we bent down to re-deflate the tires.   "Who the hell knows where we are," we thought. "Let's just keep going".
Three hours later we found ourselves in the tiny town of Huallanca, which turns out to be the actual gateway to El Cañon del Pato.  Our excitement at finally finding our target was very quickly dampened when the townspeople proclaimed, "Habia un derrumbe.  No puede pasar."   After all that, we would not be able to experience the ride since a huge landslide had blocked the road.  Considering we had just ridden through stunning canyons most of the day, our disappointment didn't last too long- especially when we learned the only alternative route was following numerous switchbacks up and over the adjacent mountain, allowing us unparalleled views of the valley below.  Not too shabby.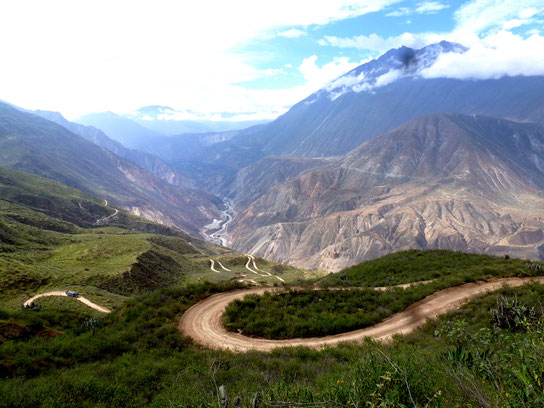 We stopped for the night in the almost-ghost town of Huaylas where we were lucky to find someone manning the sole hotel.  We weren't so lucky when it came to finding somewhere to eat dinner.  Jay ended up benefiting from the hospitality of a shop owner who stayed open late and cooked him up two frozen hamburgers, while I forced down a granola and peanut butter wrap back at our hotel room.
The following morning we took off in the mist to ride down the other side of the mountain to Huaraz.  Again, unbeatable scenery as we cut across the green mountainside, catching glimpses of the adjacent mountain range peeking out through the passing clouds.  It was another morning of screaming, "WOW" around every corner.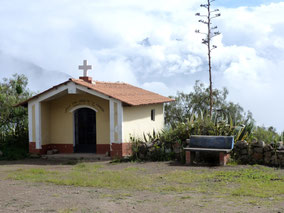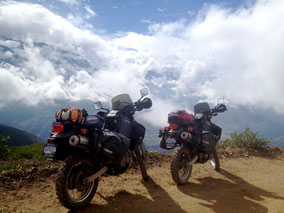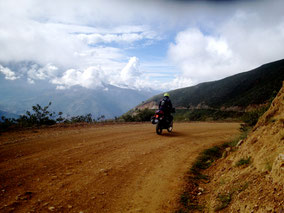 We arrived in Huaraz, a city that serves as a jumping off point for treks through the Cordillera Blanca mountains.  We treated ourselves to a boutique hostel offering large rooms and a common area complete with a fireplace and comfy couches overlooking the white-capped peaks.  We fell asleep listening to the rain and thunder overtake the town.

March 17th was Jay's 36th birthday and what better way to celebrate than taking a bumpy, 2-hour taxi ride out to a beautiful glacier lake?    Laguna Llaka is accessed by a VERY rough and rocky "road" (and I'm not talking pebbles) through the mountains.  When we decided to take a taxi and give ourselves a day off of riding, we imagined a truck or a 4-wheel drive van picking us up for the adventure.  What we got instead was an incredibly nice guy driving a beat up Toyota Corolla wagon.  Only in Latin America would they consider these cars off-road worthy.  We gotta give credit to our driver Renaldo, though: He handled those roads like a champ, only wincing once at the sound of boulders destroying the underside of his car.
The lake itself was like nothing I had ever seen before.  The color of the water is what turquoise would look like if you put it in the freezer overnight.  In between rain showers, we were lucky enough to catch a few glimpses of the glacier that feeds the lake.  It was definitely worth the rough ride in.

Although both of us could have stayed in Huaraz and explored the surrounding mountains for at least a month, we had to move on.  Since we had chosen not to visit the Galapagos Islands during our time in Ecuador, we felt compelled to experience Las Islas Ballestas- charmingly dubbed, "The Poor Man's Galapagos".  These islands are situated off the coast of Pisco, so we once again pointed our bikes East.  The ride brought us from a downright cold 13,000 feet to a scorching hot sea level in a matter of a few hours.  The dramatic change in scenery from lush, green hills and endless waterfalls to dusty towns lined with prickly cacti shocked our systems and called for several stops to remove layers.  We spent the night at a large hospedaje overlooking the ocean in Chancay, about 40 miles north of Lima.


After a long day of riding down the coast, including stop-and-go traffic as we crept through Lima, we settled into Hotel Tumba Colorado in Pisco and arranged for our visit to Islas Ballestas.  The tour consisted of an hour-long boat ride out to see the two islands, which are home to a few penguins and hundreds of sea lions.  I'm sure it absolutely pales in comparison to a trip to the actual Galapagos, but it was worth the 45 soles for a half-day of entertainment.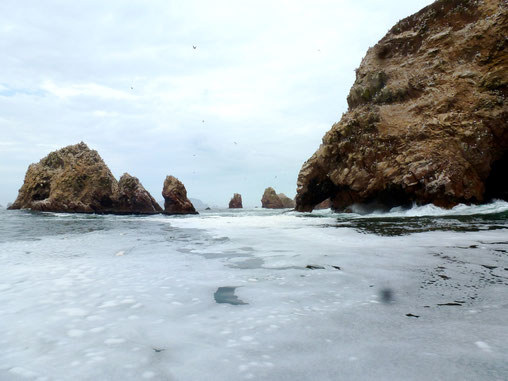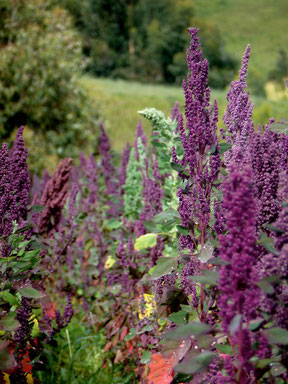 Our next big Peruvian adventures were Machu Picchu and the jungle, both trips based out of Cusco.  We figured it would take us three full days of riding to arrive in Cusco from the coast, but were not prepared for just how full they would end up being.  The first day we were up and out the door by 7:00am.  As we climbed back up into the mountains, the weather turned rainy and cold…and stayed that way for most of the ride.  We passed over several summits, rising as high as 15,300 feet: No wonder we were short of breath!  Apart from being drenched and chilled, we were both overwhelmed (again) by the magnificent scenery offered up by the Andes.   Alpaca, llama and vicuña (mix between alpaca and llama) dotted the landscape along with fields of brilliantly colored quinoa.  The beauty was, however, balanced out by the guy we saw taking a crap in broad daylight on the side of the road- when you gotta go, you gotta go.  Nine hours of travel later, we landed for the night in Ayacucho.
 March 22nd brought another early morning departure to assure we made it the entire 250 miles to the town of Abancay.  The day ended up providing quite the adventure.  After a few hours of slow, windy and stunning riding through the mountains we stopped by a river to enjoy some oatmeal and coffee.  Ah, what a relaxing start to the day…and then came the landslides.   As we wound our way along the newly paved road we were dodging and weaving around massive piles of rocks, mud and earth that had broken free from the steep mountainsides- a result of the intense rainy season.  It seemed as though every 20 feet we encountered another obstacle- a reminder that man can build roads wherever he may please, but Mother Nature still rules.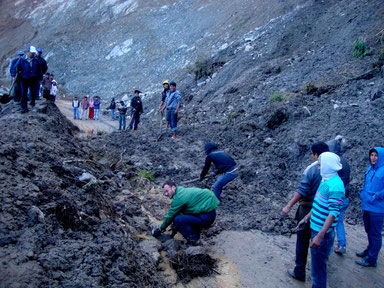 Ten hours into the day we were tired and ready to rest our heads on a pillow.  A mere 20 miles outside Abancay we rounded a bend to find a line of cars at a standstill.  Creeping up to the front we saw a fresh mudslide covering the entire width of the road.  "No puede pasar," the locals nonchalantly warned.  It was quite obvious that this is a normal occurrence for them this time of year and they knew that on a Sunday, if they didn't take matters into their own hands they would be stuck on that mountainside through the night.  The men began to collect shovels and picks from their vehicles and started working as a team to clear the roadway, one shovel of mud at a time.  

Meanwhile, Jay took a walk up to the disaster to observe more closely, silently determining whether he could muscle the bikes through to the other side.  With the sunlight quickly diminishing, he decided to give it a go.  Encouraged by the onlookers, he successfully worked his bike over the debris, somehow managing to remain upright through the sticky mess.  By the time the second bike made its crossing (I gladly let Jay do this) the sun had set and it was beginning to drizzle.  Jay pitched in with the crew to help clear the road until the others encouraged us "gringos" to get going.  Those last 20 miles to Abancay were anxiety producing as we weaved around landslides that snuck up on us in the pitch black of the night.  We finally arrived in the city around 8:30pm, filthy and exhausted.                         
The final day of riding to Cusco was much more uneventful.  Apart from the first hour of dense fog and drizzle, it was an easy journey through mostly sunny skies.  After the previous three days we were both ready for a bit of a break from the road.  We parked our bikes in the garage of El Tuco Hospedaje and settled in for a 14-day hiatus during which we would hike to Machu Picchu and explore the jungle- two excursions we had been looking forward to since we began planning this trip three years ago.  

Stay tuned for our next blogpost, "Peru Part II" for stories and pictures about Machu Picchu and Manu National Park.