We had been warned of it's remoteness, that we must carry sufficient amounts of gasoline, food and water because we would encounter none along the way.  We had been warned of it's harsh elements, skin scorching sun during the day and bone chilling wind and cold at night.  We had been warned of it's rugged terrain, from tire-puncturing rocky trails to deep slippery sand.  We has been warned.  And we knew that most often, where there are warnings, there are rewards.  So we set out to explore the southwest corner of Bolivia.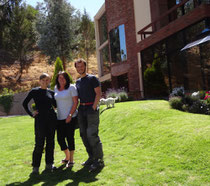 Saying goodbye to our warm and generous hostess in La Paz was bittersweet.  Sandra, a Canadian expat who has been living in La Paz for 10 years not only stored our bikes for us during our hiatus in the U.S., but also took us in as if we were family when we found out our departure date would be altered (thanks to Bolivian Customs, see previous blogpost). Her gorgeous and comfortable home set an unreachable bar for our future accommodations, and we soaked up every spoiled minute.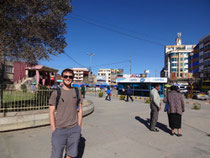 Loaded up, somehow more so than pre-hiatus, we took off for an easy first day back; 150 paved miles to the bustling city of Oruro.  Our stop here was nothing more than a mid-way point between La Paz and Uyuni and served as a decent reminder of the art involved in packing and unpacking our motos.    
The following morning we continued down the Panamericana until it turned east toward Potosi.  We stayed pointing south then veered off to the west, shortly thereafter hitting dirt.  Our plan was to ride to the south side of El Volcan Tunupa where we would enter the Salar de Uyuni from the north.  After passing through several small villages, the terrain opened up and the single lane sandy road ended, forcing us to choose from one of the many trails blazed through the hard packed surface surrounding the massive volcano. Hugging the outside edge, we crested a hill and wham! the Salar appeared.  Like nothing I had ever seen before, the vast expanse of whiteness begged for us to come explore. 
Llama crossing...or are they alpaca?; crater caused by meteorite; Jay headed wrong direction away from volcano; there's the Salar!; seconds from the entrance
We entered the Salar with the goal of camping on one of the two islands we understood to exist, which also serve as reference points in what can be a very disorienting situation.  Turns out there are actually several islands, which threw us off as we meandered our way across the Salar without a GPS.  The feeling of riding into an endless horizon, surrounded on all sides by pure white is overwhelming.  I found myself trying to follow the tracks worn down by the 4x4's as a way to give my brain some direction inside the open space. About an hour later, we finally did discover a perfect camp spot, sheltered from the intense winds on la isla Pia Pia.  
Following the "road"; sunset shot; can you spot our campsite?
Having situated our tent facing east, we awoke to a picture perfect sunrise.  Stepping out into the warmth of the sun we pinched ourselves to make sure this panoramic scenery was not born of a dream.  We spent all day playing on the Salar, hiking to a cave, and slowly making our way east to Uyuni.  
Timer shot gone wrong; from inside the cave; ouch; obligatory bad ass shots; Bolivia, oh Bolivia; Jay trying llama; into nothingness; note absence of US flag
Thanks to a friend of our Canadian host in La Paz, we checked into Sumay Wasi, a very comfortable hotel complete with a hot shower, continental breakfast, and even an elevator! We really just wanted to slump down in bed and pass out for the night, but we had a list of to-dos to cross off before heading into no mans land for the next several days: Wash the salt off the bikes, fill up tanks and extra gas containers, buy food and water, figure out how to pack all this extra stuff, and study maps. 
Loaded up and ready for take off, we hit the road around 10am.  After about 50 miles down a wide, hard packed gravel road we arrived to the small mining town of San Cristobal. We had been told that there was a gas station there, but the availability of fuel was anything but certain.  When we got to the pump there was no one in sight.  A few minutes later a gentleman popped out from the office and told us we would have to wait half hour for the other employee to return.  He said he was only responsible for the receipts and did not know how to use the gas pump.  We laid down in the sun, taking this opportunity to rest a bit.  Five minutes later, the guy approached us and asked if we are in a hurry. "No. No tenemos prisa," we replied, wondering what part of us relaxing in the sun gave the appearance of impatience.   "Puedo tratar" he told us as he turned the pump on and began filling our tanks.  We still aren't sure what happened at that gas station, but not knowing how many miles it would be until we saw fuel again, we were glad to have topped off. 
Preeeety sure this gas is dirty; left our mark on the pump; road to San Cristobal; one of hundreds of 4x4 tour vehicles we encountered
Shortly after passing through San Cristobal, we turned off the main road and onto a much narrower, sandy path.  This was the beginning of 2 1/2 days of jaw dropping scenery.  We made it less than an hour down the road before we came across a river meandering its way through the valley floor.  Looking off to the right we spotted a family of pink flamingos, perched in a wide section of the river on their unimaginably thin legs.  Further upstream were herds of llama feeding off the nutrients in the water. Although it was still early in the afternoon, we couldn't pass up this incredible camping spot.  We set up shop on the bank of the river.
Mini river crossing; up the canyon from campsite; herding 'em back home; "what're you lookin at?"; beautiful campsite; "can we get in on that oatmeal?"
The next day brought us past gardens of rock spires seemingly dropped from above in the middle of nowhere, up through a canyon with a mossy green floor divided into puzzle pieces by tiny blue streams, through the tiny village of Villa Mar, and finally to the red, flamingo laden Laguna Colorada.  By the time we reached the Laguna we felt saturated in beauty...and exhaustion.  In searching for a spot to pitch our tent out of the gusty winds, the only place that seemed reasonable was up against what appeared to be someone's house.  Holding out hope that they wouldn't return that evening, we settled in.

Laguna Colorada in the distance; random rock spires; dirt, dirt, and more dirt; Villa Mar; that's where we came from; rock eating moss; climbing up the canyon; smaller Salar; lush land near Laguna Colorada; cooking dinner in the vestibule-it was too cold & windy out; sunrise over the Laguna; our trespassing campsite; yep, oatmeal again; more curious creatures
Our last full day of riding in this wonderous part of the world did not dissapoint.  Skirting around Laguna Colorada on the sandy tracks, we climbed even further in elevation.   We topped out at 16,500 feet where we stopped at the customs office to get our bike permits canceled. We were quite confused at first when we saw that the aduana office shared land with a boric acid production plant...both in the middle of absolutely nowhere.  
Look at all those flamingos!; spot the vicuña; the highest aduana office yet
The other-worldly scenery continued in the form of steaming sulfury geysers, reddish-brown, mineral rich mountains, sparkling turquoise lakes filled with vicuña and flamingos, and deliciously refreshing hot springs which we stopped to experience. Our day came to an end when we reached Laguna Verde and found the perfect camping spot among some old ruins perched up on a hill.  
Smelly geysers; another stunning lake; trying to get an up close shot of flamingos; relaxing, natural hot springs; just keep riding into the mountains; ruins = our home for the night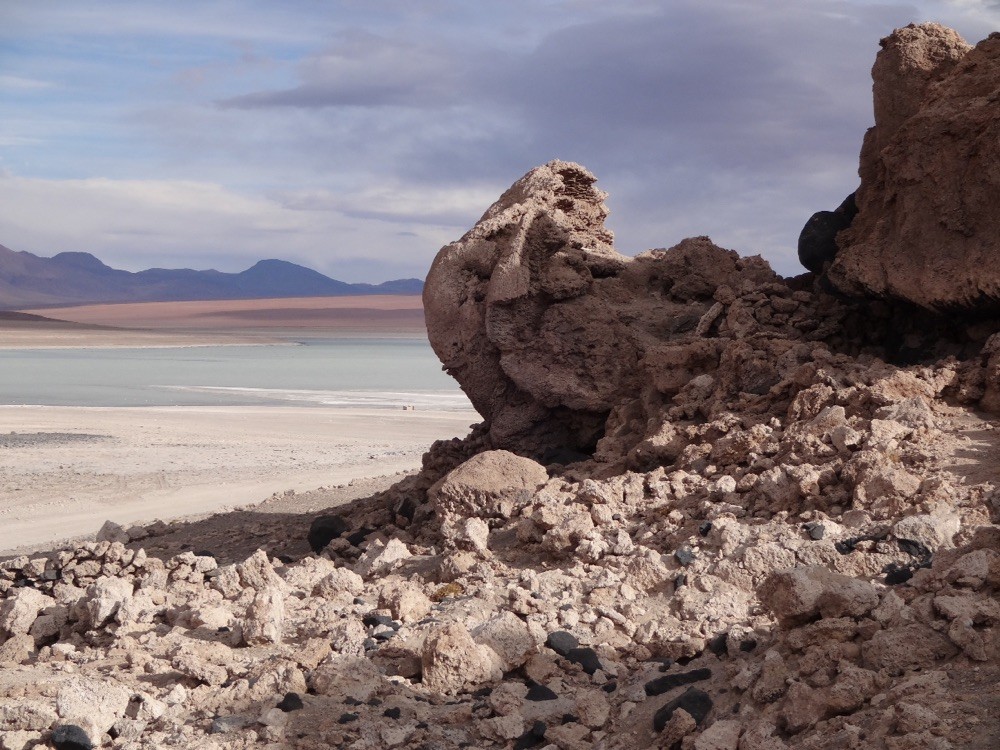 The following morning we were both itching (literally) for a shower and a warm bed.  We enjoyed the short, easy ride to the border where we, bittersweetly, exited Bolivia. The next hour of pavement as we descended into San Pedro de Atacama was a gift to our hinds which had taken some serious beating over the past few days of rocks and washboard.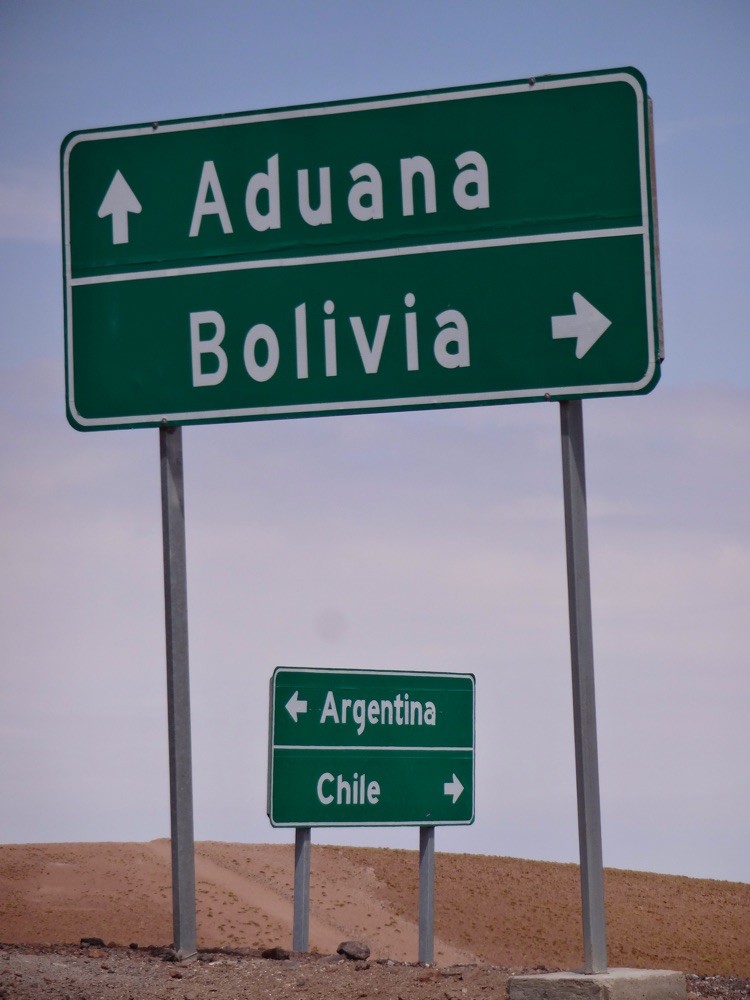 Entering San Pedro we were welcomed back to civilization: to loads of tourists, fully booked hostels, and the prices that come with an on-the-beaten-path hub.  We were also welcomed back with a wonderfully hot shower, comfortable accommodations, and real food. Feeling mostly rested, we're excited to once again venture off into the warnings and the rewards of Chile and Argentina.  
Chillin at hostel Puritama; our own little tiny house; we just missed that snow in the mountains!