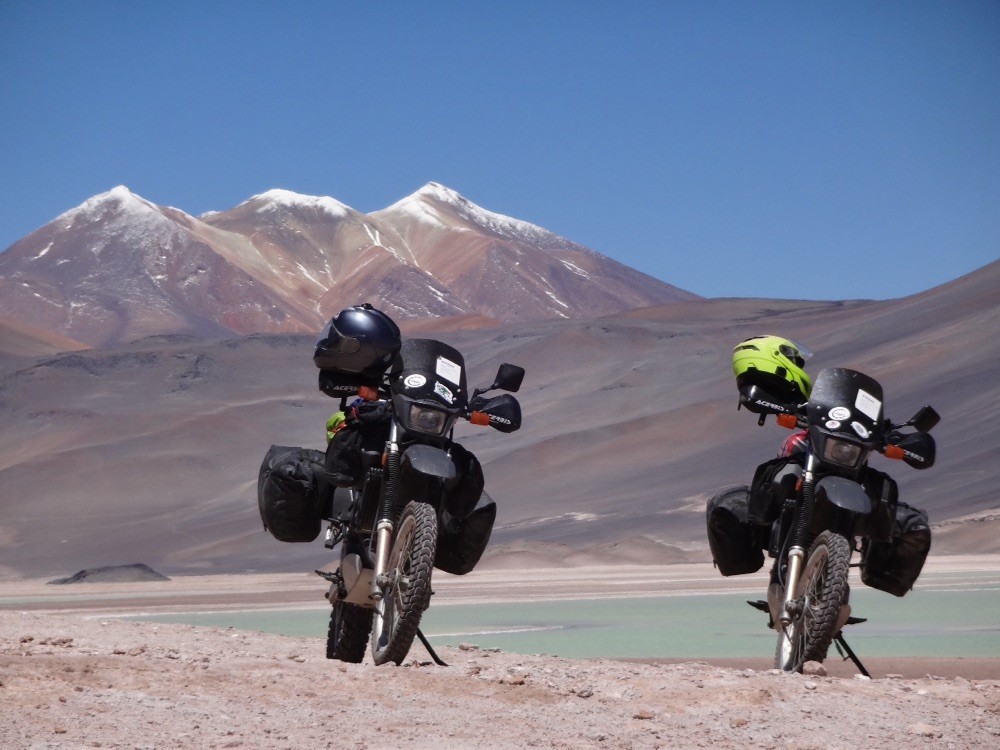 Our entry to Argentina began with a sandboarding descent out of Chile. On our last day in San Pedro de Atacama, which is located near the southwestern corner of Bolivia where we had spent a fantastic week camping in high alpine terrain and the northwestern corner of Argentina where we intended to go, we decided to indulge in a few typical excursions: sandboarding down some slopes within the driest region of the world (the Atacama desert) and watching the sun set over El Valle de la Luna - appropriately named for its resemblance to our moon. Both experiences were incredible, although one considerably more relaxing than the next. That day served as a fitting end to our week-long stint in Chile and a nice transition to Argentina.
Assorted pics from sandboarding 
Sunset in Valle de la Luna - San Pedro de Atacama, Chile
On the morning of October 23rd, we packed up the bikes as we have so many times before, filled up our tires to tackle a 50-mile section of paved road south of town, and set off for Paso de Sico - a less-travelled and unpaved counterpart to the more popular Paso de Jama just to the north - both of which serve as one of many high Andean passes connecting Chile and Argentina along their immense shared border. After deflating the tires again when we hit the dirt (to maximize traction), we began a slow ascent out of the desert valley and into another region of high alpine lakes, flamingoes, vicuna, and serenity. The climb continued all the way up to a border station on the Argentinian side set in a valley of pink and yellow hues. While getting our paperwork sorted out, we remarked on the beauty to several young border officials, but they were clearly more impacted by the isolation than the beauty. Not much energy for scenery, it seemed, with no women in sight for miles. Fortunately, they have ready access to wifi in what must be the biggest and nicest border station ever built at such a remote crossing. To escape the wind that evening, we set up camp several miles down the road in a side canyon that provided nice views of the salar valley below.
Assorted photos of the scenery up and over Paso de Sico, connecting Chile and Argentina, including a small pack of Vicuna and a dog who watched closely over our exit from Chile.
The valley below our campsite along the Argentinian border, the valley above, and Em EXCITED for her morning coffee!
Our destination the following day was the bustling city of Salta, which would be the most densely populated place we had been since La Paz, Bolivia. To get there though, we had another full day of dirt riding that brought us out of the mountains through more beautiful canyons and into an agricultural flatland big enough for a city like Salta. The truth is, we didn't know how big Salta was until we got there and found a series of suburban villages between us and the central core, then a busy downtown area with buildings upon buildings that left no room for hotels with parking lots. This proved to be a real pain because it forced us to search around for nearly two hours looking for a suitable place for us and the motorcycles that was also in our price range. We finally settled on Hostal El Cerrito one block from the main plaza, where we found a public parking lot next door. It was the best we could do.
Exhausted from the search and a long day of riding, we treated ourselves to a three-course meal in the plaza that evening, which also came with a generous serving of red wine. We watched as the locals gathered for an evening at the theater. We listened as musicians came by to share their craft. And we laughed at a clown who took great joy in bringing smiles to the faces of onlookers and passersby regardless of whether his efforts brought any money to his hat. It was a wonderful evening, save only for the despair evident in the faces of young children and assorted adults who stopped by our table selling socks, lottery tickets, blessings, shoe shines, phone chargers, and more - apparently trying to provide some honest income to their families. We would love to have helped them all, and probably should have.
While in Salta the next day, we also changed money for the first time on the obvious, yet technically illegal "blue market" that provides nearly double the exchange rate we could get with a bank, ATM, or credit card. Ever since the economy collapsed in Argentina around 2000, the American dollar has been sought after as a safe way to store money and avoid the rapid inflation and currency fluctuations of the Argentinian peso. Consequently, blue market buyers are willing to pay significantly more for US cash (especially clean $100 bills) than the currency-control-minded government would like them to. When we exchanged, we got 15.8 Argentinian pesos for every dollar. An ATM or credit card, in contrast, would have given us about 9.6 pesos per dollar.
A church in Salta, a small stretch of the long and windy road down to Salta, and a viaduct along the way
With a new fistful of Argentine cash, we left Salta on Oct. 26th bound for Cachi set within a spectacular red-rock corridor of the iconic Ruta 40, which runs the entire length of Argentina from Punta Loyola in the south to La Quiaca in the north. Much like the famous Route 66 in the U.S., Ruta 40 also holds special value to many in Latin America, and elsewhere in the world, because it was travelled by the revolutionary Ernesto "Che" Guevara on the trip he wrote about in The Motorcycle Diaries. After being there, I understand the allure. It's a gorgeous landscape of terrific contrasts: red rock and blue skies set against lush green fields. It continues that way all the way down to Cafayate and beyond where we veered off Ruta 40 to head up over another hill to Tafi Del Valle. But we first enjoyed a nice night camping at a municipal park in Cachi (camping is very popular in Argentina, unlike other Latin American countries, so every town has a public camping area) and two nights at a fantastic hosteria in the the wine producing region of Cafayate where we sampled the local flavors, including a unique Cafayate varietal called Torrontes, toured the wine museum, and enjoyed the sweetness of our host mom Maria Olinda and her daughter Laura. Their family has been producing wine in the area for centuries and they now rent rooms in their lovely courtyard home to visitors. We also spent a considerable amount of time in Cafayate trying to plan life after our trip concludes on December 21st. With flights home confirmed and a purchase agreement in place to sell our motorcycles to a German couple that intends to ride north (yes, that's right, we're selling the bikes), we're beginning to more intensely feel the need to figure out what's next. Our stop in Cafayate helped.
Views from the splendid roads from Salta to Cachi through Los Cardones National Park
Perched above Cachi on a dry plateau is a gorgeous cemetery with large monuments for entire families. Local dogs hoping for some goodies at our campsite.
Sights from Ruta 40 between Cachi and Cafayate, including a community mediation center!
Cafayate and the vineyards surrounding it
From the grapevines of Cafayate, we made our way to the resort town of Tafi Del Valle where we saw a random horse shooed away from the restaurant boardwalk like a stray dog looking for for food, and on to the unique stone monuments on display in El Mollar. 2,000 years ago families in the area carved and placed them near their homes as tributes to Gods, fertility, and more. Now compiled together in a reserve, there is a field of phallic symbols for all to enjoy. We  lost interest after 20 minutes and proceeded on to a simple campsite in someone's backyard.
The phallic fertility reserve and our campsite in El Mollar. Note the plaque in the second photo from the left. Ya think?!
The next morning, after drying our tent from rain the night before, we took a plunge -  uncharacteristic of the area - through a damp and dewey green canyon where ferns, bushes, trees, and vegetation dotted every inch of terrain. A consistent mist strained our visibility, but what we could see was superb. It was completely opposite of the dry, arid, desert landscape we had been in for so many days before. It now felt like we were back in the jungle of Colombia or Peru. It didn't last long though. After about 25 miles, the canyon petered out and gave way to some great plains of agricultural farmland producing sugar cane and other assorted consumables. Our misty route took us through Catamarca, which we bypassed as a stopping point in hopes for something smaller, and into the lovely pueblo of Concepcion, which served as the site of one of our more memorable - and certainly our most embarrassing - experiences of the trip. See our other blogpost, entitled "Embarrassed in Argentina," for details about that one though.
Gorgeous green canyon along the El Rio La Sosa south of Tafi Del Valle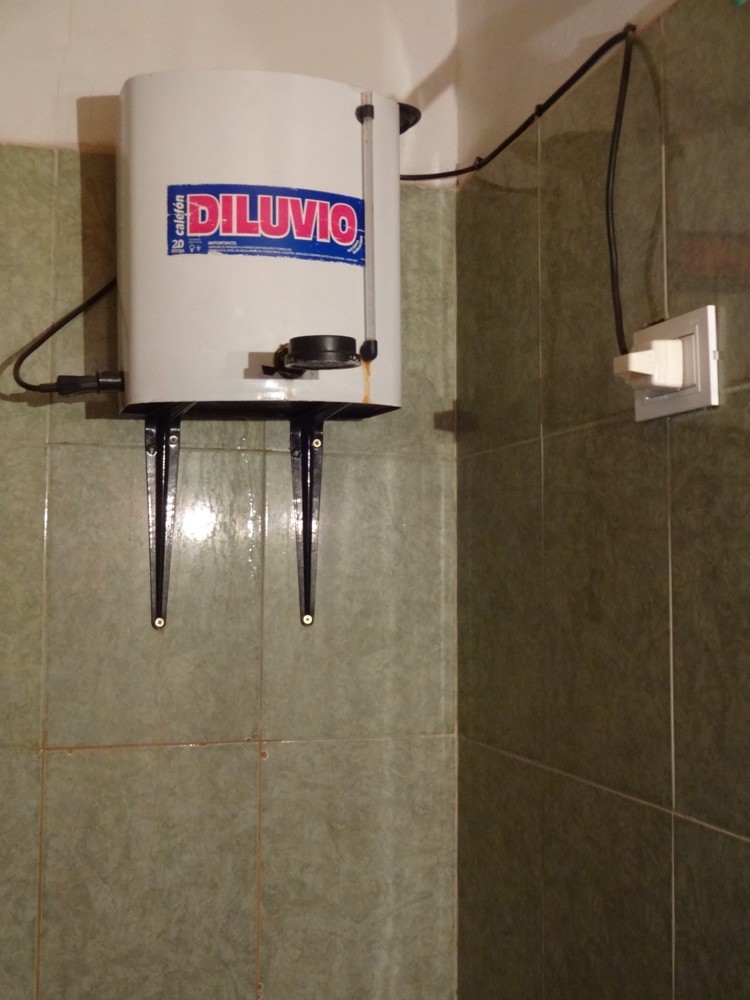 Ever seen a shower head like this before?!!! We found this beauty in our hosteria in Concepcion. We think it's actually a slight improvement over the electric suicide machines that were common in Central America. Just fill it up with water, plug it in, and wait for the water to heat to the desired temperature. Just don't forget to unplug before your shower!
South of Concepcion, the rain and mist continued, so we cut our day short after 70 miles and stopped for the night of October 31st in La Rioja where we saw nothing outside of our hotel, the two buildings surrounding it, and loads of Facebook pictures of friends, family, and children dressed in their Halloween best. The rain continued the following morning, so we were forced to suit up with our rain gear for the third straight day - unwilling to waste the entire day sitting in a stale hotel room in a city that didn't have much to offer. We had planned a 130-mile day from La Rioja to San Agustin del Valle Fertil, but it turned into a 200-mile day because I led us 30 miles further east than we should have gone - a mistake caused by the incessant rain and  my inability to check our maps as often as I customarily do on dry days. Matters weren't improved at all by the suddenly boring landscape that offered little of interest until we climbed back into a smaller range of mountains west of Patquia near Tamalaya and Ischigualasto National Parks. Once in San Agustin, we checked into a nice apart-hotel, took a hot shower, and went looking for dinner - only to be told that no restaurants would be open until 8 or 9pm - a reality we were introduced to in Salta and by then rather accustomed to, although still mildly surprised by. As we walked the empty streets, we bumped into an older Dutch couple that we had met at our campsite in Cachi and run into several times since. They were headed back for dinner at their rented camper because they couldn't stand the thought of eating dinner after their customary bed time. Neither could we, but we did anyway.
As we walked to dinner later that night, the sleepy town suddenly became flooded with the sound of honking horns and shouting voices. After inquiring, we learned the commotion was part of a post-game celebration. Boca had just won the championship within Argentina's premier soccer league, so fans took to the streets to join each other and make sure everyone else knew how excited they were. It was quite the scene as a parade of cars and trucks convoyed through small town streets led by a gaggle of motorcycles, scooters, and ATV's. After an hour, the town was silent again.
Prepared for a day of rain leaving La Rioja, evidence of Mate's popularity in Argentina (a hot water vending machine!), and the tail end of the car parade in San Agustin Del Valle Fertil.
From the fertile valley of San Agustin, we tacked on 230 miles in one day to make it to the cosmopolitan town of Mendoza, with its multiple plazas and large parks. We've been here for two full days now enjoying the camaraderie of other travelers at the terrific Hostel Square Indepencia, which serves free wine from 7-9pm and a massive (by Argentinian standards) breakfast that includes eggs, pancakes, cereal, fruit, bread, and more. We're here with backpackers (young and old...well, mostly young as I think we're the oldest ones here) from around the world, including one adventuresome and gregarious Japanese kid who rode his bike most of the way here from Los Angeles. All of us, enjoyed laying low while waiting for the consistent rain to stop.
Today, it appears, we'll have a break in the weather, so we'll head off toward Chile and camp a night under the towering Mt. Aconcagua - which, at nearly 23,000 feet is the highest peak in the Western Hemisphere. Should be pretty cool to see if the weather and clouds cooperate enough to make it visible.
The view beneath our room and enjoying wine in the parlor