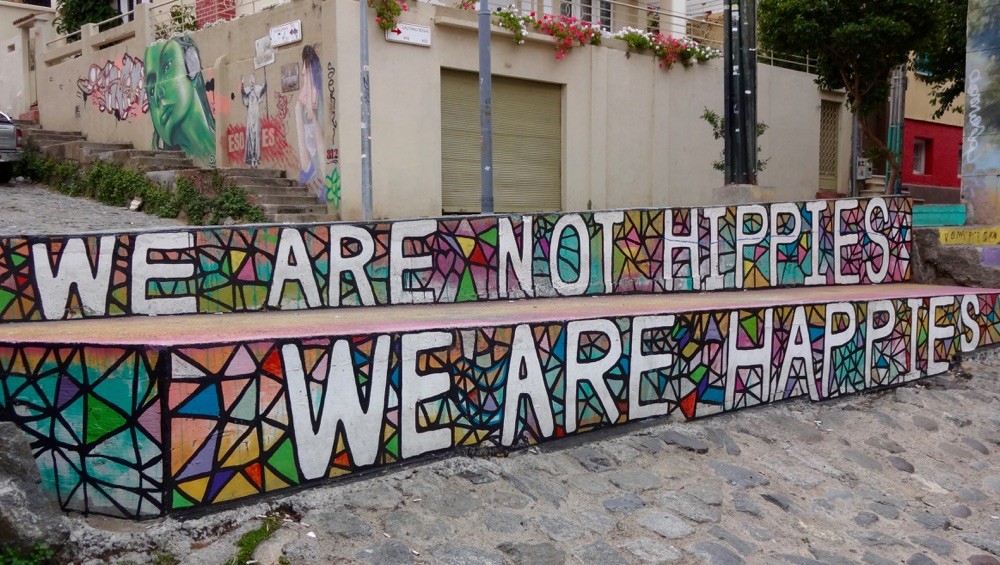 Having chosen to enjoy the adventures of northern Argentina rather than sweat through the vast Chilean desert, we eventually decided to cross back into Chile, lest she get too jealous.  Like an envious woman trying to seduce a wandering lover, Lady Chile put on her best attire and enticed us with her majestic, snow capped mountains and hip, artsy cities.  Once she had us resting comfortably in her bosom, far away from the threat of the neighboring competition, she let herself go.  She put on her sweats, threw away her makeup and quit trying.  Although we felt the fire dwindling, we rolled on with the relationship until we found ourselves bored enough to once again gravitate toward the "other" (Argentina). As the game goes, once Lady Chile felt us drifting, she stepped up her game and showed off her towering volcanoes, admiring themselves in the sparkling lakes at their feet, making it hard to say goodbye. The affair went something like this...
After a few lazy, rainy days resting in Mendoza, Argentina (the country's industrial wine capital) we took advantage of a clearing in the weather to head for the border.  As we crept closer to Chile, we slowly climbed into the Andes, which at this point have come to feel like somewhat of a home base for us, however unwelcoming and hostile they may appear on the surface.  We slumbered down for the night at a tiny hiker's refugio in Puente del Inca at the base of Mount Aconcagua.  The following morning we ventured out on a jog (slash walk considering the frigid temps and 9,000 ft altitude) to get a better look at the highest mountain in the Western Hemisphere.  Looming over us at an astonishing 22,800 feet we felt both humbled and energized by this giant feat of nature.  This mountain range does not quit!
Riding into the mountains; Puente Del Inca aka Inca Bridge; Hawking goods to passersby at the Puente del Inca rest stop; Old church next to puente del inca; Big, big mountain (Aconcagua)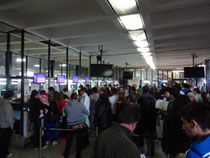 The energy we borrowed from Aconcagua was quickly drained as we fought our way through the chaotic mess that is Los Libertadores border crossing.  We knew this was one of the busiest crossings we would undertake during this section of our trip, but what we weren't prepared for is the sheer disorganization. While they mask this quite well with numbered windows guiding you through the immigration and customs procedures, do not be fooled.  Step number one, for example displays a sign indicating that you must first visit step three to get the appropriate form before then returning to step one.  No one seemed to know which form we needed to fill out as Americans entering the country with U.S. registered bikes.  We almost felt as though we were in Central America again, until we realized no one was asking us to walk 1/2 mile to go make copies, then pay them for giving such stellar advice.  An hour later, we were saying hello once again to Chile.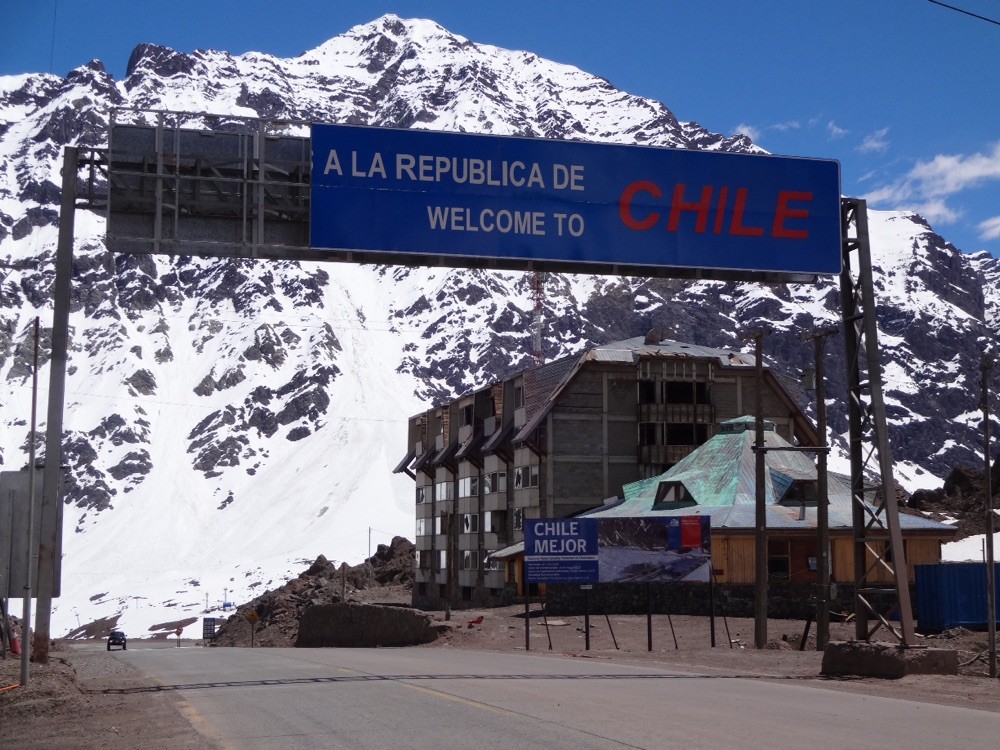 While we were about a month too late to fully experience the famous Portillo ski resort, we passed by only minutes after the border and drooled in our helmets at the thought of floating  through powder, surrounded by this epic scenery. More than 20 switchbacks (yes, they were numbered) within a few mile stretch threw us into our descent from the Andes to the coast.  Once we reached the city of Valparaiso we had dropped 9,000 feet and crossed the entirety of Chile's belly, all in a day's ride.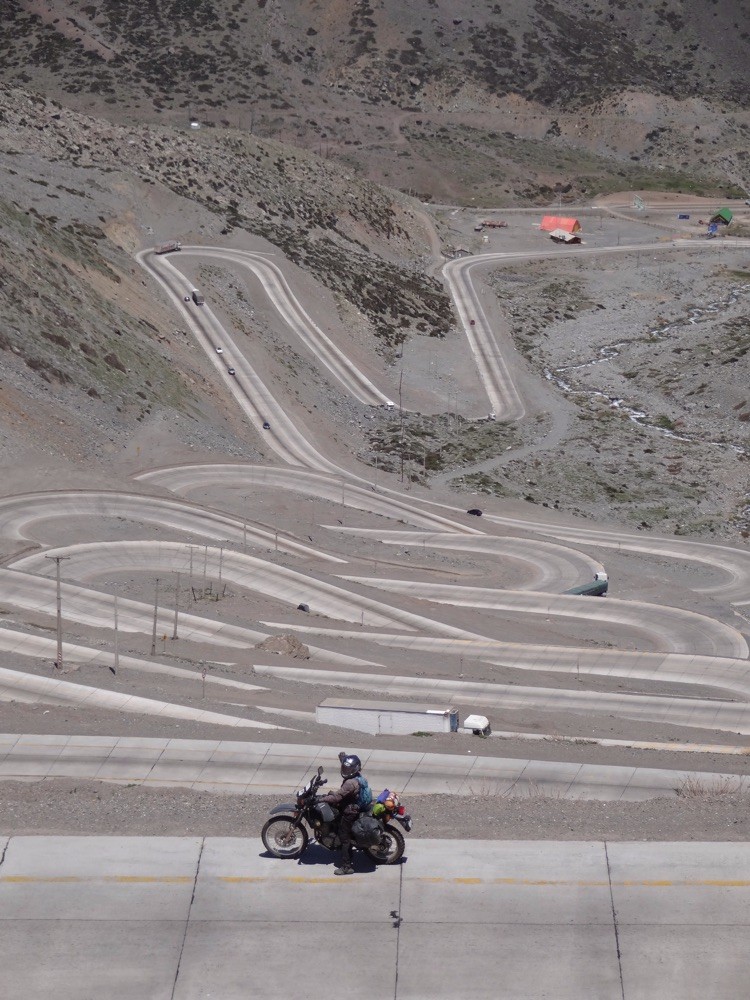 Trying to avoid the two hour walk-about in which we desperately search for a hostel that will offer a safe place for the bikes while remaining within our modest budget, I had taken to Horizon's Unlimited (a wonderful adventure motorcycling website) the previous night to find recommendations.  Our fellow motorcycle travelers gave high marks to a hospedaje called Villa Kunterbundt, run by Enzo and Martina, a Chilean/German couple.  We stumbled upon the house and curiously searched the mural covered gate for any sign of a door bell.  Noticing the struggling and confused gringos, a helpful teenager sitting nearby instructed us to pull the blue toy shovel that was dangling above our heads.  Of course. A tug of the shovel indeed resulted in a classic "ding-dong", loud enough to rouse our hosts.  While we had given no advance notice, Enzo and Martina graciously welcomed us into their old, unique and beautiful home for two nights.
Various shots from Enzo & Martina's house- hard to believe neither of them are motorcycle riders!
Valparaiso is where Chile's progressive and free spirited souls go to paint their stories, hopes and dreams on the streets (literally). Walking around the city's many hilly neighborhoods, as one can do for hours on end without a minute of boredom, provides countless photo opportunities of the colorful art blending naturally into the snuggly situated homes.  This port city has an edge to it that provides a glaring contradiction to the upscale gentrification that took off after being declared a UNESCO World Heritage Site in 2003.  We had a wonderful day getting to know this truly special city.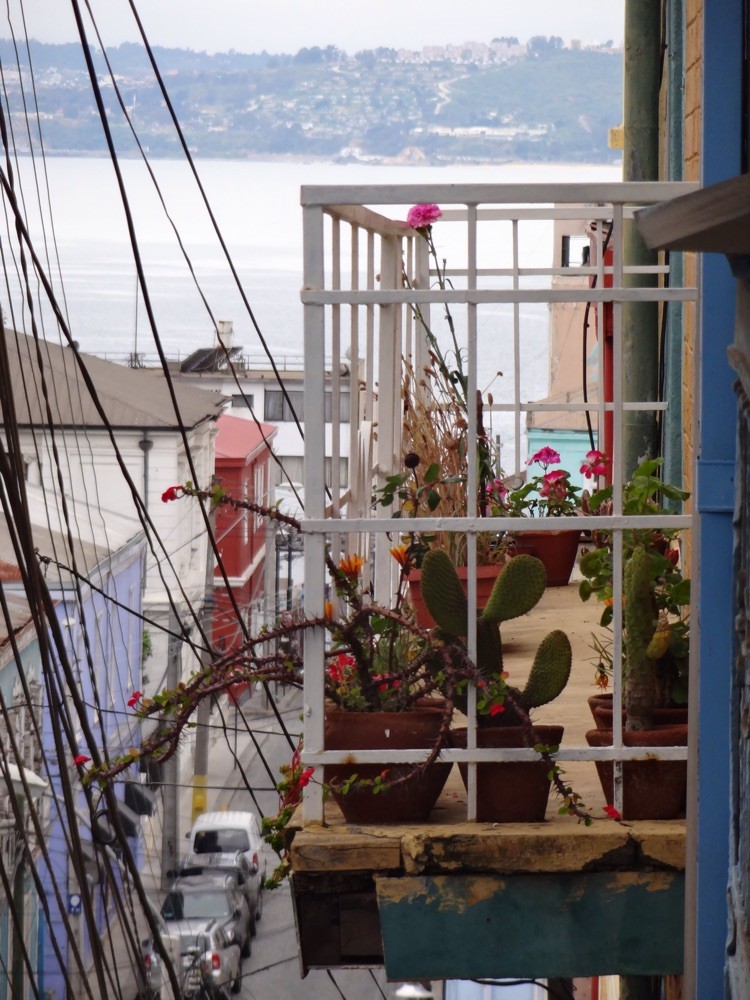 Various shots from Valparaiso. 
A short ride to the southeast brought us to the big city of Santiago.  Once again, with help from our friends on Horizon's Unlimited we found the motorcycle traveler's oasis of Hostal Casa Matte.  And once again, despite providing no advance notice, we were welcomed with open arms by owners Christian and Francisca.  They have been hosting motorcyclists from around the world in their home for several years and during our short stay we got to know two guys from England (traveling separately) and two from Brasil.  Jay was in heaven, sipping on a beer and talking motorcycles with people who were actually interested (as opposed to me, his default conversation partner who generally nods repetitively as my eyes glaze over when this topic comes up).  Although it was a short stay, we did take in the beauty of the parks and trails offered by Santiago during an early morning run up Cerro San Cristobal and casual walks around the city.
Table of goodies at Casa Matte; More Casa Matte decor; 3 Santiago statues- Didn't think we'd see Abe here; one of many pretty parks; Christian & moto rider from England; Me & Pompeo, Christian's dad & enduro champion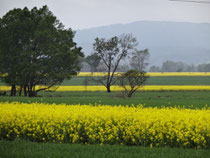 South of Santiago is where our relationship with Chile got a bit dull.  The fast, cold, and generally boring highway offered little in the way of beauty or entertainment.  We passed the miles by shouting songs at one another through our headsets, and watching the odometer tick upwards.  We broke up the monotonous 450 mile journey by stopping in San Javier to visit one of the many wineries in the area.  While our wine tour and tasting at the family owned Balduzzi vineyard was enjoyable, we could not say the same for the dark and dingy hostal we found ourselves in that night. 
Balduzzi wine cellar with one bottle of each varietal from each year since opening; some of their crop; result of the 2010 earthquake 
Having nothing whatsoever to detain us the next day (not even a breakfast-which we had been told was included in our fee, but then as we walked up to the breakfast table told otherwise), we hit the road early for a 300 mile blitz south to Villarrica. Stopping every 100 miles to snack  and stretch, our marathon riding day brought us to a quaint bed and breakfast a few blocks from the lakefront where we gladly stayed for two comfortable nights.  While unable to see the massive volcano that is the town's namesake due to cloudy, rainy weather, we did get to enjoy views of the lake and the tranquility of Villarrica's streets during slow season.
Something different from tuna?!; Highway and more highway; Chillin in Villarrica
Chile was sprucing herself up again, and as we rode toward the border of Argentina on the Circuito de Siete Lagos, her beauty shone as we had never seen.  The road wound around crystal blue lakes defined by massive, evergreen mountains.  Cows grazed on luscious fields of nutrient rich grass, bothered not at all by the roar of our engines.  We rolled our bikes onto the ferry at Puerto Fuy, the only way to get to Argentina's Hua Hum border crossing, and enjoyed the view as we slowly chugged down the lake.  
Various pics from ride to border via lakes route
Just as she had planned, we questioned our decision to say goodbye to Chile...but not for long. The 40 miles from the border to San Martin de Los Andes was equally as spectacular.  Luckily for us, we'll spend the final 5 weeks of our journey playing the field, jumping back and forth between Chile and Argentina, taking in the best they both have to offer.