That's the thought that has been circling my brain on repeat as we ventured through the Lakes District and Chiloe island this past week.  After a few days of hurried, mid-storm outfit changes, our usual morning debate about whether or not to don our rain gear was replaced by a systematic routine of helping each other wiggle into our restrictive, "waterproof" garb. Despite the rain, or maybe because of it, we found great appreciation in the glimpses of sunshine and breaks in the clouds that revealed magnificent scenery and enjoyable riding.  We're at the mercy of a power much larger than us and while we may curse her for the puddles in our boots, we are at the same time paying her gratitude for the wonders she has created.  
The Ruta de Siete Lagos (route of seven lakes), between San Martin de Los Andes and Villa La Angostura, Argentina is filled with these spectacles of nature.  The 60 mile road winds around blue-green mountain lakes of varying sizes, all a sight to behold. We were offered blue skies and warm sunshine the day we explored this route, so we casually made our way from viewpoint to viewpoint, trying to capture the vistas through countless photos.  The road eventually dropped us into Villa La Angostura where we arrived just as the top runners were crossing the finish line of a local marathon.  Recreational runners ourselves, we tried to find our way into the center of town to cheer on the athletes, but were stymied by road closures and cops rerouting us away from the action.  We chose instead to enjoy lunch from the viewpoint above town, and settle into our campsite on the edge of a nearby lake.
Pics from Ruta de Siete Lagos

Beach campsite; fun family soccer game; Jay getting creative after a bottle of wine; dusk at the lake 
Morning walk before weather moved in; fly fisherman catching their daily grub; "Rio Correntos. The shortest river in the world."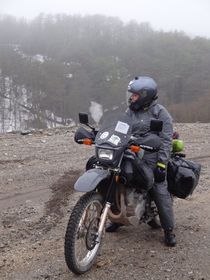 Windy, cold and gray weather callously welcomed us into the next day.  After cursing our way through a breakfast routine, which we should have abridged, we put on our layers, packed up, and rode the short distance to the border where we crossed between Argentina and Chile for the fourth time. (Three more to go). The plan was to ride to Puerto Varas for the night before continuing south to the island of Chiloe.  We were keeping a pretty tight schedule since the ferry that departs from the southern end of the island leaves only once per week. Missing it would mean rushing through the Carretera Austral, glaciers, and Torres Del Paine that lie on the other side.   
Despite our feeling of urgency, we decided to stop short of Puerto Varas in a smaller, quiet town on the opposite side of the lake. Puerto Octay doesn't have much to detain the typical traveler, but we happened upon an old hotel that reminded us of one of our favorite spots in Mendocino, California. Feeling romantic and nostalgic, we decided to spend the night.  Upon further inspection we discovered a few differences between the Mendocino Hotel and Hotel Haase (mainly the sleeping options: separate, twin beds vs. canopied queen sized love nests) but they had the same general air about them.  Crackers, cheese, wine and a lovely dinner by the fireplace in the attached restaurant almost made me forget that my fanciest pair of shoes are a set of smelly, cumbersome riding boots.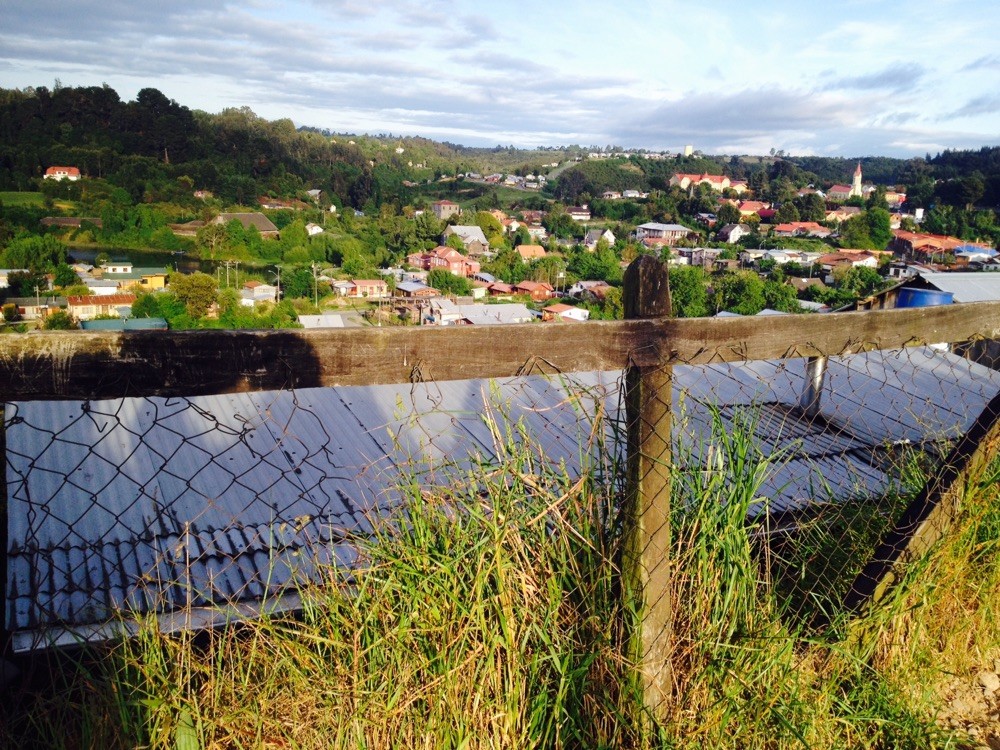 A jog around town in the morning allowed us some views of the lake and a chance to soak up a  short window of sun.  The dark clouds reappeared after we packed up the bikes though, and later opened to let the rain pour again.  By the time we reached the ferry to Chiloe island, we were pretty well soaked and there was no end in sight.  The 25 minute, surprisingly expensive ferry ride dropped us off just north of the city of Ancud where we showed up to 13 Lunas hostel ready to be wrung out.  A very warm and comfortable hostel, we took shelter from the elements in the common room and passed the time reading and chatting with Lucy, a fellow traveler from England.  
Dripping inside the onboard ferry cafe; warm and cozy at 13 Lunas Hostel
Once again we woke up to clear skies and bright sun, so took advantage by walking along the boardwalk and up to the lookout point on the opposite end of town.  We had hoped to take a few sea kayaks out on the water during our brief stay, but were conscious of our timeline and the opportunity to ride to our next destination uninhibited by weather, so we pressed on.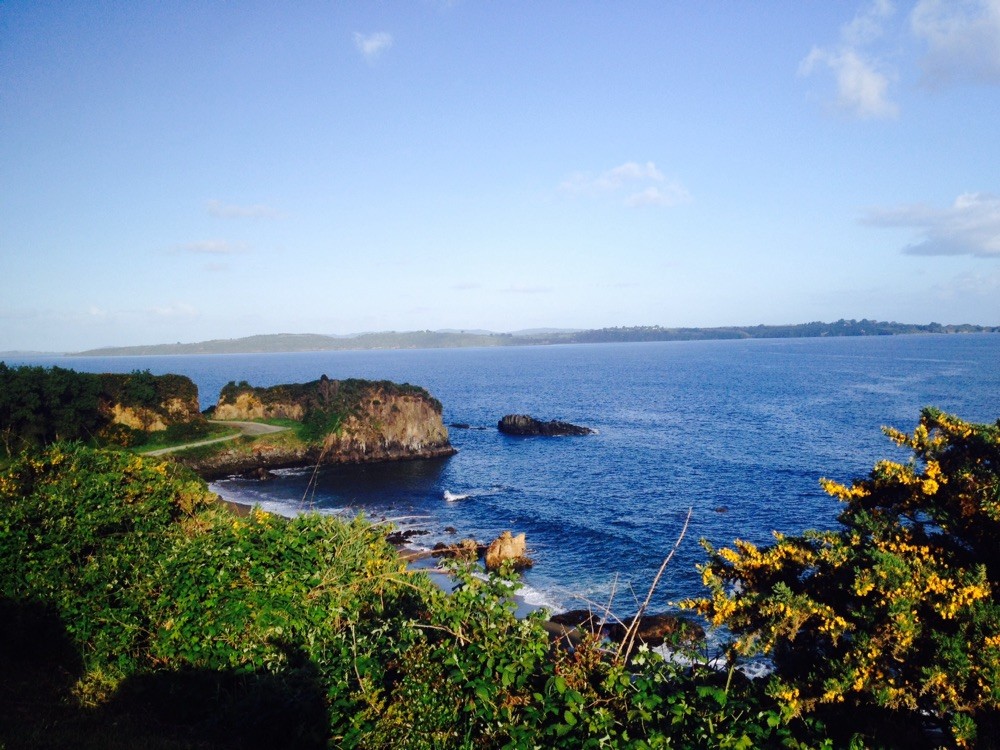 Scenes from our morning walk around Ancud
We made it almost all the way to Castro without getting wet, but alas, upon our arrival the showers found us again.  We found another comfortable hostel with a view of the bay and, after a delicious, filling and cheap (for Chilean standards) lunch, we hunkered down and spent some time researching what lies ahead.  
As had become pattern, we were greeted by the bright sun in our window the next morning and got outside to do our jogging tour of the city.  The main attractions in Castro are the unique and colorful Palafitos lining the shore.  These modest sized houses are built precariously on wooden stilts that become visible as the tide recedes.  We jogged to the three established vantage points to get some photos (below).
Castro highlights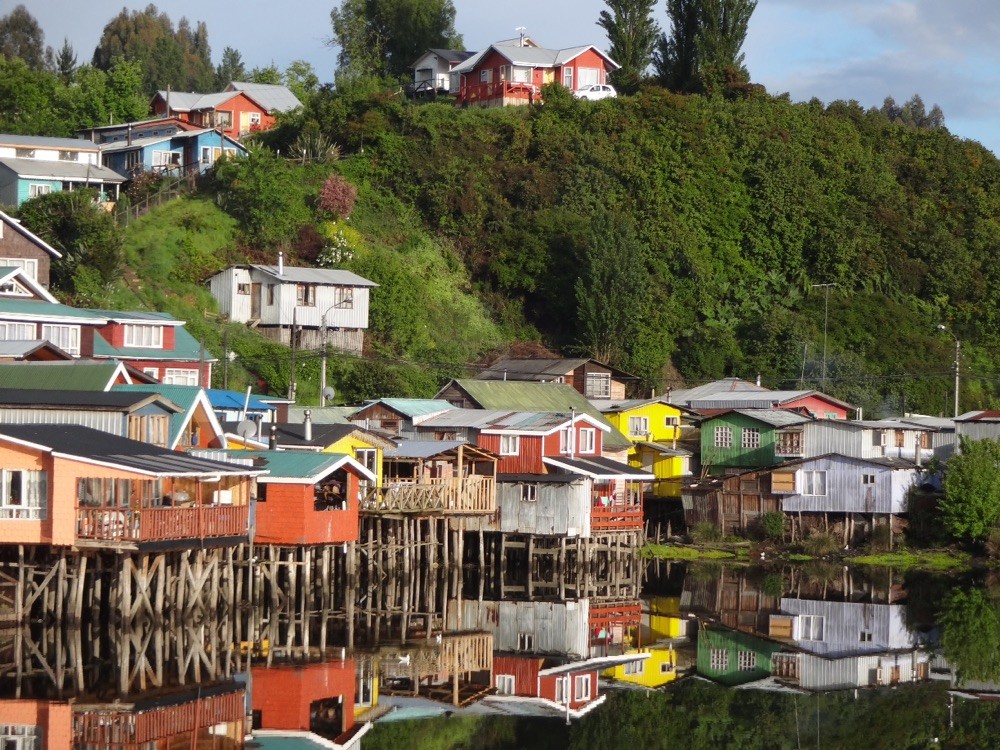 Our only job for the rest of the day was to kill time.  The ferry from Quellon (60 miles south of Castro) to Chaiten, was scheduled to depart at the ungodly hour of 3:00am. It therefore made little sense to get a hotel room, but left us drifting for several hours without a roof over our heads.  We wandered around Castro, sat at a coffee shop, enjoyed another cheap and delicious lunch, then made our way to Quellon where we sat in the ferry office waiting area for nearly 5 hours.  We finally were called to board around 1:00am.  I promptly attempted to sleep, laid out across three seats in all my riding gear in an effort to stay warm.  Jay stayed awake stirring in anger and worry over the rough and careless way our bikes were tied down by the ferry crew.  
Old church in Castro's town square; all wood construction; we were passing time...
Our 7th ferry on this trip; Jay trying to sleep
Needless to say it wasn't the best sleep either of us have gotten, but we had another successful ferry trip in the books.  Around 7:00am I pushed my hat up off my eyes and saw the massive mountains we were heading for, cloaked in dark clouds.  The beautiful sight stirred my excitement for the 500 or so miles of the Carretera Austral that lie ahead.  As we pass yet another rainy and cold day at our hospedaje in Chaiten I can't help but wish for clear skies.  And yet again I find gratefulness in the hours leisurely passed snuggling in a warm bed next to Jay, listening to the raindrops.  But seriously, it should just stop raining.  
Land ho!; Nice (expensive) hotel in Chaiten, where we are not staying